Curry's Post Bed & Breakfast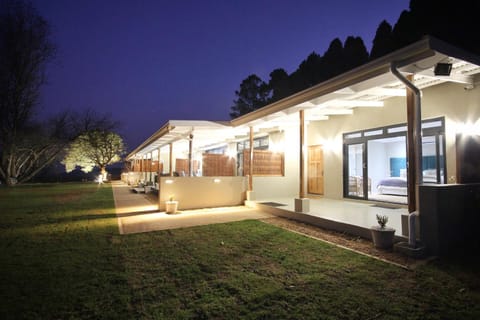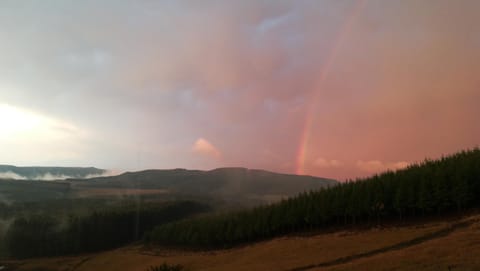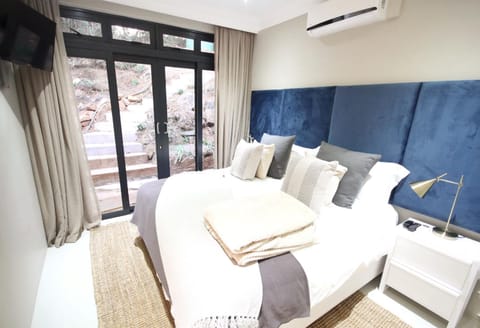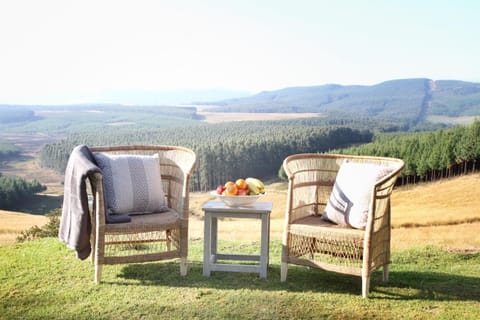 Bed and Breakfast in KwaZulu-Natal
Klimaanlage
Küche/Kochnische
Internet/WLAN
Über diesen bed and breakfast 
miete
Befindlich in KwaZulu-Natal, dieses schön bed & breakfast für EUR 37 pro Nacht ist ein phantastisch Option für Ihr nächstes Pause. Das Curry's Post Bed & Breakfast bietet Ihnen eine Unterkunft in Curry's Post mit Grillmöglichkeiten und kostenfreiem WLAN.
Klimaanlage
Küche/Kochnische
Internet/WLAN
Parkplatz
Waschmaschine
Balkon/Terrasse
Fernseher
Garten
Familienfreundlich
100 % verifizierte Bewertungen
4.5 / 5 (484 Bewertungen)
wonderviews, comfortabel beds, good breakfast and great value...
Restfull and peaceful - We appreciate the pleasant gentle sounds of nature and the lovely view.
Oct 2022
What a lovely place to overnight. The breakfast was just like the photo.
It was a bit concerning/puzzling to wake up to "thunder" and the sound moving of furniture on day one. Only to find out later that it was the monkeys playing on the roof. :-) I would have loved coffee with my breakfast on the second morning but the Frensch Press was broken. Perhaps the owners can consider to invest in a stainles steek Fensch Press or a bean to cup coffee machine?
What a beautiful stay! It was the peace and quiet I needed to get some work done. Staff was awesome!
Simply Enchanting
Dec 2021
We received a very warm welcome from Cebo. Our room was clean and had all the amenities we needed. The view was spectacular even though there was a lot of fog during most part of our stay. The whole area is simply majestic. The bed (and bedding) was super comfy and the breakfast was delicious (made to order).
There's absolutely nothing to not like. We enjoyed our romantic time away and hoping to return soon.
Exceeded my expectations
Dec 2021
We liked the room with the mountain views which was so refreshing.
There is nothing that we didn't like
One of the most relaxed getaways we had, on our last day we had breakfast outside with fresh air and a stunning view of
Dec 2021
We liked the neatness, clean and felt so fresh. from warm light bulbs in our bathroom to the mountain view outside.
My Currys Post Stay 21/07/22
Jul 2022
Wanted to come here for the longest time for those beautiful views and I was not disappointed. The decor in the room was lovely, calming atmosphere. Loved the heating in the bathroom. Staff was friendly and helpful.
The room scent spray was very overwhelming when we arrived, had to air it out. Wished the towel rails were heated (would be nice to step out into a warm towel as it's especially cold during winter)
Well situated between different tourist attractions and a peaceful environment to relax !
Feb 2023
very quiet and beautiful scenery.
would have enjoyed to go for nice walks , which was not really possible !
The Manager managing the hotel was more than excellent, he was exceptional and nothing was too much trouble
Jan 2022
Very nice property with great views
Great Rooms with lovely views
Very neat place, such a pleasant host and greeted with a warm welcome. The rooms were neat, spacious and very comfortable
Thank you for upgrading us to Crestwood with the double booking. We had a wonderful stay. Our room was spacious and clea
Feb 2023
Unfortunately there was a double booking but Curry's post B and B reacted so professionally they booked us in at one of their other properties Crestwood which was an absolute delight.
nothing we had a splendid time
will definitely be back
Apr 2022
the views were beautiful breakfast was yum
The views were amazing, the rooms were as advertised, breakfast was delicious 😋 and served with a smile. Thanks Khosi!
Some of the furniture, towels and bedding could do with an upgrade and the toilet seat in Room 5 needs to be changed, it doesn't look appealing.
The views, the staff, the bath tub. Our hostess Princess was amazing
The views, the room and the breakfast
There was no one to assist when we arrived
We will definitely be back
Feb 2022
The views are to die for. Beautiful place and well managed. We enjoyed the breakfast, it was very nice with perfect portion sizes. The bread is out of this world! Maybe in future do consider adding more options to your menu, especially for guests staying more than 1 night.
friendly helpful staff, beautiful views, comfortable accommodation
Jan 2022
- Bathroom was extremely dirty, looked like it had not been cleaned - Aircon water over flow in the bedroom - Asked for a vegan breakfast, but was given eggs - Very difficult to find staff on the property Basically did not like anything but the view
The view is spectacular, very relaxing.
The view, cleanliness and surrounding restaurants/cafe's
Great value for money in a wonderful location with exceptional views
Dec 2022
the view and area are incredible. the finishes and small homely details in the property make it an exceptionally comfortable stay.
there is no refrigerator in the room and the online maps services direct us through a forest and uncomfortable area, underivable with most cars. this should be revised and possibly added in the directions to the property to prevent others from going through the same issues of locating the property
The staff were friendly and efficient
The staff was exceptional. We arrived very late for check in. Cebo checked if we were okay on the road, sent us the location, waited for us and gave us a warm welcome. The room was nice and cosy.
The staff here made this stay a magnificent experience
The setting and comfy room
Breakfast area could be extended.
Country side delight
Mar 2020
The scenery is picturesque. The facility is beautifully designed, breakfast is delicious and the staff are welcoming and go out of their way to make you feel comfortable and welcome.
The place is great,just as in the pictures.The area is close to lot of great activities around.
Jun 2022
The room was nice and cosy, the location was very serine. The bathroom was my favourite part and the mountain view was exceptional.The stuff was great and friendly.And thanks to Princess the host for the great hospitality.
Very disappointing
Aug 2022
The room was lovely and clean and the breakfast was very nice
There was a terrible smell in the bathroom and the room was very noisy as it was right next to the kitchen so we were woken up early by breakfast being prepared. Also our fridge in the middle of the night made a terrible noise.
Amazing 3 day break away from the hustle and bustle of city life.
Sep 2022
The room was just as the photos depicted. Bed was super comfy. Exceptionally clean. Breakfast was wonderful and staff all super friendly.
The rooms, the view, the staff, the bed, the shower, even the towels, and the breakfast was amazing! We enjoyed everything and were sad to leave after only one night. Definitely coming back for longer next time!
Everything was absolutely perfect.
Terrible experience
Oct 2022
There was nothing to like, we never even got to check in. Another couple took the room we had booked. Management of the bookings are extremely poor.
The drive to the property is off road on a dirt road for approximately 4 km's. Very poor lighting. There are very few options for food or take aways. This destination is not one of convenience. We arrived at this destination after travelling for 5 hours and our room was given to another customer because they were unhappy with their room. The owner did try and find us other accommodation in the area however nothing was of the standard we preferred in that area. We were left with no option but to leave and look for another accommodation at 8pm. We received a call the following day asking us whether we are checking in. Their system showed we had booked for a week whilst we were only booked one night. Poorly managed bookings.
The Manager clearly understands that the guest experience commences way before check in. He called us in the morning to confirm our arrival time and even wanted to know whether we might require our require before the stated time. He confirmed all is in order and even made sure that the bed preference as stated during the reservation was adhered to. Check in was such a breeze, paperless and accompanied with a full induction tour. Our room had a smart TV with Netflix and Prime Video. The kids were hysterically happy. The bed was a small heaven and we were all rested after a good night's sleep. Breakfast did not disappoint, so much so that my kids had already too much to eat (it is played so this is not the case of their eyes being bigger than their stomachs) and had to request for a take-away. During breakfast, work life happened and I had to quickly connect to a work meeting. I was slightly anxious of leaving the kids alone even though they were within sight, and the breakfast hostess kept them occupied and even put on their favorite cartoon channel. The views are simply breathtaking and the products (amenities) are from Woolworths. I came close to crying tears of joy whilst taking a shower. The fluffy towels are an added bonus. Of course the kids wanted to stay an extra night but we had to complete our drive to the final destination.
This is outside the property's control but just before you get to the destination, there is an informal dwelling area with quite some unsavoury characters who were insisting on parking their cars in the middle of the road, thus causing some obstacle
The hygiene, interior and coziness of the place. The staff were friendly, accommodating and had prepared something special for hubby for his birthday ..of which gave that added personal touch.
Love staying there been our 2nd visit will definitely go back.
May 2021
The host Cebo goes above and beyond. Breakfast good.
It was the best time of my life.
Dec 2021
The English breakfast was very nice. I liked the location and the staff was very friendly especially the Manager Cebo is such a nice gentleman. I would recommend the place to anyone who is looking to blow off some steam.
I would love for them to have a bar and a pool. Otherwise there nothing to complain about. I really enjoyed my stay there.
The English breakfast was good, the view there is to die for and the rooms were nice and very appealing to the eye.
The cleanliness and treatment from stuff was amazing
Exquisite view and modern, beautiful room!
Nov 2020
The breakfast was superb! We got to enjoy a veggie option which had veg patties instead of the usual bangers and bacon. Yum! The rooms are modern and good looking and the view from outside is just so peaceful. We really loved our stay.
We were a little confused and thought our room had a bath but it turns out there was only a shower. Wasn't a big deal for us though and we were offered an alternative but stuck to the original room.
Wie viel kostet dieser bed and breakfast im Vergleich zu anderen in KwaZulu-Natal?

Der Durchschnittspreis für eine Anmietung in KwaZulu-Natal beträgt EUR 59 pro Nacht. Diese Miete ist EUR 22 günstiger als der Durchschnitt.
Ist das Parken in diesem bed and breakfast inbegriffen?

Ja, das Parken ist als Ausstattungsmerkmal bei Curry's Post Bed & Breakfast aufgeführt. Für weitere Informationen empfehlen wir Ihnen, sich mit dem Anbieter der Unterkunft in Verbindung zu setzen, um zu erfahren, wo Sie parken können.
Gibt es in diesem bed and breakfast einen Pool?

Wir haben keinen Pool gefunden, der als Ausstattungsmerkmal für diesen bed and breakfast aufgeführt ist. Es kann sich lohnen, noch einmal zu prüfen, ob ein Pool für Ihren Aufenthalt wichtig ist.
Ist Curry's Post Bed & Breakfast haustierfreundlich?

Leider ist dieser bed and breakfast nicht haustierfreundlich. Versuchen Sie erneut zu suchen und filtern Sie nach "Haustiere erlaubt"
Welche Ausstattungsmerkmale sind bei Curry's Post Bed & Breakfast verfügbar?

Wir haben 9 Ausstattungsmerkmale für diese Unterkunft gefunden. Dazu gehören klimaanlage, küche/kochnische, internet/wlan, parkplatz und waschmaschine.