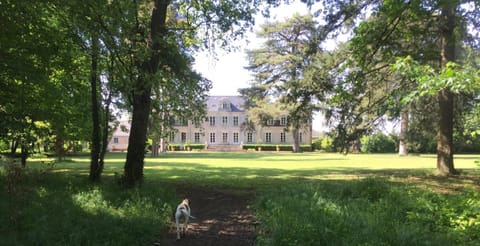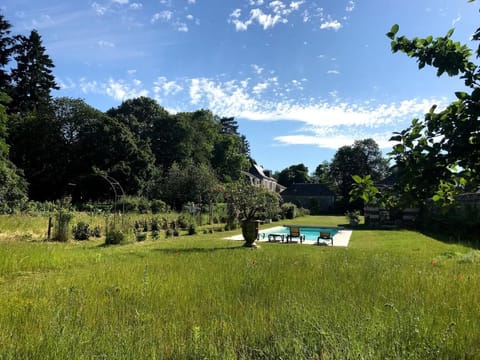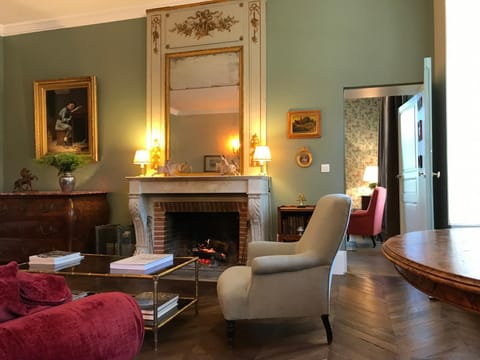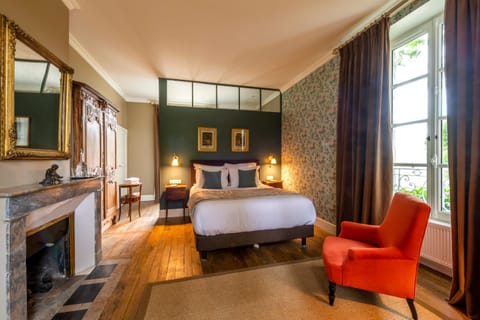 Über diese bed and breakfast Unterkunft
Gelegen in Centre-Val de Loire, dieses attraktiv übernachtung mit frühstück für EUR 83 pro Nacht ist ein phantastisch Option für Ihr nächstes Urlaub. Das COLIVAULT erwartet Sie mit Gartenblick, kostenfreiem WLAN und kostenfreien Privatparkplätzen in Candé-sur-Beuvron, 10 km vom Bahnhof Blois entfernt.
Ausstattung
Pool
Haustiere erlaubt
Küche/Kochnische
Internet/WLAN
Kamin
Rauchen erlaubt
Parkplatz
Waschmaschine
Balkon/Terrasse
Whirlpool/Spa
Fernseher
Rollstuhlgerecht
Garten
Familienfreundlich
Karte von Centre-Val de Loire
Bewertungen
5.0 / 5

"Herausragend"

(242 Bewertungen)
100 % verifizierte Bewertungen
gorgeous country house
Aug 2023
Richard is a wonderful host who really takes care of his guests and makes sure they have a pleasant and enjoyable trip. He went above and beyond by helping with our car rental (called them to straighten out an issue), booked dinner reservations, lent us bikes, etc. I wish we could have stayed for a week (or month!). The house and grounds are so beautiful and well cared for. The beds are extremely comfortable and the bathroom is like new with excellent water pressure. Breakfast was all fresh with lots of healthy and delicious choices. We also loved seeing the dogs, horse, donkey and chickens.
nothing - we liked everything
Beautiful property and amazing host who went out of their way to make our trip great. Also really dog friendly.
Beautifully renovated and very clean accommodations.
The location was superb and the host and his family were very friendly and forthcoming. We enjoyed our stay at Colivault very much.
beautiful home and very welcoming host
Quintessential Loire Valley stay
Jun 2023
Welcoming host, great accommodations, beautiful grounds. Excellent breakfast. Would love to go back.
we enjoyed the beauty and the personal touch of the property. A rose garden, swimming pool, vegetable garden, so much outdoor space, horses and the building itself was stunning and very special. We had the large bedroom in the house with views all around the property. We didn't want to leave. Richard is the best host, personal, genuine and so welcoming. We enjoyed his company and appreciated his efforts. Breakfast was a great experience to start each day. The decor of the house is elegant. We look forward to going back already.
Great experience with very nice hosts in a pleasant environment to enjoy nature.
Apr 2023
We received a warm welcome by the host in this great location. Very nice and spacious room where the open fireplace was started for us. Nice walks in the parc and surroundings. Lot of attention for the nature. Great breakfast with other guests and homemade products.
Superb stay, our favourite for the 16 days we were in France and we stayed at 9 different places altogether. very hospitable and caring hosts, wonderful breakfast, comfortable beds and great wifi in the room. All that we need. We want to come back again in the Summer time. Highly recommended.
It rained on one of the days we were there. :((
Perfect stay near the castles of the Loire Valley !
Nov 2022
- The rooms are very clean, quiet & well decorated (very cosy) - The breakfast is really good and there are many choices (delicious homemade jams) - The owner is very nice & professional - The park is beautiful
Staying at Colivault was a highlight of our visit to Blois. Highly recommended!!
Oct 2022
Lovely country Château with gracious hosts. Comfortable and spacious accommodations and wonderful ambiance. Parklike grounds and special touches throughout.
Charming, authentic, welcoming!
Oct 2022
Richard was very welcoming. He showed us our room, offered to start a fire in our sitting room and explained the access to and from the Chateau.
Unforgettable stay at a breathtaking chateau
Oct 2022
The attention to detail was extraordinary with fresh roses in the room, and a warm fire at night. Richard and Sophie were amazing hosts, and their chateau and restaurant recommendations were impeccable. Chateau Colivault and the grounds were beautiful, and the breakfast with fresh fruit, bread, and preserves from the farm was delicious.
We did spend an excellent time and the the extreme friendly owners looked after us very well.
Oct 2022
The breakfast was excellent with a focus on local and home made organic products. We liked the chateau and its natural, bird friendly gardens and enjoyed sitting at the open fire place in our suite du Parc in the evening. Richard and Sophie are wonderful hosts and very interesting people to talk to.
Charming beautiful, clean, comfortable welcoming. Richard is the perfect host we had a lovely stay.
Sep 2022
We really enjoyed our stay at Colivault. Richard was a perfect host and couldn't do enough for us to ensure we felt welcome and comfortable. The room was huge and the bed was so comfortable (especially after a long drive!). Breakfast was delicious and we had lots of choice, we walked the grounds of the house afterwards and saw the beautiful horses, vineyard etc. It is a beautiful and tranquil place which we hope we can return to soon
No complaints at all - we had a perfect stay.
Very friendly hosts! Especially for a Family with a dog. Super privat pool with huge garden/parc. Close to Blois
A restful and welcoming environment in a beautiful house in a parkland style French country house
Aug 2022
Simply elegant, unfussy attention to our experience and needs by people who care. This is a beautiful, storied house set in several hectares of lawns, forest and facilities. Don't go if you want glamour and fuss, but do if you appreciate sincere effort at hospitality in a wonderful parkland estate.
Nothing. Richard provided everything we expected- and more.
we will definitely be back. 1 night was not enough in this gorgeous setting.
Aug 2022
Beautiful room in beautiful setting. Fantastic host too who was so kind and helpful. We will be back.
Arrived as strangers and left as friends!
Jun 2022
We had the most fantastic stay at petite Colivault, the cottage is perfect! It has everything you need and is so beautifully decorated, it felt like a luxury country stay. Richard and Sophie were the most amazing hosts we have ever had, we arrived as strangers but left as friends. Breakfast was delicious and plentiful. Use of the pool was so welcoming at the end of a day of sightseeing. The location is great, possible to access so many great things the Loire Valley has to offer. We were travelling with our 10 month old baby and were provided a comfortable travel cot and the cutest antique highchair I have ever seen. Our baby loved all the animals on the property … dogs, cats, horses, chickens. I can honestly cannot rate Colivault highly enough and we can't wait to return one day. Thank you for having us Richard and Sophie x
Helpful hoster, nice place,beautiful garden and house.
Fabulous interesting charming owner with 4 lovely dogs. We had a recommendation for dinner which was booked for us. Simply wonderful.
everyting was perfect. Esipecilly Richard's wine.
what a place, highly recommended
Apr 2022
location, atmosphere and our hosts
Great stay in the countryside with family and kids with the plus of animals and space to run.
Apr 2022
The attention from the host Ricard was super, helped us reserving restaurants as it was a busy weekend. Also there are animals in the house which was an amazing fun with the kid (2 horses, 3 dogs and chickens). Breakfast was very nice too and with fresh french croissants and cheese. The family suite we had was huge and had a great time. Unfortunately we didn't have the season needed to take advantage of the swimming pool, maybe next time.
When we arrived we had to reconfirm the beds we needed and how many people we were which it was communicated over messages. It was quickly resolved so it's not been a problem in the end.
private bathroom , historic
The property was amazing! And the hosts were so kind and generous.
The estate itself, the room, the yard, the pool - everything was really nice! We were even provided with plates and glasses and extra bread and wine when we started having our cheese/ bread/ wine dinner in the back yard. Very nice, the owner makes you feel like being home
Charming host in a palatial B&B
Sep 2021
Richard was our host and there to welcome us to his beautiful house. My fault but there was confusion about who was booking dinner. I think Richard pulled strings to get us into a local Michelin recommended restaurant, packed, excellent and the bill was jaw dropping for all the right reasons. Slept like logs and enjoyed an excellent breakfast.
Nothing, this was a great stop for us next door to the Chaumont flower festival (we go every year) and we will definitely be back. Struggling to find anything negative ... even the weather managed to stop raining for us. What more can you ask.
PERFECT IN ONE WORD
Sep 2021
It was perfect: beautiful castle with huge garden full of old trees and flowers. The rooms were large with a wonderful view on the gardens, excellent beds, 5 stars bathroom. Fresh flowers in the rooms. Wonderful breakfast with excellent coffee and bread. Fresh eggs from the garden. The landlord is more than friendly and made his utmost for us to feel comfortable...
Super experience and Richard and Sophie were wonderful hosts.
Everything exceeded our expectations!
Felt like at home
Jul 2021
We have no words to describe our stay - other than, we wish we booked for more nights. The house & setting are absolutely stunning, everything is of great quality & beautiful, delicious breakfast and above all, hosts that made us feel at home. We had a glass of wine together and when they found out we came on our bikes and would need a lift to go get dinner, they offered to drive us. Thanks to Richard and family for opening their beautiful home to us. I am certain we will be back.
Wish we could have stayed longer
Jul 2021
A last minute booking on our way to the south of France. Were more than pleasantly surprised. Location/house/accomodation and surroundings even better than on the pictures. It breathes history, the room where we slept was beautiful and the owners so very welcome. Breakfast next morning the best one we ever had at a chambres d'hotes. If we would have known we found this hidden gem than we would have tried to spend an extra day night. So book this location 'on your way to' but it is also more than suitable to spend several days and enjoy the beautiful sight seeings in this area. Thank you for this memorable experience, also on behalf of our daughter!
Very nice room with living room and open fireplace. We arrived after a day of visit in heavy rain and were welcomed very warmly by the owner, his spouse and daughter. The fire was already on and we spend the rest of the afternoon and evening before it. The owners were also very helpful by proposing a home made dinner served in our room after a small drink with local sparkling wine. The breakfast is also very complete.
We simply loved it!
Nov 2020
Everything! A most charming landlord and landlady made us feel at home from the very first moment on, a wonderful room with a lovely view into the park and the herb garden (watch out for the completion of the new guest apartment that was under refurbishment when we were there in early October 2020, this will be truly great!), a delicious breakfast served by the landlord and an extremely favorable position for all those who want to spent a couple of days visiting the grandest chateaux of the Loire Valley. We really loved the place and its people (and admittedly its dogs) and are certainly determined to return in the hopefully not to distant future.
Only one thing: That we had to leave after three nights
Very relaxing stay in a superb Home!
Häufig gestellte Fragen
Wie viel kostet dieser bed and breakfast im Vergleich zu anderen in Centre-Val de Loire?

Der Durchschnittspreis für eine Anmietung in Centre-Val de Loire beträgt EUR 107 pro Nacht. Diese Miete ist EUR 24 günstiger als der Durchschnitt.
Ist das Parken in diesem bed and breakfast inbegriffen?

Ja, das Parken ist als Ausstattungsmerkmal bei COLIVAULT aufgeführt. Für weitere Informationen empfehlen wir Ihnen, sich mit dem Anbieter der Unterkunft in Verbindung zu setzen, um zu erfahren, wo Sie parken können.
Gibt es in diesem bed and breakfast einen Pool?

Ja, bei COLIVAULT steht ein Swimmingpool zur Verfügung. Genießen Sie das Wasser!
Ist COLIVAULT haustierfreundlich?

Ja! Diese bed and breakfast ist haustierfreundlich. Für weitere Informationen empfehlen wir Ihnen, sich mit dem Buchungsanbieter in Verbindung zu setzen.
Welche Ausstattungsmerkmale sind bei COLIVAULT verfügbar?

Wir haben 14 Ausstattungsmerkmale für diese Unterkunft gefunden. Dazu gehören pool, haustiere erlaubt, küche/kochnische, internet/wlan und kamin.