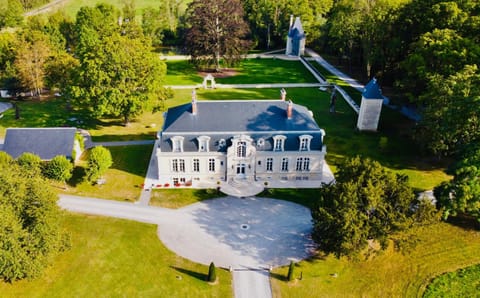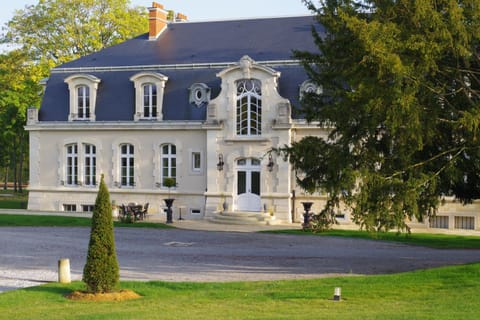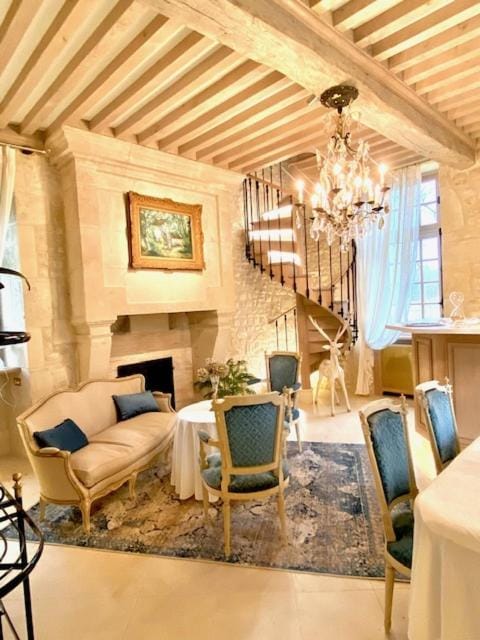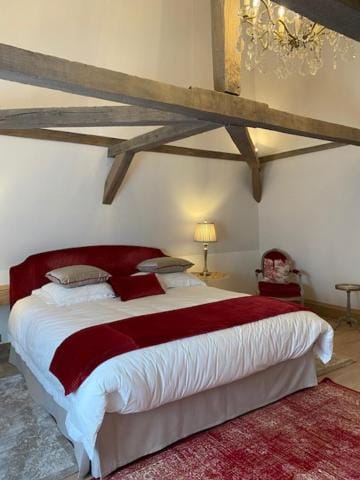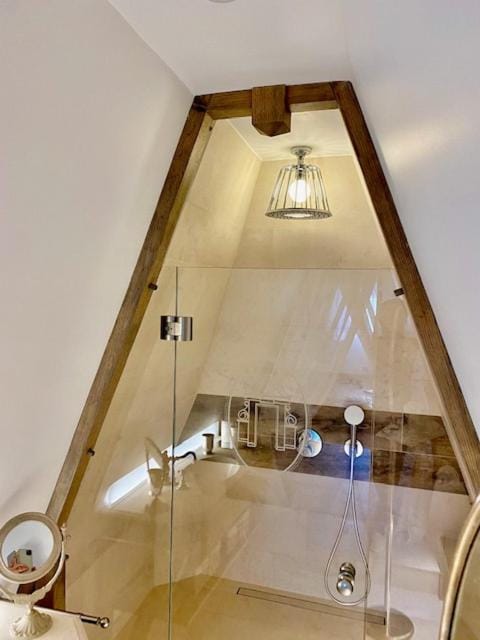 Herausragend
(200 Bewertungen)
Bed and Breakfast in Grand Est
---
Gründe für eine Buchung
Gäste lieben es hier
Gäste bewerten diese Unterkunft mit der Bestnote
Inklusive wesentlicher Ausstattung
Garten, Küche/Kochnische, Internet/WLAN und mehr
Buchen Sie mit Vertrauen
Wir arbeiten mit den besten Reiseportalen zusammen, damit Sie die perfekte Urlaubsunterkunft zu einem attraktiven Preis erhalten.
---
Über diese bed and breakfast Unterkunft
Befindlich in Grand Est, dieses attraktiv übernachtung mit frühstück für EUR 180 pro Nacht ist ein phantastisch Auswahl für Ihr nächstes Pause. Das Le Domaine de Prin erwartet Sie mit Gartenblick, kostenfreiem WLAN und kostenfreien Privatparkplätzen in Serzy-et-Prin, 23 km vom Garten Pierre Schneiter entfernt.
Ausstattung
Küche/Kochnische
Internet/WLAN
Parkplatz
Waschmaschine
Balkon/Terrasse
Fernseher
Garten
Herausragend
(200 Bewertungen)
Bed and Breakfast in Grand Est
---
Gründe für eine Buchung
Gäste lieben es hier
Gäste bewerten diese Unterkunft mit der Bestnote
Inklusive wesentlicher Ausstattung
Garten, Küche/Kochnische, Internet/WLAN und mehr
Buchen Sie mit Vertrauen
Wir arbeiten mit den besten Reiseportalen zusammen, damit Sie die perfekte Urlaubsunterkunft zu einem attraktiven Preis erhalten.
---
Bewertungen
5.0 / 5

"Herausragend"

(200 Bewertungen)
100 % verifizierte Bewertungen
It's just an amazing place to stay , it's so peaceful and stunning , the buildings are so beautiful and clean , we were
Aug 2023
This place will blow your mind , it's so clean , so breathtaking , so beautiful in so many ways
The history , the location , the lakes , the buildings
Everything was great. From the modern but traditional styled rooms to the excellent and cozy breakfast, from the renovated terrain to the excellent service from the hosts. A great location to explore Champagne.
Nothing. It was much better than expected.
We loved the welcome, attention to detail exquisite, the interiors design, decor, workmanship, the property, the health and well-being if the animals on the estate, the quality of charcuterie and breakfast. A lovely, kind, and welcoming proprietor. Gorgeous and genuine.
The perfect chateau in Champagne
Jul 2023
Beautiful castle in the middle of the countryside, furnished in an impressive way. The landlady was extremely friendly and welcoming and made our stay very nice and comfortable.
Be prepared to drive quite far to find a restaurant!
Carla our host and her team were very helpful with advice on restaurants etc...I only qWish we had booked for a longer
Jul 2023
Stunningly beautiful setting. The domaine itself was stylishly decorated to an extraordinary level of detail and felt very warming and accommodating inside.
I really can't fault the property it was immaculate!
Exceptionnal & beautiful renovated 'chateau' with a very friendly host. We recommended it to everybody!
Nothing really besides that a pool would be an additional asset
Wonderful, relaxing just lovely!
Jul 2023
This is a wonderful place! It is so well run, so well located and so fun-and QUIET!
a great place to stay in an exceptional setting in the champagne area.
Jul 2023
the chateau has been renovated to an extremely high standard and the grounds are also designed to a high standard. furnishings are exceptional and the breakfast was very good and varied. the welcome and service was first class.
Splendid in every way!
May 2023
This meticulously maintained property is beautiful and situated in a lovely rolling hills area of Serzy. The owner has exquisite taste in decorating the house and bedrooms with every little detail beautifully executed. Breakfasts were a delight! The owner and staff were very helpful with reservations for dinner and tours. We can't stop talking about what a great stay we had!
It's a beautiful place, managed and hosted by lovable and kind people
May 2023
Carla is amazing host, and her care of us 2 made the whole stay phonomial..
Very relaxing, amazing stay!! We will be back to visit again
May 2023
Carla was an excellent host, very welcoming and attentive. The domaine was stunning, rooms immaculate, breakfast was delicious. The grounds were lovely to wander in. Highly recommend for a relaxing stay
Exquisite Champagne country estate.
Apr 2023
The estate is a beautiful country home surround by ponds and open pasture for sheep, chickens and ducks. The breakfast was excellent with homemade yogurt and bread which was delicious, it is a beautiful escape in the champagne region.
We had such a lovely stay. The Domaine has been restored so thoughtfully and beautifully. The grounds are wonderful. The service and food were excellent, with the hosts (Carla) being extremely warm and accommodating. We had a great stay and would recommend this to anyone we know who is visiting Champagne!
The place is just beautiful and Carla will go extra mile to accommodate your needs!
personal service from the owners in a historic setting. accommodation exterior and interior are both unique and stunning
Feb 2023
all the decor had a lot of pride and love that had gone into it. exceptional and stunning property
A GLORIOUS COUNTRY HOUSE
Sep 2022
Carla is a wonderful human and chateau is lovely inside and out.
No complaints at all. None. Lovely boutique hotel, wonderful owner. Highly recommend.
Fantastic property made even better by lovely hosts
Sep 2022
The property and room was exceptional. Beautifully renovated to an extremely high standard. The hosts were extremely welcoming, friendly, helpful and nice to talk too.
Fantastic place to stay. Hosts were superb. Would highly recommend staying here.
Fantastic location up in the vineyards, overlooking beautiful gardens and the lake. The hosts were lovely, with an excellent breakfast and comfortable room.
Amazing place! very special domaine, restored with the greatest care. There are animals (sheeps, donkey), and two ponds with swans and ducks. The owners are super helpful and supported us with all our requests (baby cot and high chair).
We stayed in the cottage (tower) and the toilet/bathroom is at the top floor which means getting up and down the spiral staircase. But we did not mind.
This is the place to reside in style! The pictures speak for themselves, the atmosphere of the house and the discreet and stylish hospitality are simply wonderful!
The breakfast was amazing, served just for us privately with multiple options! The yard, rooms and all surrounding buildings were beautiful and in excellent condition and the staff was wonderful. 100% recommend!
Oh what a find! We initially booked Le Domaine de Prin purely for a 2 night "stopover" on our way back from the the South of France. How we wish we had booked for longer! What a breathtaking property and what beautiful restoration work has been carried out. Every detail is just stunning and luxurious and the grounds are simply incredible. The hosts are wonderful and generous and were so kind to our youngest, letting him help with feeding the animals. We can't begin to describe how fabulous everything was. We will definitely be back and next time we will definitely be staying for longer!
Beautiful building and area. The breakfast was outstanding and the people very friendly. Best hotel experience i have had!
Amazing find.....!!!!
Aug 2022
Amazing find, it was a stop off for the family en-route to Annecy and was perfect...only mistake is that we should have stayed for 2 nights!! We were the only people staying in the main house and as such we had the run of the place which is just stunning from the peaceful ambiance of the house, stunning decorations and the beautiful setting of the grounds and lakes. Breakfast is simple but perfect with local meats/cheeses/eggs etc....we will be back and next time will stay longer end explore the area a bit more....Thanks Bill Dent and Family.
Wow, just wow. Amazing property, the house and old castle towers are the best restored buildings I've seen. Al details are perfect, preserving as much as possible of the heritage. a walk around the animal farm or the lakes makes the icing on the cake. The owner and her staff were very helpful with all our questions.
I really liked everything. It was so nice and clean. The area was beautiful
FANTASTIC - definitely again and then for a langer stay!
Jul 2022
A fantastic property with exceptional hosts! Lovingly furnished suite in a wonderful manor house in a park-like garden. Exceptional breakfast in the garden of on the terrace. Our hosts looked after us very lovingly, gave us great tips and ensured an all-round successful stay. In addition to the suites in the manor house, there are also two small castles that you can rent - wonderful. Refreshing lakes on the grounds of the park, lots of different animals …
this is a perfect place to spend the rest of your life
Jun 2022
unbelievable beautiful one of the best places in the world
Stunning house with picturesque surroundings! One not to miss when in Champagne!
Perfect Romantic Getaway!
May 2022
My husband found this wonderful place for my Birthday weekend. It was so special, like a fairytale. The staff was very nice and accommodating. The breakfast was very delicious. The grounds were lovely to walk.
Beautiful property, friendly hosts and great location for visiting the champagne region!
May 2022
I liked the beautiful property and very friendly host.
A dreamy stay, 30' from Epernay.
May 2022
The location is superb, I've never seen a hotel room like this one before. We slept in one of the towers. It's an absolute dream and the hostess is super nice and welcoming. A delicious breakfast was brought to us in picnic baskets, we really enjoyed it!
Stay here and remember the experience forever. Feels like a millionaire's lifestyle.
May 2022
This is an exceptional hotel - forget 'bed and breakfast' - you are staying in a luxury Chateau with the owner, decorated to feel like a millionaire's mansion. This is a memorable experience. At breakfast we had our own 'dining room' - one table in an amazing lounge - stunning. We were made really welcome and will go back when travelling into France. In the heart of Champagne so also a great location for tasting and buying with local recommendations. Stay here and you'll remember it forever!
Perfect weekend getaway
May 2022
We traveled for a weekend getaway to celebrate my husband's birthday. It was AMAZING! The property is breathtaking, the decorations too, and the best part was the staff! Ms. Karla and Ms. Cecilia (a fabulous intern) we're very attentive and prepared us breakfast that was to die for every morning. They gave us recommendations on what to do around the area and where to go to shop for antiques. I would recommend it to anyone that wants a romantic getaway!
Häufig gestellte Fragen
Wie viel kostet dieser bed and breakfast im Vergleich zu anderen in Grand Est?

Der Durchschnittspreis für eine Anmietung in Grand Est beträgt EUR 84 pro Nacht. Diese Miete liegt EUR 96 über dem Durchschnitt.
Ist das Parken in diesem bed and breakfast inbegriffen?

Ja, das Parken ist als Ausstattungsmerkmal bei Le Domaine de Prin aufgeführt. Für weitere Informationen empfehlen wir Ihnen, sich mit dem Anbieter der Unterkunft in Verbindung zu setzen, um zu erfahren, wo Sie parken können.
Gibt es in diesem bed and breakfast einen Pool?

Wir haben keinen Pool gefunden, der als Ausstattungsmerkmal für diesen bed and breakfast aufgeführt ist. Es kann sich lohnen, noch einmal zu prüfen, ob ein Pool für Ihren Aufenthalt wichtig ist.
Ist Le Domaine de Prin haustierfreundlich?

Leider ist dieser bed and breakfast nicht haustierfreundlich. Versuchen Sie erneut zu suchen und filtern Sie nach "Haustiere erlaubt"
Welche Ausstattungsmerkmale sind bei Le Domaine de Prin verfügbar?

Wir haben 7 Ausstattungsmerkmale für diese Unterkunft gefunden. Dazu gehören küche/kochnische, internet/wlan, parkplatz, waschmaschine und balkon/terrasse.