The Guest Suites at Manana Madera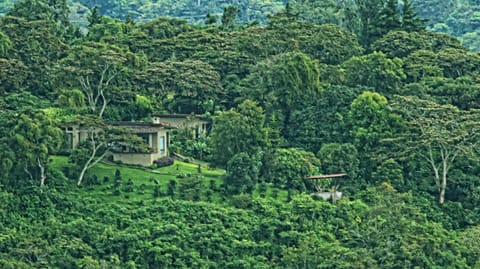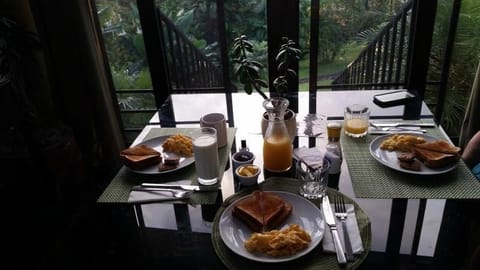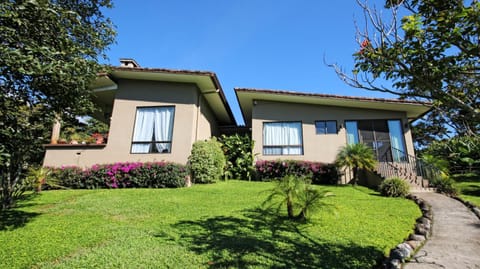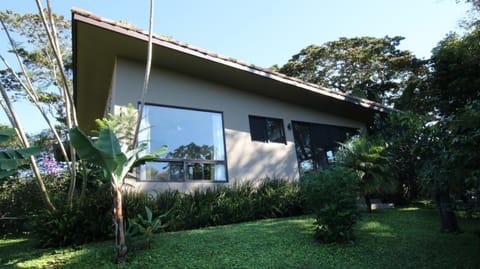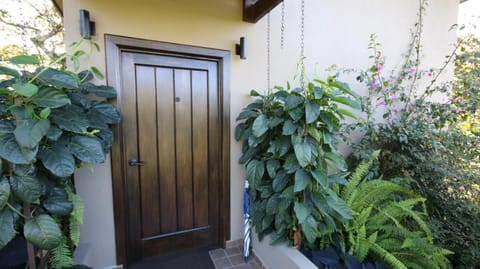 Bed and Breakfast in Los Naranjos
Küche/Kochnische
Internet/WLAN
Parkplatz
Über diesen bed and breakfast 
miete
Befindlich in Los Naranjos, dieses schön bed & breakfast für EUR 149 pro Nacht ist ein großartig Auswahl für Ihr nächstes Reise. Das Mañana Madera Coffee Estate begrüßt Sie in den Hügeln oberhalb von Boquete mit Blick auf Volcan Baru. Die luxuriösen Suiten bieten einen atemberaubenden Blick auf die umliegenden Berge und erstklassigen Komfort.
Küche/Kochnische
Internet/WLAN
Parkplatz
Waschmaschine
Balkon/Terrasse
Fernseher
Garten
100 % verifizierte Bewertungen
5.0 / 5

"Herausragend"

(45 Bewertungen)
Not just a slice of heaven, but the entire pie!
Aug 2021
We absolutely loved our stay at Manana Madera! We truly felt like we were on top of the world, and so well taken care of by our host, Katt! Our suite was so well appointed and spacious, and the bed was super-comfortable. The breakfasts from Katt were delicious, and she was so flexible to wake up early on our check-out day to make breakfast before our morning flight. She was also our personal "Uber driver" during our stay for transportation to/from downtown Boquete, even taking us on a beautiful scenic drive during one of our trips downtown. From the time we arrived we immediately started discussing coming back to Manana Madera on a future trip! And, the coffee was fantastic...we bought 3 bags to take home with us. Thanks Katt for a wonderful stay, and we look forward to meeting Randy on our next visit!
The only thing we didn't like was that we didn't stay long enough!
Cozy comfortable stay
Jun 2022
Warm hospitality and very comfortable facilities overall.
It gets cold up there, slippers in the room would be a nice thing to have.
Anytime and again
Nov 2022
Top breakfast-, Service, specially Randy, amazing view, silent, the garden is a park, the suite, .... everything! The best time in life are the little moments when you feel that you are in the right place at the right time and the right people/hosts!
I don't want to spoil some of the surprises that will delight guests, but suffice to say that, your hosts have thought o
Feb 2023
This lovely coffee estate is off the beaten track yet just a few minutes up from the town of Boquete. Randy and Katarina could not have been more helpful and their property is stunning, with beautiful vista views of the valley below. The guest suite is a private casita that is beautifully decorated and built with custom woodwork throughout and first rate modern amenities. Thank you Randy and Kat for an amazing stay in your mountain hideaway! And for running down the mountain to find us with the coffee we left behind! You are true gems.
There is nothing at Manana Madera that is not top shelf.
Wonderfull and unique place.
Nov 2020
The property is located within a coffee estate. You will be surrounded by beautiful coffee and orange trees, many types of birds and will have a beautiful view of the Volcan. This is a perfect stay for those looking to rest and get away from crowds.
Everything was better than expected.
Randy was a super host. he thought of everything. made our trip perfect.
Feb 2023
super spacious. clean. wonderful scenery.
Beautiful scenery with the most excellent host
Jan 2023
Randy's property is beautiful and allows for real rest and relaxation. The suite has a huge glass window overlooking breathtaking scenery, which also allows for amazing stargazing straight from your bed at night. The suite also has hammocks that you can take down the path to a covered patio for another view of the mountains. Randy goes above and beyond for his guests, including picking us up from the airport himself since his driver was out and then proceeding to get us where we needed to be through the duration of our trip for a cheap price. We felt like Randy was our dad (in the best way possible) ensuring that we made our way around the area safely, booked excursions with trusted providers, and offering great recommendations for restaurants. Another bonus is that breakfast is delivered straight to your lodge at your desired time with several good options to choose from. Overall, it was an amazing experience staying at Manana Madera!
Randy's place was our most beautiful stay in Panama. He is a very accommodating host, the bungalows and their gardens are beautifully kept and the area itself is wonderful. We were only there for four nights, but would have wanted to stay at least a week there. On top of everything Randy's self produced coffee is very good. The Guest Suites at Manana Madera are an extraordinary and incredibly beautiful hideaway. Thank you for such an amazing time! We will definitely be coming back.
Best experience in Boquete!
Jan 2022
Randy and Kat were amazing hosts! Warm , welcoming and full of information. Best location ever!
Randy and his mountain escape are truly something special! He makes you feel like home with his cooked to order daily breakfast, along with his genuine love for life and his guests! I would book in a heartbeat! Comfortable bed and clean with daily housekeeping. I have stayed all over the world, and his is one I will always remember. There's just something about him!
Relaxing gem with a stunning view
Apr 2023
My sister and I travel extensively, and we truly felt that Manana Madera WAS the vacation. There is a lot of beauty and adventure in Boquete, but our favorite part of our visit was a hike in the morning, and relaxing in hammocks in the afternoon and evening. This property overlooks a beautiful valley, and watching birds fly around the garden while drinking a coffee or a beer, was an absolute pleasure. The hosts, Randy and Kat, are accommodating and cool. Randy made sure we had what we needed and made sure we could get where we needed to be. He is candid about what you should see and what you could avoid - very helpful. He knows a lot about Boquete and contributes to a lot of social causes there, so it felt good to stay at a place that gives back. We would absolutely stay again!
Marvelous place and an amazing host
Dec 2021
Manana Madera is a marvelous place and Randy is the most amazing host I've ever met! The little house I stayed in was exceptionally clean and cozy, with a comfortable bed, lots of amenities and a serene and beautiful view. It felt like home away from home. Randy was really helpful and made sure I have the best of my short time in Bouqete. He showed me nests with newly hatched humming birds in his garden, guided me to the waterfall trail and recommended places to eat. He even gave me a cell phone to get in contact with him in case I needed a pick up or something else. I had such a great time! Thank you, Randy!
Amazing! Will be back!
Jul 2021
Magical place. So relaxing and comfortable. A great getaway in a gorgeous location. Very private and quiet. Randy is a superb host and will give you all the information you need, always with smile.
It is a drive from town and you should make sure you take any snacks and drinks that you want with you.
Incredible experience overall - the owner, the service, the suite, the view - far exceeds
Mar 2023
Incredible!! The views and the accommodations well exceeded my expectations. Owner had hammocks available to use in gazebo and coats available in addition to coffee grown on the owner's farm. He included a local cell phone to use to contact him any time for help or recommendations. Breakfast was delicious as well. Will definitely return here for the tranquility and personalized service.
EVERYTHING WAS AMAZING!
Mar 2020
Everything! The views were amazing! Breakfast every morning delivered to our table was amazing! Massage was amazing! Coffee delicious! Rooms AMAZING! Lol Seriously EVERYTHING was amazing! Randy and Katt were the MOST amazing!🥰
The drive way? Lol it was very steep.
An amazing experience.
Nov 2022
Everything! The garden and the view were beautiful. The house was well equipped and cozy.
Everything about Mañana Madera was breathtaking in the most beautiful way. The breakfast was excellent....lots of choices. The location, flora, fauna, and the views are spectacular. With that said, the icing on the cake are Randy, and Katia! The care, and attention was priceless.
Beautiful location with excellent service and thoughtful accommodations/amenities!
May 2022
Beautiful location! The accommodations were excellent and the hosts thought of details we wouldn't have even considered, such as providing rain jackets for guests who many not have brought their own. Super friendly hosts who make and serve a great breakfast (of your choice) to your room and provided excellent recommendations on how to spend our time while in Boquete.
It didn't bother us at all, but the road to get up to the location is steep. They provided excellent driving instructions so we knew what to expect so this wasn't an issue.
Wie viel kostet dieser bed and breakfast im Vergleich zu anderen in Los Naranjos?

Der Durchschnittspreis für eine Anmietung in Los Naranjos beträgt EUR 78 pro Nacht. Diese Miete liegt EUR 71 über dem Durchschnitt.
Ist das Parken in diesem bed and breakfast inbegriffen?

Ja, das Parken ist als Ausstattungsmerkmal bei The Guest Suites at Manana Madera aufgeführt. Für weitere Informationen empfehlen wir Ihnen, sich mit dem Anbieter der Unterkunft in Verbindung zu setzen, um zu erfahren, wo Sie parken können.
Gibt es in diesem bed and breakfast einen Pool?

Wir haben keinen Pool gefunden, der als Ausstattungsmerkmal für diesen bed and breakfast aufgeführt ist. Es kann sich lohnen, noch einmal zu prüfen, ob ein Pool für Ihren Aufenthalt wichtig ist.
Ist The Guest Suites at Manana Madera haustierfreundlich?

Leider ist dieser bed and breakfast nicht haustierfreundlich. Versuchen Sie erneut zu suchen und filtern Sie nach "Haustiere erlaubt"
Welche Ausstattungsmerkmale sind bei The Guest Suites at Manana Madera verfügbar?

Wir haben 7 Ausstattungsmerkmale für diese Unterkunft gefunden. Dazu gehören küche/kochnische, internet/wlan, parkplatz, waschmaschine und balkon/terrasse.