King's Cliff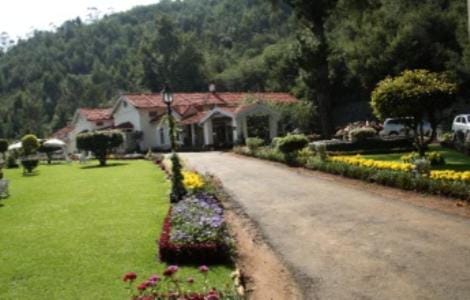 Resort in Ooty
Internet/WLAN
Kamin
Parkplatz
Befindlich in Ooty, dieses charmant resort für EUR 40 pro Nacht ist ein großartig Option für Ihr nächstes Urlaub. Das King's Cliff ist ein Haus mit Geschichte, eine charmante, renovierte Unterkunft, die von Hügeln und viel Grün umgeben ist.
Internet/WLAN
Kamin
Parkplatz
Waschmaschine
Fernseher
Garten
100 % verifizierte Bewertungen
3.9 / 5

"Gut"

(122 Bewertungen)
A place with colonial history and wonderful location to enjoy Ooty in its true nature
Mar 2022
very good place with very courteous staff
Wi-Fi not available in the rooms
This used to be a good place to stay. Unless there is an upgrade to the property I would advise to s
Jan 2023
The staff were courteous but the actual service was poor especially the timing of the breakfast
1) room was filthy and smelled. The rug was filthy and smelling. The room view was disgusting. I requested a room change and fortunately there was a better room available but my disappointment continued. 2) I could hear loud conversation till around 1am. Didn't get any sleep. This is unacceptable. The room has zero privacy as whatever is said or done in your room your neighbours will know. 3) the hotel is completely run down and is way overdue a refurbishment.
Despite my illness, a relaxing stay
Oct 2022
the service from Shekar was exceptional. I was unwell & he helped with jeera water that helped settle my stomach
Breakfast spread could've been better.
The old world charm. Reminded me of our house in Shimla, where I spent 7 years of my youth.
The staff at the breakfast left much to be desired.
Good for an experience of colonial Heritage.
Oct 2021
The location and Heritage Building.
Tariffs are on the steeper side.
old British era resort
Dec 2021
the historic architecture of the property was a delight. fire place in the room was a bonus
The food was excellent. The manager Mr. Sanjay was kind enough to upgrade my basic room to a bigger one, without me requesting for it. A big cheer to the chef for his Jam, I was told he had prepared them that day. P
The beautiful location amidst the Nilgiris for all nature lovers. Thanks to the team for their hospitality. The staff was so courteous and special thanks to Mr. Shekhar who took care of us from the point of dropping off our bags in our room to lighting up the fireplace. The service was great and the food was really delicious.
bad one they should refund half my money
Nov 2021
very bad experience, entire night there was a brawl in the resort with customer of restaurants and staff member couldn't sleep so much noise from kitchen in rooms not at all a good experience and paid such a hefty amount
Food and restaurant is expensive
not worth the charge for larger room; should make international visitors aware they need to pay cash or transfer much ea
Apr 2022
poor security; do not accept international credit cards; a chair broke ; no alcohol but not publicised anywhere
Quaint and cosy with a good view of the hills as it is located at a height. everything is very neat and clean with beautiful English styled rooms.
i think the price is too high for the rooms; it should be in the range of 5-6k a night maximum because this is not even a resort, no swimming pool or big grounds to roam in.
nice gardens with quiet places to sit and read good restaurant helpful staff especially Sekar who looked after us well. comfortable room with log fire for the chilly evenings
restaurant didn't serve beer or wine.
Kings Cliff has a price tag for kings but it's really not for kings...
Aug 2022
Value for money was very poor, at rs.13000 a night the breakfast was very basic with a terrible bakery section.The room(called tempest) that was provided to us had a view into a badly maintained corridor, no heater is provided as standard, we needed to request for hot water and wait most of the time. The ventilators in the room didn't have curtains so it would get bright really early.
Location, view of Ooty, food, room and British era architecture.
There is no wifi or internet connectivity in the room. The hotel should make wifi available in the rooms for the price they charge.
Location is good...property is very well kept
They don't have a regular kitchen so food is available only at particular timings
property is very old and our stay was not confortable and not value for money
Feb 2023
location is good food is good
property is very old and not maintained correctly, lot of rat noises in the inside the floor,
Amazing location, great food and friendly staffs!
Sep 2021
Location is amazing. Friendly staffs, Shekhar, Sanjay and Marshall, Das( waiter) are very good caregivers. They made us feel good throughout our stay.
Network is a problem also no WiFi in the rooms. Even the Cafe and lobby Wi-Fi is very slow.
Excellent place with good food but just work on the stuff mentioned above
Jan 2023
location and the ambience was excellent
Beds are too small - so they need to work on having bigger beds because family with small kids is way too difficult to stay. Staff need to welcome and probably need some training in that regard as I had to literally go and talk about my booking and stuff. I guess that is one thing that they can do better.
good but for the reception staff
Apr 2022
location and food serving staffs
managing staff are discourteous and reckless
location and food is just amazing worth the price
King's Cliff is an awesome place to stay at ! The mix of heritage and greenery makes the place outstanding! Location,Hospitality,Food & overall 👍 The staffs at the place are extremely good, namely Marshall,Irsha, Yaswanth, Sekar, Moses & all. Marshall was interactive & helpful. Sekar was humble & proactive in getting things done. Moses was super cool he's a humble sportive guy who went extra mile to make our trip memorable! Thanks Moses for the pics & video me & wife would cherish forever! Kudos to the owner of the property for having this set of people!
Wie viel kostet dieser resort im Vergleich zu anderen in Ooty?

Der Durchschnittspreis für eine Anmietung in Ooty beträgt EUR 36 pro Nacht. Diese Miete liegt EUR 4 über dem Durchschnitt.
Ist das Parken in diesem resort inbegriffen?

Ja, das Parken ist als Ausstattungsmerkmal bei King's Cliff aufgeführt. Für weitere Informationen empfehlen wir Ihnen, sich mit dem Anbieter der Unterkunft in Verbindung zu setzen, um zu erfahren, wo Sie parken können.
Gibt es in diesem resort einen Pool?

Wir haben keinen Pool gefunden, der als Ausstattungsmerkmal für diesen resort aufgeführt ist. Es kann sich lohnen, noch einmal zu prüfen, ob ein Pool für Ihren Aufenthalt wichtig ist.
Ist King's Cliff haustierfreundlich?

Leider ist dieser resort nicht haustierfreundlich. Versuchen Sie erneut zu suchen und filtern Sie nach "Haustiere erlaubt"
Welche Ausstattungsmerkmale sind bei King's Cliff verfügbar?

Wir haben 6 Ausstattungsmerkmale für diese Unterkunft gefunden. Dazu gehören internet/wlan, kamin, parkplatz, waschmaschine und fernseher.