Movenpick Resort & Spa Boracay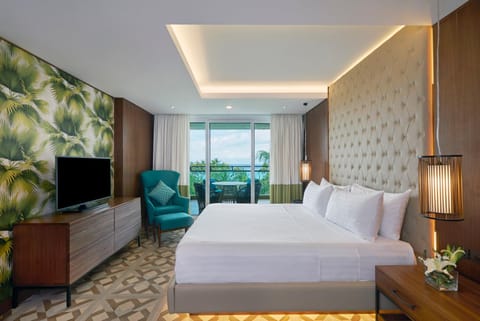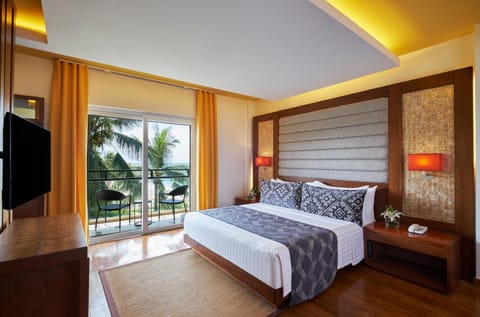 Resort in Boracay
Pool
Klimaanlage
Küche/Kochnische
Eingebettet in Boracay, dieses attraktiv resort für EUR 95 pro Nacht ist ein großartig Auswahl für Ihr nächstes Pause. Das Movenpick Resort & Spa Boracay empfängt Sie an der Bucht von Punta Bunga. Freuen Sie sich auf einen eigenen Strandbereich. Die Zimmer bieten einen Balkon mit herrlicher Aussicht auf den Garten oder das Meer.
Pool
Klimaanlage
Küche/Kochnische
Internet/WLAN
Rauchen erlaubt
Waschmaschine
Balkon/Terrasse
Whirlpool/Spa
Fernseher
Rollstuhlgerecht
Strand/Ufer
Fitnessraum/Fitnessstudio
Garten
Familienfreundlich
100 % verifizierte Bewertungen
4.3 / 5

"Ausgezeichnet"

(845 Bewertungen)
We liked the room we stayed in there, the service was good and the staffs were very helpful and accommodating.
We aren't fan of the location
We definitely enjoyed our trip here. We'll recommend this place to our friends and hope to be back here soon!
Jul 2022
We liked the facilities, not crowded beach, delicious food, very friendly staff, smooth airport transfer
They were not as responsive in the emails
Very private away from the crowd of stations 1-4. Accommodating staff. Even bought meds in mercury drug for my sister as requested. Daily chocolate hour for chocolate lovers.
The food. Super expensive and not even good. Breakfast was okay though.
Overall a very fun and relaxing experience to be in Movenpick
Apr 2022
Very accomodating staff (Joy, Brooks, Alfie, Leo, Sam) Buffet breakfast is good. Chocolate buffet from 4pm to 5pm is a nice touch but what they serve at the chocolate buffet can be improved. Airport transfer is commendable.
Room and restaurant service can take some time and delivery of request is incomplete. Food on the menu is not the best for the price you pay for. We preferred going out and eating out. We don't mind paying for the food as long as the price matches the taste. Having said that, buffet breakfast is at par (this is positive) with other similar hotels.
Great family getaway
Aug 2022
This property is located at an amazing beachfront, has nice swimming pools, great breakfast and friendly staff. Their family room has a good size with beds that are comfortable. When my mom told me that she dreams of going to Boracay, I did not think twice and extended our stay for three more days in order for her and my dad to experience this wonderful place. I was happy to have fulfilled mom's dream and Movenpick made it more special for her. We loved our stay here.
I wish we stayed longer. I guess we'll just have to visit next time.
Nice room and beach. Stay somewhere else!
Jan 2022
This hotel comes across as a pretty nice place to stay. The rooms are lovely and the beach is beautiful. The staff are friendly!
So... there are so many amazing reviews of this hotel and it makes me wonder if anyone reviewing this place has actually stayed in a hotel before. From the perspective of communication, organisation and customer service, it was a clown show. There were so many problems with our stay here I will not go into it. What I will say is that the staff seem to have no clue how to service a hotel of this size or stars! Breakfast was a mess! The booking was a mess, communication with the hotel was non-existent. There was no internal communication, departments had no idea what the front desk has organised with the customer. The hotel was making apologies everywhere. There was no organisation at the chocolate hour. People just took all the food and left nothing for anyone else, breakfast was much the same. This place is also expensive and not work the money for the quality of food or service.
The staff were very accommodating and helpful. Beach was private. Food and drinks were good. There was no need to go to the main beach and we will definitely be back.
Best Hotel on the island
Jul 2022
The staff members were very hospital. From upgrading my ground floor unit to the 3rd floor with memorising views. Security was tight and I always felt safe due to Jhay Moon who took exceptional care of me including providing 1st aid at 1am in the morning! The market restaurant always ensured I was fed with the most appetizing food. A big thank you to my waiter Rose who ensured I was well fed and accomodated for all my dinner meals throughout my stay. Making special requests to the chef and ensuring I was able to eat even after missing the final dinner calls 😋 My first time in Phillipines could not have been better. My sincerest gratitude goes out to all who made it possible! Will most definitely be coming here again 😍 Thank you! Darshan Kesaw
Staff Hospitality is amazing, one- of-a-kind
Apr 2022
the staff is the real reason why we enjoyed our stay. they are really polite, helpful and they did extra mile to make our stay memorable. we really commend John, the bartender, and his exceptional Mojito as well as Rachel, the receptionist.
our first room has a connecting door so we could hear the next door neighbours singing and shouting. luckily the staff was really helpful to move us to a better room.
peaceful and quiet <3
Apr 2019
the staff are wonderful and polite. they pretty much took care of us and everything we needed :D very secluded area so we really enjoyed the privacy...
nothing~ but i did have some comments for improvement that i sent to the management :D
the service staff and beach are excellent with all facilities are good and clean just hope more food option
just not all boucany can't see the beach view
Good resort. Private location. Fantastic and friendly staff!!! Some room issues
Mar 2022
The resort was nice. Pool was great. Location was very secluded and matched what was shown online. The staff were fantastic!
The room and sound isolation.... Room is sparse, could've used a cabinet or extra take for clothing. The major complaint is... I paid for a 4+ star resort. Why do the rooms have no sound isolation? I can hear through the door literally everything.. someone walking down the hallway or someone having a normal conversation. I'm on vacation.. I'm not living in a dorm room. And maybe illustrate on the website that the water activities are far away from the actual resort.
The resort was clean, staff were friendly, we loved its privacy as we felt like the whole beach was ours. The place was very peaceful and I would highly recommend it if you are looking for a place to relax. The resort is a bit isolated as it is located in station zero. It is far from establishments. However, they have a variety of foods from breakfast to dinner. They also have a bar where you can get your non-alcohol and alcohol drinks. :)
Great Resort but NOT 5 Star Service
Apr 2022
The resort property is amazing with a private beach and huge pool. My kids loved everything about the place. My 4-year-old enjoyed the kid's playroom. I asked the front desk for help finding the closest pharmacy and without hesitation, they offered to send someone out to pick up medicine for me so I did not have to leave the resort.
The Restaraunt staff made daily mistakes with our orders. The food quality was just ok, nothing special. After the first two nights, we went to town to eat at random places and paid lower prices for much higher quality food and service. I booked a family room with one large and one small bed and a second room for one adult. Upon check-in, I was given two identical rooms with one king bed each. The front desk called later that evening to inform me they made a mistake and offered me a third room. I explained I paid for two rooms and that is all I needed but wanted one of them to be the larger family room. I was informed all they had available were the smaller rooms. I asked for credit in the amount of the difference I paid between the standard room and family room which was denied.
the private beach was very nice. rooms were clean. nice bar. good value for money relatively to neighbor hotels - Crimson and Shangri-la
very kind but sometimes slow service.
The beach makes up for the rest
Jul 2022
The private beach was beautiful, clean and nice colour and not crowded. The pool was big and clean, bar staff at beach bar were good and great at making cocktails. Transfer was worth the add on to be collected from the airport!
Rooms were very noisey, could hear everything from rooms next door, and everyone walking down the hall. Not all that clean and basic rooms facilities. Understand the location being further out for the private beach And great that the hotel has free shuttles, could do with more frequent shuttles tho.
The privacy, the amenities and of course the staff.
Maybe the food, it's just ok.
The place is amazingly beautiful and clean. one of D best resort to stay in boracay and i will definitely bring my family again here.
The location has the best site for the beach.
The breakfast buffet doesn't taste good. Not organized during breakfast the staff had to transfer us to the other table while we are eating because other guests took our table while we were getting our food.
A huge thanks to all the staff, from the welcome team in the airport and sea port to the resort staff, Front Dest, F&
Apr 2022
The location feels exclusive and isolated which I love, far away from noise and busy atmosphere of Stations 1-3. The staff in The Market, namely, Ms Joy (Restaurant Manager) and her staff (Brooks and others) are very attentive and caring, aways anticipating the needs of their guests, not only for us but all of the hotel guests. They are well trained and polite, helpful but not intrusive.
Nothing major, perhaps a pair pf bathrobes inside the room and an Iron and ironing board will be helpful but not mandatory. We came to enjoy, not to iron my clothes (LOL).
nice view but poor management and no leadership
Jun 2022
the design of the hotel and it's facilities are really good, the pool and sun beds are great. staff are polite and helpful. the room is nice with a balcony but no view. the free chocolate hour is a nice touch but not much choices and all the same everyday.
the dining hall for breakfast is not air-conditioned and is really hot no matter what time in the morning you come over to eat. it is very uncomfortable and you can't enjoy a coffee and unable to eat well your food. you'll be sweating really bad. and some of the foods are consumed and not replaced early in the morning. the restaurant and bar has no AC too. prices of food and drinks are very much inflated as well as activities when booked through the hotel.
We all enjoyed our stay at Movenpick. It was very comfortable and safe for kids.
Apr 2022
The breakfast was lovely. The staff were also very accommodating with our requests since we have kids. We're also very happy that there wasn't any corkage fee which encouraged us to stay in the hotel instead of going to another station.
The hotel room view. The check in system could have been better and faster. Room service is a bit slow.
The breakfast was great. Lots of options. The location on the beach is amazing. Very private with only 3 resorts that access it.
Property could use a good up date. The building and room are fairly old.
Rather disappointing experience, a view shared by other guests we talked to
Dec 2021
The beach was very nice and clean.
Food and beverage choice and associated service was very disappointing. Property seems understaffed and staff poorly trained. Breakfast was disappointing in quality and long lines on two days to get anything.
Over all experience was good just little drawbacks of it being vey quiet
Oct 2022
The beach at the hotel is not crowded beautiful and very clean. Breakfast at the hotel was more of a feast a lot of different type of food which you could choose from. Room was great for good for the price.
There is no activities inside the hotel itself. Since Boracay has different zones. The hotel is located at almost the end of the island which makes you spend more time in the hotel. There is no entertainment at night. Everything almost ends by 8:00 PM or 10:00 PM which gets a bit boring if your looking for a bar or somewhere to spend some more time in. Gets really quiet which is a bit not fun Reception doesn't smell the best
the beach and the staff at the Beach Bar were great. Always trying the best to help you and make sure you were happy.
the room with a balcony facing a wall!! (Building 2) and on the side where the generator was, when electricity cuts happen it becomes very noisy, impossible to relax. I suggest when booking check carefully that they do not give you this room(s) on this side or your holiday will be ruined. get the front garden view !!
staff is very nice, beautiful beach and large pool, clean rooms. beautiful territory
food wasn't good. very few healthy options. mainly very oily or sugary. coffee is impossible to drink. given the location you don't really have other options except restaurants on the site. queue to the breakfast, slow service for room orders. rooms feel a bit old, not cozy. Power sockets are not well located
Wie viel kostet dieser resort im Vergleich zu anderen in Boracay?

Der Durchschnittspreis für eine Anmietung in Boracay beträgt EUR 53 pro Nacht. Diese Miete liegt EUR 42 über dem Durchschnitt.
Ist das Parken in diesem resort inbegriffen?

Das Parken ist nicht als verfügbares Ausstattungsmerkmal bei Movenpick Resort & Spa Boracay angegeben. Für weitere Informationen empfehlen wir Ihnen, sich mit dem Anbieter der Unterkunft in Verbindung zu setzen, um zu erfahren, wo Sie parken können.
Gibt es in diesem resort einen Pool?

Ja, bei Movenpick Resort & Spa Boracay steht ein Swimmingpool zur Verfügung. Genießen Sie das Wasser!
Ist Movenpick Resort & Spa Boracay haustierfreundlich?

Leider ist dieser resort nicht haustierfreundlich. Versuchen Sie erneut zu suchen und filtern Sie nach "Haustiere erlaubt"
Welche Ausstattungsmerkmale sind bei Movenpick Resort & Spa Boracay verfügbar?

Wir haben 14 Ausstattungsmerkmale für diese Unterkunft gefunden. Dazu gehören pool, klimaanlage, küche/kochnische, internet/wlan und rauchen erlaubt.