Amiana Resort Nha Trang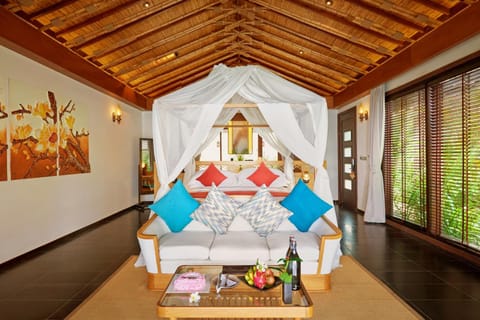 Resort in Nha Trang
Pool
Klimaanlage
Küche/Kochnische
Eingebettet in Nha Trang, dieses attraktiv resort für EUR 70 pro Nacht ist ein großartig Auswahl für Ihr nächstes Reise. Das Amiana Resort Nha Trang begrüßt Sie in einer einsamen Bucht mit einem eigenen Strand und Blick auf die Meerlandschaft von Nha Trang. Ein 2.
Pool
Klimaanlage
Küche/Kochnische
Internet/WLAN
Rauchen erlaubt
Parkplatz
Waschmaschine
Balkon/Terrasse
Whirlpool/Spa
Fernseher
Rollstuhlgerecht
Strand/Ufer
Fitnessraum/Fitnessstudio
Garten
Familienfreundlich
100 % verifizierte Bewertungen
4.4 / 5

"Ausgezeichnet"

(357 Bewertungen)
One of our families' most amazing vacations!
May 2021
We were a big group staying in the beautiful 3 room Ocean Villa. We got lucky as the villa had the most amazing location and large garden facing the sea. Our kids loved the private pool and the beach. The rocks and sand in the beach are so soft and white, the sea water is pristine and we could even see fishes from above! The breakfast is delicious. And last but not least, the bed is one of the most comfortable I've slept on!
Maybe because it was a busy traveling weekend for Vietnam, but still, I think the service efficiency could be improved for e.g. our check in took longer than expected, one day the towels were not replaced and we had to call twice to get new ones. we had to wait quite a bit after calling for the internal cars that transferred us from villa to restaurant (its a bit of a walk for kids under hot sun).
We stayed in an Ocean villa. Breakfast is the best I have ever experienced. Large variety of Vietnamese and western food. all fresh. Staff is very responsive and very helpful. Pools and beach area are very nice and clean. We also enjoyed the spa for a mud bath and massage.
Nothing was more than we expected.
Great resort to unwind and relax.
May 2023
We stayed in an Ocean View villa with a great view of the city of Nha Trang, close to the beach area (which was kept in an excellent condition by the life guards). The villa with outdoor shower was great. The three pools plus the beach area provide ample choice for the guest. Staff was very friendly and helpful. The different bars and the restaurant provide a great choice of menu. The fitness area is very well equipped. Overall we had a great stay.
There is very little we didn't like. Two minor things, the bed was very soft (which is very subjective) and the fitness area (despite being very well equipped) should have the AC running otherwise sports in itself becomes impossible.
fantastic hotel! from rooms to facialities, this hotel is a 10/10
Oct 2022
the staff was outstanding and really made the hotel and our trip
nothing, I would go back tomorrow
great relaxing stay in beautiful friendly environment
Dec 2022
the staff have obviously been very well trained. without exception everyone smiled and said hello, even the gardeners and cleaners. it felt like a very friendly place to stay. a great credit to the resort manager whom we met a couple of times and who was always working, checking things and cleaning tables as well as talking to guests. an excellent example and he has built a great team. well done sir!
The room is awesome, spacious but not sound proof
It was so long and hard to catch an electric car
Great resort to stay!!
May 2023
The resort was clean and staff were really friendly. I would highly recommend staying here.The breakfast was amazing.
A nice and complete resort outside the busy center of Nha Trang
Feb 2022
The quality of the structure is impressive, 4 different pool/beach areas, nice and collaborative staff, cleanliness is at top level, many amenities.
TET period was already very crowded and the structure allows people from outside to be invited during the day by hosts. Also others can enter in the dining area paying a fee (basically to take selfies...) Western food menu could be improved.
it was good but could've been better
Feb 2023
the private beach but seems crowded with outside guests
not enough lounge chairs to relax on the beach. Too many people and less chairs
brilliant facilities, great staff. great views and rooms
Apr 2023
the location, decor and overall appearance. The staff where also amazing.
very beautiful place
Nov 2021
the design is good, especially that the bath room is so wide as well as the most beautiful thing in the area
This resort is a very relaxing and beautifully blended with nature. The staff
Feb 2023
The buffet breakfast was exceptionally good. Great variety of different tastes the jiuces and fresh fruits were soooo good and refreshing. The different pools (salt water, fresh water and adult) and the beach were all enjoyable and safe although the water was a bit chilly temperature in January. Service and sraff in all areas were fantastic.
Did not enjoy the mud bath as I found it boring and the setting was not that relaxing…..
The beach, swimming pools, beeakfast, deluxe rooms were amazing! We very much loved it!
Everyrhing was perfect. Just the prices for the excursions were over priced.
Beautiful beach location with multiple pools
Jul 2022
The bars, menu choices, pools, beach, and water sports were excellent.
The resort was very busy and noisy at times; a quiet pool for adults would be nice. The gym could use some updating.
I am unhappy when they used "village" for small studio room, but any way, manager try to solv the problem with
May 2023
swimming pool, breakfast, view.
name they use for room, easy to pay lot for small studio!
Pretty good, very family orientated, not super luxury
Apr 2023
Staff were good, the bar tenders were really lovely. Breakfast was great.
The aircon in our initial room didn't work, so we had a dreadful first nights sleep. However, they moved us the next day to a lovely cold room! Property isn't as luxury as it looks online, lots of kids and Russians (which is not a problem, just an observation). Food was overpriced for the quality
We had a very relaxing 8 days,lovely food.
Mar 2023
So much choice, we enjoyed have Vietnamese breakfast, lovely to sit outside and see the views
Quite a nice property with scenic views, a decent beach space, wonderful pools, lovely breakfast spread.
The shuttle service frequency could be increased to add more trips.
Amazing romantic place
Nov 2022
quiet beautiful place, bungalows - ideal for romantic couples. delicious food in the restaurant. The breakfasts are just amazing.
VERY DISAPPOINTING EXPERIENCE - NOT RECOMMENDED FOR A RELAXING GETAWAY!
Dec 2022
This is NOT a 5-star resort and very far from world class as what it claims to be.The beach is not really what I was expecting as what was shown in the photos.Quite a trap for people who would want an aqua clear view of the ocean. There was also a construction ongoing in a nearby area that made the water looked dirty and unappealing because of its dark colour.NOT the tropical vibe that you would anticipate for a getaway in South East Asia. If you're looking for a relaxing beach water this is never the right place for you. We also had a nightmare experience with the resort manager named "RODAN IVAN",who was very rude and unlikely embody a professional hotelier that would translate a 5-star hotel experience.As guests who wanted to relax & de-stress,we expected a warmer and welcoming attitude from the staff particularly fr the resort manager who's expected to be experienced in handling all sorts of hotel guests from diverse backgrounds and cultures. We would see him everyday in the buffet restaurant greeting guests mostly of "white decent' and we've been observing him quite a few times and he would avoid people of colour - unlikely an attitude emanating from a person who works in a hospitality industry who's supposed to be all-embracing of various nationalities - quite an irony of the position he's currently handling. There was one particular instance he approached my Dad in the lobby when we were about to leave the hotel then suddenly when he came face-to-face with my Dad realising he's not white, he said, "sorry you're not the person i want to talk to" then he went towards the white family who was standing next to my Dad-this was a blatant rudeness and racial discrimination which was unbecoming from a ResortManager.
Wie viel kostet dieser resort im Vergleich zu anderen in Nha Trang?

Der Durchschnittspreis für eine Anmietung in Nha Trang beträgt EUR 36 pro Nacht. Diese Miete liegt EUR 34 über dem Durchschnitt.
Ist das Parken in diesem resort inbegriffen?

Ja, das Parken ist als Ausstattungsmerkmal bei Amiana Resort Nha Trang aufgeführt. Für weitere Informationen empfehlen wir Ihnen, sich mit dem Anbieter der Unterkunft in Verbindung zu setzen, um zu erfahren, wo Sie parken können.
Gibt es in diesem resort einen Pool?

Ja, bei Amiana Resort Nha Trang steht ein Swimmingpool zur Verfügung. Genießen Sie das Wasser!
Ist Amiana Resort Nha Trang haustierfreundlich?

Leider ist dieser resort nicht haustierfreundlich. Versuchen Sie erneut zu suchen und filtern Sie nach "Haustiere erlaubt"
Welche Ausstattungsmerkmale sind bei Amiana Resort Nha Trang verfügbar?

Wir haben 15 Ausstattungsmerkmale für diese Unterkunft gefunden. Dazu gehören pool, klimaanlage, küche/kochnische, internet/wlan und rauchen erlaubt.