Belize Boutique Resort & Adventure Spa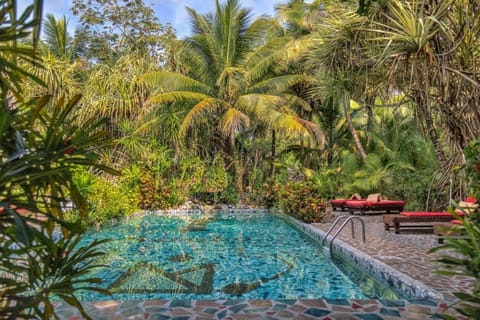 Resort in Corozal District
Pool
Klimaanlage
Küche/Kochnische
Befindlich in Corozal District, dieses attraktiv resort für EUR 172 pro Nacht ist ein phantastisch Auswahl für Ihr nächstes Reise. Diese Unterkunft liegt mitten im Dschungel außerhalb des Dorfes Maskall in Belize und bietet einen Hubschrauberlandeplatz an der Unterkunft, kostenfreies WLAN und einen Wellnessbereich.
Pool
Klimaanlage
Küche/Kochnische
Internet/WLAN
Rauchen erlaubt
Parkplatz
Waschmaschine
Balkon/Terrasse
Whirlpool/Spa
Fernseher
Fitnessraum/Fitnessstudio
Garten
Familienfreundlich
Karte von Corozal 

District
100 % verifizierte Bewertungen
4.6 / 5

"Herausragend"

(55 Bewertungen)
We could not have been more relaxed and happy!
Apr 2022
Wonderful owners, staff, meals and tour guides. I can't say enough about their detail to all aspects. Terrific massage therapist, one of the best. Everyone was so kind and caring, making sure we had everything we needed. The cook was fabulous as well as all the wait staff. We sure look forward to going back again! The grounds were so lush, flowers, plants, beautiful pools. birds, and more. Heaven on earth!
Just a couple things, the sink in the bathroom had very slow flow making it sort of hard to wash up in sink or brush our teeth. As many resorts have experienced being closed due to covid a few details in updates could be down.
Very special hotel with great facilities
May 2022
We had a very comfortable room, great food, beautiful swimming pools and good spa. This is a family run hotel and you have the feel of being a guest in someone's home - everything is designed to perfection by people who live there. We loved exploring the hotel and all the different spaces around the grounds to chill out in. We also did a medicinal plants tour around the grounds and saw toucans. We were looking for a couple of nights of 'jungle luxury' whilst on a longer trip in Belize and a base to visit Lamanai from and this hotel gave us exactly that.
Nothing - it is quite remote so a few nights is probably an ideal stay
Beautiful place with lovely friendly staff
Nov 2021
We had a lovely stay and everyone was super friendly and super helpful... we will be going back very soon. Highly recommend
This place was the most romantic place I've ever been. Great staff, food and service. Very niche place!
Feb 2022
very nice, comfortable and sexy
The only thing i didn't like, is something they can't help, mosquitoes. They do however, provide bug repellent oil.
Beautiful place with the soul
May 2021
Very friendly staff, beautiful resort, nice spa, tasty food. I loved the music at the common areas.
Be careful of the mosquitos. A bit too pricy transfer between airport and the hotel.
extremely helpful staff in a beautiful locale
Mar 2022
very cool property. it was jungle-y and secluded. they decorate the whole resort with hibiscus flowers which is a beautiful touch to an already beautiful property. Although there doesn't seem to be much around the resort, the staff is incredibly helpful with transportation, tours and things to do.
A relaxing, simply beautiful special place with attentive entrepreneurial owners. A must visit.
Aug 2021
This was the jewel of our trip to Belize. The SPA/Hotel is thoughtfully integrated into the jungle with an eye towards conservation. The staff was very friendly and attentive. A little spendy, but can't recommend this place enough.
Our stay was lovely, made more enjoyable by the Belizean people!
Dec 2022
The staff and owner were very welcoming, helpful and friendly.
If arriving from the south, the highway is in good condition and the resort is easily accessible. if arriving from the north, the highway is very rough and barely passable.
The spa was a awesome experience! Definitely recommend the mud spa! The food was fresh and delicious! The owners were so nice and accommodating! Loved everything during our stay
This is the place to stay to relax. Beautiful, isolated, but wonderful staff.
Aug 2022
The resort was beautiful. The staff was extremely friendly and always looking to help us have the best experience. The food was delicious. We really enjoyed the pools.
The drive out was a little of a challenge due to the road if you come south on the Old Northern Highway from Orange Walk. Driving in from the south past Altun Ha and through Maskall village was picturesque and easier. We didn't have a fridge in our room but it wasn't a problem since we were a short stay
the resort is beautiful, with very nice and helpful staff. Great massages, very fresh food, comfortable rooms.
the only place you have wifi is in the pool area (where they also have plenty of room to sit / lounge).
The resort is absolutely beautiful! Melanie and staff made my husband and I feel like a king and queen. Exceptional customer service and delicious healthy food. Our spa experience was relaxing and unforgettable. Had a great time on the Cave Tubing and the Lamina Maya tours!
The pools and mineral bath were perfect after touring ruins. The rooms were fun and funky. The grounds were beautiful. Great last night in Belize
Belize hidden gem
Feb 2023
The people, Melanie is an awesome host that will make you feel welcomed and comfortable. The staff made our stay personal and we spent happy time chatting with them. The food, fresh, clean and yummy. They have rich menu for each meal (breakfast lunch and dinner) and drinks are always ready and good. I personally loved creeps for breakfast! The place, exotic! There is something to look at at where you look and always discover new things. Alot of testing and chilling cool areas around the place. Its big , couple pools , mineral bath and alot of nice trails to explore. The room, spacious and clean. The bed is comfortable and we watched movies using the CD collections they offered. Felt good to unplug from wifi as its only available by the pool area.
Our trip was 5 days only, i wanted to stay much longer
Resort was nice the owners and staff customer service was exceptional.
May 2022
The owners and staff were fabulous and very accommodating. The spa service was amazing I couldn't have ask for more. No were in the USA are they refreshing your rooms every day.
Resort is far out of the city the descriptions on Booking wasn't really clear. They have no TV service and WIFI is only available at 1 pool area on property. The food menu is very limited and there are no places to ate out close. I might not have notice all of this if United airlines had not lost our luggage.
Stellar Eco-Friendly Jungle Resort with Friendly, Superb Staff
Jun 2021
The jungle resort was stellar! Melanie, Nicky, and Merickston were all so welcoming and catered to all my asks for dietary restrictions, wifi, airport transfers, etc. I used the mineral bath, pools, basketball court, jogging track, and took pictures of the spa grounds and gorgeous resort grounds. The ability to disengage and relax is precious. The staff will respect your needs if you wish to be more reclusive or more gregarious during the stay! Most of the food, oils, products are produced locally (and organically) as well. I really appreciated the resort's efforts to remain eco-friendly.
I know wifi in the jungle is tough, but the signal was a bit spotty...
The grounds are exceptionally beautiful with tons of cool little gathering nooks and interesting sculptures. The room decor is eclectic, colorful and comfortable.
We had to track someone down for coffee refills one morning but other than that, everything was great.
Overall our stay was great
Jan 2022
The food was great breakfast, lunch and dinner. Everything fresh and cooked to order. Melanie, her family and staff were all great. Very accommodating. I would recommend this resort to my family and friends
Mattress needs to be upgraded
The trip was awesome, it served its purpose.
Jun 2022
Such a relaxing vibe and space. Great little knooks to hang out in. 2 beautiful pools. Food was excellent. Highly recommend and definitely will make a trip back just to come here.
Loved every bit of this resort from day 1 . The food, stay, location , spa, tours. Our host Melanie took care of us very well and was very responsive. We decided to spend our first wedding anniversary and we loved our vacation. We would definitely go back and highly recommend to those who plan to visit
Beautiful territory, but prices are too high and there are some things to be improved
Feb 2022
Hotel territory is very nice and clean. True jungle feeling. Good looking pool area, trees, authentic gym, basketball court table tennis. Local village called Maskall and its people were amazing. Really enjoyed going there. Host Melanie was friendly and helpful.
Food quality was ok, but did not worth its price. Breakfast was actually bad. They charge 25$ for a bottle of beer, that's seems ridiculous. There is no wifi in the rooms, only at one spot of the whole resort and it was very poor. Room was a bit too psychedelic, staying there for several days is difficult. Also could be renovated at some point. Better take shorter periods. SPA was ok, but nothing really special, I would not visit SPA for the second time. In general hotel gives mixed, but more positive feeling. Worth visiting for 1-2 days.
Unique experience with great staff and food!
Aug 2022
Food and service was great, Felt very safe on the property, beautiful authentic property.
Rooms was not cool enough had to have resort get a fan and still was not the coolness I am use to when I stay at other places. And no wifi in the rooms is a big NO!, they need to figure how they need to incorporate that in each room, also did not have refrigerator in my room.
A coffee maker in the room.
Deep in the forest in an environment that you will not forget. Build with the local available materials. Amazing , one stay that we will never forget. Run by the owners and son. Fantastic
Romantic vintage getaway for couples. Relaxing spot for solo travellers and friends. The food was incredible, everything
May 2022
beautiful lush property, quiet and serene. The sounds of the birds was incredible.
Definitely set up for couples, a second location for dinner would have been nice. the property is far away from a lot, so go here to relax for a few nights and then stay in other locations if you want to explore things like the islands.
Wie viel kostet dieser resort im Vergleich zu anderen in Corozal District?

Der Durchschnittspreis für eine Anmietung in Corozal District beträgt EUR 176 pro Nacht. Diese Miete ist EUR 4 günstiger als der Durchschnitt.
Ist das Parken in diesem resort inbegriffen?

Ja, das Parken ist als Ausstattungsmerkmal bei Belize Boutique Resort & Adventure Spa aufgeführt. Für weitere Informationen empfehlen wir Ihnen, sich mit dem Anbieter der Unterkunft in Verbindung zu setzen, um zu erfahren, wo Sie parken können.
Gibt es in diesem resort einen Pool?

Ja, bei Belize Boutique Resort & Adventure Spa steht ein Swimmingpool zur Verfügung. Genießen Sie das Wasser!
Ist Belize Boutique Resort & Adventure Spa haustierfreundlich?

Leider ist dieser resort nicht haustierfreundlich. Versuchen Sie erneut zu suchen und filtern Sie nach "Haustiere erlaubt"
Welche Ausstattungsmerkmale sind bei Belize Boutique Resort & Adventure Spa verfügbar?

Wir haben 13 Ausstattungsmerkmale für diese Unterkunft gefunden. Dazu gehören pool, klimaanlage, küche/kochnische, internet/wlan und rauchen erlaubt.