No.5 Valley Lodge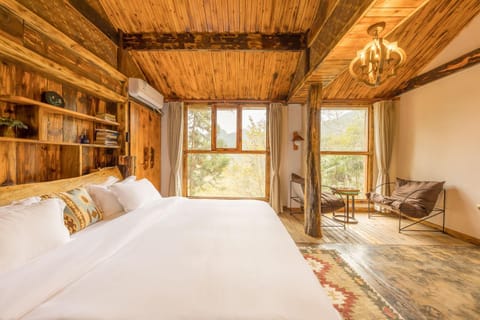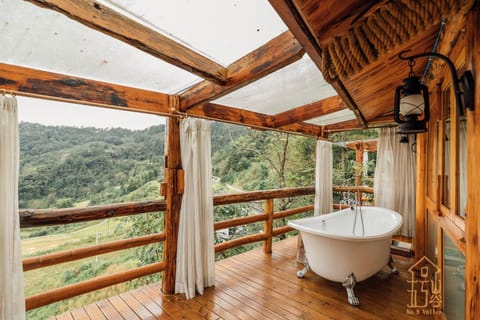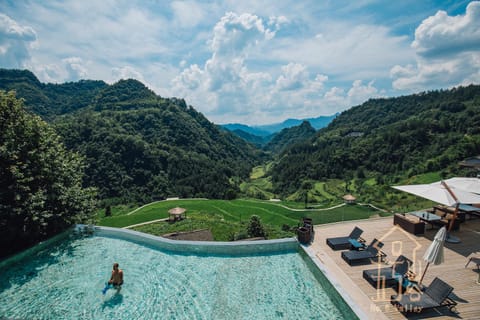 Resort in Hubei
Pool
Klimaanlage
Haustiere erlaubt
Befindlich in Hubei, dieses attraktiv resort für EUR 20 pro Nacht ist ein großartig Auswahl für Ihr nächstes Pause. Die No.5 Valley Lodge liegt mitten im Grünen, 2 km vom Westtor (Ticketschalter Yangjiajie) des Nationalparks Zhangjiajie entfernt. Ein kostenloser Shuttleservice zwischen der Unterkunft und dem Westtor ist verfügbar.
Pool
Klimaanlage
Haustiere erlaubt
Küche/Kochnische
Internet/WLAN
Kamin
Rauchen erlaubt
Waschmaschine
Balkon/Terrasse
Whirlpool/Spa
Fernseher
Garten
Familienfreundlich
100 % verifizierte Bewertungen
4.5 / 5 (56 Bewertungen)
Lovely grounds with a couple small issues
Jul 2021
We stayed in the room overlooking the infinity pool with absolutely stunning views. Liked the room, too, unique with 5 star comforts and any requests, just a WeChat message away. Were there for a Saturday night barbecue that was decently tasty. Splashed around in the pool drinking wine after the meal and had a lovely evening.
Two minor issues. 1. There are two pools, with a large pool specifically for children. I'd like this to be more enforced by staff, only having children at the other pool for limited times. When we arrived in the afternoon, there were several groups of children in the infinity pool yelling and screaming, detracting from the peacefulness of the room. At 8 AM, more screaming started. By 8:05, the noise had stopped, so I assume staff did something on this occasion. The children's pool is the perfect solution to this, just more follow through needed. 2. I was traveling with my Hong Kong partner who can speak Mandarin. So even though the room was reserved under my name, nothing was communicated through me. When I asked another front desk staff member if he could speak English, he said he could. I'd suggest that for English-speaking guests, they use the English speaking staff to check the person in. The guy who picked us up, checked us in, and toured us through the proper spoke only Mandarin the whole time. Being in China, I normally have no issue with this, if there aren't any English speakers around. But since there was at least one staff member, it would have been nice to know what was being said at/about this beautiful place.
Very poor service and restaurants
The views were stunning and the staff were very helpful especially Frankie who organized all of our tickets and passes on to the mountains.
Wonderful Location and Welcoming staff for a family looking to spend a view days in Zhangjiajie National Forest
Dec 2022
The staff were extremely welcoming and friendly. there was a real family feel. Rain was such an awesome host! He was very helpful in arranging our trips into the national Forest. Then he set up the hot tub each evening for us to enjoy the awesome views with our kids. The beds were super comfortable and we enjoyed having a fire cute fire place to snuggle up as a family. The food was great and they were very accommodating for our picky eaters 😀. Highly recommend and we would definitely stay again.
there was nothing we disliked, it totally met our expectations.
Great People and Wonderful Views
Jul 2021
The staff were all incredibly pleasant and Frankie was amazing. The views from all over the hotel grounds are incredible. The room that we booked was superb and the sunsets from the balcony were well worth the price. The pool is of course the talk of the town and for good reason. The food in the Chinese restaurant was also remarkable.
The walkways are quite slippery. Would liked to have seen something on the wooden paths to add grip. The Western choices at breakfast are lacking. The big golden retriever desperately needs a bath.
Beautiful Hotel/Expected More from Staff
Jul 2021
The rooms and view from the infinity pool were gorgeous.
We expected more from the staff for a 5 star hotel. They do not provide towels at the pool. When we sent a wechat to the staff member contact, instead of helping, they simply told us there were towels at the pool, but there weren't. We had to use the same towels from our room for the pool and shower the first night. The staff at the pool don't speak any English. They hid and seemed annoyed when we tried to order anything. We were the only customers at the pool. Isn't it there job to take food and drink orders? After a friend complained, the pool staff changed and began serving us. The next days were much better.
A place you want to go back to.
Jul 2021
The personal attention of the staff made my trip very memorable. I have to give a special mention for Frankie who was so efficient, professional, and genuinely interested in our wellbeing.
There was nothing I didn't like.
The owner of the lodge was very helpful. He arranged almost everything we wanted to do on our trip. He organized transportation and purchased our tickets in advance which made our sightseeing trips run smoothly and easy. It is very close to Zhangjiajie national forest park which was perfect. The room was comfortable and well air-conditioned. Loved the facilities, especially the view from the infinity swimming pool.
The western food was alright, not the best. If anything, I preferred the Chinese restaurant. Food is hard to come by in the area, not many restaurants in the vicinity. We mostly ate at the lodge which was fine.
The manager (Frankie) is fantastic and is so chilled considering he is working his backside off. The place is clean and comfortable and the location is exceptional. Food in the local restaurant is delicious.
The western restaurant is not up to the rest of the hotel's standards.. It would be great if they brought someone in from a city who knows what they are doing and have them spend a few days getting it up to speed.
A wonderful remote retreat
Apr 2021
The lodge was beautiful! We had a gorgeous two floor Aparment with two balconies with such iconic views and the interior had been designed incredibly. There were so many lovely little touches from the great choice in toiletries to the home cinema screen, comfy beds and amazing best from the showers and outdoor bath on the balcony. The staff were so attentive and helpful especially Frankie, there was nothing they wouldn't do to help us or recommend. Frankie added me on wechat before our arrival and made sure all the details were correct and arranged our pick up at the airport seamlessly. The first night we arrived very late and they kept the kitchen open for us over an hour later just so we could get some food. The heater spa outdoor pool was AMAZING! Perfect for a swim all year round and what a view! Being in a remote area there wasn't much nearby but we definitely enjoyed the bar with its karaoke every night!
The only slight draw backs were that the breakfast (which was included good ofcourse) had very limited options and as it was a buffet style and kept in metal heaters the food wasn't very warm. You could order some things like eggs to be cooked to order which I did, and they came hot. Also wasn't many western options if that is important to you. The restaurant is the only one nearby also so it's a given you'll have most your meals at the lodge. The menu doesn't have any western options, not necessarily a bad thing. The food we had we delicious and was fine for a few days but could get a bit repetitive for a longer stay ( we were there three nights).
Great stay! Frankie made sure ethat we got to enjoy Zhangjiajie to the fullest!
Jun 2021
The location is just beautiful! And Frankie was a great host. Good communication! He fixed everything for us! Very comfortable stay.
More diversity in breakfast: yogurt, teas, bananas etc.
The infinity pool was beautiful and the staff were friendly and helpful. Our room was very cute and the bed was comfortable.
Staff very friendly. Frankie was amazing contacting us before the trip to confirm arrangements and take care of any last minute requests, he checked on us throughout the entire stay making sure we were taken care of!! Highly recommend this place!
Staff are attentive and friendly. Location is beautiful and peaceful. It is a rustic boutique hotel.
The property is lovely. There isn't really anything not to like - it is a boutique resort. Very rustic! Housekeeping could be better - more towels, water, coffee, etc.
Worth a couple of nights to visit the national park
Oct 2021
Rain from the front reception was exceptionally helpful. Infinity pool was great. Location was perfect to visit the national park, although quite far out from anything else. Free shuttle to and from the park.
Lots of wildlife in the rooms. I know it is on the kibble, but more could be done to percent this from happening. Only tepid water in the shower. Had a bbq 2 of the nights we were there and didn't provide an alternative food menu.
Great location to get away and relax.
Jun 2021
No. 5 Valley Lodge was very beautiful. The staff members were helpful and very accommodating. Frankie was the one that checked us in and was very helpful. He was also available throughout our stay to help us with any of our needs. We stayed at this location for a relaxation day and it met our expectations. Very great place away from the busy city and tourist areas.
Magical atmosphere, infinity pool with warm water during cold weather, very well decorated rooms and setting, good food and friendly and helpful staff. Just few minutes away from the west gate of the park. Definitely recommended
Nothing. Just try to preserve the quiet and relaxing atmosphere of the place
Location was great. Prefect for a quiet retreat. Food was tasty and decent servings(average 50kuai/dish). Infinity pool was fantastic. Views from the pool and from our room were beautiful and peaceful. Staff were friendly and service was quick. Particularly, Frankie. He was extremely friendly, very accommodating. We even got a free upgrade. Frankie was also very helpful with any questions we had and knowable about the park. He helped with free transfers to and from the park, also took us to get covid tests when we needed them. His english was excellent too.
The property needs some maintenance work done.
Relaxing and refreshing
Jun 2021
Incredible and serene place to be. The infinity pools was stunning. Very relaxing.
Beers were very low on numbers and expensive. 30 RMB for qingdao which they didn't have in stock so we had to buy Corona for 40RMB. Adds up over a couple of days. Would have appreciated some cheap yanjing or Qingdao on hand.
Frankie was amazing and he helped organize our entire stay so that we didn't have to wait in lines or worry about transportation to different places. Anything we requested Frankie made sure it was taken care of he went above and beyond for us. The food was also made to order and with very fresh ingredients. Also very accommodating to my friend who was vegetarian. I loved the heated pool and jacuzzi which were great to have after a long day of hiking and walking.
Initially it was very cold in the room but the staff was able to provide additional heating which made the room nice and cozy.
Fabulous facilities. Frankie takes care of your every need from transportation to park tickets, evening meals and extra comforts.
Nothing - would stay again.
Calm, peaceful and incredibly beautiful place!
Frankie did the best customer service ever experienced! All day trips were perfectly organized!
Amazing and Exceptional Service!
Dec 2021
Amazing view and great service especially from Frankie who gave us exceptional hospitality. He even helped up even after we had checked out.
Wie viel kostet dieser resort im Vergleich zu anderen in Hubei?

Der Durchschnittspreis für eine Anmietung in Hubei beträgt EUR 37 pro Nacht. Diese Miete ist EUR 17 günstiger als der Durchschnitt.
Ist das Parken in diesem resort inbegriffen?

Das Parken ist nicht als verfügbares Ausstattungsmerkmal bei No.5 Valley Lodge angegeben. Für weitere Informationen empfehlen wir Ihnen, sich mit dem Anbieter der Unterkunft in Verbindung zu setzen, um zu erfahren, wo Sie parken können.
Gibt es in diesem resort einen Pool?

Ja, bei No.5 Valley Lodge steht ein Swimmingpool zur Verfügung. Genießen Sie das Wasser!
Ist No.5 Valley Lodge haustierfreundlich?

Ja! Diese resort ist haustierfreundlich. Für weitere Informationen empfehlen wir Ihnen, sich mit dem Buchungsanbieter in Verbindung zu setzen.
Welche Ausstattungsmerkmale sind bei No.5 Valley Lodge verfügbar?

Wir haben 13 Ausstattungsmerkmale für diese Unterkunft gefunden. Dazu gehören pool, klimaanlage, haustiere erlaubt, küche/kochnische und internet/wlan.