Garden Bungalows Resort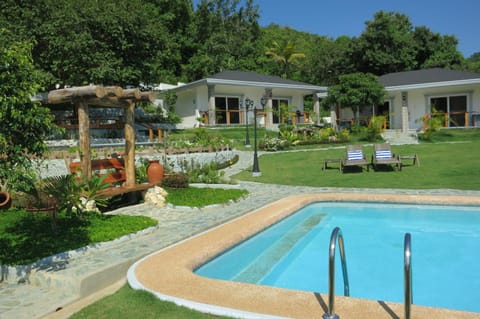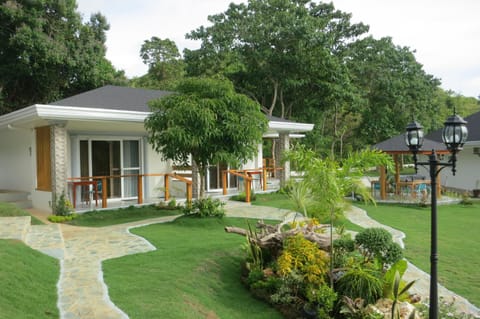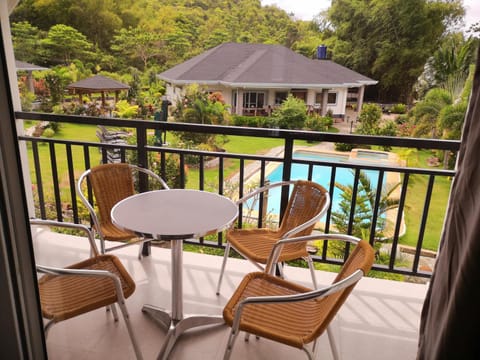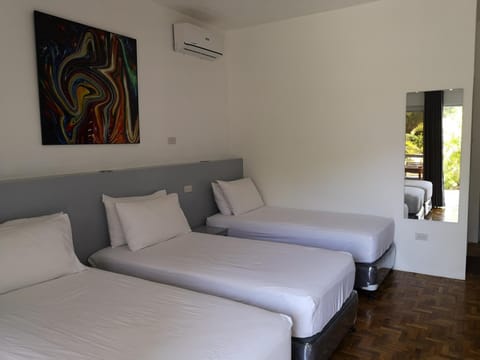 Resort in Siquijor
Pool
Klimaanlage
Küche/Kochnische
Gelegen in Siquijor, dieses charmant resort für EUR 50 pro Nacht ist ein großartig Option für Ihr nächstes Urlaub. Das Garden Bungalows Resort in Siquijor liegt 2 km vom Hafenstrand von Siquijor entfernt und bietet Unterkünfte mit einem Außenpool, kostenfreien Privatparkplätzen, einem Garten und einer Terrasse.
Pool
Klimaanlage
Küche/Kochnische
Internet/WLAN
Rauchen erlaubt
Parkplatz
Waschmaschine
Balkon/Terrasse
Whirlpool/Spa
Fernseher
Strand/Ufer
Garten
100 % verifizierte Bewertungen
4.5 / 5

"Ausgezeichnet"

(50 Bewertungen)
What a great great location with sensational staff and hosts. Bong convinced us to use the their map to get around the island which worked great and my boyfriend actually become a very good map rider during our stay considering he had to ride on the wrong side of the road he said. Sill Aussie :-) Bong's tips and map on where to go visit and eat were excellent and a big thank you to him for his help in getting us off the island in time for our flight. Thanks mate;-)
Little angle of Paradise
May 2022
We spent one week with our little dog in this excellent location, in a very quiet area. Well-kept, very clean structure, with a beautiful garden and swimming pool. Very kind and helpfull owners and staff. They helped us a lot in preparing the travel documents for us and for our dog for the return trip, and this Is priceless. The last thing to mention is the mixed fruit and grain yogurt, prepared by Rene, the owner, which they serve for breakfast. Delightful.
Nice relaxing quiet stay
Jan 2023
We loved it here. The rooms are clean, modern and well decorated. Staff really friendly and happy to offer recommendations, advice and scooter rental.
Good bathroom but shower pressure was bad and temperature changed every 2 minutes. There was a sewage smell coming from bathroom possibly from drains.
We loved everything about this wonderful oasis of peacefulness. Rene the owner and Bong the manager are extremely nice and helpful
I would have loved to have the room cleaned every second day as stated in the list of rules and services inside the room. As a matter of fact, we had It cleaned only twice along a 9-night-stay and you always had to request it
Very nice stay, staff is very helpful and kind for everything. They picked us up at the pier and booked for us the ferry ticket to Dumaguete.
The owner has a couple of scooters for the guests, which is mandatory since the guesthouse is pretty far from everything. We didn't see him unless when we had to pay for the scooter. He charged us a whole day more just because we used it 2 hours more the day before we left to go for dinner. Not very commercial...
We are so happy we found this place
Mar 2020
Very nice clean and was very happy ev
Everything was so nice we will come back again
very nice stay and helpful stuff. Can totally recommend.
Mar 2022
Very nice accommodation, beautiful garden, nice and big room. The stuff was very helpful and took care of all our needs. They were helpful regarding tipps and activities all over the island. It was even no problem to pick us up at the ferry port late in the evening. We could rent a scooter directly at the hotel. Good breakfast available.
Very kind and generous staff Beautiful rooms Large room and bathroom Nice amenities Good AC Fairly close to ferry dock
Rough road to approach hotel Hot tub not turned on Hot water not working in shower No onsite restaurant
Work online and live in paradise
Oct 2022
This is a perfect place to work online and enjoy your life. I chose this beautiful, quiet place for rest and recreation and I loved it. I did some video calls for work and the internet worked flawlessly just like the office at home, available 24/7 and covering the whole area. The owner said, they have 2 internet providers with fiber connections and their Wi-Fi never had an outage since it was upgraded a few months ago. I will definitely come back, stay longer and work from here. I loved the tropical garden and swimming in the clean pool right in the middle of this little paradise. Next time I will not only bring my laptop but also a hammock to string between the palm trees, just to make work from here perfect. I loved the breakfast, the fresh ground coffee and the home-made mango granola yoghurt. Wide sand beaches are not too far away. Many good restaurants available on the island.
You will need some means of transportation.
A Great Place for Rest and Quiet
Feb 2023
The resort was away from town. A small facility so very cozy, quiet and peaceful. Landscaping was lush and beautiful. Service was very good. Bong was very helpful and accommodating. The owner was gracious and friendly. Wi-Fi connections were excellent.
They have a very limited kitchen. Mainly breakfast. Beyond that, we had to go off property and arrange for rides back and forth, which was not a problem but was an extra charge.
The resort is amazing, very beautiful, very green, the rooms are super comfortable and clean, the swimming pool and the jacuzzi are pretty good. The owners and the staff are amazing, they were very helpful ,friendly and they took very good care of me . I'm going to come back for sure ! it was one of the best places I have been in Philippines. I Highly recommend the Garden Bungalows Resort . Thanks you for everything guys. I had a great time there.
Great staff, great place to stay with and great experienced.
Aug 2022
The place, the people, the ambiance.
The place is calm. Good for relaxation with a nice view.
Everything was perfect. Kudos to the staff and owner.
Very nice hotel and the owner is the best!
Nov 2022
The owner is the best. He is so helpfull and does everything to make your stay the best experience you can have
I was disappointed with the owner of the resort. At the beginning I informed him that I will go beyond 4 pax and I'm willing to pay an extra charge, I know my obligations. What he did he kept on sending me an email and if I failed to reply, he went upstairs to talk to me personally.
perfect location , very good value for money , staff were really helpful throughout our stay
the road to to the location is a bit bumpy
If your looking for a place to unwind and decompress with great staff good food this is a great choi
May 2022
Peaceful and calming atmosphere.
Access to the property a little difficult.
Nice grounds, friendly staff, clean rooms
My location is in Dubai and booked the resort for my kids and her family (April 23-25,2022)in the Studio room and I am so much thankful and appreciated the staff very much for assisting them all the way from picking them up at the Port till dropping them. Special thanks to Mr. Bong for the assistance all throughout the stay especially on booking their tickets considering they have a small child with them. From renting the vehicle to giving them the ideas around Siquijor marketplace,etc. he is really superb. Two thumbs up Sir. And even though I am very far but when I keep in touch with Rene and Jennifer they are so responsive and took care of my kids during the stay. So much thankful to all of you and I will surely come and visit myself to your resort when I come in Philippines someday.👍👍💯
Everything was perfect only the Air-conditioning needs to be attended as it was not cooling well. But the rest was excellent 👍
quiet and clean place to base yourself and take day trips from!
Mar 2022
I loved that it was so quiet here! No loud Karaoke music, no motorbike or truck noise, no roosters etc. The staff was very helpful picking us up at Siquijor port, even at 10PM! The pool is nice and only for guests. The garden is nice. The3 staff and owners were very helpful and friendly.
The closest food place is a bit far, but not if you rent a motorbike, which they also rent.
Good place to stay if you want quiet and privacy. We rented a car to get around.
Dec 2022
House is huge and can house a party. Room is huge as well. Pool with jacuzzi.
Location is really inconvenient. Shower water pressure is low.
Good hotel, nice and quiet, helpful.service, good swimming pool.Very fast wifi, clean hotel.
Mr. Bong is nice and helpful.
The Best Resort In Siquijor :)
Feb 2023
Everything was perfect in this resort. There is such a wonderful and beautiful garden. It is also good to spend time swimming leisurely in the swimming pool. Resort staff are the kindest resort staff I have ever met. They know great restaurants and hidden tourist attractions, and they recommend exactly where we want to go. They care if there are any problems with our trip and try to help us with their best. Wi-Fi works well throughout the resort. The resort has a generator, so even if the entire island is blacked out, there is no problem. The resort owner is humorous and a really nice person. I had a good time drinking beer with the resort owner and scuba divers from Slovenia in the evening. It was so much fun to talk with them. If you like the private atmosphere, don't worry, each room has a terrace where you can relax and drink beer. The resort is close to downtown Shikihor, so you can easily get anything you need. There are reviews that the road to the resort is unpaved, but I don't think it's a big problem. I rode around on a scooter throughout the trip, and the way to the resort didn't matter at all. There was no inconvenience even driving with one of the party behind. However, it can be a little difficult if you are not used to driving scooters. However, the resort also offers a pickup service, and they will probably help you move by car if you want. The room is clean and pleasant. It is the best resort in Siquijor with nothing to be desired.
Highly recommmend this place was excellent and had everything you need
Mar 2023
Everything was amazing. It had a pool that was clean and lit up different colours at night which was cool. It was quiet, clean and affordable too. The property manager was so nice and helpful. He gave us a map of the island and circled the best parts to go too. The breakfast was yummy and had lots of options. al the staff seemed to be working hard and also are very helpful. The room was spacious, had great shower water pressure, had a mini fridge and lots of storage space. If we were to come back to the island we would 100% stay here again. Highly recommend !!!! THANK YOU!
clean big pool and inhouse motorcycle.
Sep 2022
dedicated staff, pick up from port and quite location
A little out the way but worth the stay.
Mar 2023
A really pretty place with manicured lawns, nice pool and lovely rooms. Their 'fixer' guy (apologies, i've forgotten his name now) was great. Sorted us with a brand new scooter for 400/day, gave us a map which he'd highlighted good things to do / places to go, sorted our onward travel and did a free shuttle to the port which was of great help. Good wifi, nice breakfast and free water.
This is a little out of the way for some people. The road to it on a scooter or tricycle is 'interesting' though fine.
Wie viel kostet dieser resort im Vergleich zu anderen in Siquijor?

Der Durchschnittspreis für eine Anmietung in Siquijor beträgt EUR 36 pro Nacht. Diese Miete liegt EUR 14 über dem Durchschnitt.
Ist das Parken in diesem resort inbegriffen?

Ja, das Parken ist als Ausstattungsmerkmal bei Garden Bungalows Resort aufgeführt. Für weitere Informationen empfehlen wir Ihnen, sich mit dem Anbieter der Unterkunft in Verbindung zu setzen, um zu erfahren, wo Sie parken können.
Gibt es in diesem resort einen Pool?

Ja, bei Garden Bungalows Resort steht ein Swimmingpool zur Verfügung. Genießen Sie das Wasser!
Ist Garden Bungalows Resort haustierfreundlich?

Leider ist dieser resort nicht haustierfreundlich. Versuchen Sie erneut zu suchen und filtern Sie nach "Haustiere erlaubt"
Welche Ausstattungsmerkmale sind bei Garden Bungalows Resort verfügbar?

Wir haben 12 Ausstattungsmerkmale für diese Unterkunft gefunden. Dazu gehören pool, klimaanlage, küche/kochnische, internet/wlan und rauchen erlaubt.