The Barat Tioman Beach Resort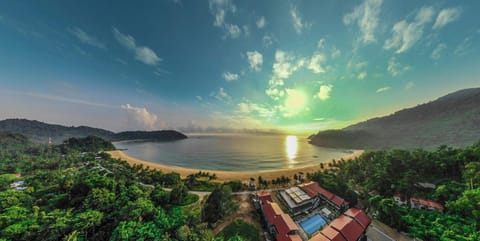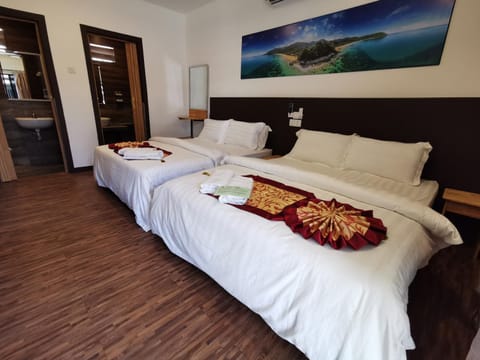 Resort in Mersing
Pool
Klimaanlage
Küche/Kochnische
Befindlich in Mersing, dieses attraktiv resort für EUR 44 pro Nacht ist ein großartig Auswahl für Ihr nächstes Pause. Das Barat Tioman Beach Resort in Kampong Juara erwartet Sie auf den Sandbänken des Strandes. Die Unterkunft verfügt über einen Außenpool und eine Sonnenterrasse. Sie können im Restaurant an der Unterkunft speisen, oder grillen.
Pool
Klimaanlage
Küche/Kochnische
Internet/WLAN
Rauchen erlaubt
Waschmaschine
Balkon/Terrasse
Whirlpool/Spa
Fernseher
Rollstuhlgerecht
Strand/Ufer
Garten
Familienfreundlich
100 % verifizierte Bewertungen
3.8 / 5 (314 Bewertungen)
Peaceful and quiet. The lodes sound are from my kids having fun!
May 2022
We went on weekdays; as expected, there were few guests in the area, so the place was quiet, and we almost had the resort to ourselves. I strongly suggest staying during weekdays rather than weekends/the state's public holiday. We stayed at the seafront villa, which I recommend to others too. Totally worth the extra $. It took just a few steps to the beach. Waking up to the sound of the waves was great. The Sunrise view was breathtaking.
The facilities require more attention and better upkeep. There are a lot of bicycles but all of the same sizes. Kiddies' bike is limited. Please put some variations of the bicycles so that guests could enjoy riding along the 'kampung roads' After dinner, activities are limited to families. There are a few board games, but most have missing pieces. Suggest screening outdoor movies with projectors on the beach.. that could be interesting.
We would come again to Barat hotel.Location is good.You can reach a beautiful waterfall by foot.
Dec 2022
We stayed in a villa with jacuzzi near jungles.The view was nice.We could observe sunrise from our terrace.The room was clean.It was always quiet on the top cause the pool,lobby and restaurant are downstairs.Staff was friendly.The beach is quiet,big and good.
Nothing was bad.The food was better,than in other hotel which we visited before on the island.
Great beach and diving centre in a very quiet part of Tioman
Jul 2022
We booked a Seafront Villa, that has a private patio facing the beach. (room 121). Every morning, you can see the sunrise right from the window and go outside an enjoy it before all activity outside starts. The room is very close to the restaurant and reception desk as well as to the diving and recreation center. The Seafront Villa is quite spacious and serves for 2 adults + 2 kids perfectly enough. The hotel has some deficiencies that are ok if you go with positive mentality. As an example, TV is not connected and has no channels, but in the reception they provide you with a hard drive with movies, so problem solved. Also, the restaurant runs out of some items of the menu, specially the fresh ones like salad or even pizzas, but there's also a wide spectrum of local and chinese food that is worth to explore and always available. The staff of the hotel is very friendly and try to help and solve any problem, specially at the restaurant. The diving center is great, very easy going to accommodate your requests. During the diving in open sea they are very careful to meet all safety measures and keep an eye on you at all times. Special mention to Benny, Puffer and (little) Pony, all of them very nice people and knowledgeable. There's a nearby Waterfall that is worth to visit, but be aware that is almost one hour hiking uphill, and the path is not clean of stones or scrub. Transportation from the jetty to the hotel and back is good enough for the price, even if you have to go in the back of the pick up, the kids loved it!
Although everything in Barat met the expectations, there are some things that are worth to mention, not as a complain but as an improvement: - Room had and always will have sand from the beach and the entrance of the villa, that's unavoidable. It would be great if the hotel would provide a 10 minutes room service just to broom the floors and clean the bathrooms. As of now, you need to request room service if you want it, is not by default. - There are some things broken, like the archery facility/tools and also some things that seems bit tired or not well maintained, but I suspect that was a consequence of long time not used during covid times. Worth to make the extra effort to tied things up. Specially the swimming pool. - The restaurant staff, only 2 or 3 persons seems to speak in english. Not a problem but sometimes you will need to wait a bit while the non english speaking staff avoids you. - There's like a constant bonfire in the back of the hotel, that sometimes penetrates up to the restaurant. That definitively should be controlled. - Wifi could be improved and there's electricity cuts from time to time but they last only some minutes.
the transport a bit expensive, got red ants inside the toilet, food are expensive
Beautiful view with bad food
Aug 2022
The view was amazing. The staff accommodating. Good service. Laundry service was excellent. The beach was nice.
The run-down facilities. Everything needed to be fixed or updated. Bistro food was over priced and made from packaged food, which made us eat at the local places instead, which was awesome.
everything about the the barat is nice. rooms, t&b, resto, beach, staff - all very nice. it's just that their resor
Dec 2021
the seafront house, the beach.
no internet during our stay.
Improvement needed
Aug 2022
The room was big, view quite nice. The front desk & spa staff very nice and helpful. The snorkeling package value for money.
The restaurant staffs treat people differently between foreigner and local people. They treated foreigner very well and served their food faster eventhough they were ordered food later than us. When we raised hand to order food, no staff came for us and we had been waiting 1 hour for our food and yet not even 1 staff reached out to us.Definitely won't visit this restaurant again.
Not worth your time
Jan 2020
The property is very new , and is currently expanding and building more chalets. Swimming pool is spacious and taken care of . Restaurant has nice working schedule - while other shops are off you still can get your brunch or late dinner at the hotel . Free water refill Beautiful view of the pool and the balcony with chairs. 1 min walk to the beach with crystal clear water
Room wasn't clean at all - there was an ant nest in our sink- I understand the green policy but living with ants nearby doesn't make me feel like I'm in a resort . Bedsheets and towels had stains,toiletries were provided only by request . No landline phone in the room so after a long trip you still would have to go down to the reception to ask for something. No WiFi at the property they say there is but in the reality not even one website or app is working . Absolutely no activities offered or provided or organized by the resort . Extremely overpriced- the whole concept of resort doesn't meet the expectations- no spa , yoga , massage, no gym .not a good value at all
Nice location but service could been better for the price charged.
Nov 2021
The food was good at the cafe. Housekeeping was kind enough to clean our rooms when requested as the rooms were in bad condition.
The staff at the reception, who check us in and out, pls check the system what's her name, was very sarcastic for each questions that I asked. She could not provide any solution for our enquiry. The bed had a red stain when I checked in and I could not lay down until house keeping came to change.
spoil our vacation mood
Dec 2022
not systematic, booked for 3 nights and 4 days, but they force us to check out the next day itself because its a monsun season there… they promise the HQ will do the refund accordingly, but when i contact the HQ they claim they were not aware of the situation and can only do the refund according to the refund procedures… i disagree with them cause the cancellations is initiated by us… they still dragging the issue and at last i have to get booking.com to involve in this issue
One of the best beach in the world
May 2022
The cleanliness of the beach and its water, the short hike to Lubuk Teja Waterfall. Plenty of local restaurants with great fresh food(especially seafood).
Rooms description in diameter and size. Toilets & shower is not well ventilated. Stairs too steep, would be dangerous for older person.
The beach is really beautiful and the crew is very friendly
only 1 time room is made eventhough put sign to make room
The beach... facilities... adventures
Staff is very friendly. Tha facilities also good. Just come and enjoy your moment here. Foood at cafe nice and tasty! Overall good place to stay.
We ask to clean the room but no one come. Maybe short of staff during this pandemic. Its okay.
Overall acceptable stay . I think the wifi in room need to be improve . Basic tv program is a must
Sep 2022
Staff are friendly , food wise is decent , beach front which is important .
1) the room is rather run down and old . 2) Stain on the bedsheets. 3) No TV programs ( need to request for hard disk to watch movies ) 4) Poor / no wifi in room . Only 3G is available in room which is very slow . 5) No toiletries available n need to request 6) No room service so room is not clean unless request from 3-5pm only
will love to go back there and spend some more time on there awesome resort,
Mar 2023
some of the amazing staff I have seen in a while in a resort, especially the guys working at the restaurant bar are awesome, the place itself is awesome with the most spectacular beach in the island, we stayed there for 3 nights and it was just fantastic. I think you can't find a better place in this island then Barat Tioman.
we all loved everything there
Up to my expectations.
Mar 2019
Right in front of the beach. Big rooms. Comfy beds. Clean. Quiet. Not much bugs and insects. Friendly staff.
No wifi available in rooms. Signal quite bad. Not much water sports activities was available. Probably due to non-peak season. No snorkelling trip available on the 2nd day we were there due to unknown reasons. No hot water in the morning. Expensive food but its probably because the food items are hard to come by. Nothing much to do in the surrounding area. No lifeguard around when the sea was rough.
Beautiful beach right next to resort; Great staff and good amenities
May 2022
Resort was right next to the beach. A few other good eateries were also within walking distance so we could explore beyond what was offered by the resort restaurant. Staff was friendly - I planned to have cake delivered upon check in and it was executed as expected.
I had to call up the resort to plan cake delivery as my messages on Booking was left unanswered. Note also that the resort is a 30 min drive from Tikek jetty, which was not an issue but good for other travellers to know ahead of time.
Good introduction to Juara but could be better
Jul 2022
Really friendly staff and overall amazing location. There's lots of activities available through the hotel as well as free ones too. The swimming pool is definitely a plus and comfortable. The deluxe rooms are huge, tastefully decorated too. The food is okay priced for the island. The restaurant also offers alcoholic drinks as does coconut grove. They are more expensive so best to buy them at the Tekek duty free. The Barat is overall a great place to stay as an entry point into Juara
The room had a lot of bugs and we told reception about it but nothing was done. This made our stay not the most comfortable especially as the bathrooms aren't cleaned on a daily basis and you need to request a room make over daily at reception, which also wasn't done. This could be improved and it'd make a huge difference to the overall experience.
The electricity went off few times during our stay. Most notably it went off for like a good 5 hours during one of the days of stay.
Wie viel kostet dieser resort im Vergleich zu anderen in Mersing?

Der Durchschnittspreis für eine Anmietung in Mersing beträgt EUR 37 pro Nacht. Diese Miete liegt EUR 7 über dem Durchschnitt.
Ist das Parken in diesem resort inbegriffen?

Das Parken ist nicht als verfügbares Ausstattungsmerkmal bei The Barat Tioman Beach Resort angegeben. Für weitere Informationen empfehlen wir Ihnen, sich mit dem Anbieter der Unterkunft in Verbindung zu setzen, um zu erfahren, wo Sie parken können.
Gibt es in diesem resort einen Pool?

Ja, bei The Barat Tioman Beach Resort steht ein Swimmingpool zur Verfügung. Genießen Sie das Wasser!
Ist The Barat Tioman Beach Resort haustierfreundlich?

Leider ist dieser resort nicht haustierfreundlich. Versuchen Sie erneut zu suchen und filtern Sie nach "Haustiere erlaubt"
Welche Ausstattungsmerkmale sind bei The Barat Tioman Beach Resort verfügbar?

Wir haben 13 Ausstattungsmerkmale für diese Unterkunft gefunden. Dazu gehören pool, klimaanlage, küche/kochnische, internet/wlan und rauchen erlaubt.