IL Mare Sakura Resort Boracay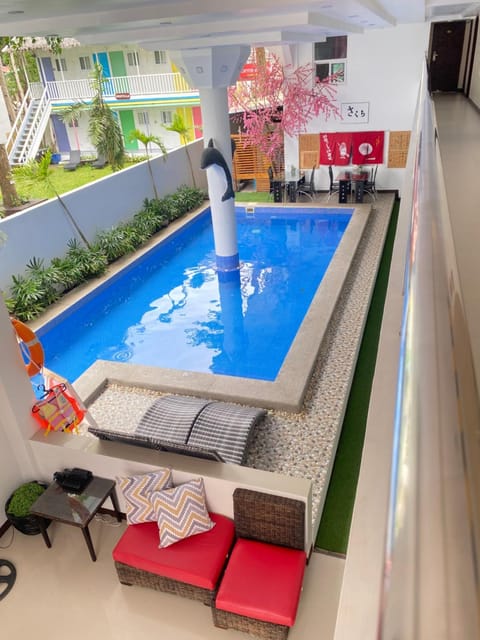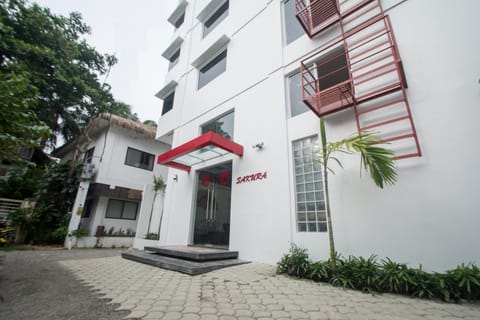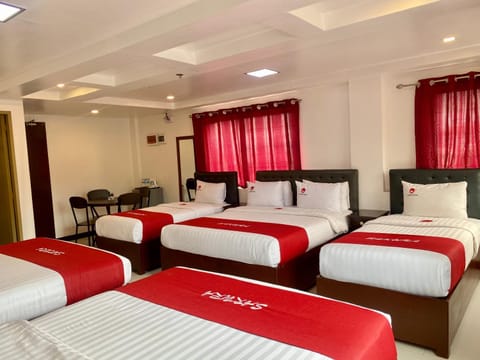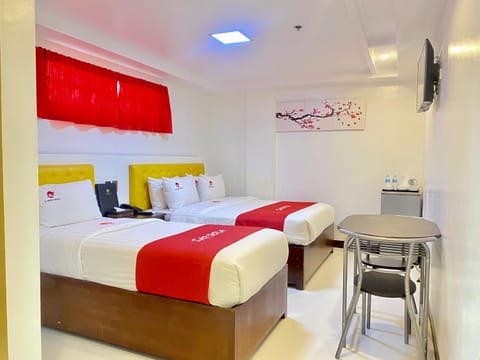 Resort in Boracay
Pool
Klimaanlage
Küche/Kochnische
Gelegen in Boracay, dieses attraktiv resort für EUR 63 pro Nacht ist ein phantastisch Option für Ihr nächstes Urlaub. Das IL Mare Sakura Resort Boracay begrüßt Sie an der Station 1 Balabag, 200 m vom weißen Strand von Boracay entfernt. WLAN nutzen Sie in der gesamten Unterkunft kostenfrei.
Pool
Klimaanlage
Küche/Kochnische
Internet/WLAN
Rauchen erlaubt
Waschmaschine
Fernseher
Familienfreundlich
100 % verifizierte Bewertungen
4.5 / 5 (177 Bewertungen)
THE BEST AFFORDABLE HOTEL IN BORA
Aug 2022
Welcoming Staff, All requests were granted, close to the beach, clean room and bed, all appliances were working (small ref, hair dryer, heater, tv, aircon and humidifier). The staff will clean your room if you will leave the next day. All our belongings are still there. I love the buffet breakfast. Clean pool. I'm a little bit skeptical if it's really clean and safe if you accidentally clean it. Super comfy ng bed. Ansarap mag pahinga after a long day in the beach.
Very warm welcome and nice staff.
I hope we had a room with a view.
the hotel is very clean and the hotel staff is very accommodating specially miss waley, she is very nice and talkative,
Sep 2022
Very clean good food and friendly staff
amazing customer service, food is amazing very clean facility will deffinitely comeback and recommend. Amazing value for
Oct 2022
very clean and close to the beach and to the establishment
Very affordable and excellent service, with super friendly staff. 🙂
They had a fantastic breakfast. The staff is all helpful and polite! Every time we saw them, they always greeted us with their loveliest smile. Will definitely back here!
Friendly staff but def not a resort
Jan 2023
The staff were very nice and friendly. I appreciate very very much the early check-in and late check-out they provided for me.
It's extremely noisy. The floors aren't carpeted (can't be in this climate) so you hear each and every person coming in and out at all hours. Hear everything happening in the hall. It's extremely noisy and woke me up constantly. Just based on that alone I couldn't stay here again. The bed was extremely hard and uncomfortable. The hotel is in no way a resort. It's a cute little super basic hotel near the beach. Good location to the ocean and restaurant (across the street), but there is no rooftop like in the photos (it's falling apart), the pool is tiny, covered against sun, and oddly placed right at front. The breakfast is pretty bad, with odd offerings (toast but no butter?), and I left to get food outside on my last day because it was just not good.
The breakfast was cold. Ran out of marmalade which is available in the neighborhood.
The staff is very very friendly and kind. They are willing to give any help anytime. Also the room is clean and facility is new. The location is nearby the Sunny Side Cafe and S1 which is very convenient.
none. I have a pleasant stay
The staff are very friendly. Lee able to help me about my DIY transfer from Caticlan Airport to their place and he manages to teach me what to do , where to go , what transfers should i take and its price. They were very helpful. The calamansi refreshers that they offer as welcome drinks are the bomb. We have an early flight going back to Manila after our trip and we book their place with buffet breakfast each day and they already offered us our morning breakfasts to be packed so we will still have it. They also gave us a free upgrade and my family were so touched because we were there for the celebration of my niece's bday.
Overall, we had an amaIng holiday! started with friendly staff from the hotel until our last day. we will definitely go
Dec 2022
The staff are very friendly and very accomodating. They are very attentive to their guests and very helpful that makes you feel at home and relax. The breakfast buffet is also ine of the things I like at this property
There is no escalator or elevator, you need to take the stairs if your room is at the 3rd or 4th floor
wonderful people. nice clean stay.
Jan 2023
the staff are amazing. wonderful kind and helpful.
the room was clean and staff were polite.. the beach area is less crowded compared to station to 2
limited choices for breakfast.. they only offer silog meals and its pricey.. We had free breakfast for two and if I want to order for my child, it will cost 300 pesos for hotsilog
The room is good. Aircon is good.
Breakfast us not good. They re-heat in microwave. The toilet gets easily clogged. Over pricing.
i can recommend this place to all my friend's and family the facilities is so good and nice, staff are so amazing
May 2022
the property is so good it's accessible to minutes walk to the beach
the people, special mention to Lee and Aegean.
it was very comfortable and felt homey and cozy. was able to fully relax.
Sep 2022
the location, room was spacious enough, bed was cozy
the food menu available, could add more and make more available for late night snacks
The hotel is located out of the main road, however you can find staying there a bit noisy, because of the thin walls and construction works in the neighbour hotel. In spite of that thanks to the comfortable bed (mattress and pillows were excellent) I did not have problem with sleep. Beach is in walk distance (about 5 min. walk). Hotel located on the station 1, which is in walking distance from the all bars and pubs of station 2.
1- Location. There is no normal road on the way to hotel; 2 - Many construction works all around that to reach the beach you have to pass through the dust, mud, a bunch of construction garbage; 3 - I would like to have continental breakfast instead of filipino friendly.
A very nice experience for all of us and we will definitely recommend this hotel for anyone who wants to visit Boracay.
Dec 2022
the hotel is clean, the buffet breakfast they serve is beautiful and the added bonus is the location of the hotel which is just a few meters away from the beach. But undoubtedly, the greatest asset of the hotel is their excellent staff, everyone we encountered were very pleasant, courteous and helpful most especially Argeane of Front Desk. from the moment we checked in they all made us feel special. I booked 2x family rooms but when Argeane noticed we have seniors in our group she offered to give us instead 1x family room, 2x suite rooms and an extra premier room FOC , all located on the 2nd floor for easier senior access since the hotel has no lift. That was a WOW and a very thoughtful consideration on her part. I would definitely recommend this hotel to anyone who wants to visit Boracay. a big thumbs up to all 👍
The facilities and staff were exceptional. I could not recommend this hotel enough. I will be sure to return here in the future.
Nothing bad to say about our stay here.
the buffet breakfast and the staff
just the location,i wish its beach front
The beds are comfy.. We have rested well. We enjoyed the breakfast because of the delicious foods. Staffs were kind and accommodating.
The accommodation is close to the beach and the breakfast is tasty. The staff were amazingly professional and friendly willing to help in any circumstance. Just because of them it is worth to come back and stay again. :)
Budget friendly but superb service.
Jun 2022
Super affordable and a great place to stay in Boracay! Close to the beach (station 1), establishments and breakfast is good! Their staff are very welcoming as well.
Staff were very acommodating, pleasing and have great sense of humor. Will definitely stay there again when we go back to Boracay. Thank you so much!
Ideal hotel for familes
Jun 2022
Staff were very accommodating and polite, especially Lee of reception. Welcome drink was very refreshing. Facilities were as advertised. Requests such as ice, additional hangers, were acted upon swiftly. Room is spacious with 2 large beds. Towels were offered to those swimming in pool. Toilet is spacious. Ref was bigger than the usual minibar. 2 bottled water provided upon check-in, but that's it. (Bottled water is quite expensive outside, P20 or double the supermarket price.) Breakfast has to be ordered the night prior (a la carte, not buffet), portion is ok. Choices include beef tapa, chicken tocino, hotdog with rice and egg (and others I could not remember because I did not try them). Unlimited salad greens, coffee, tea, juice, and fruit provided. Hotel is approx 300 meters from beach and you have to cross the main road, that's ok since price was very reasonable. Nearby are good dining areas such as Diamond, Maya's, etc as recommended at reception. Andok's Lechon manok is 200 mts from hotel for affordable meals. Around the hotel are small sari-sari stores where you can buy bottled water, snacks and other small items you might need. There's a mini local bakery 100 mts from hotel although we did not try it. Lee arranged transpo pick up to station on day of departure. Thank you Lee!!
We expected buffet (from past customer reviews) but we were told buffet only happens when there are at least 50 guests. Walls were thin, you can hear guests talking in the corridor. Beds were big and comfortable but I hardly slept because pillows were too high/hard, too uncomfortable. Also, for 2 nights there were 2-3 brown outs during the night. Generators enabled lights but not the aircon and wifi so it was quite uncomfortable. I also need to mention that 4 days before arrival, at 4am, I received a text message from my credit card company saying my card was declined "due to an incorrect information entered or your card is no longer valid". I got shocked because I'm very sure I entered the correct details (I often book hotels online as I travel a lot and I check card details many times). I woke up at 8am and immediately jumped out of bed to call the credit card company only to find out there was nothing wrong with the credit card details I entered. It was the hotel, IL Mare Sakura that rejected my card because the CARDHOLDER NAME is DIFFERENT from GUEST NAME. I booked 3 rooms, the first room, a deluxe room, is under my niece's name because they have a baby and they needed a deluxe room. The next room, a regular room, is UNDER MY NAME, however the lady in graveyard shift (I forgot her name, starts with "A") FAILED to check it. Apparently she only compared the cardholder name with the guest name in the first room. If only she checked the name in the second room, she will see my name, same as name in the credit card used and she would not have REJECTED my card. It caused me so much mental anguish because it was 4 days before our stay! Moreover, I was afraid hotels were already FULL or prices would have probably skyrocketed by then. The issue was only resolved when I called the hotel and spoke to Lee who assured me that my booking was not cancelled and that is was probably the employee in night shift who was responsible.
Staff was overly amazing. The location was fabulous.
The Breakfast wasn't the best. We expected something different. It was like a lunch, there where no pancakes or cereal or cheese.
staff are very nice and the hotel are really clean
Thank you so much!
Jan 2023
shout out to the staff & crew of IL MARE! they were so accommodating! that was our second time in the hotel.. they never changed.. it's home away from home. Thank you also for the surprise cake for my daughter. it meant a lot.. Service, cleanliness, hospitality, breakfast buffet was excellent!
Too expensive for what you get, MOLD on walls
Mar 2023
Pros: - nice and helping staff - 2 big beds - nice bathroom - good location, very close to the beach (7min walking) - water refill everyday - for late checkout we can used the terrace and they gave us a nice drink for free
Cons: - the walls were wet, FULL OF MOLD, i got sick because of it. I lost my voice and had some bad expectorations in the morning - we didn't change our room because the hall and all hotel had wet walls, so it is a hotel problem, not a room problem - they put a dehumidifier, but the problem with the mold is too big for a dehumidifier - found some long black hair in bed and bathroom - another big problem were the sound proofing, the guest talked very loud at 2am/5am in front of the room, i didn't have a full sleep in 6 nights - breakfast 80% same every morning (1 soup, rice, egg, sausages, maybe noodles, bread and salads) - you need to prepare by yourself coffee and tea (there are tea bag and coffee bag from the market) - the ceiling is low , my boyfriend who is 1.86m (6.1 feet) was not able to walk straight in the hall - bad internet, i used my sim card
don't have hot water to shower
Wie viel kostet dieser resort im Vergleich zu anderen in Boracay?

Der Durchschnittspreis für eine Anmietung in Boracay beträgt EUR 53 pro Nacht. Diese Miete liegt EUR 10 über dem Durchschnitt.
Ist das Parken in diesem resort inbegriffen?

Das Parken ist nicht als verfügbares Ausstattungsmerkmal bei IL Mare Sakura Resort Boracay angegeben. Für weitere Informationen empfehlen wir Ihnen, sich mit dem Anbieter der Unterkunft in Verbindung zu setzen, um zu erfahren, wo Sie parken können.
Gibt es in diesem resort einen Pool?

Ja, bei IL Mare Sakura Resort Boracay steht ein Swimmingpool zur Verfügung. Genießen Sie das Wasser!
Ist IL Mare Sakura Resort Boracay haustierfreundlich?

Leider ist dieser resort nicht haustierfreundlich. Versuchen Sie erneut zu suchen und filtern Sie nach "Haustiere erlaubt"
Welche Ausstattungsmerkmale sind bei IL Mare Sakura Resort Boracay verfügbar?

Wir haben 8 Ausstattungsmerkmale für diese Unterkunft gefunden. Dazu gehören pool, klimaanlage, küche/kochnische, internet/wlan und rauchen erlaubt.