Aksari Resort Ubud by Ini Vie Hospitality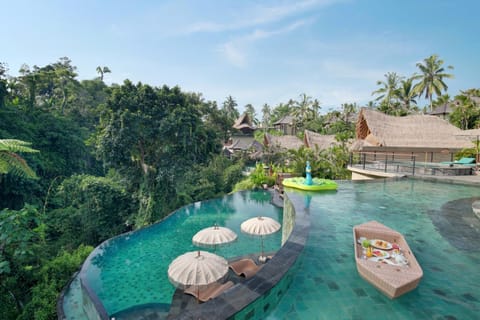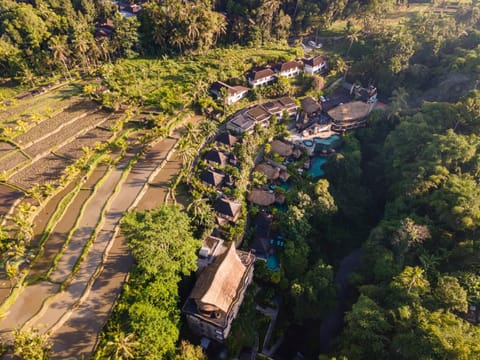 Resort in Tampaksiring
Pool
Klimaanlage
Internet/WLAN
Befindlich in Tampaksiring, dieses attraktiv resort für EUR 44 pro Nacht ist ein großartig Option für Ihr nächstes Urlaub. Das Aksari Resort Ubud by Ini Vie Hospitality in Tegalalang liegt 4,5 km von der Reisterrasse Tegallalang entfernt und bietet Unterkünfte mit einem Außenpool, kostenfreien Privatparkplätzen, einem Fitnesscenter und einer Terrasse.
Pool
Klimaanlage
Internet/WLAN
Parkplatz
Waschmaschine
Balkon/Terrasse
Whirlpool/Spa
Fernseher
Fitnessraum/Fitnessstudio
Familienfreundlich
100 % verifizierte Bewertungen
4.5 / 5 (299 Bewertungen)
Brilliant peaceful getaway, with brilliant staff
Jun 2022
we stayed here for 10 nights and the staff are absolutely incredible, a credit to the resort. nothing was too much trouble, and the remote area meant we had a relaxing stay with the option of some great day trips which you can organise through the hotel. We had Astawa take us on two full day trips and he was absolutely brilliant! i can't say enough how brilliant all of the staff were. my only one niggle would be the gym equipment- we couldn't use this as it needs replacing
Truly exceptional.
Oct 2022
We stayed at four different hotels while on Bali and while all were very nice to great, Aksari was a cut above the rest. From the location to the beautiful cliffside setting, rooms, food and most of all the incredibly hospitable staff this is truly earns the "exceptional" ranking in my book.
There was nothing to not like. Aksari even made the one rainy day a relaxing and pleasant experience.
Very beautyfull and relaxing
Oct 2022
We really enjoyed our stay! The staff was incredibly hospitable and helpfull. The food was very pretty and tasty but the serving sizes were quite small. The resort itself is very clean and just as beautyfull as the pictures promise. The rooms were spacious and the beds were comfortable. We did not use the spa, so I cant comment on it.
For the negatives I just have some nitpicks: The gym was underwhelming eventhough the view from it was great. Food servings could have been bigger. And I would have liked an Ironing board in the room.
villa whit pool very nice 😊
food 🙈 there was no choice , every day the same not enough for kids , The second day we need to order pizza 😁
It's all about the view
Aug 2022
View is beyond amazing and staff was super friendly and helpful!
Nothing is specifically wrong but I just don't think I would return
Very serene, calming, and private place for relaxing and honeymoon. Friendly and professional staff and great spa experience. Terrific service and experience. Absolutely recommended.
Very nice pool Beautiful Building
Restaurant is horrible, there was a filter cigarette in my ice coffee! Food in main restaurant was uneatable, also Japanese restaurant was just a joke, nothing rally Japanese about it! Part from super expensive price!!! Room with privet pool was not privet everybody could look inside! That made our stay so uncomfortable. Staff suddenly open the door of the room or villa! We went outside for 10 minutes and when we get back there was guy in the room with all doors and windows open! I asked him what are you doing, and he replied Hello, where are you from!!!! He had a basket in his hand with some leaves in it but didn't do anything with it! Instead he start fixing the blanket! I told him please tell me what are you doing and he replied, cleaning! He didn't have any cleaning materials and our room was already cleaned by other staffs two hours earlier, I told him to leave the room and he was so surprised and keep asking me why!!! It was very dodgy!!! Also hotel was almost empty but when I was booking it , , , ,the site shows there is not any villa left! Upon arrival I asked to pay extra to upgrade the room but they said nothin is available! It was strange because almost nobody part from us was in the hotel! At night i checked on booking.com and all the different type if rooms was available for the same night!!! Next day we changed to room with privet pool for extra money. Privet villas are so beautiful but as i said they are not really privet. Another problem is that Nothing is around the hotel, very bad location. I think this very beautiful hotel with current problems is only good for instagram photos, not comfortable to stay at all.
A very nice place to stay
Sep 2022
location is a bit far from ubud
Unreal, wonderful
Sep 2022
Unable to fault this hotel, the resort facilities are second to none. We spent 3 nights 4 days here and enjoyed every second. The staff couldn't have done enough for us and remembered us by name everytime we saw them, they made our stay very comfortable. My partner became very ill from a previous restaurant and I needed to have a doctor visit our hotel room to assist, the staff were so concerned and did everything they could to help us. The breakfast was al acarte and the choices were great, beautiful coffee. The dinner time was serene as we walked from our room to the restaurant at dusk with such a beautiful nature feeling, very romantic.
Stayed here for 3 nights with my boyfriend to celebrate 1 year together as part of our 2.5 week holiday in Bali. Hotel w
Jun 2022
This hotel was incredible. We stayed in the One Bedroom Royal Villa with private infinity pool and it was amazing. The room was clean and facilities were good. The pool was very cold and deep! However, it was gorgeous.
Before staying at this property, be aware of how far it is from Ubud centre.
Incredible view, luxurious room, kind staff
Nov 2022
The view was absolutely stunning. Our room (no private pool but was perfect for us) was massive, clean and super comfortable. we also loved the jungle view because it gave us more privacy. The staff was very lovely and helpful!
The food was quite overpriced, but tasty. The location is about 30 min from Ubud center but you are closer to a lot of attractions!
the views were amazing, great service, stunning pool. Loved the morning yoga with Putu, a great yoga teacher :)
good and nice view
May 2022
Great view and ambience, but that is about it.
Nov 2021
The view and the ambience were amazing. Alexa was a nice touch.
The maintenance of the pool and jacuzzi were awful. Both facilities were full of bugs in the morning and smelly, hence our photo session with the floating breakfast was disgusting. The pool guy was nowhere to find until 9 am, just about the rain start falling, so there goes our swimming session and floating breakfast. The amenities were disappointing compare to the rate. Parking space was a nightmare, considering the steep access of the entrance, made us wait significantly to reach the lobby. The breakfast was also cheap. Compare to similar class of resort, the breakfast was very very humble.
the stay was excellent
May 2022
the staff were very kind and generous
The staffs are very friendly and helpful. The place is comfortable and the foods in the restaurants are delicious. It's also a kid friendly environment and perfect to yoga:)
All good, while a minor note for further improvement on the maintenance of the room.
The staff is really nice - they care about their guests. Beautiful views of the forest and a nice swimming pool.
The prices in the hotel are high for Bali standards (e.g €6 for a local beer). The room felt outdated and wasnt very clean.
I've been gone a few hours and want to go back already
Jun 2022
The staff are absolutely my favourite people in this world!! They do everything to ensure your having a pleasant time and are honestly all just delights to be around.
The serenity and the staff
Food isn't great and no good options nearby
The public pools and the private pool were unbelievable. Also the location of the resort was unique, into the wild, so peaceful and calm. Also the restaurants were very good and the spa a great experience. I recommend it for honeymoon, it is out of this world.
Only thing I could complain was the water in the pool was pretty cold. Also the menu of the restaurant should be more complex since it is a destination were you can stay for many days.
Looks nice at first but don't be fooled, it's a waste of money! many many nicer and more affordable places to stay in Ba
Jul 2022
The property looks lovely, and that's where the good bits stopped.
staff were unhelpful and hard to get a hold of. The room wasn't cleaned properly, bed sheets dirty when we arrived. They refused to give us the Villa we paid for insisting they could only give us a suite but offered no monetary refund. The food is substandard, there was no hot water in our room at all, another guest was playing music so loud our walls were shaking for the first 5 hours of our stay and despite calling reception to complain they couldn't locate where the music was coming from so didn't stop it.
The pools were awesome. Also Yoga lessons by "Dubu" and Spa/Gym were fantastic. Common areas, restaurants and lobby were good. Beds and bedroom in general were really comfortable and clean. Great hospitality service, waiters etc.
Nothing, maybe a bit far by walk from everything but free shuttle to Ubud was available ( ask for it ). Fyi, Grab taxi not allowed in the area and also no restaurants in the area.
Absolutely fantastic!
Jan 2023
The pools and the hot spa are immaculate. The place is very quiet and very relaxing, away from noisy city. We walked around outside the resort and the local people are very friendly. Everyone would say hi to us even the people who ride motorbikes. The local restaurants are very good as well and cheaper compare to Denpasar. A must visit place.
There's nothing much not to like about the place. Although, there's just one thing you have to be aware of. Quite a few wild dogs in the area. We haven't been bitten or chased during our stay but still be extra cautious.
The pool is amazing The service is realy good Such a relaxing stay Overall a fantastic place
The location is a bit out of the way however perfect for the rice terrace
if you want nature and good facilities you have to choose this hotel, but having breakfast, lunch or dinner is not good
Mar 2023
the nature is perfect. we liked it
I didn't like the breakfast, very poor. There are only 3 types of real breakfast set and 3 types of dessert. you have to choose one only. there is not buffet as in 5 star hotels, I was dissapointed at this moment.
I would definitely stay here again 😍
Aug 2022
The most beautiful resort and people The rooms are amazing and they had the comfiest beds and pillows. Entertainment at dinner and the most amazing pool areas
Gorgeous hotel but location is far out
Jan 2023
The hotel is gorgeous, the staff are lovely and very welcoming! The entertainment was excellent.
very nice stay overall
Jul 2022
the facility is amazing, the staff is really friendly and helpful. the setting is very pretty.
it's very remote and the taxi service is quite pricey. the restaurant is excellent but the price is 3 times what is found in Ubud center… which is too much
The facilities were fantastic and the customer service was good. We had a wonderful romantic dinner.
The hotel is located to far from everything and there isn't shuttle service like in other hotels. Additionaly, the food is just a little and expensive.
The customer service is top-notch. The rooms are spacious and nicely decorated and I loved the pools. The Japanese restaurant is very nice.
There are small things here and there that needs some repair or to be renewed, but no big issues.
Staff were super friendly, polite and helpful. Restaurant did exceptional food and swimming pools were beautiful! One of the most aesthetically pleasing places I've stayed- beautifully designed.
Technology wasn't working during our stay no TV, Netflix worked eventually (but not English).And Siri didn't obey anyone's instructions ie music. Little but annoying things-. Bathroom was very slippery ( I fell twice), and the shower hose burst off the shower.Couldnt find a power point for the kettle, and no milk or spoons. No hand towels.
i would like to return if i come to ubud next time
Nov 2021
room was spacious, bathroom was great, balcony was excellent and view surrounding was amazing
it would be good if there is more plugs and mirrow in the room
Room was comfortable, nice space and big LG TV
Price of food and size of servings. Breakfast was 169000 and very small. Hot tub water was below jet sprayers. Lower pool had very strong chemical odor. Bath tub was 1/4 full after 30 mins. The bath salts was full of shower gel instead, probably just lazy.
Resort is beautiful and villa's were nice with soft beds. Personal was really friendly and helpful.
Room is very open, which is beautiful, however also really noisy. During our stay there was loud music coming from outside the resort which lasted till 2/3am. Unable to sleep due to it. Also check in and check out take way longer then other resorts we been in.
Beautiful place and scenery.
Oct 2022
Really liked the room, scenery, facilities and staff. They gave us a late check out until 1pm, which was great. Restaurant staff Juni was so efficient and professional.
We could hear music from the next room playing late into the night Food and drink was expensive.
The water in the private pool is extremely cold. It's a waste of money to pay extra for a private pool.
Other than location, everything is fine. If you are looking for really secluded place to contemplate or honeymoon (no out-bed activities) then its perfect for you.
Wie viel kostet dieser resort im Vergleich zu anderen in Tampaksiring?

Der Durchschnittspreis für eine Anmietung in Tampaksiring beträgt EUR 63 pro Nacht. Diese Miete ist EUR 19 günstiger als der Durchschnitt.
Ist das Parken in diesem resort inbegriffen?

Ja, das Parken ist als Ausstattungsmerkmal bei Aksari Resort Ubud by Ini Vie Hospitality aufgeführt. Für weitere Informationen empfehlen wir Ihnen, sich mit dem Anbieter der Unterkunft in Verbindung zu setzen, um zu erfahren, wo Sie parken können.
Gibt es in diesem resort einen Pool?

Ja, bei Aksari Resort Ubud by Ini Vie Hospitality steht ein Swimmingpool zur Verfügung. Genießen Sie das Wasser!
Ist Aksari Resort Ubud by Ini Vie Hospitality haustierfreundlich?

Leider ist dieser resort nicht haustierfreundlich. Versuchen Sie erneut zu suchen und filtern Sie nach "Haustiere erlaubt"
Welche Ausstattungsmerkmale sind bei Aksari Resort Ubud by Ini Vie Hospitality verfügbar?

Wir haben 10 Ausstattungsmerkmale für diese Unterkunft gefunden. Dazu gehören pool, klimaanlage, internet/wlan, parkplatz und waschmaschine.