Kactus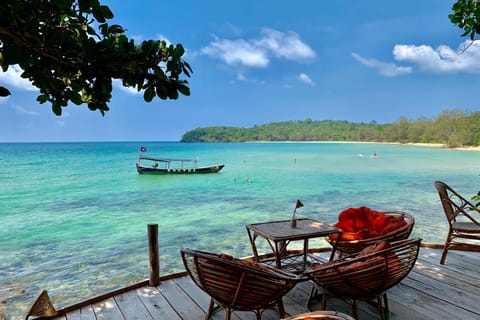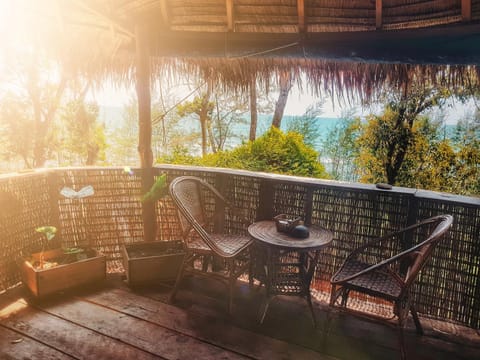 Resort in Ream
Haustiere erlaubt
Küche/Kochnische
Internet/WLAN
Befindlich in Ream, dieses schön resort für EUR 91 pro Nacht ist ein großartig Auswahl für Ihr nächstes Pause. Das Kactus liegt an einem 1 km langen Privatstrand und bietet Unterkünfte auf der Sonnenuntergangsseite von Koh Ta Kiev. Genießen Sie Ihre Mahlzeiten im hauseigenen Restaurant oder verweilen Sie bei einem Getränk an der Bar.
Haustiere erlaubt
Küche/Kochnische
Internet/WLAN
Parkplatz
Waschmaschine
Balkon/Terrasse
Fernseher
Strand/Ufer
Fitnessraum/Fitnessstudio
Garten
Familienfreundlich
100 % verifizierte Bewertungen
4.5 / 5 (235 Bewertungen)
Great relaxed island vibes
Jan 2023
Wonderful staff, really nice island. It is a very relaxed atmosphere.
Bathrooms are very simple and internet connection is weak on the island.
Paradise in Cambodia
May 2021
Whoaaa! Amazing place, the staff was very nice. Best place to have quiet and relax moments
Quiet place for some downtime
Mar 2023
We had high expectations of this place after hearing about it from friends. The island is beautiful and the vibe at the hostel is very good. The food is delicious, you definitely need to try the glass noodle salad with prawns and the pizzas! Everybody is very chilled and the ecstatic dance with full moon was an amazing experience!
The beds were terrible, the mattress did not stop the feeling of the bamboo underneath. Our beds weren't made when we arrived and one bed was double booked so in the middle of the night a guy woke one of us up to ask why I was in his bed (even after we already let reception know that we had the feeling this was going on as there kept being belongings on the bed). There was no water so no shower for a couple days (which isn't too bad but still would've been nice to have the option). They offer snorkeling tours but when we wanted to book we got told the boats were busy so we couldn't go snorkeling which was a shame as that was one of the things we came for to the island.
I love this place
Mar 2023
This little paradise offers a long beach, beautiful sunsets, excellent food (pricy but for the quality I don't mind), and really nice and friendly staff.
A good hangout area with hammocks, mattresses and pillows that need a wash because they are smelly.
Simple, private, relaxed and our favorite of cambodia.
Jul 2022
This is a must-stop. Quiet and quaint little island with a very friendly and chill staff; you'll feel right at home right away. In fact, we did kind of wish it was our home. Don't judge it by its immediate cover, instead sit back and enjoy an incredibly private island in a very fun treehouse-like place. You can help yourself to all the facilities, with tons of space, treks, clean beach and great food. She's a little rough around the edges but that's just how we like it. Incredibly private and very much in touch with the island. Very cool, will be back time and again.
If you're someone who is a little more high maintenance, bring some bug spray, soap and a headlamp. It's more on the glamping side of things but we had a great time even without these creature comforts.
The structure and position are wonderful
The place is really quiet. The Chef is really good. All dishes and drinks were very delicious. You can go hiking on the island and find really nice beaches. Friendly staff.
The water of the main beach was not so clear.
Amazing break out
Feb 2023
The place is beautiful, there's plenty of space to chill and relax. The resort is close to beautiful beaches. Kactus has an amazing cuisine. Furthermore, they offer free yoga and meditation classes and several workshops. We stayed in a bungalow. It was quiet basic but suits our needs
The mattress could be replaced by a new one
For a sleep with the sound of the waves and to wake up with a smile
Feb 2022
The location is perfect. Bungalows with direct view on the sea. Amazing sunset and sunrise on the beach. Great place if you want to enjoy nature, off beat. Charming. Good quality of food and cocktails. Excellent staff. Great vibe and already looking forward to come back.
The location is amazing. Truly a very secluded and beautiful spot. The staff kept the beach very clean. The food was exceptional. The main house was gorgeous with great views and lots of space.
Our bungalow was a little bit leaky, to be fair, it rained very heavily when we were there. The main house played music very loudly until quite late at night, which was a strange experience in the jungle.
Beautiful little place to relax
Jul 2022
The location is amazing. Super secluded from everything else. Constant sound of the waves, wonderful sea view from the clean and cozy bungalow. Most of the staff is friendly with some of them really going the extra mile. The food was delicious, super tasty and big portions. Can cater to vegans, but make sure you discuss this with the chef as not everyone gets itGood cocktails, especially the margarita with salt or sugar ;)
Price of the private boat to and from the island is quite steep, especially compared to the rates of everything else.
Peaceful and necessary
Apr 2022
The calm & kindness of people working there
The best location on island. Great sunset views. Food is delicious. Pizza is to die for.
Could use a little more cleaning
Had a amazing stay at Kactus!
Apr 2022
The amazing service and the view!
Amazing location, Superb architecture
Oct 2022
Superb location and friendly staff. Built in a very minimalistic way, this is one of the best properties if you plan on staying on an island in cambodia.
Given that this is the only property on the beach, the beach could have been maintained better. But all in all this was by far the best place you'd find on the island.
Hell in paradise!
Nov 2021
I was warned about this place but still decided to go and this chaos was beyond my expectations. Worst customer service you can imagine. I have been living in Cambodia for 6 years and I have been several "hippie style" guesthouses or retreats but this was another level… no food at the beginning, staff seemed too busy to speak to you, accommodation was awful, some didn't have door, some were pretty exposed without full walls at the ground level, the one we stayed had broken staircase and just behind the stage, so no sleeping for us, roof was leaking on our pillow (heads) and feet. When we complained to the owner, he fixed the staircase but also told us that if we don't like it, we can take the next boat back to the mainland. Stage and dancing area electrical system and generally construction was not well-planned exposing people to get injured (the case of my friend) or potentially worst outcomes. Everyone working there were openly unhappy with the owner and organization. The only thing that made our holiday worth it was the musicians, volunteers and workshops done by cool people coming from other parts of Cambodia but unfortunately after talking to them I am pretty sure they won't come back since they didn't get the compensation agreed with organization. I do not recommend this place!
It's literally in a desert island with only beach and jungle :)
May 2022
Nice, chilled, hostel-like, backpackers atmosphere. Great sea view from the hostel bar. It's literally in a desert island with only beach and jungle :)
Friendly resort nestled by the sea on a secluded island and amazing food (special mention to the che
Jun 2022
Nestled in a forest just by the sea on a secluded island, this resort has everything you would look for if your goal is to get away from the buzyness of the city, reconnect with nature and slow-down ! The food was amazing: the portions were huge and the taste was great (special mention to the mozzarella sticks !). The Seaview from the rooms and the beach were also amazing :)
When it rains, everything gets wet in the room even with protection, but I guess this goes with the "Robinson" experience
Location, foods and environment
the bungalow i stayed at was at the back and it was a bit lower from the front so the air was blocked and kinda made the room a bit stuffy. Maybe installing one fan would be great
Wie viel kostet dieser resort im Vergleich zu anderen in Ream?

Der Durchschnittspreis für eine Anmietung in Ream beträgt EUR 38 pro Nacht. Diese Miete liegt EUR 53 über dem Durchschnitt.
Ist das Parken in diesem resort inbegriffen?

Ja, das Parken ist als Ausstattungsmerkmal bei Kactus aufgeführt. Für weitere Informationen empfehlen wir Ihnen, sich mit dem Anbieter der Unterkunft in Verbindung zu setzen, um zu erfahren, wo Sie parken können.
Gibt es in diesem resort einen Pool?

Wir haben keinen Pool gefunden, der als Ausstattungsmerkmal für diesen resort aufgeführt ist. Es kann sich lohnen, noch einmal zu prüfen, ob ein Pool für Ihren Aufenthalt wichtig ist.
Ist Kactus haustierfreundlich?

Ja! Diese resort ist haustierfreundlich. Für weitere Informationen empfehlen wir Ihnen, sich mit dem Buchungsanbieter in Verbindung zu setzen.
Welche Ausstattungsmerkmale sind bei Kactus verfügbar?

Wir haben 11 Ausstattungsmerkmale für diese Unterkunft gefunden. Dazu gehören haustiere erlaubt, küche/kochnische, internet/wlan, parkplatz und waschmaschine.