Aegean Suites Sanya Yalong Bay Resort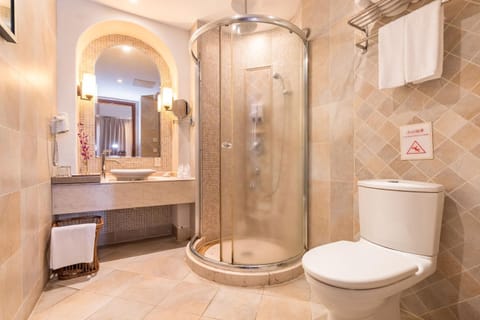 Resort in Sanya
Pool
Klimaanlage
Küche/Kochnische
Eingebettet in Sanya, dieses charmant resort für EUR 62 pro Nacht ist ein phantastisch Auswahl für Ihr nächstes Urlaub. Located in Sanya Yalong Bay, right next to the beautiful ocean and the beach, Aegean Suites Sanya Yalong Bay Resort offers fully furnished family suites with a fully equipped kitchen, a washing machine and a balcony.
Pool
Klimaanlage
Küche/Kochnische
Internet/WLAN
Rauchen erlaubt
Parkplatz
Waschmaschine
Balkon/Terrasse
Fernseher
Strand/Ufer
Fitnessraum/Fitnessstudio
Garten
Familienfreundlich
100 % verifizierte Bewertungen
3.9 / 5 (85 Bewertungen)
Lockdown on beach
Aug 2022
We planned to stay at the hotel for 10 days, but got into lockdown and stayed for another 7 days. Only the sea and the beach saved from isolation. The hotel staff helped us in this situation., helped to fill out the documents, organize groups to the airport. Special thanks to the manager with reception 小陈, he was always in touch.
Closed pool early, foam party only for children
Warm water in the swimming pools.
Too many stairs to the beach. On the beach very small safe place to swim. Very loud place during the day, no peace. We come to the sea but later we used only swimming pools.
Aegean Suites Sanya Yalong Bay beach holiday getaway.
Jul 2021
Very close to beach access, the swiming beach was perfect and not too crowded. Access to diving and other water sports. Simple hotel but staff very helpfull and caring. F&B, Housekeeping and Front office team were excelent. The rooms were spacious, and having kitchen facilities was a bonus. Overall a great hotel. Within 1km to local restaurants and shops.
Swiming pool temp too hot during hot summer days.
Always a good stay!
Jul 2021
This was our second holiday stay at Aegean Suites, Yalong bay. We really enjoyed it. The pools, the foam parties, the friendly staff, the self-catering suite and most of all the beach!
The children's indoor play area needs an upgrade. Especially during rainy days - this area would be lovely to use for children to play together. The space needs renovating, foam floor needs to be lifted and simple safe, clean play equipment should turn it into a lovely treat for parents too.
good location but would not recommend.
Jul 2022
the room was big and the location was near good restaurants and on the beach.
The room was changed at check in. They said it was an upgrade however it was a tiny balcony with no room to put a chair to sit on and enjoy the view. we had booked a garden room with a large terrace and outdoor furniture and direct access to the lawn for the children to play on and be easily supervised so it was disappointing to have no direct access to outside space for the children to play. The room was dirty - the floor hadn't been swept or mopped and was dirty underfoot, the sofa smelled of cigarettes, the bed linen was musty and had sand in it, the shower was dirty. the first time we used the shower a lot of muck was washed down the drain. We asked at check in to change our checkout date to a day earlier as our flight had been changed by the airline. The man at the desk refused and said we needed to do it through Booking.com and we had to pay full price now. We paid and requested to change the date through Booking.com and the hotel refused to allow the change. Booking.com helped us to get the hotel to change the date and organise a refund of the extra day but the hotel was not helpful and service was non exisiting after we complained to Booking.com about the hotel. For the cost of this hotel we expected a much higher standard of cleanliness and service.
the worst in Sanya
Sep 2021
the only thing which I liked in the hotel is a sea-view and beach. I nned to say a special compliment to the life guard on the beach, he was always on duty and dressed like a captain!
Receptionists didnt speak English. the staff is indifferent and helpless to the guests, especially foreigners, they didnt care about you even if you are for the first time and quite a stranger in the hotel and in the town. Sometimes it seemed to me that I irritated them. the facility is old, smelly and noisy. I got a room in the building which was under the repair ( the rooms under repair were on the same floor with mine ). I heard the noise during day-time rest. the swimming pools are small, only one was open. the location is too far from from the restaurants and shops. Due to COVID-19, the breakfast was served in the room. For 5-star hotel, it was very-very poor ( by the way, the most suprising and flagrant was 3 sausages for 2 adults, I wondered why 3?). coffee was very bad. I will never come here again and will never recommend it to my friends. the service in the hotel is 2-star hotel level, but no higher, the facility - 3-star hotel.
Great location in unkempt building
Jul 2021
The location is perfect with beach access and the manager of the hotel is one of the nicest I've ever experienced. The cleaning staff is also spectacular and go above and beyond to make my stay as positive as possible.
I tripped and badly hurt myself because the tiles on the floor are uneven in the hallways. Only one English speaker in the entire property. One of the bellboys rudely pointed his phone at me without making eye contact suggesting that I get a "Chinese boy" to help me with something even though it was his job to help me to send a box somewhere as specified by the front desk. The electricity also went out the night we were there. While the hotel graciously paid for a stay in another hotel, they made no effort to let anyone know this. You just had to be downstairs when buses mysteriously appeared. There was also total chaos ensuing during this entire process. The next day the air conditioning in my room didn't work and no one did anything about it even after being told multiple times.
Nice place to relax and get away for a few days. Not the best hotel as it only caters to Chinese.
Jul 2022
The location is perfect as it sits right on the beach. The facilities are clean and the staff is friendly. The location is right next to a few malls with restaurants in it.
No one amongst the staff spoke English. Our particular room had a weird smell coming from the bathroom. The restaurant on site did not feature any variety and was food that catered only to Chinese. There are several "no smoking" signs and some guests do not follow rules. The staff do not remind the guests of the rules. This is not something that is a fault of the hotel but, on more than on occasion, a guest who was in the pool spit in the pool as opposed to spitting outside the pool
The beautiful area, spacious rooms and smiling personnel made our stay fun and memorable.
Jul 2021
The location is beautiful, with lush, vibrant greenery and a nice, sandy beach. It's quiet and relaxing. The stuff is very helpful and friendly. The sitting area in the rooms makes it easy to spend time in the room or even have friends over. Sam, from the front desk, is one of the most accommodating, helpful and sharp employees who got out of his way to make our stay pleasant.
Not even one person spoke English which made communication at times frustrating. We paid more for the ocean view which was nice but seen sideways, so I'm not sure it was worth the extra money. There was much rain one day and there were parts of the hotel (in the common areas only) dripping; in general, it is spacious and comfy but a little run down. It could also use a pool bar - for coffees, ice creams, sodas etc.
Feels like home when you have a spacious room with sea view; cooking your own food by a nice beach.
Aug 2021
The hotel is simple with good facilities and the kitchen is a big plus. The staffs are friendly and even though they don't speak English they were always willing to help. Breakfast was quite Chinese with few western options, but we always found a way to grab some food.
The wrong advertising on booking showing a jacuzzi in the balcony which does not exist. There are few rooms with it, but not as shown on booking. When we showed our reservation they said it was wrong and the cost would be double to get a room like in the pictures (booking.com). We were very disappointed in the beginning but they gave us a spacious room with a nice view (after our complains) which met most of our expectation.
Aegean Suites Sanya Yalong Bay beach holiday getaway.
Jul 2021
The beach was fantastic, very nice to swim and relax. Watersports and diving right on your doorstep. A simple but nicely set up hotel, the rooms with kitchen and balcony and sea views was great. The location which was close to local restaurants and shops was perfect. The staff were helpfull and friendly although I wish a little more English was spoken. Breakfast buffet was good and dinner restaurant food good. Overall a great stay.
Staff were helpful and upgraded us for free to a really nice apartment on the 5th floor. Thank you.
The rooms we booked looked out onto a service delivery area and had no mountain view.
Proximity to the beach, apartment was very comfortable.
Pool area not as clean and breakfast selection poor. Fitness centre closed and looked old
The bed sheets and the pillows smelled bad, like humidity. Also, the cleaning lady took the robes and they did not return them.
A good spot to avoid the major crowds.
May 2021
Pool was great and we had half of it to ourselves because rh kids and families avoided the deep end. The dinner was decently priced compared to the average resort but the food was equally average. Breakfast options were largely chinese but we were satisfied with that and what we had was good. We'd stay here again just to avoid the crowds.
Nothing is a good value in Sanya during a national holiday, but we were satisfied with this hotel. Staff spoke basialcally zero english so we used our own translator for everything when we couldn't get by with our own chinese. It's located at the end of the resort beach, not much of a beach, but who needs the beach when the pools are nice.
Good but not a 5 stars
Apr 2021
It was very clean. The staff were very friendly and helpful.
It was definitely not a 5 stars. Too much chlorine in the pool.
Excellent Vacation!
Apr 2021
It is very close to the beach. Very friendly staff.
Very relaxing, beautiful stay!
Jan 2022
It has a great pool and is located directly at the beach.
The staff is very friendly, but English is not spoken there.
Overall a great experience, great hotel and nice staff members
Jul 2022
I enjoyed the pool area and how close it was to the beach. The staff was quite attentive when we asked for certain things.
You'll have to use your translation app to communicate if you're all foreigners. It's not a problem for me but some people expect every front desk personnel to speak English. The only complaint I have is that the body wash tool inside the shower wasn't working. We asked for it to be changed. Still wasn't working. They should test it out themselves before leaving the room or even bringing it inside. A small thing for me but for some that's unacceptable considering it's about 1000 rmb a night.
Had very good time 👍👍
Aug 2021
I don't know where to start 😁 first employees are very nice and always there to help, although they do not speak English it is not difficult for them to use translator and stay kind at all times. Breakfast was varied, a little European cuisine which is quite enough for us, coffee, fruit, fried eggs,bacon, sausage, various salads, cakes, toast .... The resort really looks nice, the pools are clean and someone is always cleaning of the leaves. The beach is very close and is very beautiful, long and also has deck chairs. The beds are very comfortable, the rooms are nice. Also, what surprised us very much was that the resort provides services for going to the National Park and also water sports which are much cheaper than paying on the beach. In the price of for two, we got 3 water sports as well as a photographer because we went diving. What is great is that at any time you can order something from the restaurant as well as from the store to be delivered to the resort. We are very pleased with the stay and I would recommend it to anyone.
The resort is a bit away from the restaurant and the center if I may call it that. Luckily it's not very far, say 15 to 20 minutes of walking. For us young people, it is relatively close, and it is not a big problem to walk a bit at the end of the nice day ☺️ And the other thing, we thought the TV would have some English channels but it didn't so bring your laptop's guys 😁
Absolute pleasure
Jul 2020
Great location with direct access to beach. Fabulous pools and very comfortable studio room with cooking facilities. Clean and non smoking rooms! The staff were VERY friendly and helpful. Near to supermarkets and restaurants. Mostly asian but great!! Excellent breakfast! Great watersport facilities and best sunlounger views!! Relaxed resort!!
Lack of utensils in kitchen- only knife is a cleaver. No small cooking pot. No patio furniture. Although we made do. No hot water in spa bath. Beds are VERY firm.
Great location with beautiful view.
Jan 2022
Great location at the end of the beach, quiet. Yet, not too far (about 1.2km) from a shopping center with lots of restaurants, games for kids, and a small store (drinks and junk food - no produce). Lots of water games are available, including tank diving. Good breakfast, changing slightly every day.
The cooking utensils were nonexistent, only one big pot was provided, no pan. The staff does not speak a word of English (not 5-star in such case). No help to locate the nearest testing center - a must these days.
Wonderfully located beach resort
Sep 2021
Great hotel in a great location on the quiet end of Yalong Bay. We stayed in a two-bedroom suite which was a good size (2 bathrooms - one on suite) and had a great terrace. The staff were really helpful.
Perfectly relaxing beach holiday
Sep 2021
Breakfast was great. Vegan friendly and delivered to our room (because of Covid measures). The location was perfect, at the quiet end of (supposedly) the best beach in Sanya - Yalong Bay. We didn't use the pool as the sea was perfect for swimming and, luckily, wasn't at all crowded. Although the staff spoke very little English, they went out of their way to be helpful and service always came with a smile. We had a great view and the room was a good size. The bathroom was nice and spacious too. Extremely comfortable bed.
There could have been a few more cooking utensils. The staff were happy to bring things if requested but the language barrier sometimes made this difficult. Filling out the breakfast menu was a bit tricky - there's no translated version.
Wie viel kostet dieser resort im Vergleich zu anderen in Sanya?

Der Durchschnittspreis für eine Anmietung in Sanya beträgt EUR 51 pro Nacht. Diese Miete liegt EUR 11 über dem Durchschnitt.
Ist das Parken in diesem resort inbegriffen?

Ja, das Parken ist als Ausstattungsmerkmal bei Aegean Suites Sanya Yalong Bay Resort aufgeführt. Für weitere Informationen empfehlen wir Ihnen, sich mit dem Anbieter der Unterkunft in Verbindung zu setzen, um zu erfahren, wo Sie parken können.
Gibt es in diesem resort einen Pool?

Ja, bei Aegean Suites Sanya Yalong Bay Resort steht ein Swimmingpool zur Verfügung. Genießen Sie das Wasser!
Ist Aegean Suites Sanya Yalong Bay Resort haustierfreundlich?

Leider ist dieser resort nicht haustierfreundlich. Versuchen Sie erneut zu suchen und filtern Sie nach "Haustiere erlaubt"
Welche Ausstattungsmerkmale sind bei Aegean Suites Sanya Yalong Bay Resort verfügbar?

Wir haben 13 Ausstattungsmerkmale für diese Unterkunft gefunden. Dazu gehören pool, klimaanlage, küche/kochnische, internet/wlan und rauchen erlaubt.