Outrigger Mauritius Beach Resort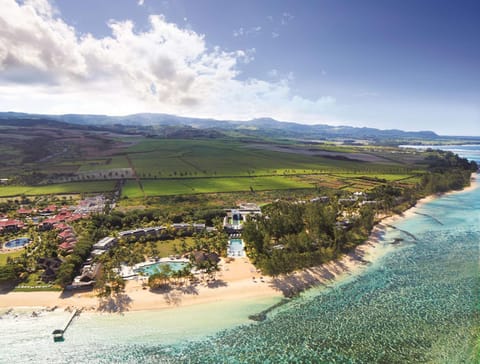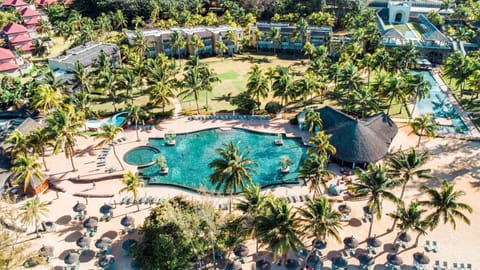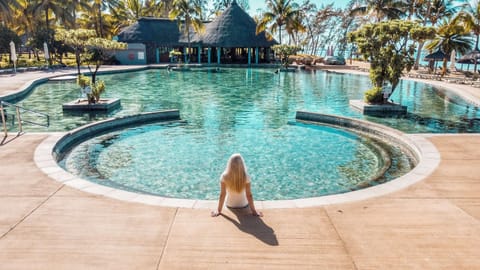 Resort in Bel Ombre
Pool
Klimaanlage
Küche/Kochnische
Befindlich in Bel Ombre, dieses schön resort für EUR 297 pro Nacht ist ein großartig Auswahl für Ihr nächstes Urlaub. Sie haben Anspruch auf einen Genius-Rabatt im Outrigger Mauritius Beach Resort! Um in dieser Unterkunft zu sparen, müssen Sie sich nur anmelden.
Pool
Klimaanlage
Küche/Kochnische
Internet/WLAN
Rauchen erlaubt
Parkplatz
Waschmaschine
Balkon/Terrasse
Whirlpool/Spa
Fernseher
Rollstuhlgerecht
Strand/Ufer
Fitnessraum/Fitnessstudio
Garten
Familienfreundlich
100 % verifizierte Bewertungen
3.8 / 5 (638 Bewertungen)
Lovely relaxing stay in a beautiful hotel
Sep 2022
We really enjoyed our stay. It is a beautiful hotel, on a lovely stretch of beach. The food selection was also lovely.
Very pleasant stay. we reached early during the day and they checked us in quickly without any trouble. We took an beachfront view room and it was very spacious and had a jacuzzi. The balcony was decent with very good view of the beach. What surprised us was they offered us with complementary wine and some sushi which was perfect.
The food was average catering more to the international taste. Was looking forward to some traditional Mauritian dishes.
Very good breakfast. An exceptional staff especially Megha. She was extraordinary, always helping and doing her absolute best to take care of our needs. Beautiful resort and stunning scenery (green and very well maintained). Certainly a very good resort. Beachfront room with a lovely view, very clean and spacious, big and comfortable bed. Mauritian night in the resort was special with extraordinary food and service. All together the staff is amazing! Thank you all! We will be back for sure!
Feels like heaven
Jan 2023
Very clean and beautifull teritory! The rooms are amazing! Kind and smiling stuff. Big pool with warm water
The menus of hote'ls restaurants and bars are too expencive. Average breakfast. I'd recommed to renovate the rooms futnitures. The beach is not good for swimming because of shallow water and the wind
very accommodating staff, beautiful views, nice vibe & spacious room with a big tub
noisy neighbours, expensive food if not paying for HB/AE
we stayed here first and it was so nice to just relax. the extra activities that are included such as the glass bottom b
Nov 2022
this was our luxury stay as part of our holiday and it really was. sea view, amazing room, great facilities. I liked there was an adult only pool area.
The view is mesmerizing however the beach is a little far than what it appears in the pictures. The Le Blue restaurant and bar is amazing and they have a music band every night also their food is delicious
The staff are not professional as you would expected. They have a problem with the AC we spent a night in hell!! And the hotel did not compensate us for it the whole night with no AC! The first moment in the hotel a girl who took us to the room treated us like stupid and wrote a review for herself using our phone which we deleted later. She even wrote a complaint about herself and how the breakfast was great which we didn't have it yet!!! We asked her about the hotel and the restaurants they carry she said I tell you everything and after she wrote the review didn't tell us anything.The room service staff are not professional as they should be. We faced a problem with the bath tub ( the water comes out brown and dirty ) we had to call to get it fixed!! In general the hotel does not worth the money we paid for i will not book again there are other good options. The food does not worth the money if you want to take half board !!
Disappointing - at best a 4 star resort
Jan 2022
The staff was in general very friendly and tried to compensate for the numerous short comings. They asked several times whether everything was okay, but it wasn't, and of course there was often little they could actually do. Attractive was the generous cancellation policy in times of Corona before arrival, which was actually our motivation to go there first. However, once checked in, no change was possible and we were stuck for 6 days. Positive was also that due to only few guests, there was no shortage of beach chairs, beach towels and other utilities. No queues anywhere. The main pool was also well built and the cocktails were okay.
In basically every respect, this is definitely not a five star hotel resort and badly needs refurbishment in various areas. We have been to Mauritius before but never experienced such an inappropriate quality to price ratio. Many things were old, heavily used, stained or did not work. Our expensive room of category "Ocean Front Deluxe" had a view towards the neighboring building and 5 trees in front of the small balcony. The room was offered with 63 sqm, but had in reality less than 50 sqm. The air condition system was not working properly. Despite several repair attempts, it did not cool to less26 degrees. The door lock failed regularly. The TV set was small and had a very poor image quality. The toilet flush was faulty. Water pipes caused strange whistling noises, also during the night. There were several construction activities on-going, which have started before our arrival and were not finished when we left. One of them blocked a major pathway. The beach chairs were very old, partly broken and often stained. Beach towels were heavily used and also had stains. Basically only 1 restaurant (Edgewater) out of 4 was available for dinner. It offered reasonably good a la carte food, but no buffet and nothing special. The main restaurant Mercado was closed as there were not enough guests. At bar/restaurant Le bleu, some snacks of good quality but limited choice were available. The nice Plantation restaurant was only open on Mondays and Saturdays and offered always the same single fixed Lobster menu at an extra price for half board guests. Breakfast buffet was of medium quality and also attended by birds inside the building, picking on the cakes. A big problem was that food and beverages could only be inconveniently ordered by means of a complicated smart phone app. After 6 days we moved to the neighboring Heritage Le Telfair which offers a much higher quality for basically the same price.
good stay but I would go half bord next time
Sep 2022
the staff are every helpful and welcoming
the food prices on site are quite expensive
the sea food restaurant (edg water)
need room renovation staff made me pay other people bill at check out
The room was spacious and comfortable , the view was amazing , good hospitality , the staff was friendly ..
the bathtub was broken they coming two times to fix it , and it's still broken , they have to check the room before the guest coming , the price was high .
Great hotel with excellent facilities and close to the beach
May 2020
The room was a nice and large double room with a view of the pool and a balcony (on the ground floor). There was a private beach in the grounds of the hotel less than 5 minutes walk away. We also went to the spa which was very nice and relaxing. We tried two of the restaurants for lunch and dinner and the food was nice, not amazing food but very good. Breakfast had a large choice of hot and cold food as well as drinks.
We found a couple of cockroaches in the room, but we were told this may happen due to the proximity of the forest and the fact we were on the ground floor. Unfortunately we had to leave early because of Covid-19 and some of the facilities were closing, but the staff were helpful in arranging our early departure and refund
Hotel with nice rooms at the beach
Mar 2022
The room at the beach was very nice. Very good sea view and quite private terrace / garden. Nicely furnished. The place looks like good quality. Breakfast buffet was very good. Service was very good too.
Corona test at arrival was annoyig. From the room at thea beach you can't access the beach easily, you need to walk sideways to find a place where you can go to the water easily. No room service available. Pool was far from the room.
Lovely tropical resort Close to national parks
Mar 2022
The resort and grounds were beautiful and well kept and the lobby and restaurants were very stylishly decorated. The room was large and very comfortable and the bathroom was beautiful! The food was very good at both restaurants and food and drinks were reasonably priced. All staff were very friendly and helpful. If you are looking purely for a beach resort, I would stay elsewhere on the island, however this was a perfect compromise for our half of the holiday where we took day trips into the national parks and la Mourne as all the hikes/ viewpoints were within 30 mins drive.
The hotel was quite noisy in the morning and evenings with waste/water disposal vans. The patio furniture was dated and not very comfortable so we didn't use the balcony much. The walkways were prone to flooding so after a rainstorm you had to get wet feet!
If you want to Enjoy Mauritius, stay in another resort. Very bad experience. Room needs maintenance. Dinner package doesn't include water!!. Staff are not trained. reception team are rude
- the only positive aspect about this stay is that our friends came to Mauritius and we met them in that hotel, so our stay was rescued - dinner at edge water restaurant was OK (lobster bisque & tenderloin)
- outdated facility that should have a full renovation (best years are behind this hotel) - narrow beach and rocky seaside - very, very slow personnel - you need to pay for tennis balls additionally: the personnel broke our luggage's handle and they wanted to hide it by repairing it with nails (did not work at all) and then declined that anything happened
The stay was very comfortable and loved the experience
Apr 2022
The location was very beautiful, scenic and peaceful; the staff was very helpful, special mention to Megha and Vanitha, they went out of the way to help us; the Kids Club was very good; very happy that they provided complimentary early check in and late check out; overall a nice feeling over the 4 nights of stay
The breakfast spread could have had a bit more of variety; the overall cleanliness of the room could have been better.
The location is great because it's right on the beach. The swimming pool looks great too though we didn't use it because of the weather.
No floor mats, terrible response time from the whole team in general. The gym is extremely minimal and some of the equipment is rusted and unusable, probably even unsafe. Waited over 35 minutes and made 3 phone calls for them to replace drinking water; after that, I walked up from my room to the reception and asked for a glass of water. They apologised for the tardiness so I let it go. The next day I asked for laundry bags and after 1 hour, 4 calls, and one physical visit to the reception, I received the bags. By that point, I didn't even need it. They apologised again, but at this point it just feels like a pattern. They have 3 restaurants and 1 lounge bar. 1 of those restaurants offers a buffet at all times, promising pan asian, Indian, European, and more. Extremely disappointing and absolutely not worth the steep prices; no Indian food. "Pan-asian" was literally one Indonesian chicken soup (chicken broth is all) and steamed rice. No chicken dishes whatsoever. Everything was either seafood or lamb/pork. For vegetarians, literally the only options are white rice with some dry spinach side dish and salad. This is for dinner! The chef apologised for not including most of their regular items that night - then why even charge full for it? I would've just picked off of the menu from the other restaurants and saved myself a lot of money and trouble. Went to sleep hungry that night. Their in-room dining has 4 items listed under main course. That's all. The menu doesn't change and they don't offer to send you food from any of their restaurants even when it rained heavily for 48 hours straight. They expected us to walk to the restaurants in the muddy path and in the rain to get a meal - or settle for the same 4 items served to the room. They have a buggy but they don't offer to drop you.
The rooms were very old and doesn't even have a ceiling light, the floors were dusty and they gave me the room that was in the far end infront of the pool and there was loud music until 2 am not sure if it was the hotel or the residential community next to my room. very disappointed of the staff as well, rude and took them 45 minutes to come and collect my luggage
The hotel staff was welcoming and well mannered. They welcomed us with a bottle of wine and fruit platter. The rooms were spacious and luxurious. The bathrooms are provided with tub and we also got a surprise aromatic bath & room decoration. They also provide us a free couple massage.
There is nothing that we didn't like about the property.
The hotel is scenic, the beach and the pool are beautiful. In general we enjoyed all the facilities
While the visit was nice it was not value for money. The room is a bit old. It was not clean enough. There were few maintenance issues that took too long to solve. The plantation restaurant is nice but portions are too small. The edgewater restaurant was full at the evenings and we couldn't book a table
Enjoyable Holiday
May 2022
The buffets were excellent.The dishes were perfectly flavoured!! Really delicious!
Maybe the hotel needs a little tlc
not satisfied. we've stayed at other resorts and it was our first time at Outrigger. not going to book a stay there agai
Sep 2022
the breakfast was decent. good spread
there is sand around the property and no mat at entrance - couldn't stop bringing the sand in the room. and it was so inconvenient to wipe feet every time we hopped in bed. The cleaning staff were a little rude.
The beach view from the room
The beach, the location is great.
The hotel seems to be very badly maintained. Broken things everywhere in the room and outside the room too. Found cockroach in the bedroom. Stairs to the 2nd floor were dirty and water leaks. The AC of the room wasn't working at all, making it hotter inside than outside. It was the worst hotel experience of my life, and that was on our 28th wedding anniversary celebration and had to check out same day at 23:55 pm as no other room was provided.
staff are very nice
Oct 2021
the food wasn't good at all
was a pleasant experience over the new years . enjoyed the food at Mercado and the evenings at plantation club.
Jan 2023
the beach and the food at mercado
some rooms need improvement with their appliances. AC needs to be changed
Bad night stay at outrigger hotel
Mar 2023
Swimming and breakfast only
The room.the jaccuzi is broken..the back door cannot be closed from outside..there were only dim light..was very difficult with my toddler specially at night to change the nappies and to feed her(the hotel was aware of her). There is a door in the bathroom which i did not appreciate. There was a tv in the room but could not use it since the remote was not working. For a 5-star hotel the room is very old and did not meet my expectation compared to a 3-star hotel with i went before. At dinner there were no mauritian dishes despite having mauritians in the hotel(there were only european and indian dishes which were served). Personally this type of hotel should be specially for tourists.
Stayed at the hotel for one night. The rooms are the most spacious we have stayed at on the island over 60sqm with a huge bathtub fitting two adults and one child, comfortable super king bed and is overall at a decently maintained for its age. The complex is huge with a long private beach. Pools are nice though unfortunately neither are heated so not ideal for babies. The staff is very caring and friendly and keen to make a great experience for us. Food quality is good in Mercado for breakfast and dinner however the selection was limited for the Asian selection not having any Indian food available even though that was mentioned in the description of the restaurant. The beach bar/restaurant is nice and had great cocktails and happy hour every day. The hotel has just recently been reopened after the pandemic and is priced competitively being the cheapest five star on the island and cheaper than most four star hotels as well so should be compared accordingly and for this it is good value.
The hotel was last renovated in 2013 when it was acquired by Outrigger from Movenpick and it shows. The hotel has the potential to be a five star resort however it is in need of an investment in a renovation and doesn't feel so modern and currently reflects more of a four star quality. Some more basic things such as the paint on the footpath is falling off and the branches on the ramp down from the reception with paint not updated on the footpath which would be quick fixes to improve the details. That being said, the hotel has just recently been reopen and is priced competitively being the cheapest five star on the island and cheaper than most four star hotels as well so should be compared
staff were polite, nice views, did a great massage.nice pool on the beach.
cleanliness! walking around the hotel is messy, the pavement was so sandy and not clean until the doorstep, so walking to the room is impossible without making the whole room full of sand even if you take your shoes off, what made it worse is that there was a water leak in the plumbing next to the room and we were literally stepping into sand mud right before entering the room. Also there were thousands of flies and mosquitoes waiting for us right outside to the room entrance due to water leak, once we open the door they get inside. food was average. another issue that pissed us off is that we specifically asked for a pcr test (not antigen test), after multiple delays the doctor eventually came and did antigen test for my wife which was rejected by the airline, we didn't know the difference or noticed that he wrote antigen on the report but the doctor did for sure, we made a real pcr test in the airport and barely made to the gate.
Staff were friendly, very helpful. Want to say special thanks to chef Warrel, Ashok; spa specialist Alvine; all concierges.
staff, food and the beach was lovely. We enjoyed on the beach a lot.
the property was dated and needs a face uplift. We expected a 5 star property and also value for money was 👎 overall stay was good. if you do t mind dated interiors then you will enjoy
it was good and staff Servicd is good
Sep 2022
staff are very good . it is at clean beach
good value for money but refurbishment needed
Oct 2021
- size of the room - quality of the food buffet - facilities - beauty of the plantation club - staff friendliness
- looks quite old and outdated, urgent renovation needed -
Sharwin was an amazing host. he took care of everything.
Not enough music on the beach
it was excellent experience
Apr 2022
Quiet location, friendly staff and good food.
Dec 2021
Quiet location, friendly staff and good food.
we where treated terribly by the staff. they where arrogant and rude. I have stayed there before years ago the place is no where close to what it used to be
The hotel is older, first 3 days we had problems with broken toilet - it was making really weird sounds. the bathroom was not clean (older, worn off and and bit of mold). The beach is nothing special and the location is good for hiking, but not really for swimming in the ocean.
Wie viel kostet dieser resort im Vergleich zu anderen in Bel Ombre?

Der Durchschnittspreis für eine Anmietung in Bel Ombre beträgt EUR 431 pro Nacht. Diese Miete ist EUR 134 günstiger als der Durchschnitt.
Ist das Parken in diesem resort inbegriffen?

Ja, das Parken ist als Ausstattungsmerkmal bei Outrigger Mauritius Beach Resort aufgeführt. Für weitere Informationen empfehlen wir Ihnen, sich mit dem Anbieter der Unterkunft in Verbindung zu setzen, um zu erfahren, wo Sie parken können.
Gibt es in diesem resort einen Pool?

Ja, bei Outrigger Mauritius Beach Resort steht ein Swimmingpool zur Verfügung. Genießen Sie das Wasser!
Ist Outrigger Mauritius Beach Resort haustierfreundlich?

Leider ist dieser resort nicht haustierfreundlich. Versuchen Sie erneut zu suchen und filtern Sie nach "Haustiere erlaubt"
Welche Ausstattungsmerkmale sind bei Outrigger Mauritius Beach Resort verfügbar?

Wir haben 15 Ausstattungsmerkmale für diese Unterkunft gefunden. Dazu gehören pool, klimaanlage, küche/kochnische, internet/wlan und rauchen erlaubt.