Harbour View Boutique Hotel & Yoga Retreat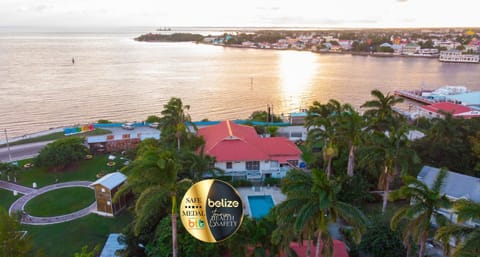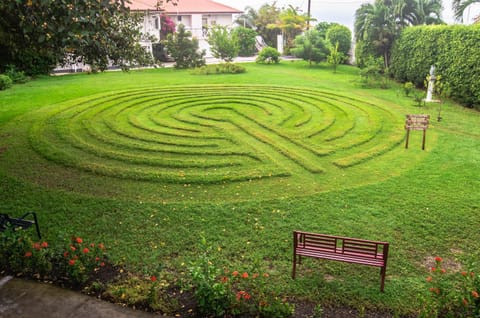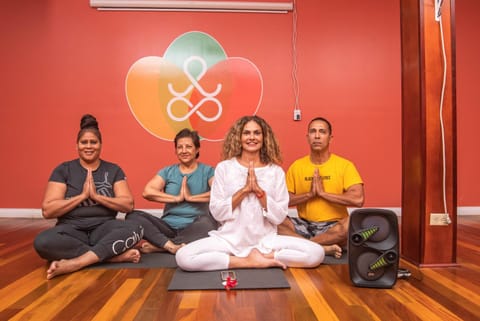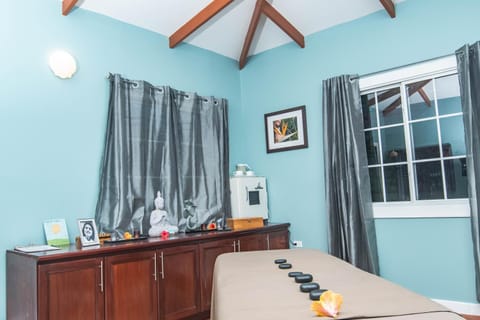 Resort in Belize City
Pool
Klimaanlage
Küche/Kochnische
Befindlich in Belize City, dieses schön resort für EUR 69 pro Nacht ist ein großartig Auswahl für Ihr nächstes Urlaub. In Belize City. Zu den verschiedenen Einrichtungen gehören ein Außenpool und ein Garten. Die klimatisierten Zimmer bieten Poolblick, einen Schreibtisch und kostenfreies WLAN. Die Zimmer im Resort sind mit einem Flachbild-Kabel-TV ausgestattet.
Pool
Klimaanlage
Küche/Kochnische
Internet/WLAN
Waschmaschine
Balkon/Terrasse
Whirlpool/Spa
Fernseher
Strand/Ufer
Garten
100 % verifizierte Bewertungen
4.4 / 5

"Ausgezeichnet"

(139 Bewertungen)
We were there for one night before our flight back to the US. It was in walking distance from the express water taxi terminal. The cottages are really cute. The rooms are really clean and I was pleasantly surprised by the kitchen. We didn't have much time to try out the other amenities like the yoga classes. We had breakfast at Martha's cafe which was really good. The hotel arranged the taxi to the airport which was about a 30 min ride.
All in all, Harbour View was an extremely great place to stay.
Jan 2022
We stayed in one of the cottages next to the smaller pool, the cottage was very cute, very clean and larger than expected. The staff were extremely helpful and friendly. Definitely will stay again on our next trip to Belize.
The only thing would be that the pillows could be a little softer.
Perfect in every way: 10 star hotel on a five star scale.
Jul 2022
We stayed in 3 cabins and they were spacious, comfortable with all the amenities that make a stay special. The setting was landscaped beautifully. The pool was perfect for the two nine year olds with us. We also appreciated remarkable restaurant across the street and the delicious meals we had there. The manager went above and beyond to change and add an additional cabin to our reservation. The staff scheduled a massage and facials for us. Two people in our party were going on to Mexico while the rest of us were returning to the US. Again, the manager arranged a car and driver to meet those going on to Mexico and take them from the car rental agency at BZE to the one in Chetumal making their departure from Belize a easy transition.
There was nothing to dislike.
Clean room, pool, nice staff, good location
May 2021
We had dinner which was vegetarian and organic. Quiche and salad with balsamic vinegar dressing and a Belizean rice Bowl. Coffee in the room, large clean room and bathroom/shower And Air conditioner. Close to a park, local food after about 2 pm. Great cliche. 5 minutes to island ferries and more reataurants.
Meet our expections, nothing to add here Tried to download meal photos but the booking.com app wouldn't download them. But the food was really good. Need a better app booking.
Thr cottage, the pool, the view
It was all good, just make sure you don't walk about after 8 or 9pm as can be dangerous in the city..taxis are just $5 so cheap enough and not worth the risk not too
Beautiful place to stay!
Aug 2022
This place is great! Beautiful cabins around a lovely pool, very lush with lots of tropical plants and places to sit. It's right across from the water so you can walk along the promenade and look out onto the ocean. The staff is SO friendly and helpful and the food was great, we loved it!
Nothing negative comes to mind, this place was great. Right near the Belize sign and a seaside restaurant, also very near to the ferries so it makes traveling to and from the islands a breeze. The staff were wonderful and so nice.
perfect stay for staying in Belize City
Jan 2023
this hotel was real nice & clean and conveniently located near the ferry. we ate several time at Martha's cafe - it was good. the staff are supper great- very friendly and accommodating .
I loved everything except the lack of a coffee maker in the room. the instance coffee wasn't good at all.
This is a gorgeous, quiet place to stay to use as a base for excursions and easy access to the water taxi.
Mar 2023
This hotel is an oasis in a rather old and crowded city. The grounds are lovely, with green spaces, beautiful flowers and nicely groomed paths. The pool is warm, there are a variety of lounge chairs, tables with umbrellas, and places to relax in.
Family with children (5 & 9) stayed 3 nights to bookend Belize vacation. Excellent place to stay!
Feb 2023
The staff were incredibly helpful, attentive, and kind. Facilities were extremely clean and safe. On-site café was delicious. We absolutely will stay here again when we return to Belize. It's hard to think of something that I would want to improve on.
Friendly people, nice little hotel and close to port.
Jul 2022
The Staff were exceptionally helpful and friendly. room was a very cute cabana with nice pool outside door. Definitely would recommend it and will stay again next time I visit.
Relaxing and peaceful. A touch of heaven on earth.
May 2023
The staff was particularly helpful and very nice, taking a lot of attention to details. Thanks!
One of the best, if not the best, places I've stayed
Jan 2023
The property was beautiful, relaxing and rejuvenating. My partner even made a comment about this which surprised me because he typically doesn't mention how relaxing and peaceful a place is. I loved everything about our stay from our room, to the flowers, plants and birds, the welcoming staff and friendly owners, the pools, the hammock on our porch, the labyrinth which I walked many times, to the cafe across the street with tasty food and a gorgeous view!!!
There was something going on with our a/c unit. When it switched to running cold air it would vibrate so much I could feel it in the bed. But honestly it didn't both me.
the place was great and staff very helpful..easy walk from ferry terminal.. a booked trip was great but pretty expensive through the hotel.
The pictures online did not do the property justice. We were absolutely blown away by the atmosphere and environment. Harbourview was storybook picture perfect and gave us a feeling of being in the natural beauty of Belize (flowers, greenery, fresh fruit and vegetables, humming birds galore, authentic-feeling pools, the cute casitas) with updated amenities it was the best of both worlds.
Unfortunately, the local restaurants were closed to public because of COVID and cruise ship policies. Fortunately, Harbourview has a great restaurant with amazing views, freshest of fruit and vegetable, and it serves beer.
Great expectations! 🤣
Feb 2021
The location was great for me and allows for quiet morning walks. The compound is spacious and kept relatively clean.
I booked here with a higher expectation. The food options were very limited and not the best. You have to be a hard core vegan and also like bland food to eat here. The owner is inauthentic and abusive when I made a complaint about my stay. This might be a reason for very apprehensive staff who might be afraid of loosing their jobs. Terrible. I am a frequent traveller. I have been to many places around the world, this is one stay I won't forget how I was made to feel as a customer and definitely one stay I will never return to!
absolutely gorgeous. so pretty and calming a little oasis in the city!
Oct 2022
the gardens were very relaxing and beautiful
The cottages are adorable, huge bed and super comfy. Loved the hammock on the porch. Wanted to stay forever.
Clean and spacious bungalows in a very pleasant and convenient location
Dec 2022
the bungalows were clean and spacious - enough room for a yoga practice without moving furniture there's a pleasant walk from outside the gates along the waterfront and a kiosk in the park next door that does great quesadillas, burgers etc and the hotel is a short walk from the ferry and bus terminal in the morning the hotel breakfast had healthy options and a wonderful view
there was no hot water, but this wasn't an issue for us and I forgot to even mention it to the staff
Exactly what we needed to make our flight the next morning (pretend 2 hour international chk-in)
Jul 2021
Staff were warm and helpful, we made an error on our end and they were willing to help us fix it without additional cost.
Ok, but won't stay again
Sep 2022
Really wanted to like this place based on the reviews. However, cannot be so positive. This was the highest per night price we paid on our hols for not much in return … The good - The hotel is OK - room is clean and it's well located next to ferry / 20 mins to airport.
The meh - Very basic amenities - the kitchen has some cups / dissolvable coffee, but no cutlery, no bowls … the tours offered by the hotel are 30-40€ more expensive than other operators, and the only place to eat is the cafe across the street which is quite expensive and has limited opening hours.
Best choice in Belize City
Jun 2022
Really nice and cosy place at the heart of Belize City. Good breakfast, short walks to the harbour and the city, nice and quiet grounds, and a nice pool.
Really clean and had two pools. Walked from Ferry to the hote. The next day we walked to Radisson where we caught a cab to the airport.
This apartment is in isolated area with few amenities, other than convenient for Water Taxi to outer islands. In-house restaurant closed both nights we were there. Only food at nearby Radisson which required walk through dark alleys.
We did not stay in the hotel. I booked on booking .com and when we arrived in the hotel they wanted to charge a much higher rate to what I had confirmed with booking.com. They refused to accept the price of booking.com. Would not recommend.
Wie viel kostet dieser resort im Vergleich zu anderen in Belize City?

Der Durchschnittspreis für eine Anmietung in Belize City beträgt EUR 79 pro Nacht. Diese Miete ist EUR 10 günstiger als der Durchschnitt.
Ist das Parken in diesem resort inbegriffen?

Das Parken ist nicht als verfügbares Ausstattungsmerkmal bei Harbour View Boutique Hotel & Yoga Retreat angegeben. Für weitere Informationen empfehlen wir Ihnen, sich mit dem Anbieter der Unterkunft in Verbindung zu setzen, um zu erfahren, wo Sie parken können.
Gibt es in diesem resort einen Pool?

Ja, bei Harbour View Boutique Hotel & Yoga Retreat steht ein Swimmingpool zur Verfügung. Genießen Sie das Wasser!
Ist Harbour View Boutique Hotel & Yoga Retreat haustierfreundlich?

Leider ist dieser resort nicht haustierfreundlich. Versuchen Sie erneut zu suchen und filtern Sie nach "Haustiere erlaubt"
Welche Ausstattungsmerkmale sind bei Harbour View Boutique Hotel & Yoga Retreat verfügbar?

Wir haben 10 Ausstattungsmerkmale für diese Unterkunft gefunden. Dazu gehören pool, klimaanlage, küche/kochnische, internet/wlan und waschmaschine.