Pramana Watu Kurung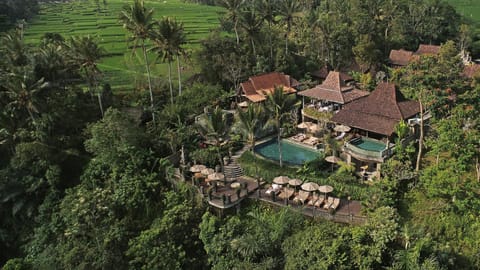 Resort in Payangan
Pool
Klimaanlage
Internet/WLAN
Eingebettet in Payangan, dieses charmant resort für EUR 93 pro Nacht ist ein phantastisch Auswahl für Ihr nächstes Reise. Das Pramana Watu Kurung erwartet Sie in Ubud. Freuen Sie sich auf kostenlose Fahrräder, einen kostenlosen Privatparkplatz, einen Außenpool und einen Garten. Nach 3 km erreichen Sie das Kunstmuseum Neka.
Pool
Klimaanlage
Internet/WLAN
Rauchen erlaubt
Parkplatz
Waschmaschine
Balkon/Terrasse
Whirlpool/Spa
Fernseher
Garten
100 % verifizierte Bewertungen
4.5 / 5 (429 Bewertungen)
You enter another world, another dimension.
Only few nights, not enough
Wonderful Experience
Sep 2022
Wonderful, Room service wonder full support to decorate the pool and the balcony, great experience having breakfast in the pool. Room service support from the staff Ari and her team was great
Infinity Pool with the room, Location, Bed room. Compliment breakfast in the pool Food and Hospitality wonderful. Great mountain view from the room. Room placement / Layout having great privacy
Amaizing hospitality in a beautiful tropical setting with staff that warmly great you as family.
Mar 2022
Wonderful remote setting on the bluff overlooking the river. Staff were attentive and kind, welcoming in a beautiful Bali tradition.
Outside of the property, not much else to do, which was fine by us.
wonderful views!!
Nov 2022
wonderfully situated with a sensational view of the rainforest. rooms tidy and with luxury equipment. breakfast and dinner excellent.
pool was a little cold during rainy season.
A MUST COME IN UBUD!!!!!!!!! price only $43 but super amazing!!!!
Mar 2022
what's not to like. firstly I'm very particular about cleanliness. I know Ubud is a area with a lot of flies and especially the bed can be very uncomfortable but they ensured it was clean. here n there there was lizard or flies but I will call them n they will go all out to help me make sure it's clean. the view I got was AMAZING. mine was the 904 room . once u open the door the view is just there so I truly loved it. the food was very delicious too.. and the price is very affordable compared to ritz Calrton.. I like the idea that they make it outdoor with transparent glass .. while we can atill see nature but we do not get affected by the bees and insects etc. here n ther will be insects but that is unavoidable. I m travelling w my baby, alone, but they were so kind to even offer their help to look after him... while I eat and do massage .. their service and English is one of the best I have seen in Bali. I would love to stay here longer but I'm heading out to explore more places let's see if anything else can top this!
I was upgraded to the biggest villa, but that one had a lot of flies.. because it's connected to the pool. and the outdoor toilet had lizards, so that I didn't really like. maybe the toilet in the outdoor villa they can also fully cordone off with the transparent glass will be great..
We stayed at the Artist Village which was a 5 minute walk or 2 minute golf cart ride away from the main resort which essentially meant a nice walk along the village road and rice fields. The private yet comfortable villa we stayed at had reliable WiFi, its own pool and an incredible indoor/outdoor bathroom with spacious stone tub. We had the candlelit dinner the first night we arrived and the meal and service were impeccable. The terrace is so nicely decorated with petals and candles all over, but if we had a recommendation it would be to time the dinner with sunset because you miss the beautiful view in the dark. The complimentary breakfasts are also served in the main resort at the restaurant that overlooks the forest and river. Based on your booking you get plenty of breakfast menu sets to choose from - we loved everything about our options especially the green juice!
The concierge desk was always very available and open to our requests. We enjoyed our complimentary yoga class that they host most mornings and wish we had more time to enjoy the other services they offer. During our short stay in Ubud it was great exploring most morning and days and then coming back to a beautiful and well kept villa (with air conditioning) to relax for the rest of the stay
beautiful place for a couple weekend hide away
Nov 2021
we stayed at artists village the room was super charming, in a jati bungalow, with private swimming pool. awesome open bathroom, very comfortable bed, room very nice decorated and nice furnitures, equipped with kettle boiler, tea and coffee, bathroom amenities etc really nice and QUIET! also they have a spa with great packages. nice big swimming pool at the hotel in the main building. they adapted the breakfast for me. staff was very kind and helpful and offered the floating breakfast for our birthday!
have to do more efforts to be plastic free procuring a free access to drinking water ( for instance providing gallons at the entrance). also every time we went to the lobby the staff didn't seem to remember us and was greeting us as we were new customers so just try to improve that (customers who are remembered feel special) I speak as a professional in tourism. maybe propose more gluten free and vegetarian options for breakfast :-) we found not matching the hotel standard to have to pay extra for a small plate of fruits ;-)
Amazing location & friendly staff
Jul 2022
We liked the friendliness of the staff especially after telling them it was our honeymoon. We received a complimentary cake and a beautiful note that all the staff signed. Our couples massage was also a hit, the chocolate bath was a romantic experience
Perfect for short romantic getaway.
Mar 2022
We had a very relaxed evening much sought after a stressful couple of weeks. We loved dipping in our private villa pool and having sunset drinks at the bar terrace overlooking the valley. Excellent service from all the staff.
I booked a "wooden villa" but the one we stayed in, although wood on top, looked more like the regular villas shown on their booking page, and not as picturesque as the wooden villas shown here, which I was really hoping for. I considered asking if we could be moved to one of those after seeing them, if they were available, but we had already settled in, and I didn't feel like making a fuss, but it annoyed me. Also not the best eggs benedict I have ever had for breakfast.
viewing is very good and nice service
View. Environment. Big room and have more facilities like massage, yoga, cooking class.
Sometimes communication with staff should repeat more times until they know what I want and need.
Very quiet and peaceful! Great that it's for adults only, so there is no noise from kids. Stuff is very friendly and welcoming, the location and the view is spectacular, the bath and shower was amazing, great water pressure and hot water ! It's nice to warm in the bath and then cool down in the pool after! Thank you for an amazing stay and will happily come back again!
Very clean, relaxing, very helpful staff, delicious food. It was a great experience for us. Thank you.
very calm and beautiful place
This was a spectacularly beautiful boutique hotel. Perfect for a romantic getaway. The staff are incredible here. We stayed 3 nights but wish we'd stayed longer.
Lovely, zen, smaller resort so cosy feel and beautiful design. So relaxing!
Jul 2022
This is unique compared with other locations in Ubud. It has a traditional design but really luxury feel so you have the connection with nature but excellent service. I extended and tried to extend again but they were full! highly recommend!
Exceeding expectations
Jul 2022
This hotel is absolutely stunning, nestled amongst the jungle, the setting couldn't feel more authentic. The room was stunning, with a superb bathroom and lovely outdoor space. You can't fault the infinity pool, the views from the loungers and the restaurant are breathtaking. The maintenance of the lush tropical gardens is outstanding and that level of care and attention to detail carries through to every single staff member. Each and every one couldn't be more kind and helpful, making you feel truly welcome in this jungle paradise.
The bed wasn't the comfiest and was too firm for our taste. The food in the restaurant was ok. There is a lot of effort that goes into presentation but some times it's masking bland or just plain odd flavour. ---- The scenery is so good you will almost certainly be disturbed by the boyfriends of Instagram asking for another take to get the perfect IG reel 😉
This hotel has very friendly staff, spacious rooms and a hotel shuttle that runs to the centre of Ubud 3 times a day. The hotel also offers yoga and a walk every morning, which can be attended free of charge. The breakfast is very rich and a lot. It consists of several courses and offers a lot of variety. The pool is gorgeous and the bar is close by.
The staff are amazing and best hospitality we have ever experienced. Would recommend and visit again.
Jul 2022
The villa we stayed in was very nice and was cleaned regularly.The restaurant was also very nice with great food and a great view.
The views were stunning and the staff were lovely and very accommodating
Aug 2022
The villa and views were beautiful, and the gardens are lush and gorgeous
It was a little pricey; the bathroom was not fully enclosed
magnificent view and great staff
Aug 2022
the view was magnificent, facilities were good and staff were very helpful.
the candle light dinner was nice but a bit too long. the room was a bit humid and dark.
Excellent hotel in Ubud
May 2022
The view of the pool is so good! The location is great.
Too much mosquito The room is damp
It was okay until a rat showed up in my bathroom
Oct 2021
On my last night there was a rat in my bathroom. After calling reception three times at midnight they finally picked up and came to my room. They saw the rat running around the bathroom so they moved me to a different room. The next day at check out no one apologized or offered any compensation. At the very least the manager should have asked about the incident so I could tell him the rat came through the shower drain (they need to block it to prevent this from happening again). The fact this hotel didn't even care about a rat in a guest's room is absurd. The wifi was also terrible, it basically didn't work in the room, only outside on the balcony. My room also wasn't cleaned even when I put the please clean sign. Booking lists this hotel as 5 stars and it has a high rating but it's more like 3 stars and 7.0 rating.
Amazing sunset from infinity pool
Dec 2021
The view is amazing, and the sunset is extremely beautiful SPA is so wonderful and relax thanks
the view from the restaurant is amazing and the staff is lovely
unfortunately we rad a rat in our room :/
A stay in paradise
Jan 2023
The view from the infinity pool was breathtaking The staff was honest, polite, and wonderful We literally stayed 2 nights in heaven
Expensive Food was Expensive and little (I am a foody person) No choice other than the resorts restaurant
The view from restaurant and pool was amazing. Restaurant food was also nice.
No option for later shuttle to Ubud, and no shuttle back in the evening.
Very unique place with an amazing view
Oct 2021
- The view from my room and overall are just unreal. - Good value for a spacious room, pool, restaurant and overall facilities. - Staff are very kind and considerate. Especially the gentleman manager. - Yoga + massage deal is great! - Food was great and the welcome drink (jamu) was also good quality
- As my room was under a room, I could hear the people walking. - Also the room might need a the humidifier or better care from the humidity or fungus because I could smell the basement smell. - The bathroom booth has no ceiling so it's completely open and no private (for a couple it must be awkward)
Lovely place to stay but restaurant menu needs upgraded.
Jun 2021
The staff were very friendly and helpful. We stayed in an Ayung Suite room which was very spacious and comfortable. The view from the resort were amazing. The bed was super comfy.
Our room wasn't ready for the 2PM check-in time but we were given a 3PM late checkout to make up for it. As this resort is quite far out of town or any other places to eat, they should consider expanding their menu options. Options were limited and portion sizes were incredibly small.
A beautiful hotel with fantastic views
Aug 2022
The staff were exceptional and couldn't do enough to make ur stay a great one
You are treated like royalty
Jul 2022
The staff was super friendly you are treated like royalty. The food in the restaurant is delicious. There is a lot on offer for guests to do excursions, but they also provide a lot of entertainment in the hotel itself. The night we arrived there was a traditional dance evening which we really enjoyed and a few days later there was also a live performance by an artist who sang with a guitar. It was very nice. The location was also good for us because it is close to Ubud but still a little quieter so you don't have noise from the streets. The view of the jungle is beautiful. We would definitely recommend this hotel.
we have sometimes not slept well by the noise of neighbors or from outside
The staff was absolutely lovely, amazing hospitality. The resort was very clean and
The staff r very nice much more than any other hotel
Nothing .everything is beyond perfection
The staff couldn't be more kind and helpful and the complimentary photography session was fantastic. Adi is brilliant! Also the yoga shala is just beautiful!
Wifi very poor in the room, impossible the FaceTime family or do any work
Great staff in non-Great villas
Jul 2022
The staff are helpful and great with guests.
He villa is dark, insect friendly especially in the bathroom which is located in outside. The villas are in middle of populated area so animals sounds are inevitable. The Mermind villas is near to construction area so it was noisy. The pool is filled with untreated and cold water. You can't even soak your legs on it.
The service was outstanding
It was not clear that the breakfast was limted.
Next level service with villas that truly make you feel like you are in your own jungle resort.
Jul 2022
The service here was absolutely exceptional. We stayed in the the Artist Village which is slightly detached but it was nice because we felt completely secluded in our villa and there was a buggy to take you to and from the main hotel whenever you needed. A very nice surprise was that the full restaurant menu was available for room service and it was common to take your full (delicious) meal from the comfort of your villa. We never had to ask for someone to come help us, instead someone was always on stand-by and ready to assist. The biggest thing for us was we needed to be seen by a doctor after getting a cut while swimming in the ocean that became infected; not knowing how to address this in a foreign country, we asked the front desk for help and they arranged for a private doctor to come to my villa and I received the full care I needed, and the medical bill was able to be payed upon check-out. Truly next level service all around and we'd be happy to return to this property if we visit Ubud again.
Relaxing, good food and helpful friendly staff
Aug 2022
The room was very comfortable the food was delicious and the staff were very kind and helpful. We would definitely return for another holiday.
Great place to have a romantic holiday
Dec 2021
The room is so spacious, but less lightning. The location is so village, so we can have many fresh air. The restaurant view is very beautiful.
Breakfast was not really ok. Lack of choices. For this kind of resort, is better to add some choices of food. Buffet style would be very nice. The water in the pool is not really clean, and the pool waterfall is not on all the time.
Wie viel kostet dieser resort im Vergleich zu anderen in Payangan?

Der Durchschnittspreis für eine Anmietung in Payangan beträgt EUR 36 pro Nacht. Diese Miete liegt EUR 57 über dem Durchschnitt.
Ist das Parken in diesem resort inbegriffen?

Ja, das Parken ist als Ausstattungsmerkmal bei Pramana Watu Kurung aufgeführt. Für weitere Informationen empfehlen wir Ihnen, sich mit dem Anbieter der Unterkunft in Verbindung zu setzen, um zu erfahren, wo Sie parken können.
Gibt es in diesem resort einen Pool?

Ja, bei Pramana Watu Kurung steht ein Swimmingpool zur Verfügung. Genießen Sie das Wasser!
Ist Pramana Watu Kurung haustierfreundlich?

Leider ist dieser resort nicht haustierfreundlich. Versuchen Sie erneut zu suchen und filtern Sie nach "Haustiere erlaubt"
Welche Ausstattungsmerkmale sind bei Pramana Watu Kurung verfügbar?

Wir haben 10 Ausstattungsmerkmale für diese Unterkunft gefunden. Dazu gehören pool, klimaanlage, internet/wlan, rauchen erlaubt und parkplatz.