Le Cameleon Boutique Hotel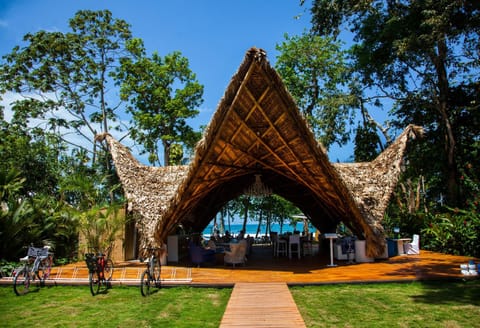 Resort in Panama
Pool
Klimaanlage
Haustiere erlaubt
Gelegen in Panama, dieses schön resort für EUR 162 pro Nacht ist ein großartig Option für Ihr nächstes Reise. Das Le Cameleon Boutique Hotel empfängt Sie in einer wunderschönen tropischen Waldlandschaft, nur wenige Gehminuten vom Strand Cocles in Puerto Viejo entfernt.
Pool
Klimaanlage
Haustiere erlaubt
Internet/WLAN
Rauchen erlaubt
Parkplatz
Waschmaschine
Balkon/Terrasse
Whirlpool/Spa
Fernseher
Rollstuhlgerecht
Strand/Ufer
Garten
Familienfreundlich
100 % verifizierte Bewertungen
4.1 / 5

"Ausgezeichnet"

(1'319 Bewertungen)
Memorable stay for a special occasion
May 2021
We stayed at the hotel Le Cameleon for 4 nights. It was a special occasion since we celebrated my 50th birthday. Our stay was perfectly organised from start to end. The hospitality from the hotel manager is remarkable and the service from the whole team top-end. The architecture and design of the hotel are original and fit in nicely with the surrounding nature with direct access to a paradise beach. We appreciated particularly the different activities offered by the hotel team, cooking lessons, yoga sessions, morning walking tour. The hotel is 5 mn from Puerto Viejo with a tuk tuk. All in all a memorable stay where we could relax and celebrate my birthday in a peaceful mode.
We liked absolutely everything.
so good but can be better
Oct 2021
we saw sloth on the breakfast. it was so fantastic.
one reception guy wasn't kindly at check-in. we go to this hotel for honeymoon trip, and what do you think, first our room was with two separate room😂 I have to go to the reception and explaining this problem, because I have not booked this kind of number. the receptionist wasn't kind and made an effort on himself to smile and work. but I should say that he made a present for us, it was bottle of champagne
- In general, the hotel is not bad, but it is extremely expensive for the amenities it offers.
Mar 2022
- Well-kept green spaces; - Very clean and quiet swimming pools; - Decoration with good taste.
- There were no crosswalks or pedestrian crossings on the road to the beach club. At night there was almost no lighting and the speed limit is 60 km/hour, making the passage extremely dangerous, especially with children and when it's dark. - There were no TV channels, only stream TV was available in the rooms; - The rooms did not have a telephone. When I wanted to talk to the reception or ask for room service, I had to go to the places. - We booked a family room, however it was very small. - Breakfast was served at the table in very small portions and there was no buffet. - The mosquito net in the rooms was too small for the windows, so we were devoured by mosquitoes every night; - The bedroom windows overlooked a hammock that delimited the hotel's garden. the pipes of the septic tank were visible and sometimes it stank. - The free activities that the hotel supposedly offered were always full and were actually very weak. After insistence, we booked a cooking class that lasted 5 minutes and which basically consisted of mixing already prepared ceviche ingredients.
We liked the food. locition.hotel was nice...
In general all was good....
Excellent journey
Aug 2021
Welcoming staff and they take good care of the clients. The hotel offer and propose a lot of activities. The hotel is surrounded by nature which is great and peaceful.
We had a very nice time at Le Chameleon. Spent about a week of our honeymoon there and everything was just perfect, the staff even welcomed us with a little surprise. Aside from the beach and the pools, which are just as described two things were especially amazing. First, the daily activities were really fun, had a couple of dance classes and other interesting things. Second, we spotted quite a few cute animals right on the premises, sloths, agutis and even monkeys. We certainly hope to return soon and can definitely recommend a stay at Le Cameleon!
Maybe the restaurant is a little bit pricey, but very nicely located.
Very good location, beach front. The hotel is built in the jungle and has preserved the nature around. The service is excellent .
very clean rooms nice food tv and bed yoga class
too much people (COVID restrictions) maintainence (the letter signs are falling out, the spa could use some love, and the color changes in the rooms are gone) some staff members not very nice
this is the best hotel in Puerto Viejo
the coffee in the morning was not very tasty-..
Great stay at Le Cameleon
Jul 2021
This has been my second time here.. We got a great room on the first floor. The water pressure was good almost entire stay except for only one day. The staff was helpful and prompt All facilities were kept clean, both pools were great. The Covid measures were in place and all the staff masked.
Excellent Hotel!
Apr 2021
This beauty is set in the jungle a right across the street from the beach. The hotel staff is very friendly and makes you feel at home and comfortable. I would definitely recommend this stay!
Great location and beach club.
Aug 2021
They offered us a champagne bottle upon check in for our anniversary, that was very kind. The staff was very attentive and the jungle pool is great. We got a Sunday rate which was reduced compared to the usual rate, we feel that the reduced rate is a fair value and comparable to the experience. We would not pay the usual rate to stay at this property. They charge $35 for pet fee and the breakfast is included at Noa. The staff at Noa is very Pura Vida style and they forgot a few items, overall the food at Noa is regular. The beach club is great, beachfront with an awesome pool.
Service at Noa Restaurant needs additional training. Additional Pet fee.
Disappointed experience
Oct 2022
The room was spacious and confortable
1. One of the staff members at the reception was rough and not friendly. 2. Having made a reservation more than a month in advance, my wife and I had to wait for 35 minutes after check-in time to have our room available. 3. TV was not working. We reported it and was not fixed. 4. Quality of service and food at the restaurant was not good. 5. Our car was exposed to risk because parking was in the public road, not within the hotel premises. 6. It was necessary to cross a relatively high traffic public road to go to the restaurant and the beach. Based on our own personal disappointed experience, we can not figure out how it appears to be a 5 stars hotel.
The room was clean, the bed was very comfortable. The hotel has a beach and two pools. The breakfast was great and huge portion.
The best hotel in Puerto Viejo
Jul 2019
The room, the pool, the garden, the beach club, the private beach, the welcoming, everything is perfect.
A little treasure
Sep 2021
The reception staff was extraordinarily friendly and helpful. The hotel is clean and the garden is stunning. So is the pool and the beach area. We saw 3! Sloths climbing in the trees at the same time. The ocean there is dangerous to swim but you can use the beach pool. Very charming place!
The only thing that was not good was the Service at the Restaurant. The girl was just not well trained and not very attentive.
simply amazing, the best way to enjoy the Caribbean side of Costa Rica
Mar 2022
The property is beautifully located in the rain forest and right on the beach (Playa Cochles) allowing for amazing morning walks leading to punta Cochles. the breakfast beach front was an highlight of our stay (very nice food at breakfast and dinner as well at the Noah beach club). bed was comfortable and room was cleaned every day (very good as with rain and beach you will bring lots of dirt with you). clean towels provided also every day (and amazing natural beauty products like shampoo and nicely smelling body lotion). stuff was very nice, friendly, funny and available :) lots of sloths and monkey to spot right on the beach of the hotel.
The property is amazing- every path to rooms or pool is an experiencce on a raised boardwalk through jungle plantlife. The staff was helpful, and the location is great- lots of walkable restaurants and right on the beach!
The rooms lacked any warmth- they were all stark white and smelled like bleach and a bit of mold, which was off-putting
The pools are amazing, the staff is super friendly, breakfast is great! We had an amazing time
As a couple on a honeymoon, the only thing that bothered a little that it's not an adults only hotel, but what can you do :/
Despite "issues" we had a good time and the staff tried their best to help, but was not a four-star hotel experience
May 2023
The location was great - near the water and sloths in trees on the property.
Despite repeated requests they could never get the a/c to work in the room. It was very hot. Also the bathroom facilities seemed dated. Water out of one faucet was a fire hydrant and out of the shower from one large hole in the middle
The location is perfect and everyone is very friendly
The restaurant, food was average and we had multiple people serving us, there was no management. The free Breakfast was nice touch but the food was limited and there were so many flies everywhere, was hard to keep them away !
Amazing trip but we didn't stay at the hotel the whole time :)
Aug 2021
The included breakfast is actually really nice, you have a beach view and the service is great. Their restaurant is nice, quite expensive compared to local restaurants but the food is good! It's a very cool setting, with the walkways in the jungle and the pools being so gorgeous :)
I think this place is a good value at the discounted price. I think if we had paid full price I would have been a little disappointed. The room was super cool, but it's also not the coolest room I've ever had at a hotel. The jungle spa was also more of a raised tree house with a couple massage tables than a true spa, with very little privacy and couples massage we had was kind of an odd experience.
Nice beach front hotel full of friendly sloths
May 2022
The hotel was as good as seen in the photos or better. Really friendly staff. They offer a free tour around the property in which you can see many wild animals including sloths. The breakfast was served in the restorant just in front of the beach with an awesome view. They also have 2 nice pools, one in front of the beach and the second one inside the jungle.
They offered free yoga and cooking classes but there were too few spots for them, it was almost impossible to participate.
The entire setting of the hotel is beautifully nestled in between the naturally grown rainforest. It has a lounge-y type of feel where the seclusion you get from the rest of the world is half of the package. Food is served at the restaurant 30m from the beach with a beautiful view to behold. Staff was always friendly and helpful.
More than half of the rooms in our secluded building were under construction with a constant stench of paint floating around. The choice of breakfasts was varied but felt unbalanced - you could only choose one out of 5-6 options and whereas one was a full continental breakfast, the other was a fruit salad. Good luck getting your stomach full with the latter.
A total disappointment
Jan 2023
The breakfast was OK and the staff was generally helpful.
Smelly, noisy, way overpriced, small pools, screaming children, unwelcoming beach, inconvenient location, the whole infrastructure needs a brave reconstruction and paint job.
Wonderful staff, great location, room very clean and bed comfortable
Mar 2022
The breakfast and food there was wonderful, great choice - if not a little pricey.
The booking system wasn't great - i got charged twice - they sorted it out but it was a bit of a pain.
Phenomenal trip. Will be back
Aug 2021
The breakfast across the street was complimentary and awesome. Much more value than a typical continental breakfast. This was a full service full menu breakfast. The couples massage in the spa was great and in the middle of a rainforest. Also did candlelight dinner by the beach which was great along with horseback riding. They also accommodated me with flowers and balloons as requested for a birthday
No way to play music. Tv hard to figure out. Never used it because couldn't figure it out
Not great (max 3 stars), but still one of the nicest hotels in the area
Jan 2022
The beach area is very beautiful, including a nice restaurant and a big pool on the beach plus another pool on hotel side Location Food in restaurant is very good
Rooms are very humid - the bikinis never dry, but started to smell. You feel like in an hamman all day. No ventilator, but only AC. Apparently, the rooms on upper floor are less humid. Most of the staff is very unfriendly and not welcoming. Service in restaurant is very slow (though we didn't have to pay then for the pizaa & salad lunch for which we were waiting 1 hr) My new bikini got green stains from a quick bath in the jacuzzi. After I complained, no excuse. I was not able to remove the stains after 3 x washing :-(
Thanks to silky soft sheets, we slept well at Le Cameleon. The cleaning staff were so nice, really kind and helpful. We also had a nice time at the 'private' area of the beach (not private really but still quiet) and the cocktails were nice at the restaurant. Pizza was a bit oily but tasty. We didn't use the indoor pool but the outside one is lovely.
The location is not really in Puerto Viejo. It's about a 45 minute walk to town, so a little isolated. Still, there are shops and nice places to eat in the area! For the price, there is a lot of work needing, especially breakfast. We were offered breakfast anytime from 7-10.30, we chose 10.30. At 10.30 we show and are told breakfast ends at 10! Why offer 10.15 AND 10.30 slots then? We did finally get some breakfast after a fuss, but got grumpy service. Next day we went down at 9.45 and ordered pancakes and bananas with nutella - we get pancakes with strawberries and syrup because they 'ran out'. No conversation, no choice. Fine if you run out, but say beforehand? Breakfast gets zero marks. Both experiences were just stressful and miserable. Overall found reception staff a bit surly as well which really dampened the experience. The rooms are all white so it feels a bit like a fancy insane asylum. There are big golden orb spiders in common areas too - fine for some, but worth mentioning in case it's an issue! We moved to another hotel after initial couple of days. It's ok, but really overpriced for what you get, so we were quite disappointed.
Restaurant is excessively expensive!
Jul 2021
Staff very responsive. swimming pools and jacuzzi are a great place to relax
$20 for a cocktail, I think it's to much! And the maintenance of the restaurant is not the best. They need to invest in lights and paint.
Service staff were excellent. Pool was great. Loved the classes and activities offered.
The idea of an all white room in the jungle is a little difficult in practice and room often looked dirty even though the cleaners were excellent. The prices were outrageously expensive. We stayed two weeks and it was 3k. I needed to extend for another two weeks and we were told the best they could do was 5k. I'm sorry what? The food was boring. Especially breakfast. The exception to that is the juice shots that were available everyday. That was interesting and fun. But the fruit offerings considering it's a tropical lush location were uninspired. It was watermelon, pineapple, and either papaya or cantaloupe. Never changed never had more. The juices for sometimes good and sometimes absolutely awful. They made a fresh orange everyday which was always reliable then one other. In the two weeks that I was there, the second juice was outstanding maybe four times. The rest of the time I would take a sip and then put it down. Lunch and dinner were equally boring. Their menu does not have great variety and it's really expensive. Dinner there for more than a couple nights was hard. They do have a really cool dance show on Saturday night. That's definitely worth checking out. As for the hotel the pool was great, staff are really cool. One of my biggest issues stems from the fact that the hotel itself didn't seem like it had tried to integrate with the surrounding community. I asked several times for recommendations or for questions about different guides and they only had like one person that they can recommend and it was someone that was inordinately expensive for what they were offering. And when I gave him that feedback afterwards they had no idea that he was way out priced. I just feel like they dropped their hotel down in the middle of a established community and then didn't bother to find out anything about that community. Which is a shame because it's a really cool community.
Interesting concept needs make over
Aug 2022
Seafront garden with restaurants. Rooms embedded into Jungle garden.
Disfunctional AC causes slippery floor. Interior of rooms need make over. Prices inappropriate. Staff mainly uninterested.
Relax surrounded by nature
Jan 2023
Relaxing atmosphere, location, pools, restaurant.
Concierge service could have been better. There were a couple of issues, regarding the management of my transportation and the broken lock of my room, that I had to insist several times to get them solved. Also, minibar items were extremely expensive, charging $6 for a small bottle of water or $10 for a beer, when you can get it for $2 just a couple of mins away from the hotel.
room service doesn't work reception desk not always work properly
floors in the rooms made very cheap, very slippery .
Wie viel kostet dieser resort im Vergleich zu anderen in Panama?

Der Durchschnittspreis für eine Anmietung in Panama beträgt EUR 86 pro Nacht. Diese Miete liegt EUR 76 über dem Durchschnitt.
Ist das Parken in diesem resort inbegriffen?

Ja, das Parken ist als Ausstattungsmerkmal bei Le Cameleon Boutique Hotel aufgeführt. Für weitere Informationen empfehlen wir Ihnen, sich mit dem Anbieter der Unterkunft in Verbindung zu setzen, um zu erfahren, wo Sie parken können.
Gibt es in diesem resort einen Pool?

Ja, bei Le Cameleon Boutique Hotel steht ein Swimmingpool zur Verfügung. Genießen Sie das Wasser!
Ist Le Cameleon Boutique Hotel haustierfreundlich?

Ja! Diese resort ist haustierfreundlich. Für weitere Informationen empfehlen wir Ihnen, sich mit dem Buchungsanbieter in Verbindung zu setzen.
Welche Ausstattungsmerkmale sind bei Le Cameleon Boutique Hotel verfügbar?

Wir haben 14 Ausstattungsmerkmale für diese Unterkunft gefunden. Dazu gehören pool, klimaanlage, haustiere erlaubt, internet/wlan und rauchen erlaubt.