Reef Beach Resort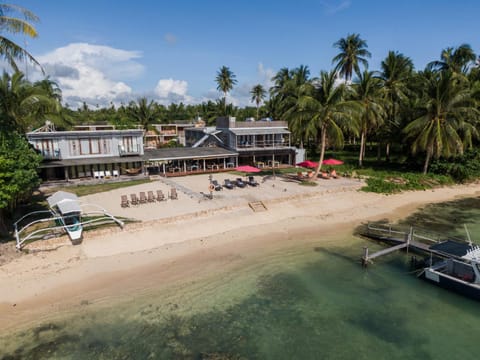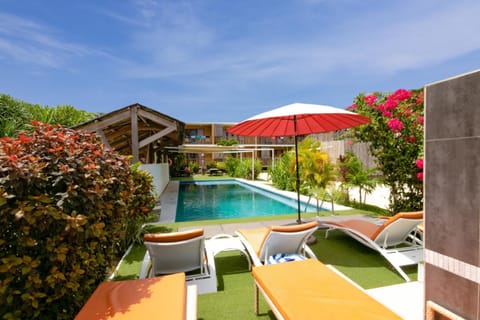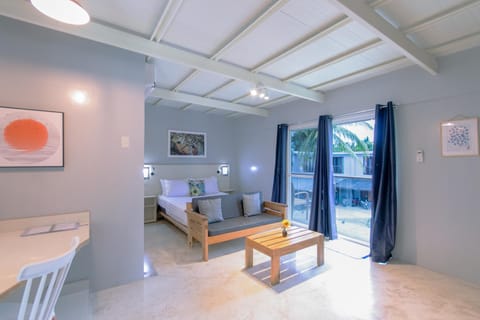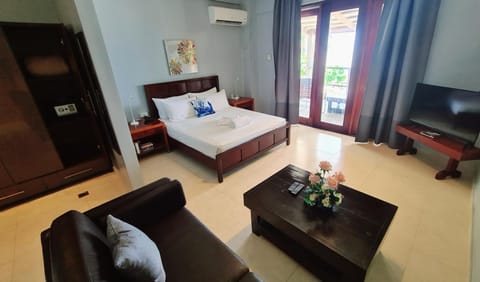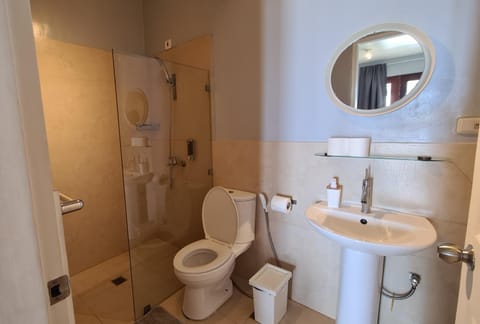 Resort in General Luna
Pool
Klimaanlage
Küche/Kochnische
Eingebettet in General Luna, dieses charmant resort für EUR 30 pro Nacht ist ein phantastisch Auswahl für Ihr nächstes Reise. Die Reef Beach Houses begrüßen Sie in der Nähe des berühmten Cloud 9. Freuen Sie sich auf einen Außenpool und ein Restaurant. WLAN nutzen Sie in diesem Resort kostenlos. Die klimatisierte Unterkunft verfügt über eine Terrasse.
Pool
Klimaanlage
Küche/Kochnische
Internet/WLAN
Rauchen erlaubt
Parkplatz
Balkon/Terrasse
Fernseher
Strand/Ufer
Fitnessraum/Fitnessstudio
Garten
Familienfreundlich
100 % verifizierte Bewertungen
4.1 / 5 (51 Bewertungen)
We stayed at the beach view studio room and the view is awesome!!! Food at their restaurant is so good and the serving is almost good for two. Will definitely stay here again
Very nice & comfortable. Worth the cost for the 3 room villa. Very spacious that has 2 restroom The 1 restroom is in the ground floor inside the room and another 1 restroom in the upper floor, outside the 2 rooms for share
The staff was accommodating and approachable, the place is secured and clean.
The Wifi wasn't that strong in the room that we had. We had to be at the restaurant to have a good connection.
The staff are very friendly, rooms are clean and spacious
Very nice place and very accessible coz it's along highway. great value for your money
Sep 2021
the rooms are very clean and spacious
The room is clean and the staffs are very kind and accommodating.
The resort is beachfront. It has its own restaurant with bar with room service. The staff are friendly and helpful. There are several activities you can do within the hotel such as swim in the ocean and the resort's pool, play billiards.
I hope they have more variety of food offerings of their Filipino menus so foreign visitors will have more options to try local food. If they can provide toiletries to complete the package, that will be great.
The Reef Beach Resort is definitely worth visiting. The resort is a short distance from the General Luna area with Tuktuk motorcycles conveniently available outside for tourists looking to explore. It is close to the Pier, Cloud 9 surfing area and car rentals. The rooms are spacious and the accomodation is just as it is shown on the booking platform. The kitchenette and refrigerator was very nice to have but the restaurant has something for everyone and is very conveniently located between the pool and the beach. The pool was very clean and a very nice size, it has disco lights at night and there is music playing making it the perfect place to relax. The staff working at reception and within the resort were helpful and friendly.
The cars from the street can be heard at night if the aircon is switched off.
Nice stay and nice location but quite disappointed about the majority of facilities.
Mar 2023
The location is okay. The pool is nice and the restaurant is useful and has a lot activities. The staffs are nice.
The staff assigned at night doesnt recommend good spots or events. The cleaning is not done everyday. Poor quality of the bed for 2 rooms on 3 room. Its poor quality, not comfortable and noisy. The window facing the street was not blocking noise from outside. There is no enough utensils to use for cooking.
- the beach bar is nice - helpful and hospitable staff
- wifi is not working properly most of the time - staff very reluctant to escalate the issue of blocked toilet to the manager
super friendly staff
Apr 2022
super friendly staff. always available when you need them.
Great location, friendly staff, amazing amenities.
Sep 2021
Staffs are nice! Amenities are awesome! One of the best resorts in the island.
Love the filo breakfast. Been here numerous times for this. The fact that the resto is facing the beach gives it more relaxing vibes.
Love that it's in between General Luna and Cloud 9. You can't really swim on the beach here mostly cos it's rocky. Unless you're ok with it. The staff was wonderful. Definitely great and helpful staff. The WiFi in our room was non existent so you'd have to go to the bar area if you need to get work done. No complaints on cleanliness and they cleaned our rooms as requested. Get coffee at Spotted Pig and go to Goodies for some yummy food.
I had to travel far to find an ATM that my card worked in, had no hot water or WiFi in room, and no courtesy to notify m
Mar 2022
No hot water, no WiFi in room, forced to travel to get cash as Credit card reader was down. None of these things were taken off list of amenities and were discovered after check in.
It wasn't really memorable.
Mar 2022
It was centrally located. The room had a clean toilet. It provided adequate shelter, with local apartment amenities. And the basic requirements for a paid stay were provided.
The compound had cockroaches and some rats playing around 😂, and the room we stayed at had cockroaches and ants. The food was not up to par with the usual resort standards. We were provided with a room with only one bed (I don't think they have units with 2 beds) where I had my mother stay, while I had to contend with a non-flat sofa-bed which was a back-breaker for 7 nights. Stair access to the room units had no light and was accident-prone dark. Finally, there was no provided WiFi, which was a heavy requirement of ours that booking.com said they had. BUT, the place did undergo devastation, so that might have been the cause of the deteriorated condition of the place. They appear to be continuously repairing the place at the moment though, so maybe give it a couple of more months and it might get back up to par 👍.
Modern beach home
Sep 2021
It is so clean and refreshing. Perfect getaway from your busy work life. The staff are very accommodating for all our requests. They have their own mini boardwalk.
Excellent and i got my money's worth
Apr 2022
I like that it is a beach front property with restaurant and bar and entertainment on saturday nights. The food servings are generous, the staff attentive and courteous and accommodating. The prices of drinks are reasonable. The rooms are spacious and clean. It is very near to Cloud Nine
It would have been better if they serve a complimentary breakfast and coffee.
dont believe their website full of lies, , especially the manager, he lie and lie a dont trust him
Apr 2022
breakfast was rubbish every day, i never got what was ordered on any day , dinner was the same cold food , when asked to change it they bring it back the same , we saw lots of cockroaches in and around the kitchen and even saw a rat twice so ate out
a chef that knows how to cook and waiters who know what there doing
A nice place to stay
Jan 2023
The room is little bit dark... The paint colour of the room is dark. The WiFi is weak either in the room or common areas
Wie viel kostet dieser resort im Vergleich zu anderen in General Luna?

Der Durchschnittspreis für eine Anmietung in General Luna beträgt EUR 37 pro Nacht. Diese Miete ist EUR 7 günstiger als der Durchschnitt.
Ist das Parken in diesem resort inbegriffen?

Ja, das Parken ist als Ausstattungsmerkmal bei Reef Beach Resort aufgeführt. Für weitere Informationen empfehlen wir Ihnen, sich mit dem Anbieter der Unterkunft in Verbindung zu setzen, um zu erfahren, wo Sie parken können.
Gibt es in diesem resort einen Pool?

Ja, bei Reef Beach Resort steht ein Swimmingpool zur Verfügung. Genießen Sie das Wasser!
Ist Reef Beach Resort haustierfreundlich?

Leider ist dieser resort nicht haustierfreundlich. Versuchen Sie erneut zu suchen und filtern Sie nach "Haustiere erlaubt"
Welche Ausstattungsmerkmale sind bei Reef Beach Resort verfügbar?

Wir haben 12 Ausstattungsmerkmale für diese Unterkunft gefunden. Dazu gehören pool, klimaanlage, küche/kochnische, internet/wlan und rauchen erlaubt.