Evolve Back Kabini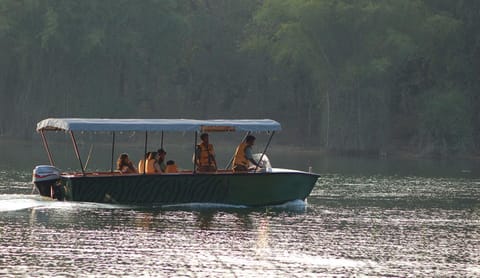 Resort in Kerala
Pool
Klimaanlage
Küche/Kochnische
Gelegen in Kerala, dieses attraktiv resort für EUR 210 pro Nacht ist ein phantastisch Auswahl für Ihr nächstes Reise. Das Evolve Back Kabini bietet einen spektakulären Infinity-Pool mit Blick auf den Fluss Kabini und einen Wellnessbereich mit ayurvedischen Anwendungen. Freuen Sie sich auf einen luxuriösen Rückzugsort im malerischen Siddapur.
Pool
Klimaanlage
Küche/Kochnische
Internet/WLAN
Parkplatz
Waschmaschine
Balkon/Terrasse
Whirlpool/Spa
Fernseher
Rollstuhlgerecht
Fitnessraum/Fitnessstudio
Familienfreundlich
100 % verifizierte Bewertungen
4.5 / 5 (171 Bewertungen)
Memorable and Amazing Stay.
May 2022
Wonderful stay and Amazing Experience!! The team at the resort are very very friendly and found all amenities useful. we stayed in Pool Reserve and all the amenities mentioned are very useful. Yogesh and team from Ayurveda spa, Rupa, Roshan, Vidya from Front office, the resort manager, Lokesh and team from restaurant all the staff are very very supportive. we stayed for 2 days and everyone treated us with utmost care. The boat safari team also took utmost care.
Nothing actually. only thing we missed was Spotting tiger at safari. not to do anything with property.
we liked the ambiance of the place and the staff were very good specially the restaurants staff we would like to give a special appreciation to Albin who served us at Kuruba grill
water temperature is not maintained at pool and jacuzzi and my children were a bit disappointed as the water is too cold to swim
Evolve back Kabini does not justify the rating and not worth the money
Apr 2021
Very spacious rooms, private pool, and location by the river with good sunsets
We are grateful to experience various 5 star resorts. Evolve back is very subpar at the moment with poor management and even poor flavour profile. 1. Food - We ate the same meal for lunch and dinner for 3 days - Evolve back Kabini has buffet for lunch and dinner on all days except Sunday and Thursday. Hence, you need to go the restaurant on and order from their a la carte menu which changes has 2 menus alternating. Chicken and Mutton Kebabs are good. Hence, we landed up eating butter naan and chicken for 3 days. We tried many other dishes but nothing stood out and rather butchered the ingredients with flavourless food. At breakfast, we tried dosas and idlis among with a few sweet things such as Halwa. Our choices were such because of 2 things - a. Breakfast spread is limited in terms of things you can actually eat. Their bakery items looked so dry and stale that no one dared to touch them. Even the hard to mess things such as an egg station has things to offer which lack flavour and overcook eggs. b. Spread has poor hygiene standard - The Jams and bakery items as aforementioned did not look fresh but looked pasty. Meat sausages and neighbouring items also looked stale. For lunch and dinner, we tried sarson ka saag with roti, Goan fish curry, veg forest stream platter, dal and rice and chicken with beet root. Everything cooked had no flavour. Our host made it a point to tell us this statement every 10 mins of talking to us, ' Tureen is our tribal cuisine restaurant and requires a reservation. ' We tried it and the same lack of tasty food also continued at Tureen. The only good items after trying a lot of things were a. Tandoori chicken served fresh at lunch and dinner b. Payasam in deserts c. Butter garlic naan. Side note - They serve peanut chikki in rooms which is fantastic but we only got on 1/3 days. Sadness! 2. Room service - We love to eat and sadness prevailed on this trip at meal times.
Wonderful and Mesmerizing place. This is an experience that gets etched in your memories forever.
Nov 2021
+ The property itself is amazingly designed and sitting right at the edge of the kabini backwaters offers a gorgeous view all round the day. + We stayed in the pool hut which had a private pool (not temperature controlled). The room itself was amazing and offered full privacy. Every aspect in the room is well designed and exceeded every expectations. The RO water tap for drinking water is so impactful it eliminates the need to call room service for the water and saves plastic. The beds were super comfortable and we had a wonderful sleep. The shower area in the bathroom was damn good. + Great place for kids and toddlers as the property has amazing kids area which has table tennis, carrom and other array of games. Also the kids area has a swimming pool for kids. + The cookies in the room which was complimentary was amazing. + The room services was great be it for food (they charge extra 25% for this) or anything. + The spa was wonderful and massage therapists were really humble and knowledgeable. The SPA is run by Indus Valley Ayurvedic Centre @ Mysuru. Three cheers to Suhas for the great massage. + The bullock cart ride and evening sunset boat ride were great activities (this is chargeable ~ Rs 550/adult) esp for the kids. The naturalists on the boat ride are very knowledgeable and gave us in depth details about the Kapila river and surrounding forests(Nagarahole and Bandipur). + The breakfast had a good spread and mostly had everything you need for breakfast. The chef tried his best to cater any customizations needed and anything needed for the kids. + They did not charge for the food ordered for toddler.
- It was our anniversary and even though the property managers knew about it they did not offer us cake or flowers on the day and this was a little disappointment. We love surprises and we have seen it almost always at this level of hotels be it ITC or Oberoi. At this price we expected more. - The pastry at the breakfast (muffins, cupcakes) was quite dry and at a 5-star facility we expect best always. - The dinner and lunch menu was same for all the days and it gets quite boring. - There are very limited continental items on the menu and we ordered aglio e olio with spaghetti and it was so spicy and totally not italian in any way. They need more expertise to get continental done right. - There were half used paper rolls in the bathroom, I understand the property is trying to minimize waste which I appreciate however those half used rolls could be used in common bathrooms and not in the private rooms since at this price point we expect every bit to be spotless. - The staff at the restaurant who served were at times callous and rude, they need to know at the end the customers are everything and need to be humble. Never once in the stay they seated us or asked for the order, we had to call always and seat ourselves.
holidaying at evolve back kabini is always very relaxing n lovely
May 2022
The property is very well maintained. Staff is good
Excellent place to unwind with your family and friends.
Jul 2022
The location!! next to Kabini river!
A real safari lodge where the focus is on having you learn about and experience the natural world around
Jan 2023
The knowledgeable professional naturalists who led the activities and safaris
The breakfast was superb! Chef Tapan cooked me an omlette that was exceptional! The location is outstanding!! Would like to go back to this property asap. Already recommending this to friends. The special dinner that we had at the Grill was an experience that's hard to forget!!
There is actually nothing that we didn't like or can be improved! The only thing that can be done better is the stock of things at the souvenir shop. Evolve Back Coorg has a better shop.
Not value for money charged .
Pleasant stay and excellent property near forest area and in the banks of kabini river.Hospitality of the staff and the care they take has to be really mentioned. Naturalist accompanying the safari Mr shanmuga and sharath mingled with the guests and made the safari really thrilling and lively. Chef's service was superb and they served variety food with love and care. Unforgettable stay ,worth visiting again.
WILL NOT GO AGAIN AT ALL AND WILL NOT RECOMANDE AT ALL TO ANY ONE THERE ARE BETTER RESORTS
Apr 2021
Nothing at all the place is not at all worth visiting
The staff was very Rude and did not co-operate at all , they just would not offer the service at all and also place is not as per the photos in net or spoken
Excellent property, food, people and experiences. A holiday we will never forget.
Mar 2023
My wife and I stayed at Kabini for four nights for our anniversary, and this was one of the most special stays we have ever had. The property is stunning, and what makes it even more beautiful is the excellent, courteous, and accommodating staff. Everything from the room to the food to the spa to the vibe of the property and the courtesy of the team is outstanding. One must experience the massages the spa has to offer. The food that Chef Satya and the team prepared was extraordinarily delicious and varied. We loved the breakfast and the dinner spread, which was different daily. A special thanks to Jithin for going out of his way to tend to requests and the team to accommodate the requests. The activities they offer are varied, and one must experience all of them. A huge thumbs up to Shanmuga, Lakshmana and the entire naturalists' team that make it possible. All of these people made our anniversary holiday extremely memorable. We would love to stay here again and meet all of these beautiful people again.
Beautiful experience
Mar 2022
location, natural building materials
But enjoyed the facility excellent property.
Aug 2022
Kabini back water, accommodation, food, staff helping, guiding and courteous and all natural.
Far remote village and roads are not good. Road from Sargur very bad.
Mixed experience
Apr 2021
It was for my parents . They loved the arrival and stay also the boat and jeep safari were amazing, especially the food was really good.Very pleasant and quite place to stay.
I am skeptical choosing IEvolve next time due to 2 reasons: 1st point : It was my parents anniversary and I had requested for a cake when they came back to room from other activities which was not done 2nd point : I had paid the complete amount in two instalments before my parents arrived in the resort but only one instalment was in the system and at the time of departure my father was asked to pay the other half and there were arguments going on and they had to call up one of the manager and clarify which upset my parents a little.
the most relaxed stay I have ever had
Oct 2022
I liked its location by the river.. though it is extremely far from any airport , we were justified in coming to this beautiful resort. all our tiredness disappeared. the staff were exceptional in their duty to make us most comfortable. The chalet, or what was called Pool Reserve bungalow, which we had , was beautifully preserved and designed and had all the amenities one would wish for. A truly relaxing resort.
Hospitality, Food, Ambience
Clarity while booking (kids charges, use of pool, amount taken upfront from booking.com 4-5m in advance while making booking)
Wie viel kostet dieser resort im Vergleich zu anderen in Kerala?

Der Durchschnittspreis für eine Anmietung in Kerala beträgt EUR 36 pro Nacht. Diese Miete liegt EUR 174 über dem Durchschnitt.
Ist das Parken in diesem resort inbegriffen?

Ja, das Parken ist als Ausstattungsmerkmal bei Evolve Back Kabini aufgeführt. Für weitere Informationen empfehlen wir Ihnen, sich mit dem Anbieter der Unterkunft in Verbindung zu setzen, um zu erfahren, wo Sie parken können.
Gibt es in diesem resort einen Pool?

Ja, bei Evolve Back Kabini steht ein Swimmingpool zur Verfügung. Genießen Sie das Wasser!
Ist Evolve Back Kabini haustierfreundlich?

Leider ist dieser resort nicht haustierfreundlich. Versuchen Sie erneut zu suchen und filtern Sie nach "Haustiere erlaubt"
Welche Ausstattungsmerkmale sind bei Evolve Back Kabini verfügbar?

Wir haben 12 Ausstattungsmerkmale für diese Unterkunft gefunden. Dazu gehören pool, klimaanlage, küche/kochnische, internet/wlan und parkplatz.