Cherokee Casino West Siloam Springs Resort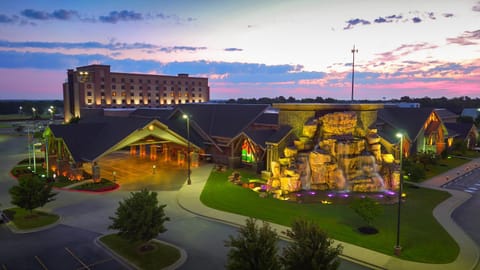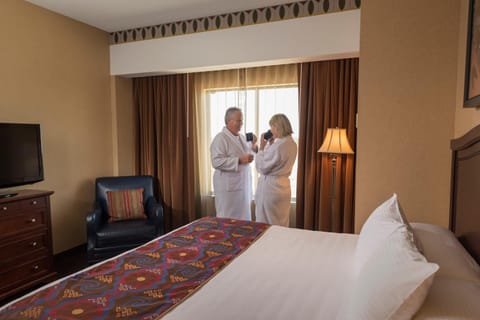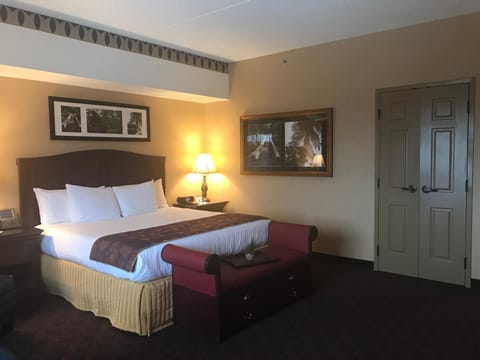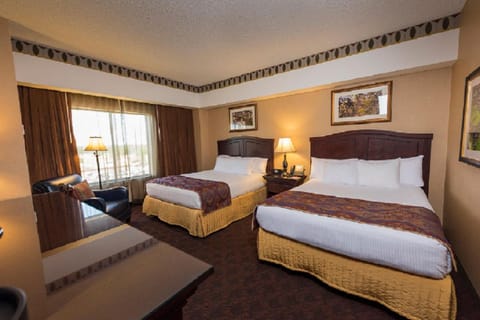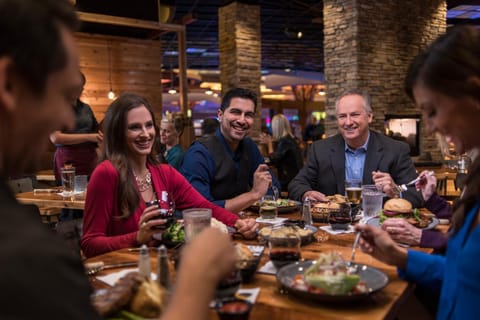 Resort in Siloam Springs, AR
Klimaanlage
Küche/Kochnische
Internet/WLAN
Gelegen in Siloam Springs, dieses attraktiv resort für EUR 91 pro Nacht ist ein großartig Auswahl für Ihr nächstes Reise. Das Cherokee Casino West Siloam Springs Resort erwartet Sie mit einem Fitnesscenter, einem Restaurant, einer Bar und einem Casino in West Siloam Springs.
Klimaanlage
Küche/Kochnische
Internet/WLAN
Kamin
Rauchen erlaubt
Parkplatz
Waschmaschine
Whirlpool/Spa
Fernseher
Rollstuhlgerecht
Fitnessraum/Fitnessstudio
Karte von Siloam Springs, 

AR
100 % verifizierte Bewertungen
4.1 / 5

"Ausgezeichnet"

(252 Bewertungen)
No heat! Horrible noise from refrigerator. Not a good stay
Mar 2022
You had to be 21 to get the breakfast and my son is 12
Our room was awful!!! The heat didn't work and it was 20 degrees outside Also, the refrigerator made this awful noice all night. I called for service No one came. So I just said forget it and we went to bed. It was horrible!!! We froze! The staff could care less
great stay for my birthday weekend
Feb 2023
we have been before and enjoy road tripping back
Was beautiful. Staff went above and beyond.
The mattress felt like sleeping on a concrete slab. Woke up with back hurting.
Very clean. staff was very polite and friendly.
Clean and comfortable rooms.
Aug 2021
Very clean. Rooms were nice. Comfortable beds.
No coffee in the lobby of the hotel. Only 1 restaurant was open, the steak house and it had a limited menu. Would have been nice to know the others were closed prior to booking.
No local channels on TV, room was very cold no blankets. Set thermostat at 67 about froze, turned it up and the heater kicked on couldn't breathe. It was a very cold night.
very comfortable and relaxed.
Feb 2022
unlike the service, the staff was very nice and friendly. my room was great very spacious and comfortable bed.
the only thing I would add is a microwave in the room. 🤔
They give you a voucher for $15. The buffet and all but one restaurant is closed for renovation and the one steak restaurant has a limited menu.
No complimentary coffee in the lobby for hotel guests. They advertised free breakfast but you were given a voucher instead and it was a process to take the voucher to the cashier in the casino for validation
The setup of the rooms are nice.
Dusty. The toilet wouldn't stop running. It was reported 3 times before it was finally fixed 10 hours later. And the breakfast was aweful.
Poor attitude among staff. Steakhouse was terrible.
Jun 2022
The room was decent. There was no microwave or room service.
A hotel staff member entered our room without knocking or announcing himself as my wife was entering the shower
The room was clean and very comfortable
The refrigerator was to loud every time it kicked on I woke up
The room was clean and comfortable . Food was good .
No discount for Native American Cherokee , rooms should be cheaper when the view is of the rooftop air conditioners and the beer was outrageous . Machines were pretty tight... Also only half roll of toilet paper in the bathroom .
Beautiful facility with a lot to do!
Jul 2021
The room was a good size with a great bathroom. I also loved the casino. Staff were not super friendly when we checked in. However, the staff in the casino were very friendly. I also appreciate the prices in the Tabaco shop.
The staff. When checking in I am always friendly and polite. For some reason this didn't seem to matter. The hotel staff had a way about them that made me feel uncomfortable. Check in was easy but it would have been better had the staff not been stuck up.
good value. enjoyed ourselves. once they are fully staffed, I will go back and give the food a second chance. overall wa
Jul 2022
the rooms were very nice. Loved the live music
the steakhouse food was bland, wife's chicken was dry. they were short staffed as no one was bartending in the restaurant.
The rooms were clean and spacious. Even though there was smoking in the casino, it didn't reek of smoke. The people at the front desk were polite.
Everything was great except the restaurant. They were so understaffed, we were told around 6:30-7:00 that we would have to come back around 10 to see if they could work us in. When we tried to get breakfast the next morning, no one so much as came to the front to talk to us. We waited there for about 15 minutes before deciding to find something else to do.
The room is spacious, the bathroom is very roomy. Beds were comfortable.
No microwave, no tissues, had to ask for extra toilet paper. The hair dryer needed to be clean, or replaced. The handle was so sticky with some type of gooey substance. I did not use the hair dryer.
The bed & once again the food at the steakhouse was not good. We will not eat there again when we come back!!
Food options! We loved the old buffet and the last few times we have been there either the steakhouse wasn't open or the food wasn't worth the money
Not worth the drive.
Dec 2021
The hotel was nice and clean.
. Half of the machines was not working. Never been to casino with this many machines out of order. Definitely need the food court they're building.
The room was good but....
Mar 2023
The hotel was clean and comfortable.
I used a company credit card for the room and was told by Booking.com that the property would provide a receipt. The property told me that since I booked through Booking.com, the website would provide a receipt. I need that receipt for my expense report and am unable to get either party to provide one. I would not recommend using Booking.com for any business bookings at a hotel.
The front desk service was awesome.
The bed, bar service and quality of drinks. Was getting charged for premium drinks but was served well drinks.
The Free Play! Awesome Staff!
Was very disappointed in the food! The steak house wasn't as good as before and the food court is over priced!
The free cookies and the bbq place
They beds were hard springs were sticking in my back asked for a different room got a even worse bed asked for a refund so we could leave got told we couldn't and we spent hundreds of dollars at the casino. Very sad about our stay
We had fun and slept well.
May 2021
The food was excellent and reasonably priced.
When I called to book a room I was told there were none available, but I was able to book one through a booking company. I was very surprised when I arrived and the place wasn't even half full!
Wonderful hotel with a Casino.
Nov 2022
The food in the food court was very good. The room was very clean and spacious.
The staff lacked enthusiasm.
The convienence of a hotel, casino and restaraunt all at one location. The building inside and out were immaculate. Room was very comfortable.
The staff were helpful but not friendly at all. Desk staff at Hotel were ok but casino staff , restaraunt staff, security staff all seemed bored and didnt want to be there. Limited options for eating and the whole eating experience was way below standard and no way near what is advertised.....to the point of literal false advertising.
Descent place to sleep, lacking enough food options and lacking in good service as well.
Apr 2022
The breakfast that I purchased was a good value for the money. There were not enough people working to meet the service needs, at any of the cafe/bars.
The one time I went to use the breakfast coupon, I had to wait in line for over 15 mins, when I got to order they told me I had to take the coupon to player services and get another pice of paper. By that time, about 10 more people were in line, so I didn't use it. When I asked the front desk about how to do things in the casino, the 2 young girls just said they didn't gamble. The least they should know to tell guests is to go to player services with our questions, that just seemed ridiculous. They also asked me if I wanted a players card, but could not explain to me what it was, I'm still not sure. I would have liked a gift ' souvenir shop on the campus. The bar drinks were inconsistent in their making, the 7 bar tenders were lacking knowledge of mixing drinks and they were clearly not happy to be there.
The bathroom in the rooms were pretty and fancy
It didn't have vending machine and just soda and especially since the hotel don't have a lot of places to get a quick snack from. Need some vending machine.
Staying at the casino is fun and the breakfast at the restaurant was really good.
The room fridge froze our kids chocolate milk and our snacks, the evening crew at the restaurant walked out on saturday night, they asked if we wanted our room cleaned, then didn't clean it, and i ended up paying more because they added tribal fees.
Spent our 35th Anniversary here! Had champagne and chocolate strawberries waiting in the room. Of all the times we have stayed here this was the best room!
Room was large and bed was very comfortable.
Not much water pressure in the shower. Manger wasn't very friendly and just wanted to pass us off to another worker.
Hungry upon arrival huge casino no food.
Oct 2021
Room was clean and bed was comfortable
Decided to stay there because the ad said they had a place to eat buffet. but it was closed and the only restaurant didn't have but 1 waitress who only took care of 1 table so 1 hr before they were to close the 3 young ladies that were on their phones and having a good old time holding down the restaurant told us we couldn't be waited on do we drove to town to eat Braums
Nice space to getaway from daily work and stress that goes along with it. Also very accessible.
Aug 2021
Room size and floor layout were really more than expected.
Nothing to say, everything was great.
Right off the main road easy access to quick shops , shopping, dining and other interests it's a great place . Large room , comfy bed , lots of pillows, huge bathroom with glass enclosed walk in shower , immediate hot water and good pressure . Super fast elevators and very secure and clean . We ate breakfast and the value and taste were some of the best of all places we stayed . We felt appreciated and the staff were very friendly seemingly going out of the way to see us pleased and comfortable. Tons of close free parking and we liked not having to go outside to get to the casino.
We came for the purpose of spending time in the casino . It was not what we had hoped for , not the win/lose aspect but the selection of slots , the variety of slots and they were extremely tight . We spent most of the night just feeding the machines . Maybe 1 of 20 or so would let you play and have fun and for a while . We read the reviews on line like always and probably should have heeded . The hotel was great , the food really priced reasonably but the casino ??? That's why I give it good and not excellent.
This place was a pleasant surprise. Everything was pleasant. Would only suggest better toilet paper. It was the roughest ever had. Other than that no complaints
Not a happy experience from hotel and Booking.com
Aug 2021
The room reservation confirmed it's including breakfast but hotel provided just one $15 voucher per room. Not per person. This was aweful and cheating. when I reserved the room through booking.com they noted a $20 difference between room alone and room and breakfast. So paying $20 more in lieu of $15 credit and ignoring the fact that I noted in my booking it's for 4 person and noted aged too. totally unacceptable.
So many of the machines in the casino were not working
Wie viel kostet dieser resort im Vergleich zu anderen in Siloam Springs?

Der Durchschnittspreis für eine Anmietung in Siloam Springs beträgt EUR 102 pro Nacht. Diese Miete ist EUR 11 günstiger als der Durchschnitt.
Ist das Parken in diesem resort inbegriffen?

Ja, das Parken ist als Ausstattungsmerkmal bei Cherokee Casino West Siloam Springs Resort aufgeführt. Für weitere Informationen empfehlen wir Ihnen, sich mit dem Anbieter der Unterkunft in Verbindung zu setzen, um zu erfahren, wo Sie parken können.
Gibt es in diesem resort einen Pool?

Wir haben keinen Pool gefunden, der als Ausstattungsmerkmal für diesen resort aufgeführt ist. Es kann sich lohnen, noch einmal zu prüfen, ob ein Pool für Ihren Aufenthalt wichtig ist.
Ist Cherokee Casino West Siloam Springs Resort haustierfreundlich?

Leider ist dieser resort nicht haustierfreundlich. Versuchen Sie erneut zu suchen und filtern Sie nach "Haustiere erlaubt"
Welche Ausstattungsmerkmale sind bei Cherokee Casino West Siloam Springs Resort verfügbar?

Wir haben 11 Ausstattungsmerkmale für diese Unterkunft gefunden. Dazu gehören klimaanlage, küche/kochnische, internet/wlan, kamin und rauchen erlaubt.