The Culvert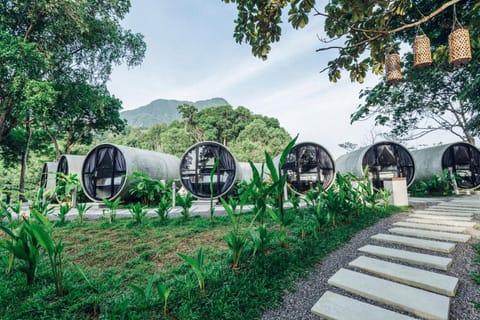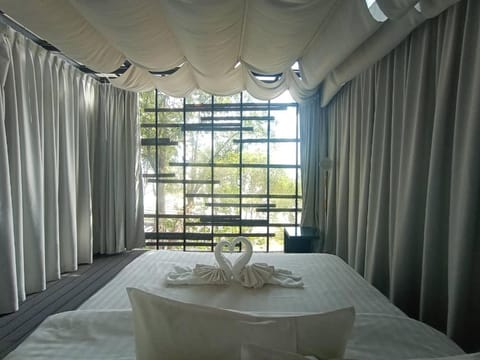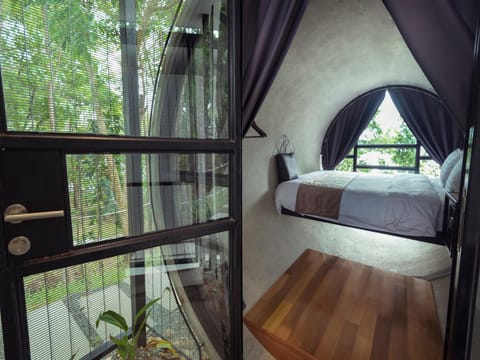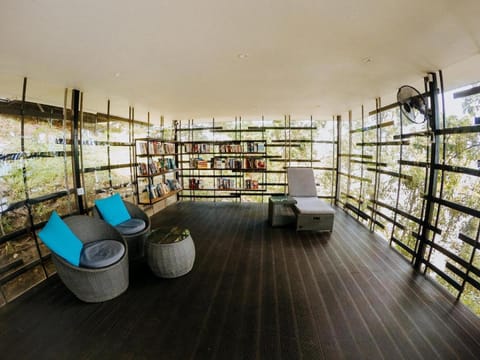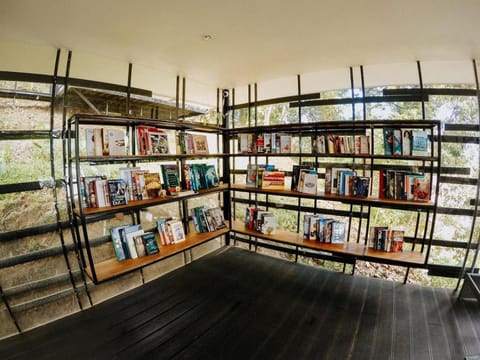 Resort in Kuching
Pool
Klimaanlage
Internet/WLAN
Gelegen in Kuching, dieses charmant resort für EUR 53 pro Nacht ist ein großartig Auswahl für Ihr nächstes Reise. Das The Culvert in Kuching liegt 2,7 km vom Strand Damai entfernt und bietet Unterkünfte mit einem Außenpool, kostenfreie Privatparkplätze, ein Fitnesscenter und ein Restaurant.
Pool
Klimaanlage
Internet/WLAN
Rauchen erlaubt
Parkplatz
Waschmaschine
Balkon/Terrasse
Whirlpool/Spa
Rollstuhlgerecht
Strand/Ufer
Fitnessraum/Fitnessstudio
Garten
100 % verifizierte Bewertungen
3.8 / 5

"Gut"

(846 Bewertungen)
What I like about the property is the hospitality they offered, the scenery of the location.
I dislike how they room amenities are still lacking. For this trip i booked suite room with sea view, in my opinion since the shower, bath tub is separated from the room, it should be equipped with shower together as well as some sort of a holder to put the amenities on. As for the room, please improve your lighting, the lighting is too dim and i had difficulties seeing in such lighting.
nice place but overpriced !
Aug 2022
we decided to change our room type when we arrived because no place for any bags Staff in bar and restaurant was very professional and long concept is nice, private beach and exclusive suite also food is tasty ! come only if you stay one/two nights and not a lot of luggage
a lot of mosquitoes, even with repellent no housekeeping during our stay a lot of stairs to arrive to the room and no help for luggage woman working at reception was unfriendly and not welcoming location is far away from the city center or tourist activities
Not bad can be upgrade
Mar 2020
Don't have prayer space for Muslim In room
Unique room. Located at seaside with great view. Experience nature.
Lizard and bugs at my bathroom (Since we are in the nature). No light in the room (Although they provide torchlight.
Overpriced, oversell, impractical albeit surrounded by beautiful nature.
Nov 2022
Unique concept, totally integrated with its surroundings-the beach, the jungle. The staffs are nice, helpful and very accommodating.
The size and layout of the culvert is totally off and made it very difficult to move around- impractical as had to rolled over the bed to get to the bathroom. not much space for stuff.
interesting but the suite unit is disappointing, money would be better spent elsewhere on more comfortable options
Jan 2023
unique accommodations & nice greenery
bath room for suite unit is not attached and lacking privacy - the short hall way between bedroom and bathroom is not covered / shielded from public viewing. also the bathroom floor has loose pebbles scattered all over on earthy surfaces and cement slab
The views overlooking the mountain are great and the place has great facilities such as gym, pools and a library. Easy access to the beach too.
The room is extremely small and we struggled to crawl over to take a shower after being out for the whole day. The air-conditioner is quite loud and also splashes water in the middle of the night. It would be great if we are provided a doormat in between the bathroom and the bed. There's only one hook behind the bathroom door and we cannot hang our clothes elsewhere.
Please add some cafe near the beach,play some music or busking. It will become more interesting.
Feb 2022
bad. really bad. not going to repeat and not gonna recommend to others
Jan 2022
the price too expensive. the room too tight no space at all. few facilities and everything is limited
the view is very beautiful. the food was good.
the room is very small and uncomfortable. the room was not clean and the there was a big lizard.
The view during sunset was amazing, the spacious bed was comfy, the view from the swimming pool was great
The bath tub was a bit wobbly, and there's a lot of insects in the washroom at night
The view are so beautiful and i really love it..will recommended it to my friends and family.
Please make a signage of silence at room area..some of customers taking foto so close to the room and make noise.please remind them to keep silent when taking photo at rooms area..thanks
The unique concept. Very peaceful. Worth the-gram!
Inconvenience for family with toddlers.
Good customer service, proactive and friendly staffs. A place where you can relax and serene moment by yourself.
Nov 2022
The surrounding was covered by nature and relaxing if u go with your friends or partners.
pls bring mosquito repellent in some of the rooms, the Wifi network does not have that strong coverage when you need it.
The staff were amazing, so friendly couldn't do enough for you so attentive, Nana was especially sweet and also the chap who carried my bag on the last day unfortunately didn't catch his name, we were in the suite by the beach in a box, views were fantastic, and very close to the beach. It was my birthday on the last day and they brought me out and cake and candle without personally requesting it which I thought was lovely and very thoughtful.
The bath took about 50 minutes to fill as the tap had to be adjusted to such a fine tuning, there was a kettle and cups but nothing to put in them, and the steps up and down were grueling, a lift of some sort would be a big help to all. I am 6ft 6" and my son 6ft 4" I was fine in my suite but my son struggled to use the shower as the place to shower was to low and cramped., I would still recommend a stay here, but if you are tall don't stay in the standard room, they had some with shower and toilet area at the back of the pipe with much more room.
The scenery is superb and soothing. At night, I can hear the sound of waves from my room:so calm. After reading the review, I decided to book Suite Room for my family. I like the idea of separate bathroom, with bathtub. I think this is a new version of camping and connecting with nature. The staffs were very friendly and always smile too.
The smell of chlorine in the swimming pool was too strong, even after properly clean up, the smell was still linger. I hope they will open the gym, sauna and spa ASAP. Perhaps can add other facility or activity to do.
Its a good place for short trip especially if you're single & want to relax your mind.
Jun 2021
The scenery absolutely amazing
The room space was too small. Not recommended for family.
The room too dark And When night time totally can't go out cause too dark ,hope can let it be more brighter The beach got glass fragment pls take noted It's very dangerous
The rooms are tiny but very cozy. And the pool is located in a beautiful area. Nice place to relax for a day or 2. Well worth it.
Might not be suitable for travelers with young children. Also the food is ok, but the menu is not big enough to sustain a very long stay. And nothing close by to go to if you don't have your own transportation. But the environment really makes up for the downsides in my opinion.
Relaxing and unique experience.
Feb 2023
The resort was exactly how it was in the pictures. Very good for relaxing your mind and be comfortable while being one with nature. A unique experience yet still felt luxurious.
Quite a few of the activities that I wanted to do was not available. ATV operator was not around and their spa has long closed. Perhaps a games room would have helped the guest interact more.
the quiet environment and cleaness . please keep it that way
the room slipper. i think you need to have a look. As it slip easily especially when wet. I almost fall from stairs while walking to swimming pool
If you looking for a nice pools, yes !
Dec 2021
The cafe rules..you cannot buy a drink in the morning until 11am.
The place is serene and peaceful.
Jul 2022
The place is very unique. We enjoy the beautiful undisrupted view of mother nature. The room is small but comfortable.
the place is super private which is something that is good to look for.
the location and possibilities of transportation. may i suggest maybe can get a shuttle van or bus to drop off and pick up from maybe damai sentral or sukma ria.
Not suitable for family vacation, it gets hot in the afternoon
The perfect place for people who want tranquility, looking for work inspiration.
Not suitable for a family vacation. Small bed, no water boiler, broken toilet door. the bed is not safe for those with children. the pool is not cleaned. the beach location is not attractive for children's bathing activities. limited child activity. less food options for breakfast. Not recommended for those who want to bring their children on holiday.
The nature and view was superb
The location is very natural,beautyful and very peaceful....good for release everything....the staff is very helpfully....i was excited for second time...
The room is very small and no space to pray...i hope the management give a extra space for this problem...but the all room is okay
Fun on Instagram, not worth the stay
Jan 2022
The location is beautiful. Facilities like the library, massage, pools are gorgeous and well-designed. Restaurant had nice food and quick service as well!
There was lack of attention to detail and customer care across the board at The Culvert. When we arrived, we had stained sheets, sand in the bed frame, blocked drains in the bathroom and an overflowing trash bin outside our room. When we requested housekeeping, staff had to climb over our bed with mops and buckets to clean the bathroom 🥴There was no towel-hanging space in the bathroom, way too many guests to be able to utilise the pool and only one masseuse available. Reception couldn't find the booking we made on Booking.Com and eventually gave us the worst 2 rooms on the property - right next to the main gate. When we requested a room transfer or upgrade, they told us that they were booked out, but when we looked around - saw so many empty rooms! Despite all our requests for housekeeping, The Culvert staff didn't offer any apologies or engage in service recovery.
Nice view but breakfast needs more variety
Jun 2022
The location and the view is emaculate
The buffet breakfast choice is very very limited. Needs more variety. Add an egg station or waffle/pancake station
The location and amenities are superb! The sauna overlooking the beach is very relaxing. The hotel is just next to the beach, mangrove and within the forest all at the same time which made it extraordinary. The dining staff are very approachable and food are delicious and servings are adequately enough for 2 people.
Since the location is in the middle of mountain with huge trees, insect bites are unavoidable despite having insect repellent.
Go with big group of friends if you wanna experience it.
Oct 2022
The hotel room outlook and night lights.
Room is kind of small hence need to crawl over bed to reach the bathroom. Sliding door to bathroom malfunction in most rooms hence we need to carry it to slide and the doors are heavy! U won't want to stay inside the room except for sleep
It was Unique and fun.
Nov 2022
The great scenery ,complete fasilities, delicious breakfast.
The toilet sliding door. It was not smooth to open. No food access after 10pm. Had to go to Damai 7E to buy food.
The environment is still acceptable and peacefully at night.
Room 28. Air-conditioning was quite bad, the swing pillar was not functioning, and it was not cold all the time. The bathroom pipeline was clogged too. And the sea view room, doesn't not really sea view, because of the trees were too tall.
View and pictureworthy but facility maintenance need serious improvements.
Jan 2022
The environment and the concept in whole.
The accomodation, not tall people friendly and the toilet my room in particular is blocked.
Good to try for first time.
Dec 2021
The culvert concept is nice and new in the town.
The room are rather small, which is expected. In order to go in toilet, you need to cross over the bed that placed in the way. We booked 2 culvert, found one toilet floor trap are blocked, and the other one toilet lighting failed. We are not comfortable to ask technician to come and do the servicing because they will need to climb over the bed in order to go in the toilet. So, I have to try to do it myself to clean the toilet floor trap! Gosh! And both culvert's aircond are very dusty, again I cleaned it myself. But ended up we all using common toilet outside the room, even for shower.
the concept. very creative.
rooms werent insect proof. we had big spiders in our room. breakfast choice.
Wie viel kostet dieser resort im Vergleich zu anderen in Kuching?

Der Durchschnittspreis für eine Anmietung in Kuching beträgt EUR 36 pro Nacht. Diese Miete liegt EUR 17 über dem Durchschnitt.
Ist das Parken in diesem resort inbegriffen?

Ja, das Parken ist als Ausstattungsmerkmal bei The Culvert aufgeführt. Für weitere Informationen empfehlen wir Ihnen, sich mit dem Anbieter der Unterkunft in Verbindung zu setzen, um zu erfahren, wo Sie parken können.
Gibt es in diesem resort einen Pool?

Ja, bei The Culvert steht ein Swimmingpool zur Verfügung. Genießen Sie das Wasser!
Ist The Culvert haustierfreundlich?

Leider ist dieser resort nicht haustierfreundlich. Versuchen Sie erneut zu suchen und filtern Sie nach "Haustiere erlaubt"
Welche Ausstattungsmerkmale sind bei The Culvert verfügbar?

Wir haben 12 Ausstattungsmerkmale für diese Unterkunft gefunden. Dazu gehören pool, klimaanlage, internet/wlan, rauchen erlaubt und parkplatz.