Brandneuer romantischer Kurzurlaub auf 13 abgelegenem und privatem Gelände!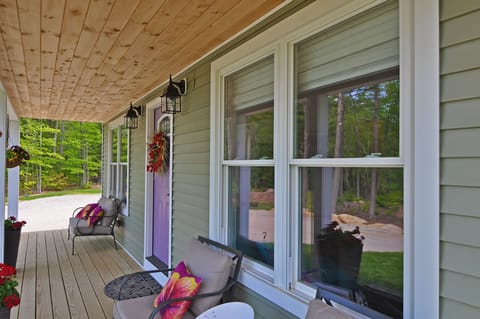 Über diese haus Unterkunft
Befindlich in Meredith, dieses schön haus für EUR 231 pro Nacht ist ein großartig Auswahl für Ihr nächstes Pause. Eingebettet zwischen Lake Winnipesaukee und Newfound Lake auf einem Berggipfel am ON 13 PRIVATE ACRES befindet sich ein neu erbautes, wunderschön eingerichtetes Ferienhaus. Herrliche Ausblicke begleiten diesen romantischen und privaten Urlaub in Meredith NH, bringen Sie also Ihre Kamera mit !! Verfügt über ein großes Einzelzimmer mit einem großen Kingsize-Bett.
Kuscheln Sie sich in die neue hochwertige Matratze mit alternativer Daunendecke und bequemen Kissen. Dann begeben Sie sich in das luxuriöse Badezimmer mit Whirlpool und separater großer Dusche. Entspannen Sie sich mit Ihrer Lieblingsmusik, während Sie mit unserem mit einem blauen Zahn verbundenen, verstellbaren Duschkopf duschen. Diese Sorgen schmelzen. Entscheiden Sie sich, ob Sie zum Abendessen ausgehen oder in unserer Küche kochen möchten, die mit Soft-Close-Schränken und allem ausgestattet ist, was Sie zum Kochen / Backen benötigen. Jetzt, da Sie voll sind, schauen Sie sich das Wohnzimmer mit einem neuen Queen-Size-Ausziehsofa und einem 55-Zoll-Schwenkfernseher an. Es kann schwierig sein, zwischen den Flammen im Gaskamin oder den ständig wechselnden Aussichten auf die Berge zu wählen. Vielleicht sollten Sie nach draußen gehen, um auf der Veranda zu sitzen oder ein Feuer in der Feuerstelle zu bauen und ein paar Smores zu grillen. Stellen Sie sicher, dass Sie Ihre Spielsachen mitbringen / mieten. Wir haben ausreichend Parkplätze für Boote / Anhänger, Kajaks, Schneemobile, Allradfahrer usw. auf dem Grundstück. Die Unterkunft befindet sich am Hermit Lake Snowmobile Trail. In der Nähe befindet sich ein Teich. Bei Regen steht Ihnen beliebtes Lesematerial zur freien Verfügung. Worauf wartest du noch, was magst du nicht? Wir würden uns freuen, wenn Sie genießen, was die Bewohner von Meredith jeden Tag genießen.

Über uns:
Wenn wir es bauen, werden sie kommen oder so hoffen wir. Mein Mann und ich, nachdem ich drei Kinder großgezogen und sie auf zwei Touren im Irak gesehen hatte, ging ich auf der Suche nach einem friedlichen, komfortablen Cottage auf seinem eigenen Land, weil wir wirklich Einsamkeit und etwas Ruhe brauchten. Die Suche begann in NH, dann in Maine und schließlich in Vermont. Die nächste, die wir fanden, war eine Hütte in VT mit einem Holzofen und einem Whirlpool. Leider hatten wir andere Kabinen um uns herum, keine Aussicht und kosteten 300 Dollar. 00 eine Nacht! Wir waren für ein Wochenende hier und sprachen mit den Besitzern über ihre Erfahrungen mit dem Besitz von Cottages.
In der Zwischenzeit bekam mein Mann einen Job an der New Hampton School und während er herumfuhr, fand er ein 230 Jahre altes Haus mit 36 Hektar Land und wunderschöner Aussicht, das ihn an das Haus seines Großvaters in New York erinnerte. Er hatte viele schöne Erinnerungen, als Kind dort zu sein, und konnte dieses Haus nicht gehen lassen. Sollten wir? Dieses Haus war nicht einmal isoliert und war seit 50 Jahren ein Sommerlager. Nach langem Überlegen kauften wir das alte Haus mit Traumaussichten und vor allem… Land.
Dann begannen 3 lange Jahre, es lebenswert zu machen. Trotzdem fühlten wir uns sehr gesegnet und genossen unsere Ansichten und die Ruhe, aber wir haben nie den Stress von allem vergessen, was wir gelitten hatten, und wir konnten die vielen Veteranen und Krebsüberlebenden nicht vergessen und wünschten, wir könnten sie mit dem, was wir hatten, segnen.
Könnten wir die Notwendigkeit eines eventuellen Alterseinkommens kombinieren und auch anderen helfen? Wir hatten das Land auf der anderen Straßenseite separat, also begann der Traum… und dann die Arbeit. Ein Geschäftsplan, ein Budget (wie man im Budget bleiben kann), den Kauf eines Baggers, um das Land zu räumen und einen Abwasseranstrich zu machen, einen Kredit zu erhalten, Pläne zu zeichnen, einen Handwerker zu mieten und den Rest selbst zu erledigen. Nach vielen LEARNING MOMENTS & 2 unermüdlichen Jahren Arbeit fast jedes Wochenende (mein Mann hat seinen Vollzeitjob!) Viele Telefonanrufe, Kaufleute, kauften alles, was zum Bauen und Einrichten der Hütte benötigt wurde, der Ehemann erledigte immer noch den größten Teil des Anhebens, und wir baten beide, die wir kannten, um Hilfe oder Wissen mit etwas, das wir noch nicht wussten.
Endlich, nach 2 langen Jahren, konnte ich es endlich schmücken. Wir sind so glücklich, dass wir es geschafft haben und wir sind sehr stolz auf das, was wir erreicht haben. Wir hoffen, es gefällt dir genauso gut wie uns.
Eigentlich helfen Sie unserem Traum, anderen zu helfen, indem Sie nur mieten. Für jeden zusätzlichen Dollar, den wir nach Abzug der Kosten einsparen können, hoffen wir, dass wir einem Veteran oder einem Krebspatienten eine Zeitlang kostenlos geben können. Sie können uns auch dabei helfen, andere zu segnen, indem Sie uns gute Kritiken geben und unser Gästebuch unterschreiben.

Vor allem aber hoffen wir, dass Sie Ihren Aufenthalt genießen. Lesen Sie bitte das Handbuch zu den Kabinen und machen Sie sich mit hilfreichen Tipps vertraut, da wir auch etikettiert und Notizen hinterlassen haben, die Ihnen helfen. Ich sammelte einige unserer beliebtesten Dinge in der Umgebung sowie Broschüren. Bitte zögern Sie nicht, uns bei Bedarf direkt anzurufen!
Wir bedanken uns im Voraus für die gute Betreuung unseres Ferienhauses. Bitte hinterlassen Sie Kommentare an der Kreidetafel, wenn etwas benötigt wird, Komplimente und konstruktive Kritik.

Ihre Besitzer / Gastgeber
Kirk und Sue Beswick


Ausstattung
Pool
Klimaanlage
Haustiere erlaubt
Küche/Kochnische
Internet/WLAN
Kamin
Parkplatz
Waschmaschine
Balkon/Terrasse
Spülmaschine
Whirlpool/Spa
Fernseher
Garten
Familienfreundlich
Bewertungen
5.0 / 5

"Herausragend"

(176 Bewertungen)
5.0
Jun 2023
Perfect house for a couple to stay in. Very nice yard with a view. Located down a dirt road it's very tucked away if you want to get away from the noise! Very clean and well stocked house.
5.0
May 2023
Great spot near lake Winnepesaukee Very quiet and peaceful
5.0
Feb 2023
We wanted to get away from the city and see some beautiful vistas and hopefully some snow! The cabin and grounds were perfect- private, warm, cozy, clean and well-stocked with everything we couldn't fit in our already jam-packed car. We had lovely family dinners in the kitchen with a great Mountain View. And we enjoyed the coziness of the fire next to the big living room window. Sue and Kirk were excellent hosts and graciously plowed us out after the storm hit. Can't say enough good things about this place and hope to be back sometime in the future. Worth every penny!
5.0
Feb 2023
What a little charming home that matches the pictures provided. The attention to detail on both the home and decorations that were present for Valentine's day weekend. You can tell that the hosts clearly love this place and I am happy that they shared this home with us. From the amazing sunset views, to the silence, and of course the spa tub. We both enjoyed having a drink on the porch in the evening watching the sunset. If you need to recharge and get away from the Hussle and bussle of life, this is a wonderful place to do that. Thank you for the lovely home to spend a weekend at.
5.0
Feb 2023
I was looking for a quite remote place to get away to recharge. This is exactly what I needed. If your looking for remote getaway look no further. Beautiful views, amazing location to hike in the winter. Had a couple snow storms and the property owner was on top of plowing me out. In fact shoveled the stairs as well. I had no intention of leaving but great in case.. I would have explored a lot more on my own with my two dogs, however being that secluded in the mountains alone was not a safe idea for me. I was more fearful of an animal coming out of the woods. The property owners we not too far away so that was a comfort as well if needed anything. Nothing was needed fully stocked location.. I was able to enjoy the jacuzzi everyday. The best was watching the snow fall over the mountains and the sunset. Perfect for a couple, looking for any time of year. You will definitely feel like there isn't anyone for miles!!! Enjoy
5.0
Feb 2023
This home is the perfect place to stay with amazing views, great hosts, and a beautiful home.
5.0
Feb 2023
My spouse and I thoroughly enjoyed our trip. It was very private and relaxing. The cabin was clean and had everything we needed. We highly recommend it.
5.0
Feb 2023
This property was perfect for our small family (2 adults, infant in pack and play, dog). Clean property. WiFi very good. Well stocked if you find yourself in a situation where you can't leave the property. About 20 minute drive to most amenities (grocery store, restaurants) so if you want to be alone and remote this place is perfect. We did need 4 wheel drive due to the incline of the surrounding roads and it was snowy/icy each day we were there - so just keep an eye out for that! Overall it was a lovely cottage and we enjoyed our time in NH.
5.0
Jan 2023
This is our 4th or 5th time staying at this property. I've never given anything short of a rave review. This time, I want to add that what I find truly amazing is that when we come back after a year, we walk in and it's like we were the last guests there. That's a huge compliment for a VRBO. Clean. Relaxing. Perfect. Thanks, once again! We'll surely be back.
5.0
Jan 2023
Just perfect for a couple or small family looking to get away from it all for a little while.
5.0
Jan 2023
This retreat was perfect and exactly as advertised. Exceptionally clean and an ideal escape to relax and refocus. If you're looking to truly get away (while still having all the modern conveniences), this is the place to be. Cannot wait to return!
5.0
Jan 2023
We are repeat guests and always have enjoyed the many amenities at Sue and Kirk's cottage. The kitchen is so well stocked with cooking/baking tools and we love cooking during our stays. The bed is comfy and the jacuzzi is delightful. The location setting couldn't be better for a winter stay.
5.0
Dec 2022
My husband and I were looking for a quiet, remote cabin that was central to activities we wanted to do... this cabin was perfect. Super cozy cabin that was clean and had a great bed. Views were amazing! Hot tub was enjoyed several times. Host was fantastic, provided tons of information for things to do in the area, and communication was quick and helpful! We traveled and hiked the Kanc, visited the NH, VT, and ME capitals, had fresh Maine lobster, and drive the NH coast. So much to see in this area!! We will be back!
5.0
Nov 2022
This property is a "hidden" gem of complete bliss. It was so clean I felt like I was walking in my own home. Kirk and Sue are excellent hosts and quick to respond if something is needed. There is so much beauty looking out from front porch I really didn't want to leave. Instead, my dog and I enjoyed a peaceful retreat relaxing, walking the trails nearby, and watching the sunrise then set. Oh, the jacuzzi...ahhhhhhh I already booked for next year! Thank you Kirk & Sue
5.0
Nov 2022
My husband and I stayed here for an anniversary trip. It was so peaceful and wonderful. The cottage is cute as it can be and very peaceful and relaxing. Internet worked fine (even with multiple devices), hot tub was wonderful, kitchen is fully equipped so we were able to cook some meals instead of going out all the time. If you should have any reservations about staying here--ditch them and stay. Well worth it and we really want to go back.
5.0
Nov 2022
Sue, you are an amazing hostess and so kind. Thank you so much for calling me to let me know that you had rated me 5 stars but that for some reason VRBO only put me in for 3 stars in some areas. Thank you so much for calling VRBO and trying to correct it. It is unfortunate that they refused to correct it, as you said that this has happened to you when rating other people as well. Your concern over this was truly touching and thank you for trying to correct it. I cannot wait to come back....Thank you for sharing this beautiful cottage! <3 .....I almost forgot...internet worked perfectly and I did use it extensively at times with no interruption or buffering issues. There is also a huge HD TV if you do want to watch.
5.0
Nov 2022
Couldn't have asked for a more pleasant, peaceful, private stay. It was exactly what my girlfriend and I needed after a stressful 2022. We were able to vacation, relax, and clear our minds. The house had EVERYTHING and the tub is HUGE. 10/10
5.0
Nov 2022
5.0
Nov 2022
Perfect location for just relaxing. Close enough to downtown Meredith but far away enough to be remote. Super clean and modern amenities. Will certainly plan to return.
5.0
Oct 2022
This property has gorgeous views, secluded, yet close to town. Everything was perfect!
5.0
Oct 2022
We just finished our second visit to Sue & Kirk's cottage. We first visited in spring 2021 and it has become an annual tradition for us to visit. This year we visited in the fall and the foliage was beautiful, we already booked our 2023 visit! The cottage is cozy, secluded, beautifully decorated, and spotless. It smells so clean when you walk in, which is big for me! We have found 4-5 nights to be the right amount for us as we like to explore. On this 2nd trip we didn't repeat much of where we went on our first trip. There is plenty to do in the area whether you want to drive 15 minutes or up to an hour. There are towns to explore and endless hikes around. There are brochures available in the cottage to help you plan. You can also just stay on the property. From the front porch and fire pit with priceless views to the kitchen with all the essentials, everything is so perfectly thought out in the cottage. This place is a slice of heaven and the fact it's secluded and pet friendly puts it at the top of our couples getaway list! It is the perfect place to relax and recharge. Whether it's a quick trip or an extended stay, you will not regret booking this cottage!
5.0
Oct 2022
Great place! Secluded, beautiful view, house has everything you need, very enjoyable!
5.0
Oct 2022
Sue and Kirks home was amazing. Everything was wonderful. Couldn't ask for anything different. We felt right at home there and now wish we had a place like that. We highly recommend everyone to enjoy this spot as much as we did. Thank you Sue and Kirk for allowing us to experience the wonders of the woods and the comfort of your home. We would absolutely go back.
5.0
Sep 2022
We thoroughly enjoyed our stay at the cottage..everything was clean, quiet, and close to area attractions. We didn't get to meet the hosts but they do a great job maintaining both the cabin and the property. Thank you for letting us enjoy your home and we look forward to returning in the future.
5.0
Sep 2022
A great 1 bedroom cottage in the heart of the lakes region. Easy check-in and clear instructions. Great fire pit for star gazing.
5.0
Sep 2022
My husband and I enjoyed our stay at this adorable cottage at Pinnacle Ridge very much! The property is very private up on a little hill with nothing but nature all around. The front porch, as well as the kitchen and living room, have a beautiful view of the mountains, that include gorgeous sunsets. The inside of the home was very comfortable, very clean, and had everything needed. Sue was very responsive, and very pleasant to communicate with. Kirk, who we met briefly while out for a long walk , was also very pleasant. You can be sure these owners truly care that everyone has a wonderful time during their stay. Hope to be able to return in 2023.
5.0
Sep 2022
This Property was beautiful, the cozy house was well kept and is FULLY STOCKED, with everything from games to silverware, TV, Flashlights, fire pit, hot tub, nice hot shower, comfy bed and couch, fridge, grill, stove. Ect. The owners are amazing and have really thought of everything. My other half and I had the best 3 night, peaceful, private anniversary at this place. We would highly recommend this place for anyone looking to get the true New hamphire experience for couples or a family.
5.0
Aug 2022
The property is well kept, clean, and has what one needs to enjoy the experience. Watching the dragon flies dance in the lower meadow, and having the humming bird say good morning assures you sit and look at nature. Sue and Kirk are near and respect privacy. The cottage welcoming and private. We enjoyed beginning and ending each day sitting out on the front deck looking at the mountains. This property is as listed and more. If you wish to enjoy some peace and quiet while being close enough to the Lakes area to access activities. this is the place for you. We will stay again.
5.0
Aug 2022
We loved staying here! Beautiful location with beautiful views from the front window. Sue and Kirk provided everything that was needed and made sure to leave some list of things to do rain or shine! We definitely will be staying here again sometime.
5.0
Aug 2022
The property grounds were amazingly maintained. The "cottage" was extremely nice and taken care of. There was nothing we needed or wanted. The area was beautiful, quite and relaxing. A great place to unplug from every day life and interruptions. Highly recommended for a great getaway.
5.0
Aug 2022
Myself, my husband, our 1 year old son and dog spent the week here. Property is surrounded by woods, which is exactly what we wanted, and a close enough drive to everything you could want or need! There's a beautiful view of the mountains from the front porch where we watched the sunset every night. She was very responsive prior to our arrival and during our stay. We would definitely like to come back!
5.0
Aug 2022
We had an amazing experience! The property is so gorgeous, and very secluded. The house is super clean and everything is brand new. We brought our dog, who is a rescue and very shy, and he had the best time stretching his legs and sniffing in peace. It's a bit of a ride into town, but there are lots of restaurants and things to do in Meredith and other nearby towns. But really you won't want to leave the property, the views are incredible - we roasted marshmallows and watched the sunset, so romantic and picturesque.
5.0
Aug 2022
This was our fourth year staying at this property and it never disappoints. Property is always impeccably clean and well maintained. It's in a private location with beautiful views that never get old. We also travel with our four year old and find there is plenty of space for all of us and the privacy is great for playing outside. We look forward to returning to the cottage every year.
5.0
Aug 2022
This beautiful property was just what we needed. Had we chosen to bring our dogs, that would have worked too. The home was bright, comfortable and had all of the amenities one could need. We enjoyed the privacy of sitting by the fire pit to enjoy the sun or the evening. The location worked great for a concert we were attending as well. We hope to make it back again for a longer period of time.
5.0
Jul 2022
Lovely Stay in Meredith!
This property is just perfect for a long weekend get away. My husband and I stayed and truly enjoyed our time. Very remote but still close to hiking, lakes, BBQ, breweries, etc. The property was impeccably cared for and we tried to leave it as such. You can tell the owners have put a great deal of love into the property and it shows. Thank you for a wonderful stay! We would highly recommend if you are considering it. :)
5.0
Jul 2022
This was the perfect spot for our trip to the New Hampshire Lakes Region. The house was so cute, perfect in every way. And the property was secluded, beautifully kept, with lovely views. We loved our time at Pinnacle View Cottage.
5.0
Jul 2022
Perfect Get-Away
This was the perfect spot for our trip to the New Hampshire Lakes Region. The house was so cute, perfect in every way. And the property was secluded, beautifully kept, with lovely views. We loved our time at Pinnacle View Cottage.
5.0
Jul 2022
We LOVE vacationing in New Hampshire and the northeastern U.S. and after staying in this property, it is our absolute favorite. Great location. Wonderful home. Super clean. Great host. Not a single bad thing to say... this was a perfect spot for a perfect vaction! THANK YOU, Sue & Kirk!
5.0
Jul 2022
Lovely quaint Property nestled on 13 acres, beautiful mountain views right from the front porch. Well maintained and equipped. Owners are awesome! Great peaceful get away yet close to Meredith NH within 15 minutes. Venture to other areas as well/within an hour+ Awesome Lakes Region. Enjoy the beauty of the area, sights to see and plenty to do. Wildlife an added plus. We will be back for yet nother stay.
5.0
Jul 2022
Slice of Heaven in New Hampshire
We LOVE vacationing in New Hampshire and the northeastern U.S. and after staying in this property, it is our absolute favorite. Great location. Wonderful home. Super clean. Great host. Not a single bad thing to say... this was a perfect spot for a perfect vaction! THANK YOU, Sue & Kirk!
Häufig gestellte Fragen
Wie viel kostet dieser haus im Vergleich zu anderen in Meredith?

Der Durchschnittspreis für eine Anmietung in Meredith beträgt EUR 239 pro Nacht. Diese Miete ist EUR 8 günstiger als der Durchschnitt.
Ist das Parken in diesem haus inbegriffen?

Ja, das Parken ist als Ausstattungsmerkmal bei Brandneuer romantischer Kurzurlaub auf 13 abgelegenem und privatem Gelände! aufgeführt. Für weitere Informationen empfehlen wir Ihnen, sich mit dem Anbieter der Unterkunft in Verbindung zu setzen, um zu erfahren, wo Sie parken können.
Gibt es in diesem haus einen Pool?

Ja, bei Brandneuer romantischer Kurzurlaub auf 13 abgelegenem und privatem Gelände! steht ein Swimmingpool zur Verfügung. Genießen Sie das Wasser!
Ist Brandneuer romantischer Kurzurlaub auf 13 abgelegenem und privatem Gelände! haustierfreundlich?

Ja! Diese haus ist haustierfreundlich. Für weitere Informationen empfehlen wir Ihnen, sich mit dem Buchungsanbieter in Verbindung zu setzen.
Welche Ausstattungsmerkmale sind bei Brandneuer romantischer Kurzurlaub auf 13 abgelegenem und privatem Gelände! verfügbar?

Wir haben 14 Ausstattungsmerkmale für diese Unterkunft gefunden. Dazu gehören pool, klimaanlage, haustiere erlaubt, küche/kochnische und internet/wlan.