Nextdoor Homestay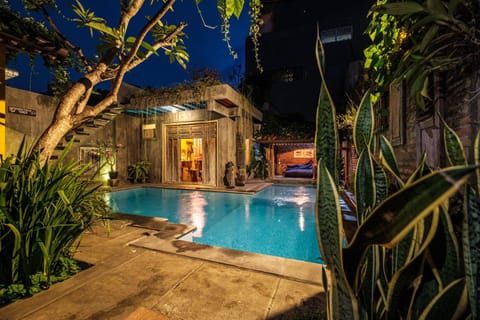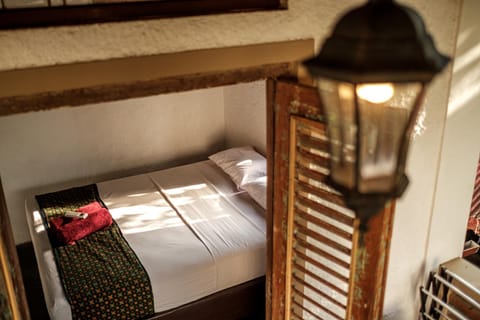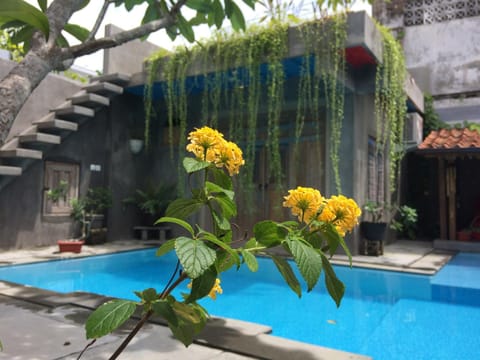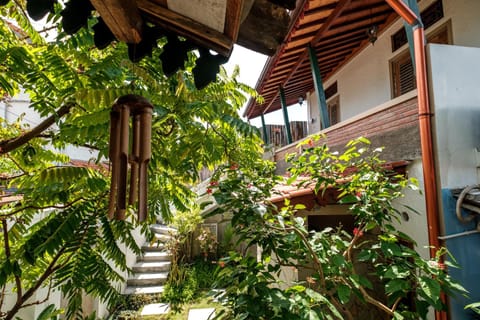 Haus in Yogyakarta
Pool
Klimaanlage
Küche/Kochnische
Befindlich in Yogyakarta, dieses schön entire house für EUR 14 pro Nacht ist ein großartig Option für Ihr nächstes Pause. Das Nextdoor Homestay in Yogyakarta bietet kostenfreies WLAN, einen Außenpool, einen Garten und eine Gemeinschaftslounge. Einige Unterkünfte verfügen über eine Terrasse mit Poolblick, eine voll ausgestattete Küche und ein eigenes Bad mit Dusche.
Pool
Klimaanlage
Küche/Kochnische
Internet/WLAN
Waschmaschine
Balkon/Terrasse
Fernseher
Garten
Familienfreundlich
100 % verifizierte Bewertungen
4.5 / 5 (331 Bewertungen)
You can chose what kind of breakfast you would like to have for the next day. Staff very helpfull and friendly. Very beautiful homestay and confortable. The swimming pool is really nice.
Nothing ! Everything was great !
beautiful stay with helpful staff and great location
Aug 2022
was super clean, well organized and friendly staff
warm welcome and very cozy
Very warm and welcoming staff. Would truly recommend any traveller to stay there!
Garden of tranquility in the middle of the city
Dec 2022
Very quiet, except maybe the mosque at 3am, but otherwise an amazing place with amazing people. they are all amazing, helpful and nice.
Very peaceful place ! And very nice team, who helped me a lot to visit Yogya and temples around !
very nice location, good accommodation and great staff.
Very nice cosy hotel, we had the room next to the pool, very nice!! Good breakfast also
Beds were a little bit hard, sometimes no hot water from shower (but they did fix it quite quickly)
Very friendly and helpful staff. Overall great homestay with good and nicely decorated rooms in a good location.
Very friendly and helpful staff. Great breakfast. Nice and peaceful place.
There was a shortage in warm water.
Affordable Option for Traditional Yogyakarta Atmosphere
Apr 2021
Very delicious breakfast! It's just a simple traditional rice/yellow rice + crackers + perkedel + tempe but somehow they're pretty tasty. I loved the atmosphere: quiet and serene, far from the loudness of the bustling city. The window was right behind the bed and my room was on the second floor, so it's an amazing sight during the break of dawn without leaving your bed. Cool breeze as well. The smell of the bed and pillows remind me of Grandma's old sheet, partially facilitated by their old-school interior and traditional house design. Friendly staff as well, it's very easy to talk to them. Also their cats are pretty cute, you can harass their recently-neutered Koko Boneka.
Some black ants roaming on my bed, they only bite when threatened tho. Both Air-con and the water heater took some time to reach their intended function: to cool the room (for an hour) or to release the hot water (more than 3 minutes). Nonetheless I think it's pretty cool to have both features with this room rate. Might be personal reference or intended room design but I still found it funny the desk light gave more brightness than the main lamp lol. I have a poor eyesight so I think the room was not lit-enough.
Great Ambience in City Center
Feb 2021
Typical Jogja's traditional house. Good ambience. The location is very strategic at the city center. Near alun-alun, keraton, and Prawirotaman street which famous restaurants located.
The cleanliness could be improved. The table was a little bit dirty when we arrived. Some cigarette marks were founded.
tree house, pool, helpful and knowledgeable staff, decoration
Awesome homestay experience.
Sep 2022
Totally exceeded my expectations. Had the best homestay experience so far over here. The staff was so helpful to show us the sights and were even able to rent their motorbike and gave us sandals for the waterfall trip. Also the ride to the airport was very kind.
Fun & relaxing hideaway right in central Jogja! Great value.
Feb 2021
This property has a great feeling. The beds were comfortable and well appointed. The pool was very clean. The location is great for seeing the tourist sights. Breakfast was very good - local dishes from nearby sellers brought in by the staff. The water pressure in the showers was great (far above normal for Indonesia) and there was ample hot water for hot showers.
It's a little walk from the main road, but this was not an issue from us.
Excellent stay and warm welcome
Feb 2023
- the Villa has all comfort you need - excellent staff (friendly and helpful) - value for money - close to tourist attractions and restaurants
- close to main road (pretty noise from traffic)
The vibe, the swimming pool, the staff were all super amazing, the place is beautifull with lots of plants. They also give very good advice about the city and borobodur and prambanan. I also played mens erger je niet with them. And had lots of good conversations with a beer with them.
A great place to stay
Jan 2023
The staff were lovely and helpful, the pool was so welcome at the end of a day of sightseeing, and the breakfasts were fantastic.
The call from the mosque is loud early in the morning, but everything else makes up for it
The staff were exceptionally helpful and kind, we felt very looked after. Breakfast was delicious no matter what option you chose. Was a beautiful guest house in a good location. The staff even gave us a pack of treats for our trip to the airport on our last day which was such a lovely touch. Would definitely recommend!
Nothing, have no complaints!
The staff was very friendly and helpful..they were helping us to organise our trips to the temples and mount bromo ijen..everything worked out well...the location is good and the homestay very nice...also very nice breakfast! we would come again :)
The room was badly soundproofed, the wall very thin and we could hear every word from the neighbours so we couldnt sleep well...
it is nice to stay there
Mar 2022
the staff was fast response, comfy bed, cozy room, close to cafe in prawirotaman, just need to walk about 5-10 minutes
the parking car was in the main street, you need to walk to go to the homestay. but it is safe to keep your car there.
The staff is very nice and helpful
Our bed was very small and we had bed bugs. Also we didn't have hot water at the shower. The first night we stayed there, it was 9pm and we were 2 persons by the pool talking normally and the guy from the reception came to tell us that we should talk slowly even if we were not screaming. In our last night there, another group check in around 10pm and they were very noisy, they talked very loud even scream until 1-2 am and nobody cared. So, the hotel rules do not apply for all guests.
The staff is awesome and so helpful Nice equipements Great location Nice breakfast
The loud mosque The hard matress
The staff here were so wonderful and helpful. Breakfast always has several options to choose from, all delicious. The room was basic but comfortable and clean.
Be aware that the morning call to prayer at 4:30 am is very very loud in this location.
The staff here are amazing and so lovely, they alone make a stay here worth it! They make you feel at home and are always around to chill and have a chat. They can also offer good advice about places to visit. The homestay was a nice place too, the decoration was quirky and the pool was very nice. Everything seemed clean and there is free water, tea and coffee available all day. Also the indonesian pancakes for breakfast were great, and when we went to Borobadur for sunrise they prepared a breakfast for us to take. The homestay is also located a couple minutes walk from some very nice restaurants in a quieter part of town. Highly recommend!
Shower pressure was weak and wasn't always hot
The staff are really lovely and helpful, before via messaging and during our stay. Breakfast is different every day, suitable for vegetarians and super nice! We loved the decor, it's been really.thought about and has a great atmosphere. Our bed was super comfy and the pool is nice!!
We had a room next door and the noise travelled far so we could hear.people talking in the next room in the night. The rooms are all in different places so maybe it's just the room that we had!!
Exceptional staff and overall experience. We'd definitely stay again
Jul 2022
The staff and service were exceptional! We've asked them for help with a few things, incl. renting a scooter and taking a shower after check-out and the staff was super helpful with everything and positive as well. They even prepared us breakfast when we were leaving to see the sunrise super early. The deluxe double room upstairs with a balcony was great - very cozy. The pool was great for refreshing after a long day as well. The location is a bit away from the center but it's much quieter and we preferred to stay there. Just a few min walk to plenty of restaurants. Overall, a great experience, we'd definitely stay again
Nothing. The prayers, incl. the morning ones, are quite loud but it's basically the same around Java
The property is beautifully designed. I adore the interior of my bedroom. It's located in a very local area; I can see and hear the kindergarteners and teachers march and chant the national song on Saturday morning -it was LOVELY. It's close to Prawirotaman Street, where coffee shops, bars, craft stores, and communal spaces are within walking distance. The staffs and the owner are amicable. The property is perfect for escaping the crowded city.
During my four nights stay, they only had nasi uduk and nasi kuning for breakfast (I had a sandwich on my last day); the dishes were delicious, but rice for breakfast was too heavy for me.
The pool was great, the staff were wonderfully friendly and helpful, everything was clean, many options for breakfast, they organised our tours, it was in a quiet yet convenient location, they let us store our bags long after checkout and gave us treats for our departure :) would stay again
wonderful location and great ambience! will stay here again :D
Oct 2022
the pool is beautiful! there are not many people here so it's possible to use it alone. the location is great. the staff is helpful. breakfast was good. shared toilet was big and had good hot water and i felt comfortable using it late at night
i stayed in the tree house and there were bat (i think? hope?) droppings every so often on the bed…you get what you pay for i guess..
Tranquil, comfortable, the design made me feel elated each time entering the house
May 2022
The place is so effective and well designed. There's sunbathing area plus for drying your laundry. Laundry service is also available if you prefer so, it will be done in 24 hours. Mineral water in gallons is available in the lobby, to reduce plastic bottle waste.
Little piece of paradise
Sep 2022
The location is fantastic, it is quite central in Yogyakarta while still secluded. Together with a fantastic design, the whole thing feels like paradise. The staff are extremely friendly and helpful, always exchanging a kind word when they see you and giving very helpful recommendations for your visit to Yogya. Breakfast is freshly made and tasty.
Very nice stay in a noisy city.
Jul 2022
Their location is excellent. Service was great!
The loud sound of prayers of the nearby Mosque at 4.30AM played with their speakers. I also would have appreciated an explanation of the main tourist traps nearby (Batik art scam, etcetera).
The hotel was really beautiful and calm. The staff was amazing very helpful and friendly. They help me a lot to find tours (especially Bromo and Ijen tour that was not easy to organice). Thanks!
Maybe I will prefer the second floor rooms and more place to relax near the swimming poll
The entire place is just beautiful and well designed, especially the rooms. There is a nice garden where you can watch butterlies and geckos. The pool is also nice to refresh yourself. The staff is amazing and helpful: Viona, Yuni, and Lisa are great! The location is also good.
The design, the surroundings, the plants, the room and the balcony. The small pool gives a pleasant touch to this homestay. The staff, Catra, was very kind and friendly. The location is great, tucked in an aisle but not too far from the main road.
I wish for a bit brighter light bulb in the room and wish for a more confine bathroom space. Not exactly an ideal room to share with a travelling buddy when lacking closure to the bathroom. :D
The breakfast was really nice. Really traditional and delicious
Cleanliness in the kitchen and bathroom could be better. But it was quite OK
Magic hidden place
Nov 2022
Super friendly staff, they helped us with everything with a big smile. The room is very comfortable and stylish, and the swimming pool area very beautiful and special
Super friendly staff - couldn't do enough to help and always smiling and laughing. Quickly felt like staying with family. The property is lovely, quirky, tranquil and well located for access to main sites.
4.30am call to prayers likeley to wake you up as mosque very close by.
Nextdoor homestay is a quiet gem in the heart of Yogya. It's easy to get there and start tours (eg Pramabadan and Borobu
Sep 2022
Super friendly staff, awesome breakfast, nice pool, great location (central but quiet)
Wie viel kostet dieser haus im Vergleich zu anderen in Yogyakarta?

Der Durchschnittspreis für eine Anmietung in Yogyakarta beträgt EUR 37 pro Nacht. Diese Miete ist EUR 23 günstiger als der Durchschnitt.
Ist das Parken in diesem haus inbegriffen?

Das Parken ist nicht als verfügbares Ausstattungsmerkmal bei Nextdoor Homestay angegeben. Für weitere Informationen empfehlen wir Ihnen, sich mit dem Anbieter der Unterkunft in Verbindung zu setzen, um zu erfahren, wo Sie parken können.
Gibt es in diesem haus einen Pool?

Ja, bei Nextdoor Homestay steht ein Swimmingpool zur Verfügung. Genießen Sie das Wasser!
Ist Nextdoor Homestay haustierfreundlich?

Leider ist dieser haus nicht haustierfreundlich. Versuchen Sie erneut zu suchen und filtern Sie nach "Haustiere erlaubt"
Welche Ausstattungsmerkmale sind bei Nextdoor Homestay verfügbar?

Wir haben 9 Ausstattungsmerkmale für diese Unterkunft gefunden. Dazu gehören pool, klimaanlage, küche/kochnische, internet/wlan und waschmaschine.