Doeloerkoe Homestay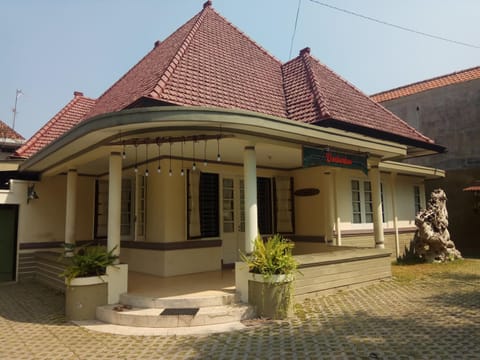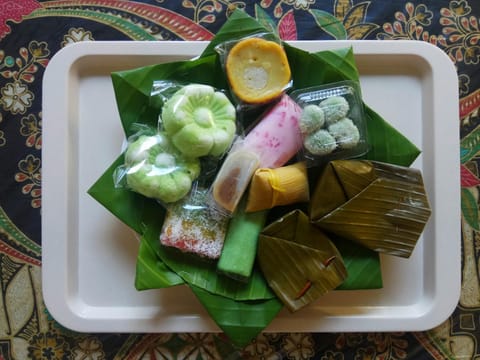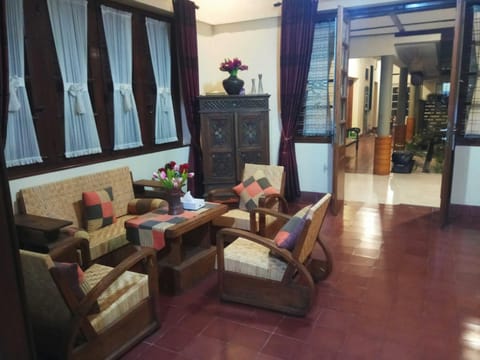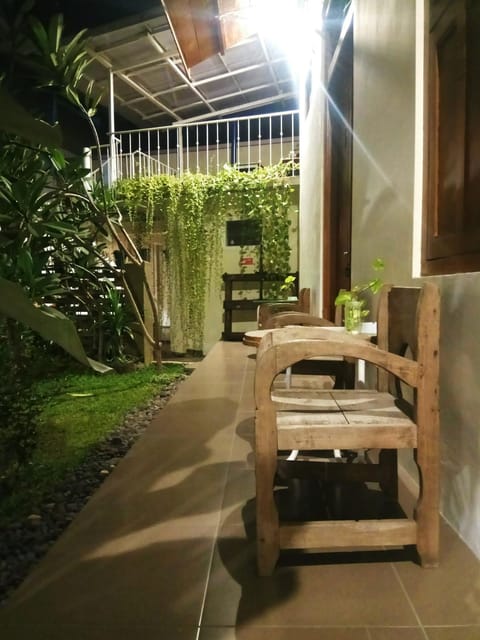 Haus in Special Region of Yogyakarta
Klimaanlage
Küche/Kochnische
Internet/WLAN
Befindlich in Special Region of Yogyakarta, dieses schön entire house für EUR 12 pro Nacht ist ein großartig Option für Ihr nächstes Pause. Das Doeloerkoe Homestay in Solo liegt 3,5 km vom Museum Radya Pustaka und 4,4 km vom Park Solo entfernt und bietet Unterkünfte mit kostenfreiem WLAN, Klimaanlage und Zugang zu einem Garten mit einer Terrasse.
Klimaanlage
Küche/Kochnische
Internet/WLAN
Parkplatz
Balkon/Terrasse
Fernseher
Garten
Familienfreundlich
Karte von Special Region of 

Yogyakarta
100 % verifizierte Bewertungen
4.8 / 5 (112 Bewertungen)
Wonderful stay in old Dutch villa in center of Solo
Jul 2022
Wonderful stay in old Dutch villa in center of Solo, near the main attractions. The host is a super kind guy, who speaks Dutch. Also the other personnel is super friendly and helpful. Rooms are cozy with antique environment, good AC and warm shower.
A "5-Star" homestay at the center of Solo
Mar 2020
When browsing, I found this homestay very intriguing. The review almost perfect, and the price is very good. When I checked in, all the nice surprises revealed. Beautiful Dutch colonial house converted into a beautiful 8-rooms homestay with way bigger roomsize than most 3-star rated hotel! Location is quite central, right at the backdoor of the famous Trade Center of Solo, BTC. Very busy during the day, very quite at night. But this is Solo, everywhere is just a minute away. The room is spotless clean, all rooms has AC with ensuite bathroom, TV and coffee chair-table. Room size is 25 sqm or bigger with very high ceiling, quite spacious. The manager, Rifat, speaks Indonesian, Arabic, English, Dutch and Korean (maybe more ...🤪), very friendly, very helpful. The staff, especially mbak Dwi is a very simple but lovely lady and she will serve you with her heart. Definitely the best economical homestay in the region! Rifat and team, keep up the good work.
There's always room for improvement: 1. Sleeping is about pillows: do not use dacron filled pillow. There are many other option and dacron filled pillow is considered the worst 🤪🤪🤪 2. I wish the bathroom is slightly bigger ...
Extraordinary experience, recommended!
Sep 2022
We had such a lovely stay at Doeloerkoe Homestay. The family was very welcoming and helpful with everything. Nice room and atrium to sit and have a chat. Good breakfast. Very much recommended!
Sink only outside the room
We enjoyed our stay at Doeloerkoe very much! The homestay is located right in the city centre and it is convenient to go to all the tourist attractions. The place is immaculate, homey and welcoming. The staffs, Mas Rifat and Mba Dwi are outstanding! We have never met such incredible people. Mba Dwi even went out of her way to get us delicious dinner. The garden/dining area is amazing, it is like a communal area where we can meet other travellers. We had wonderful chat with many travellers. We wish we could stay longer. Yang pastinya, recommended banget deh!
Perfect getaway in Solo city center
Nov 2020
Was curious why some ppl give excellent rating for this homestay... now I know!!! Doeloerkoe homestay is perfect place for backpacker or travelling with family. Centrally located homestay that Artistically decorated in old javanese style (yet still looks bright & homey). Their hospitality was amazing !!!
Please consider to substitute water in plastic bottle with glass + water dispenser. Would love to have 'teh tubruk' (such as teh Gopek/teh cap botol / teh bandulan) rather than 'teh celup' 😉
Best homestay! Definitely will come back
Jan 2022
This is easily the best homestay I have ever visited. It is very comfortable, clean, and it left an excellent impression on us. The lady at the reception was so friendly. At the day of my check-in, she sent me a message in the morning asking my check-in time, and I answered it would be around 1 PM. I had to do something thay delayed my check-in, and the lady asked me again whether everything was fine as I had yet to arrive at the homestay. I think such hospitality is not provided even at most luxurious hotels and definitely a gesture I will never be able to forget. The rooms were spacious, it exceeded our expectation and they have excellent value for money. We also got free breakfast in the morning, it was really delicious. Oh, there's also a free-flowing drinking water at the common area, which we used to refill our drinking bottle to drink during the night. And I believe the location is very strategic, it is located at the center of the city, very close to major tourist attractions. We only spent one night and half a day at Solo so we did not have a lot of chance to explore the city, but I'm sure Doeloerkoe Homestay would be a nice starting point to go everywhere in Solo.
Literally nothing. We enjoyed the homestay very much.
the staff were friendly and helpful.
overall, i recommen dto saty at this homestay for a traveller who would like to see the ori city
Apr 2022
the staff was very friendy and helpful, and the room is clean and since we like old design, this homestay is really meet my expectation
so far no, since i only stay for 1 night
Best Stay in Surakarta
Sep 2022
The staff mbak Dwi was very very kind, friendly and helpful. We checked in late, and she organized for us 5 persons to have dinner at the homestay's dining room. My son had a problem with his neck muscle a day before we came to the homestay, because of wrong sleeping position, and mbak Dwi gave him some massage and "kerokan" using warm oil. Next day, my son felt much better and relieved. Thank you, mbak! . The owner pak Rifat was also a very nice person as well. You feel like you have met them long time ago. Just like old friends. That's personal touch. You can have tea or coffee anytime. The place is very clean. The location is perfect. Just few minutes walk to the fort Vastenburg, Alun-alun, Pasar Klewer, some shopping centers, etc.
Definitely I'll come back again
Nov 2021
The staff is very helpful ( Mas Rifat ). Very kind. And also Mbak Dwi. You can have a massage with Mbak Dwi
The staff is very helpful and the room very comfy. Within walking distance to Pasar Gede...love it so much when stay here
Very comfort not only for leisure (holliday, shopping), but also for work.
May 2022
The nice place to stay, such that cleanliness & beautiful classical room and their hospitality as well.
No easy to park for my big car.
The location very strategic we can walk around area because near klewer market, keraton,gede market. It's the keraton area. Breakfast is really good because they give the traditional food it was fantastic if we are from abroad or another city who miss the traditional food. I really like all about traditional that's why I dicide stay here than in hotel because in here we feels like in our house.
"Doeloerkoe" means "My Family". Comfy homestay near tourist attractions
Aug 2022
The homestay decoration and style are mix from old house structure, javanese culture, and also modern touch. In other word, the place will gave you unique experience and not so boring. In the middle of house, you can find mini garden which is appealing and calm. The place location is awesome, you can find many tourist attractions nearby ex: Royal Palace area (10 min walking distance), Masjid Agung/Grand Mosque (10 min walking distance), Galabo Night Food Street (8-10 min walking distance), and Slamet Riyadi Street (8 min walking distance) which has many street culinary including cafes, restaurant, and also some Museums. The owner and staffs are friendly and very helpful. Mas Rifat (the owner) will give you some advice to explore Solo, he also will help you if you need to rent a bike/car. Mba Dwi (the staff) will prepare your needs including the Breakfast menu. You can ask her for traditional food for breakfast (nasi liwet, lontong sayur etc.) and she will bring the food to your door. The food was tasty !! ;). Last but not least, the place has a garage and also parking space for your vehicle P.S. the bathroom has hot water tap. To conclude, we really enjoyed our stay in there :-)
Some parts of the house need to be cleaned
The great people running the homestay! Rifat's Dutch is also pretty impressive!
as mentioned in other reviews, the room itself does not have a wash basin, but it's not really a big deal.
Rifat i(manager) is a really nice person - we had some great chats (perfect English). He also introduced me to some other guests which led to some very nice interactions. Dwi (the housekeeper) spoilt me with hot drinks and snacks. It really is an incredibly warm, homely environment. Very nice room - beautiful bed, good AC, nice shower! Tasty breakfast. Great location - lots of food options nearby. It's a difficult place to leave!
Rifat, Dwi and other people were extremely kind and helpful! The homestay is based in the center, 5-20 minutes walk to all main sightseeing. Bed is very comfortable, one of the best I ever tried as a tourist. Tea and coffee are available during day time and in the evening.
There was no waterbasin in a bath room so cleaning teeth was a bit challenging.
Really nice staff that treat us like family 😊
Quiet homestay in Solo
Feb 2023
Really beautiful house inside the bustle of solo, but you feel like you are in a different world. We liked Rifat a lot! Veerle practised Dutch with him and he helped us with everything. I bought two of Rifet pants, and now regret I didnt buy Batik there. We prolonged our visa here and it was super fast 3 days in total. He also hosted a great Phd student, Luigi, who is studying Arab influences in Indonesian language, if you are lucky he is still there. Great person. We were also surprised with nice extra's now and then by Dwi and other staff. All in all, a very good stay.
Owners and those people who work here are very welcoming, sweet, friendly and kind. Which makes this place to be great and happy to stay. Everyone very kind and friendly. Room, bathroom and everything was very clean, wifi great. Coffee, tea and water can get free, as a complimentary. Rifat, manager of the place can speak fluent English and knows many languages. Very friendly. Dwi and Hana, ladies, who are in charge of cleaning and food also sweet and lovely. Breakfast is free and other food you can order on additional price, or just simply can go out and buy, because location of the place has not only small places to buy food, but cafe and ect. Wi-fi is great. Places for visit are nearby, cultural tours are offered too- can use what the homestay offering or just ask questions, and those will be kindly answered and can do on your own. Feels like a family and that's what the name of the place says. Homestay look also is beautiful- mix Dutch and Javanese culture. Highly recommended the price and the quality and feeling like at home- too.
To my personal view and wishes, I did like everything. If something I did need, the request was made on best of abilities. No complains. I am happy with everything.
Nice homie accommodation.
Wie viel kostet dieser haus im Vergleich zu anderen in Special Region of Yogyakarta?

Der Durchschnittspreis für eine Anmietung in Special Region of Yogyakarta beträgt EUR 37 pro Nacht. Diese Miete ist EUR 25 günstiger als der Durchschnitt.
Ist das Parken in diesem haus inbegriffen?

Ja, das Parken ist als Ausstattungsmerkmal bei Doeloerkoe Homestay aufgeführt. Für weitere Informationen empfehlen wir Ihnen, sich mit dem Anbieter der Unterkunft in Verbindung zu setzen, um zu erfahren, wo Sie parken können.
Gibt es in diesem haus einen Pool?

Wir haben keinen Pool gefunden, der als Ausstattungsmerkmal für diesen haus aufgeführt ist. Es kann sich lohnen, noch einmal zu prüfen, ob ein Pool für Ihren Aufenthalt wichtig ist.
Ist Doeloerkoe Homestay haustierfreundlich?

Leider ist dieser haus nicht haustierfreundlich. Versuchen Sie erneut zu suchen und filtern Sie nach "Haustiere erlaubt"
Welche Ausstattungsmerkmale sind bei Doeloerkoe Homestay verfügbar?

Wir haben 8 Ausstattungsmerkmale für diese Unterkunft gefunden. Dazu gehören klimaanlage, küche/kochnische, internet/wlan, parkplatz und balkon/terrasse.