Modernes Ferienhaus im Herzen des Silicon Valley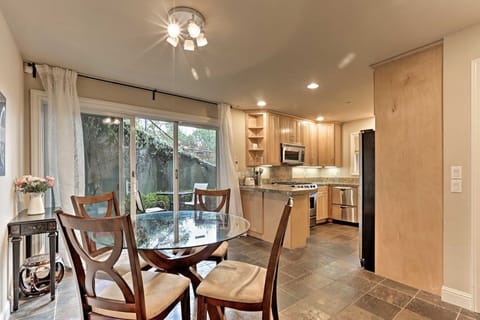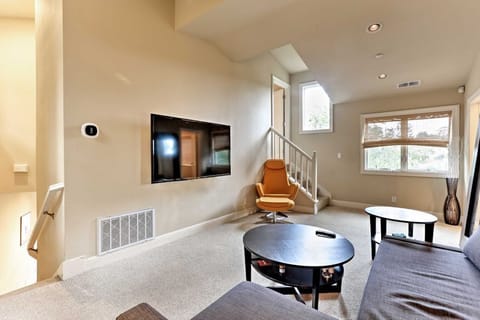 Über diese haus Unterkunft
Gelegen in San Carlos, dieses charmant haus für EUR 179 pro Nacht ist ein phantastisch Auswahl für Ihr nächstes Reise. Ein friedlicher Rückzugsort im Herzen des Silicon Valley. Zentral gelegen in der Nähe von allem: 30 Minuten von San Francisco, 15 Minuten von SFO, 15 Minuten von Palo Alto und Stanford. Modernes, 1.000 Quadratmeter großes, freistehendes Ferienhaus mit allen Annehmlichkeiten. Zwei Schlafzimmer, luxuriöses Bad, Wohnzimmer mit 65 "Smart TV, fantastische Küche und Esszimmer. Privater Außenbereich und sicherer Parkplatz. Gigabit-Internetverbindung.
Ausstattung
Küche/Kochnische
Internet/WLAN
Parkplatz
Waschmaschine
Balkon/Terrasse
Spülmaschine
Fernseher
Bewertungen
4.6 / 5

"Herausragend"

(25 Bewertungen)
4.0
Mar 2023
Our family had a great stay here. We loved having our kids in the same room together, but in individual beds. Location was super convenient with a short drive to places we wanted to visit, but far enough from the city for a quiet, homey experience. The owner was very responsive when we had a few questions throughout our stay and made sure we had everything we needed.
5.0
Mar 2023
Great location for our requirements. Easy, clean and enjoyable.
3.0
Feb 2023
Property was clean and well appointed. The only bathroom was on the third level off the primary bedroom. Any adults sleeping elsewhere have to go through the primary bedroom. The bathroom was big enough for two but not more. Not disability friendly. 18 inch step into shower and 24 inch step out of the shower.. Need to go up two levels if need the bathroom while in the kitchen. We are 80 and had no problems but most of our friends could not function in this unit. Ok for people up to 65 and young family with children.
5.0
Feb 2023
Cute place. Good for an individual, couple or family. Cute apartment in a pleasant neighborhood.
3.0
Jan 2023
This is a nice tri-level unit located in the foothills of San Carlos. Nice kitchen with basic cookware and dishes. The living room/TV room is of the middle floor. There isn't cable or local stations, only Roku. If you don't have personal streaming accounts there are limited choices. The host has set the thermostat at 65 degrees which they ask not to be changed. The top floor was a nice bedroom and bathroom. The only other comment is the driveway is very steep, parking space in driveway was awkward and it was difficult for the passenger to exit the car because of the angle and weight of the door. Sliding glass door was entry door and the outside lock had jammed so often we weren't able to lock the door when exiting.
4.0
Dec 2022
We enjoyed our stay at this property but anyone who has issues with stairs and hills might have some difficulty. The property was comfortable and had a nice kitchen for cooking. The bed was very comfortable as well. Vitaly was quick to answer any questions we had.
5.0
Dec 2022
My family visited San Francisco for our first time and wanted to be close to but not right in the city. We have 3 children, ages 10, 10 and 12 and appreciated the short drive into town but enough distance to have some quiet family time too. In about 40 minutes we were at Alcatraz, Ghiardelli, Fisherman's Wharf and Oracle Stadium. It was perfect. The cottage was much bigger than we expected and very comfortable. It is located in a safe community where we were greeted our first night by a deer in the yard! It was very private and quiet, had two large bedrooms with very comfortable beds, an accommodating kitchen where we cooked some meals, plenty of linen and amenities, Internet and a large flatscreen TV. The only recommendation I would have is to replace the front door slider lock as we had difficulty with unlocking and locking the door due to a finicky latch. It would be important to know as well that the driveway is very steep and may be difficult to walk up if someone is less ambulatory. We will definitely stay here again if we return to San Francisco! We loved everything and had a wonderful time. Thank you!!
5.0
Nov 2022
This Cottage was in a beautiful location not far from San Francisco and away from all the City life but still not to far from restaurants & bars , we seen some wild life in the surrounding homes it was a great!!! trip
5.0
Nov 2022
We enjoyed our stay! The owner was very responsive and helpful! The tv batteries died while we were there. I messaged him in the app and he responded in less than 5 minutes and was there changing out the batteries within 10 minutes of my original message! Top-notch service to their customers! The house was very clean and met our needs during our 5-day stay. The neighborhood was safe and very quiet. Will stay here again when we go back to San Francisco!
5.0
Oct 2022
Very nice property, owners were very nice and helpful. We experienced zero issues and would most def stay here again.
5.0
Oct 2022
The location and property are wonderful as I reserved the space for family in town visiting. It comfortably fits two couples or a family or 4+. The one difference in this location is that the only restroom is in one of the bedrooms. Otherwise the place is fantastic and made for a lovely touchdown spot for my family. Thanks Vitaly!
5.0
Sep 2022
We loved the coziness of this home and how close it was to restaurants and beautiful sights. The home is very clean.
5.0
Aug 2022
Lovely property and a beautiful location. It is well kept up and generally as expected based on the description and other reviews. The owners were very helpful and responsive. We had no issues during a short stay. One note: I would not recommend this location for anyone who is elderly or with disabilities that might be uncomfortable navigating a very steep, narrow road and driveway.
5.0
Aug 2022
The house on the hill offered us unique opportunities. Comfortable, great views to include the deer's, super clean, along with very responsive landlords. We would do it again
5.0
Aug 2022
Cozy, quaint, comfortable cottage for a family. We used it as our "home away from home" for a Stanford University campus visit and soccer camp. Highly recommend!!!
5.0
Jul 2022
Great stay
Overall we had a great stay. House was very clean and accommodating, great location, plenty of room for our family and hosts were responsive to questions. We were confused by the laundry listing, thinking it was available for any stay, so we packed lightly, but it is only available for 7+ night stays.
5.0
Jul 2022
Great stay, good location for our needs
Had a great stay as we have family that lived about 1 mile away. The driveway is steep and is initially intimidating but you get used to it. The house has plenty of space for what we needed. I misunderstood the posting thinking there was laundry, so we packed lighter, but I guess it was only for long term stays. Owner was great with communication and made himself available with any random questions. Would definitely stay again.
5.0
May 2022
- great location - nice backyard
5.0
May 2022
Loved it
- great location - nice backyard
4.0
Apr 2022
Great little spot in quiet neighborhood. Owner very responsive. Worked out really well for the first part of our family vacation.
4.0
Apr 2022
Nice, quiet
Great little spot in quiet neighborhood. Owner very responsive. Worked out really well for the first part of our family vacation.
5.0
Mar 2022
Great House!
We had a wonderful stay at this location. It's tucked into a quiet neighborhood, but close to everything we wanted to do. The house is beautiful and very comfortable. Once you master the steep driveway, it's perfect! :)
5.0
Feb 2022
Awesome!
Great two bedroom guest house. The place was clean and comfortable. It's conveniently located between SF and Half Moon bay. Close to highway/route 1 for the scenic drive. My wife and I enjoyed cooking and chilling in the living room.
2.0
Nov 2021
We have staying in many vrbo homes happily and also rent properties on the platform. This was the most disappointing experience we've had in all our years of using the site. What made it worse was the owner's lack of understanding or problem solving which would have made it a non issue, had we been able to leave without incident and double payment. We arrived to the rental house and It was quickly apparent that while the the home had been topically cleaned, it was dirty and in need of deep cleaning. My teenage daughter immediately noticed a gross soiled bedspread and as a result slept with only the sheet and was cold all night. The stairs and upholstery were dirty also and bedding was flimsy and dated. There were cobwebs in the corners and only two spoons in the kitchen. We went to sleep as it was Thanksgiving and we were out visiting family all evening. When we reached out to the owner in the morning with concerns he was dismissive and said simply they had had hundreds of guests. It clearly showed! When I explained we preferred to go to a hotel and asked if we could kindly prorate our stay because we weren't comfortable in the home he stopped communication altogether. I'm now filing a formal complaint with vrbo for the lack of accountability and the condition of the rental being unsanitary. Very dissatisfied with this owner and unit. Save your money and enjoy one of the nearby rentald or hotels for a much more pleasant experience!
4.0
Nov 2020
The house was great for us, however the only bathroom was in the master bedroom. The other disadvantage was the very steep driveway and multiple stairs into and in the unit.The owner was very quick to answer and meet any of our needs. We enjoyed our stay & the peaceful surroundings.
4.0
Nov 2020
San Carlos retreat
The house was great for us, however the only bathroom was in the master bedroom. The other disadvantage was the very steep driveway and multiple stairs into and in the unit. The owner was very quick to answer and meet any of our needs. We enjoyed our stay & the peaceful surroundings.
Häufig gestellte Fragen
Wie viel kostet dieser haus im Vergleich zu anderen in San Carlos?

Der Durchschnittspreis für eine Anmietung in San Carlos beträgt EUR 152 pro Nacht. Diese Miete liegt EUR 27 über dem Durchschnitt.
Ist das Parken in diesem haus inbegriffen?

Ja, das Parken ist als Ausstattungsmerkmal bei Modernes Ferienhaus im Herzen des Silicon Valley aufgeführt. Für weitere Informationen empfehlen wir Ihnen, sich mit dem Anbieter der Unterkunft in Verbindung zu setzen, um zu erfahren, wo Sie parken können.
Gibt es in diesem haus einen Pool?

Wir haben keinen Pool gefunden, der als Ausstattungsmerkmal für diesen haus aufgeführt ist. Es kann sich lohnen, noch einmal zu prüfen, ob ein Pool für Ihren Aufenthalt wichtig ist.
Ist Modernes Ferienhaus im Herzen des Silicon Valley haustierfreundlich?

Leider ist dieser haus nicht haustierfreundlich. Versuchen Sie erneut zu suchen und filtern Sie nach "Haustiere erlaubt"
Welche Ausstattungsmerkmale sind bei Modernes Ferienhaus im Herzen des Silicon Valley verfügbar?

Wir haben 7 Ausstattungsmerkmale für diese Unterkunft gefunden. Dazu gehören küche/kochnische, internet/wlan, parkplatz, waschmaschine und balkon/terrasse.