Centrally Located Room - 5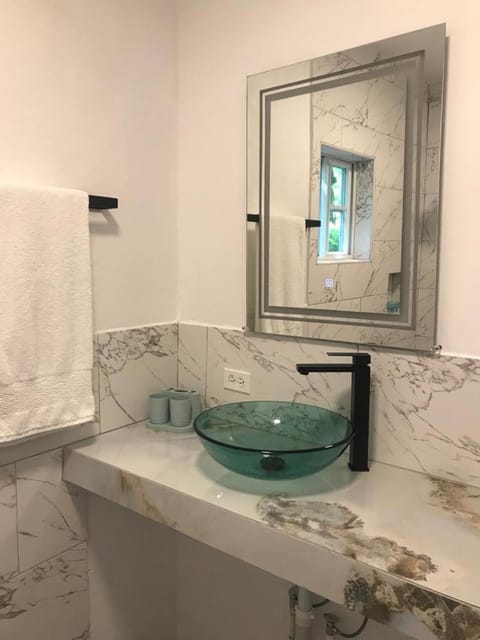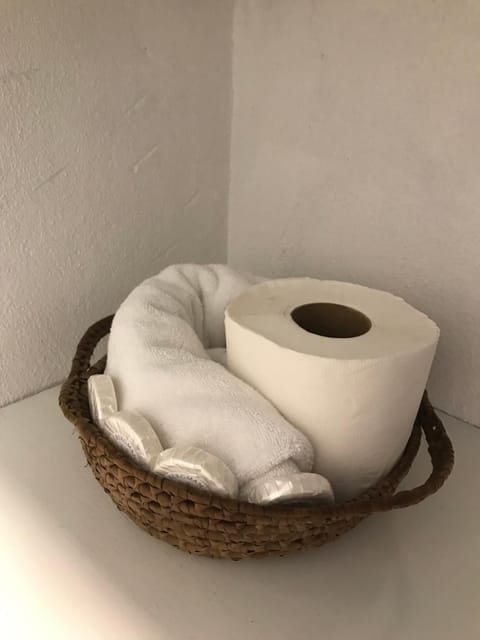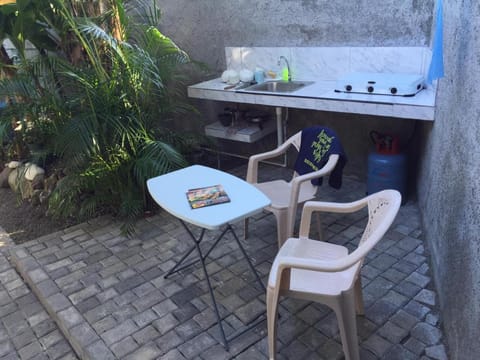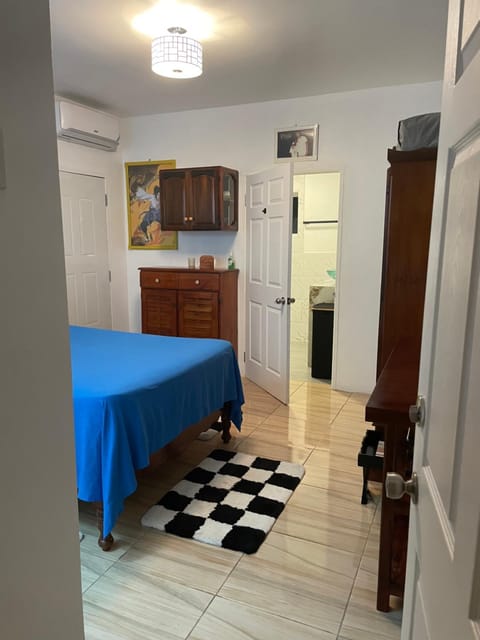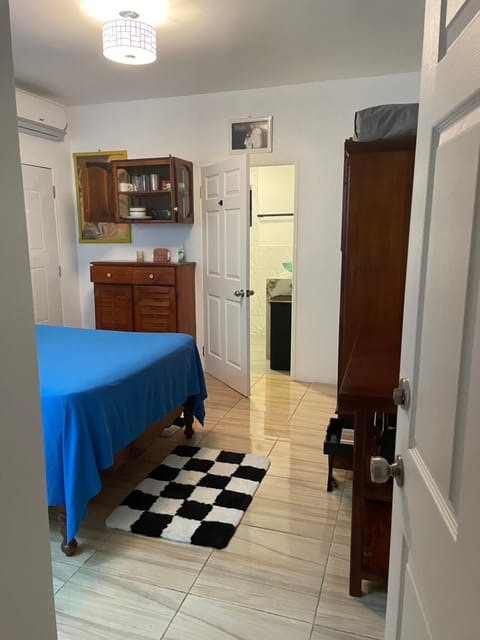 Herausragend
(47 Bewertungen)
Haus in Port Antonio
---
Gründe für eine Buchung
Gäste lieben es hier
Gäste bewerten diese Unterkunft mit der Bestnote
Inklusive wesentlicher Ausstattung
Haustiere erlaubt, Küche/Kochnische, Klimaanlage und mehr
---
Über diese haus Unterkunft
Gelegen in Port Antonio, dieses charmant ganzes haus für EUR 71 pro Nacht ist ein phantastisch Option für Ihr nächstes Pause. Mit einer Terrasse und einem Conciergeservice erwartet Sie das Centrally Located Room - 5 in günstiger Lage in Port Antonio, 1,1 km vom Bikini Beach und 38 km von den Reach Falls entfernt. Die klimatisierte Unterkunft liegt 400 m vom Strand Port Anto...
Ausstattung
Klimaanlage
Haustiere erlaubt
Küche/Kochnische
Internet/WLAN
Rauchen erlaubt
Parkplatz
Waschmaschine
Balkon/Terrasse
Fernseher
Fitnessraum/Fitnessstudio
Herausragend
(47 Bewertungen)
Haus in Port Antonio
---
Gründe für eine Buchung
Gäste lieben es hier
Gäste bewerten diese Unterkunft mit der Bestnote
Inklusive wesentlicher Ausstattung
Haustiere erlaubt, Küche/Kochnische, Klimaanlage und mehr
---
Bewertungen
4.9 / 5

"Herausragend"

(47 Bewertungen)
100 % verifizierte Bewertungen
Warm and friendly owner.
Sep 2023
On arrival we met Marie. She was warm and welcoming. Must say she's exceptional, great customer servicerep.
Very clean, modern and well presented. The host was very friendly and helpful. Would definitely recommend this place as a base for touring the attractions in Portland.
There wasn't much to do in the town. No really good places to eat.
Marie the host was lovely and very helpful. What you see in the photos listed are exactly what you get. The room and bath were clean and modern. If you are looking for a nice small safe space feel free to stop here. What
Comfortable stay in a residential neighborhood!
Jun 2023
The place was super clean and well appointed. It's in a residentional neighborhood which allows you glimpses into the life of the local community. The host extremely kind and helpful!
The rooster in the mango tree starting his 'concerts' at 4 am;-)
Let me start by mentioning how Great the staff was. Marie and her daughter were both very accommodating and welcoming. We got there later than anticipated, but ofcourse! Miss Marie waited diligently. We got a swift tour of our private area which was really clean and inviting. I also like that they were there, but not there. Privacy was maintained. The bathroom was prestine, outdoor is peaceful along with everything that you would need is there. Did I mention that I also made a friend 🐶. She's the sweetest Definitely going back!
Friendly comfortable stay in a good location. Great for solo woman traveler
May 2023
Host was lovely, very helpful.
Mary our host was probably the most friendly and kind person we met during our trip through Jamaica. The room is awesome. It has everything you need even a open air kitchen and space with a table where you can eat outside. Everything comfortable and super clean. Highly recommended. The location is perfect. It also has parking spot.
Marie is an amazing host. The room is stunningly clean and comfortable, the aircon is silent, the bed so comfortable and the bathroom is impeccable. Would recommend this place to anyone. The location is also brilliant for exploring Port Antonio. Thank you Marie!
This is the best place to stay in Port Antonio - I have the basis to make a comparison. Clean - extraordinary clean! Cozy and secure external space. Internally - modern with enough space (I didn't expect that). Secure car park. Well done!
lovely room, luxurious bathroom, warm welcome by the host
Mar 2023
The host, Marie, is a lovely lady. She welcomed us with a smile, and a lovely tour of the room. The room is specious, and with all possible amenities. We really like the luxurious bathroom!! A nice perk was the little garden area with a lovely table for late evening chilling! She also suggested nice places to eat, and arranged for us a day tour with a private taxi driver. Highly recommended!
A very comfortable stay at the centre of Port Antonio, with an incredibly helpful and kind host.
Feb 2023
Everything, especially the hospitality of the host who went above and beyond to give us all we needed and help us. If you go to Port Antonio this is the place to go!
Nothing, everything was beyond our expectations.
Definitely will be going back
Jan 2023
I didn't know it was just a room in a house separated from the other rooms in the house by just a door and i was concerned about privacy in terms the owners being able to hear what was going on in the room however they were very discreet and we didn't even realize others were there... The bed was a bit smaller than I'm used to but it worked, it was clean, facilities were great, private entrance, AC etc. I loved it and would definitely go back
Excellent stay, if you are visiting the Port Antonio area, would recommend. thank you
Dec 2022
Great facilities clean and tidy, had everything I needed, host was lovely and the location is very central so a plus in my books.
Easy communication anytime
Can't think of anything right now.
I'll definitely be back. 😊
Oct 2022
the room was clean and tranquil, the bathroom was above my expectations.
I enjoyed everything about this place.
Oct 2022
The Host Marie was very accommodating. Facility was exceptional clean. Marie made sure every thing was in good supply for a comfortable stay.
Convenient location, very clean
Jul 2022
Great location: In the centre of Port Antonio and 10 minutes walk to Errol Flinn Marina. Marie is kind and helpful. She helped me book a taxi and a trip to Blue Lagoon. The room and bathroom are beautiful and very clean.
My flight got delayed for over 6 hours I didn't get there until after midnight an Miss Marie stayed up an made sure that we checked in an was comfortable great host will definitely stay here again.
Marie is a very a warm hearted and attentive host. She was always helpful with my needs and interested that I have all I need. Her house is just steps around the Port Antonio village centre. Make sure you book her place when in Port Antonio. I travel alone as a girl and felt cozy and safe. And also a big plus is that it is shiny clean! Thanks for all Marie.
Marie was very accommodating. She went over and beyond to make us comfortable. The room was spacious and clean. Within walking distance of the sea and all town shops. Will stay again when I go back to Port Antonio.
Very clean and comfortable, Hospitality and customer service excellent.
We was unable to stay longer.
Häufig gestellte Fragen
Wie viel kostet dieser haus im Vergleich zu anderen in Port Antonio?

Der Durchschnittspreis für eine Anmietung in Port Antonio beträgt EUR 113 pro Nacht. Diese Miete ist EUR 42 günstiger als der Durchschnitt.
Ist das Parken in diesem haus inbegriffen?

Ja, das Parken ist als Ausstattungsmerkmal bei Centrally Located Room - 5 aufgeführt. Für weitere Informationen empfehlen wir Ihnen, sich mit dem Anbieter der Unterkunft in Verbindung zu setzen, um zu erfahren, wo Sie parken können.
Gibt es in diesem haus einen Pool?

Wir haben keinen Pool gefunden, der als Ausstattungsmerkmal für diesen haus aufgeführt ist. Es kann sich lohnen, noch einmal zu prüfen, ob ein Pool für Ihren Aufenthalt wichtig ist.
Ist Centrally Located Room - 5 haustierfreundlich?

Ja! Diese haus ist haustierfreundlich. Für weitere Informationen empfehlen wir Ihnen, sich mit dem Buchungsanbieter in Verbindung zu setzen.
Welche Ausstattungsmerkmale sind bei Centrally Located Room - 5 verfügbar?

Wir haben 10 Ausstattungsmerkmale für diese Unterkunft gefunden. Dazu gehören klimaanlage, haustiere erlaubt, küche/kochnische, internet/wlan und rauchen erlaubt.