Sinag Hostel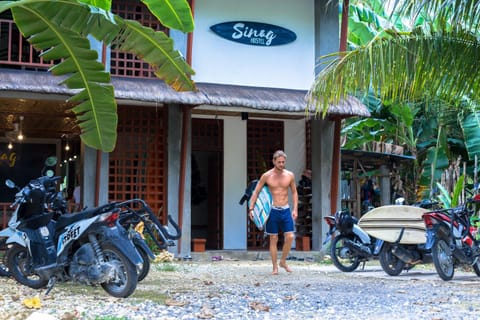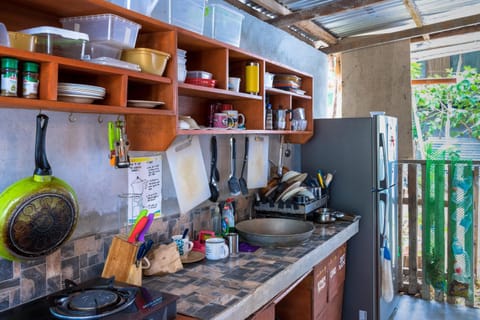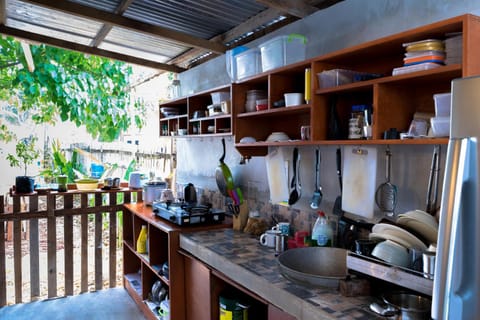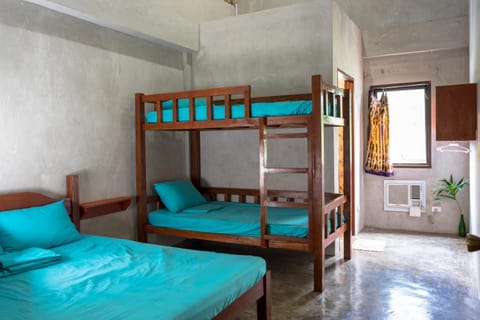 Hostel in General Luna
Klimaanlage
Haustiere erlaubt
Küche/Kochnische
Gelegen in General Luna, dieses charmant hostel für EUR 7 pro Nacht ist ein phantastisch Auswahl für Ihr nächstes Urlaub. Das Sinag Hostel in General Luna liegt 600 m vom Strand General Luna entfernt und bietet Unterkünfte mit einer Gemeinschaftslounge, kostenfreien Privatparkplätzen und einer Terrasse.
Klimaanlage
Haustiere erlaubt
Küche/Kochnische
Internet/WLAN
Rauchen erlaubt
Parkplatz
Balkon/Terrasse
Fernseher
Familienfreundlich
100 % verifizierte Bewertungen
4.3 / 5 (71 Bewertungen)
home away from home
Feb 2023
We stayed there in January for a few nights in a private room. Amazing staff, so welcoming and warm. If you stay there you will have a home away from home (i guarantee). If you love to surf or would like to learn it, you'll be in the right place there. Every day you can join for a morning surf session with or without instructor (let them know what you need!) They have a super sweet family dinner on wednesday and daily recommendations about events/parties listed on a blackboard. When we checked in, we saw our names on the blackboard too. So people already knew our names, so cute. It is a hostel for people who like to be active, engage with others and come back home to relax. Thank you for this beautiful time♥️ Roman and Pri
We had a wonderful stay! The folks at Sinag have created a welcoming community, with fun events to do every night and ways to engage with and give back to the local community.
Very nice staff, simple and good hostel
Apr 2022
Chill vibes, great tours available.
Jan 2023
Very homey experience. Location is excellent, close to Cloud 9 beach and good restaurants (try the bbq place down the street!).
We didn't mind them, but a heads up that there are dogs and a nice cat at this location to travelers who may be sensitive to this.
the staff were amazing! helped us with everything we needed. had nice kitchen where we could have made some fresh food.
Nice place to stay with friendly staff
Mar 2023
The people in the hostel were awesome. There was a bulletin board of suggested hostel activities for the week in case you're looking for plans. Bed was comfy and rooms were nice
The toilet in the 2nd floor private room needs to be fixed. Water pressure is low so bidet and shower is unusable. The sink is broken and there's no water heater.
The people and the staff there were the best part of the stay.
very minor complaint, the aircon cannot handle the size of the room
The location and the friendly and very accommodating staff are the main reasons why I love this hostel. Definitely a great choice for budget traveler like myself. I highly recommend Sinag Hostel when visiting Siargao Island.
The howling dogs in the middle of the night. I guess its part and parcel of island life in general but not much of a big deal for me.
Perfect place for solo travelers
Dec 2022
The hostel is ideal for those looking to make new friends, everyone is very accommodating! I will come back for sure!
The best hostel I've stayed in till now. Both Suzi and Jo Anne are delightful hosts and make sure their guests are well taken care of. The property is beautiful and they've done it up really nicely. It has a warm and welcoming vibe to it which made me feel at home instantly! They also have three dogs who are absolute adorable! It's also close to all the popular cafes and the beach, but because it's not right at the crowded beach it has a very peaceful surrounding. Will definitely recommend this to anyone who is visiting Siargao.
The ambiance, very chill-out.
The destruction made by typhoon Odette in every places, including Sinag Hostel.
the accessibility to the store and restaurants.
Great place to meet people but also give you privacy:)
Nov 2022
Such a friendly place! helped us with everything we needed. Very cute puppy too!
stuff super friendly and welcoming. helped organise surf lessons and transfers to airport.
Staff are welcoming and friendly, even their own guests are all friendly - this shows how hospitable the staff of Sinag Hostel. This hostel is great for solo travelers looking for a new friends while staying there, in fact they also accommodate work from home set-up. They have strong wifi connection which good for constant communication and update with family, and also for those who cannot leave work while on vacation. Our room is fit with us as a pax of 3, have own bathroom and airconditiong. They have common kitchen where you can cook your own food.
This is minor for me, but I guess it is time to replace the cooking utensils and dish drainer rack for cleanliness.
EMERGENCY - POTENTIAL RABIES DOG IN HOSTEL
Dec 2022
EMERGENCY - POTENTIAL RABIES DOG IN HOSTEL ! Anyone who has stayed at Sinag Hostel within the last 2 weeks that has played with the dogs needs to get their rabies vaccine STRAIGHT AWAY. There has been a potential rabies outbreak within the hostel. They have 3-4 dogs that live within the hostel and stay inside with the guests. One of the dogs is a very playful and nibbley puppy and has shown symptoms of rabies and is currently within the vets very very sick. Please contact and share this with everyone that has stayed within the last two weeks. the owners have only posted this update on their Instagram stories. This is an emergency and to be taken very seriously please.
Our stay was unforgettable. The staff, atmosphere and everything was just amazing. Biggest appreciation to the hotel manager who took really good care of us while we got stuck in Siargao due to the bad weather. She is so kind and helpful. Would definitely visit again and we will be missing Sinag for sure!
My bb Suzie & Jessy are the best ever!! Friendship turned into family! my second home!
AWESOME INCREDIBLE,
Mar 2020
It is very difficult for me to write a suitable review because my stay at Sinag Hostel was indescribably great. But I'll try to put it into words :) First things first: The whole Sinag team gets 7 out of 5 points from me ;) My trip to Siargao was my first trip alone and I was a little afraid to find no connection. However, I was received very warmly from the first second. Be sure to try the 1Love-Boat Tour if you are on Siargao. You can book it directly at the hostel. Siargao has great nightlife, of course, but the nights at the hostel were worlds better than any party on the island. For me it is not a question of whether I will come back, but when I will come back. I love you Sinag <3
It feels like a small family, both the guests and the staff is so kind :). Shoutout to Jessie and all the cute dogs!
I didn't like that we can't live here forever!
İ really love staying here! İt feels like family, includijg the dogs. 💯😍
Nothing! İt was really a fun week!
I never expected how cool booking at Sinag Hostel is...btw, Read my overall experience in Siargao and Sinag Hostel in a blog I wrote: https://whitehatstoic/posts/siargao
Sinag Hostel ain't perfect but they were the best at sharing the Siargao Chill Vibe. I met excellent people there in the process.
My 1st solo travel (local)
Dec 2021
I like a lot about the place, the hosts/owners Suzie, Mika and Josh were the most accomodating hosts i have ever encountered. I felt right at home since day 1, they ensure you're able to collaborate with other people staying in Sinag and as a 1st time solo traveller, i thought that would be the hardest! But it wasn't, it was as seemeless as it could. The place itself is value for money (don't expect resort type stay in a hostel) it is clean, the beds and rooms are well maintained and the common areas do inspire users to clean as you go. As far as tours and outdoor activities, you won't go wrong here the 3 hosts will know a lot about the island and if not all, and if there are things they do not,i can assure you they can point you to someone who can. And the dogs were amazing!!! 😊 overall, it's a stay i would recommend and will definitely come back!
Probably just at the time of my stay, and this is the case as well om the whole island.. it's the slow connection to data and wifi. But i believe they are working on this. Another would be the common shower water, there will be times where it is weak.
Sinag was superb, my second home in Siargao.
Feb 2021
I checked in at Sinag hostel at a time where there weren't too many tourists in Siargao. I was one of the few (if not only) guests during my stay, and they did an exceptional job in making me feel welcome. I entered to the smooth sounds of live guitar, played by Josh, one of the volunteers there. Isa, the manager, was very accommodating - she gave me a bigger room at no extra charge, and made sure that my stay was as comfortable as it was fun. She recommended secrets that only locals knew, like the best places to eat, the best surf instructors, and the off-beaten-path activities that you wouldn't find on trip advisor. Rooms were simple but clean, with a high ceiling, a great selection of books in the common area, native Filipino snacks in the pantry, and guitars and ukuleles lying around free for everyone to play. It felt nothing short of a second home to me. I highly highly recommend Sinag to any traveler that wants a fun, family-friendly place to stay in Siargao.
Great Place to stay… Highly recommended!
Lovely staff and great location!
Nov 2022
Great location away from the main strip but really close to Cloud 9 and Jacking horse for surfers. Absolutely lovely staff! So fun and really helpful with booking mopeds/transfers etc. There's a little common area on the second floor where you have a great view of the sunset and a kitchen which we didn't use but looked like it had everything you would need. Water available throughout the day. Curtains in the dorm rooms which is always nice for some privacy and individual fans to keep you cool at night! There are also lockers for your things but remember a padlock. Not a bad thing at all, but it is a smaller hostel than I had realised with one dorm room on the bottom floor and then a couple of private rooms up top so less chance to make connections with other travellers maybe, especially if it's quiet.
Shower/toilet area could be cleaner, a couple of the locks on the toilets didn't work very well and the lights didn't turn on which wasn't ideal when it got dark and you needed to shower/use the toilet…! Also would have been great to have a trash bin in the dorm for non-recyclable things :)
Wie viel kostet dieser hostel im Vergleich zu anderen in General Luna?

Der Durchschnittspreis für eine Anmietung in General Luna beträgt EUR 37 pro Nacht. Diese Miete ist EUR 30 günstiger als der Durchschnitt.
Ist das Parken in diesem hostel inbegriffen?

Ja, das Parken ist als Ausstattungsmerkmal bei Sinag Hostel aufgeführt. Für weitere Informationen empfehlen wir Ihnen, sich mit dem Anbieter der Unterkunft in Verbindung zu setzen, um zu erfahren, wo Sie parken können.
Gibt es in diesem hostel einen Pool?

Wir haben keinen Pool gefunden, der als Ausstattungsmerkmal für diesen hostel aufgeführt ist. Es kann sich lohnen, noch einmal zu prüfen, ob ein Pool für Ihren Aufenthalt wichtig ist.
Ist Sinag Hostel haustierfreundlich?

Ja! Diese hostel ist haustierfreundlich. Für weitere Informationen empfehlen wir Ihnen, sich mit dem Buchungsanbieter in Verbindung zu setzen.
Welche Ausstattungsmerkmale sind bei Sinag Hostel verfügbar?

Wir haben 9 Ausstattungsmerkmale für diese Unterkunft gefunden. Dazu gehören klimaanlage, haustiere erlaubt, küche/kochnische, internet/wlan und rauchen erlaubt.