Bambuda Lodge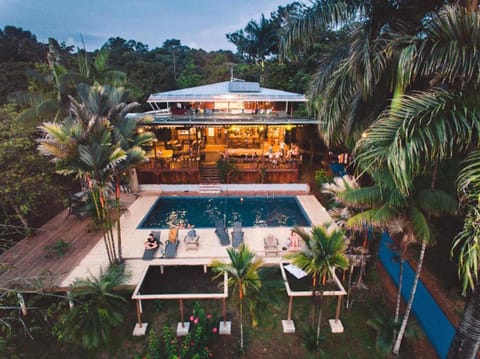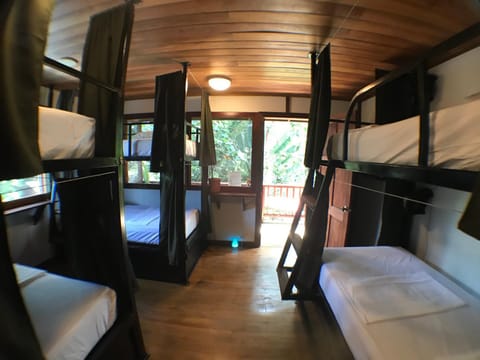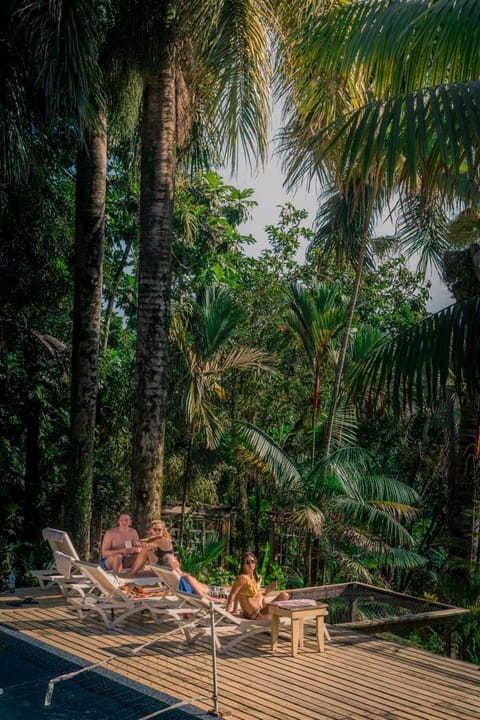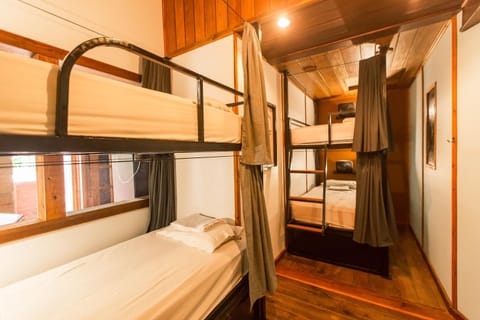 Hostel in Bastimentos Island
Pool
Internet/WLAN
Rauchen erlaubt
Gelegen in Bastimentos Island, dieses charmant hostel für EUR 21 pro Nacht ist ein phantastisch Option für Ihr nächstes Reise. Die Bambuda Lodge liegt im tropischen Regenwald in Bocas del Toro. Die Unterkunft verfügt über ein Korallenriff am Kai und einen Pool mit einer Bar an der Unterkunft und einer unterhaltsamen und geselligen Atmosphäre.
Pool
Internet/WLAN
Rauchen erlaubt
Waschmaschine
Balkon/Terrasse
Garten
Karte von Bastimentos 

Island
100 % verifizierte Bewertungen
4.5 / 5

"Ausgezeichnet"

(1'128 Bewertungen)
- Wow, this is not a hostel. It's extremely beautiful, gorgeous scenery and very kind staff - you can rent kayaks and go around the islands - food is very good (but there is no kitchen) - usually pools is hostels are dirty but this wasn't absolutely the case - very clean! - comfortable sofas in the common area Thank you again!
Wow, the location! I cannot believe this place is a hostel...it felt like a hotel to us, super beautiful and well kept with great staff and amazing facilities. The place is quiet as it's far from the main island, and offers the chance to really relax. It's super beautiful and romantic- my (now) fiancé proposed to me on our first day here by the water at sunset! We loved this place and extended an additional day, we just didn't want to leave! The restaurant was also super cute, especially the pancakes at breakfast. All in all a great place , good value for money and an all around positive experience! Best place we've stayed in Panama so far.
Our room could have been a tiny bit cleaner, and there wasn't that much hot water. But otherwise all good :)
Come for the pool, stay for the view!
Apr 2022
What a great place to hang out and relax outside of Bocas! You can go into town for ~$5 water taxi and relax by the pool or have a drink in the shade. Fantastic staff that are excited to have you there and make sure you're having a good time. The convenience of having breakfast, lunch and dinner at the hostel is awesome- great price and great food! Beers are $2 and $1.50 during happy hour!
Returning to bambuda in the evening after partying usually means there are less water taxis and you end up paying 10-20$ for a boat ride back, Make friends to make it cheaper!
What a beautiful place with a perfect location! We would come here again.
The only (if we have to mention something) thing is that there is not much on the island regarding supermarkets.
would stay again!
Sep 2022
We were staying in a private bedroom at the end of their walk. the cabin was very nice and had its private balcony. The whole vibe in the hotel was nice, the food was good and overall it was just relaxing!
The private is quite expensive, so we decided upon no tours..
We spent 3 days at the Bambuda lodge with family and it was absolutely amazing. The staff were helpful, fast and nice (unlike in most other places in panama). Food was delicious as well. Overall, a really enjoyable stay
Unique place to stay in Panama
Apr 2023
We loved the friendly atmosphere at the Bambuda Lodge, its great staff, and its stunning location in the jungle. The food you can order is delicious and especially the family style dinner is a great place to make new friends! Other islands are also easy to reach by water taxi... We would love to come back 😀
I guess the big waterslide into the sea is a love-hate relationship... It can be lots of fun, but it can also be painful. But you know what you're getting yourself into 😉. The beds in our private room could have been more comfy and less squeaky for the price.
We loved it! The view, the pool, the food&drinks, the surrounding jungle, our room, the staff - we enjoyed it a lot, it is a great place!
There is no hot water in the shower (which is not such a big deal given the hot climate! So nothing really to complain)
We had a great time in Bambuda. Nice room, good vibes, friendly staff and amazing food.
They never had mint to prepare mojitos during our 6 day stay.
"More expensive" is worth it this time
Jun 2022
We got an upgrade and stayed in a jungle bungalow. It was fantastic! Great bathroom with hot shower, big and comfy bed with lots of pillows, all spacious, airy and clean with awesome jungle views. In the restaurant there are excellent variations for breakfast, lunch and dinner and delicious drinks. The staff was exceptionally nice and attentive, very helpful and humorous. We had a great time!
very friendly staff, beautiful location but you need sunshine & friends to share accommodation & water taxi cost
May 2022
Pretty view but overpriced.
Feb 2022
Very pretty gardens, vegetarian food options.
Lazy and rude staff (except for the lovely woman working the restaurant in the evenings). The boat taxi driver that works for the hotel didn't want to leave at the time we booked the previous day. He was waiting for more passengers as fuel is expensive.. The man working the front desk in the evenings was non responsive and rude. He was on WhatsApp while we were speaking to him. Extremely poor quality of food for the price. For example, we paid $9 for a vegetarian breakfast burrito that said it included mushrooms, rice or cabbage, guacamole and refried beans, only had rice and one mushroom. Ordered the side salad and came out with no dressing, had to ask for oil and vinegar, the starter of hummus and baba ganoush ($8) came with one pita bread and the dips served in less than a McDonald's ketchup portion. The room was fine, we had a couple of roaches and woodworm...but it is an eco lodge. Also there was a used bandaid stuck to the top of the bedside table. Most of the outlets didn't work and on the last morning there was not enough water pressure to shower.
Great, but expensive
Feb 2023
very nice staff, amazing atmosphere, great location
Nice but far from all the rest
Aug 2021
Very nice rooms where you could actually sleep at night because there was no noice. Really nice shared bathrooms and amazing view.
You're 4/5 dollars away from the main island which they know so they do take advantage of that in their food charges. Food was a bit expensive for a hostel but if you wanted something cheaper you had to go to another island which also costed at least 4 dollars (and also 4 to get back so 8 in total).
Peaceful and exciting - both at once!
Jul 2021
Very kind and helpful staff. The jungle and noises around the place are fantastic. The view from the balconies is far and calming. The place is well spred out and has different facilities. Food is good, music around pool is just right. The wooden buildings and the stone bathrooms fit wonderfully into the surroundings. Nice book about the place and excellent documentation giving more information!
There is no beach - but that is well documented, no surprise. There could be some ashtrays around for the smokers (not that I am one)
Very helpful and kind Staff Location Relax and chill Feeling Waterslide :D
Very good view from the pool- and dining area to the water, nice people, directly in the nature.
as we were there during the raining season and there was no glass in the windows (only mosquito-nets) so everything was moist/wet. because there was no glass, you could here all the animals. can be idyllic, can be annoying when you're not feeling so good…
very cool location. great place to chill. great place to meet people if you're in to that.
you have to take a taxi boat anytime you want to leave the accommodation. can get pretty costly.
very clean, nice and comfortable rooms
food is okay but it's very overpriced. good location, secluded and chill, but keep in mind that there's no beach nearby or a nice place to swim in the sea
nice place, but overpriced food
May 2022
very beautiful location, the staff was very friendly and the beds were very comfortable (I slept in the dorms)
It is more a luxury hotel/hostel, so not your typical backpackers hostel. What bothered me mostly was the overpriced food. You can't go anywhere else to eat and there is no communal kitchen, so your stuck with ordering at the restaurant. This ended up costing me a lot of money… And for the dinner there are very little options, especially for vegetarians/vegans
very beautiful! great to relax. friendly staff, dorm was quite small but decent enough with large bathroom, family dinner- although expensive
nice hostel for relaxation, expect pricey meals and no kitchen. also you have to get water taxis everywhere so it's best if you just want to stay and relax but if going out regularly to bocas town, add 10 dollars for return water taxi
would really recommend a few days here, but not if you are on a tight budget!
Apr 2022
unique and beautiful place, the nature around is amazing and the staff is super friendly.
it's far away from everything, you need to take a taxi boat to get to any town or main attraction. It is a shame there is no kitchen at the hostel so you can cook yourself. The stay quickly becomes very expensive as you have to buy all meals from their restaurant.
Amazing spot on earth
Jul 2021
U have a huge slide down to the water with an amazing view! Would recommend ppl to come here to chill on the island for a couple days They have a restaurant here on the island with all the meals needed.
The food was ok but not amazing, il take the whole package again anyday
This was one of the nicest hostels Ive ever stayed. Good vibe, clean, cool stuff, swimming pool, the best terrace view ever, waterslide, just simply awesome
The 4bed dorm is very tiny, a shelf at least could have been handy to at least unpack one thing from a backpack. Ohh, and the humidifier in the rooms smell like toilette cleaners:):) Everything else is really really nice here!
the coolest place I have ever been
Jan 2022
This was an amazing place almost like paradise. Their garden is so perfect and beautiful and well kept. They have great food for all the meals and the bangalos are very cozy. They have a self sustaining water (from rain) and electricity (from solar panel) system which is very impressive and environment friendly.
This place is paradise and the staff is just amazing!
Idyllic but social home base for exploring Bocas del Toro. Great food, views, and vibes.
Feb 2023
This is one of my favorite hotels/hostels I've ever stayed at. The vibe was perfect for my taste. The new-arrivals drinks and the family-style dinner instantly promote connections with the other guests. I was traveling with my girlfriend, and we quickly made friends with other couples, one of whom we met up with later in Panama City to continue hanging out. But it's definitely not a party hostel, with activities peaking at 8-9pm and pretty much over by 11. The whole place is also beautiful and beautifully landscaped--because of the view and the design, doing nothing on the deck all day is a treat. The staff are incredibly friendly and the food is great.
As you'll know if you've read other reviews, this is not a great choice for the penny-pinching budget backpackers, as the resort-style, add-it-to-my-tab approach to food and drink and limited alternatives for meals can add up. You also spend minimum $10 round trip to water taxi just about anywhere, and the hostel is isolated, so you can't walk anywhere. Bambuda was perfect for us, but it's not perfect for everyone. It depends on what you're looking for.
This is a place with ver nice Vibes! You can meet here a lot of nice backpackers all over the world. Also the staff was very nice and helpfully.
The prices what you pay per night can vary extremely! I paid 36$/night (for a dorm with 6 beds!) Others paid half of the price.
This hostel is amazingly beautiful. Food and drinks are pretty good! The staff is great 👍
They have a very cool slide which isn't for weak nerves tho. The pool area is very nice and you have a fantastic view over the ocean. You can lay down in nets and hammocks as well as normal pool chairs.
One sensational experience.
Mar 2022
The whole stay was magnificent and all the staff were very helpful. Moreover, the place is situated on the best possible location on earth and the views are absolutely fascinating. The fact that the place is self-sustainable makes it even more amazing than it already is. Special shoutout to Andrea, Alexis and Sebastian, as they made my stay unforgettable. Moreover, one of the best things is the community dinner, as it brings people together and really makes new friendships. Additionally, the water slide is an absolute treat and I absolutely loved it. All in all, one of the best 3 days/nights in my life.
The view from the accomodation is really amazing, but in our oppinion not worth the hype due to the staff and high food
Dec 2021
The view, the pool, free upgrade of rooms due to urine smell in initial room
Food prices, communication with staff, apparent laziness of the staff, smell in the room, no check in at 15:00
Escape in paradise
Jan 2021
The views from the common areas toward the pool and the sea were magnificent! The food was delicious - especially their bread I also loved all the activities they have in the island - you can hike to a spot to snorkel, there's kayak, stand up paddle, and a slide
It's better to pay in cash, as credit cards get a 3% charge. Internet connection is not great, wouldn't recommend to try to work there. This place is better to disconnect and enjoy for a couple of days.
Island Jungle Paradise
Jun 2022
The staff were great! Very friendly and attentive. The landscaping was beautiful, like a botanical garden, with a view across the water. Amazing variety of birds. Snorkeling at Hospital Point was only an hour away by Jungle Hike or $4 return trip by Hostel boat. Great place to chill by the pool and forget what day it is. Great daily happy hours.
The food was very good, but you have to adjust to the schedule. The kitchen is closed after breakfast and lunch. Dinner at 7.20pm is a limited menu posted daily, order by 5.30pm. I would have liked a more cafeteria style, chose one protein, one starch, two veggies. Something like that instead of just a big bowl of only pasta. There was always one option with grilled veggies but you had to like the meat/fish option.
The staff was super friendly and very helpful. The lodge has a beautiful location and is very clean. It is not on the main island but very easy to reach by water taxi (~10 USD for a single passenger, ~5 USD p.p. for 2+ passengers). In the bay, just in front of the hotel, we saw bioluminescence plankton every night, which was really beautiful. You can see it best if you shortly turn off the lights and then quickly light with a flashlight into the water. The food is good, with reasonable prices.
Nice pool and view. Loud music.
May 2022
The staff was great. Very nice pool. Beautiful view.
Constant loud techno music in common area. If you're looking for peace and quiet do not stay here.
The staff was amazing. You felt like you were at a resort. They treated you as family.
The boat taxi was too expensive. Considering they have their own boat you would think you'd get a better discount. They staff told us about reggae nights so a group of about 10 of us went with them. It was 5 dollars on the way there and after we got back the boat driver told us we now had to pay 7. No reason for the increase. They have it posted what trips will cost and they didn't go by those prices. Know that you are going to blow through your cash of you decided to go anywhere from this place.
The staff was amazing! The jungle bungalows were a nice little oasis and the food was great.
Good backpacker vibes!
Apr 2022
The staff, the pool and the deck definitely the best!
In our room there wasn't any glass on the windows so it was super noisy.
Wie viel kostet dieser hostel im Vergleich zu anderen in Bastimentos Island?

Der Durchschnittspreis für eine Anmietung in Bastimentos Island beträgt EUR 88 pro Nacht. Diese Miete ist EUR 67 günstiger als der Durchschnitt.
Ist das Parken in diesem hostel inbegriffen?

Das Parken ist nicht als verfügbares Ausstattungsmerkmal bei Bambuda Lodge angegeben. Für weitere Informationen empfehlen wir Ihnen, sich mit dem Anbieter der Unterkunft in Verbindung zu setzen, um zu erfahren, wo Sie parken können.
Gibt es in diesem hostel einen Pool?

Ja, bei Bambuda Lodge steht ein Swimmingpool zur Verfügung. Genießen Sie das Wasser!
Ist Bambuda Lodge haustierfreundlich?

Leider ist dieser hostel nicht haustierfreundlich. Versuchen Sie erneut zu suchen und filtern Sie nach "Haustiere erlaubt"
Welche Ausstattungsmerkmale sind bei Bambuda Lodge verfügbar?

Wir haben 6 Ausstattungsmerkmale für diese Unterkunft gefunden. Dazu gehören pool, internet/wlan, rauchen erlaubt, waschmaschine und balkon/terrasse.