Hostal Cecilia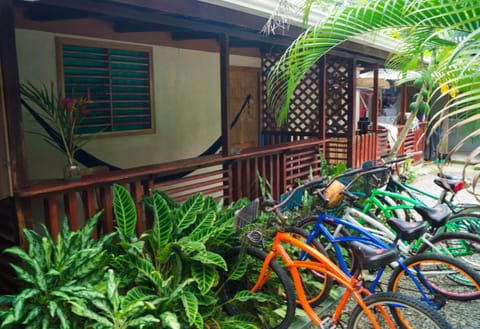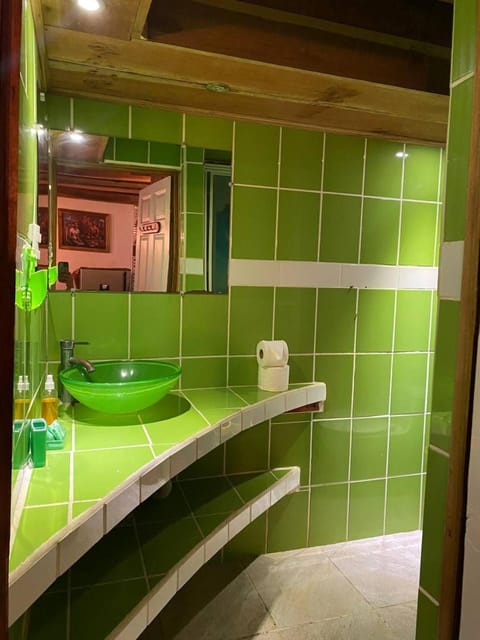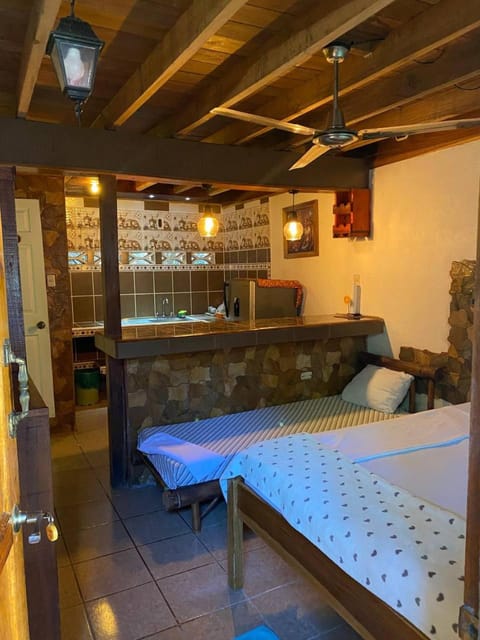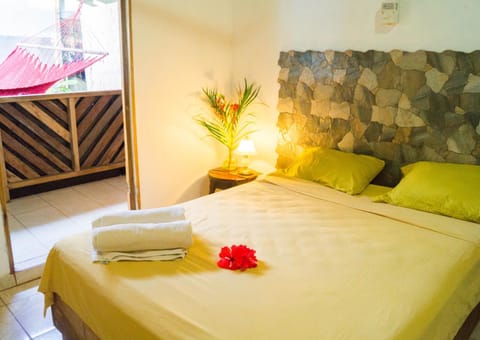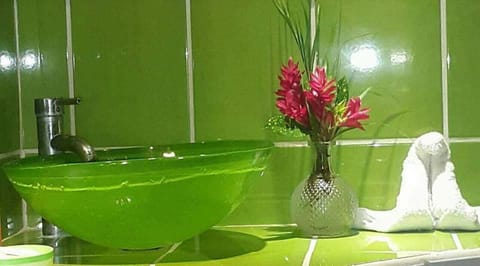 Hostel in Puerto Viejo Talamanca
Pool
Haustiere erlaubt
Küche/Kochnische
Befindlich in Puerto Viejo Talamanca, dieses charmant hostel für EUR 33 pro Nacht ist ein großartig Auswahl für Ihr nächstes Urlaub. Das Hostal Cecilia in Puerto Viejo liegt weniger als 1 km vom Strand Cocles entfernt und bietet Unterkünfte mit einem Garten, kostenfreien Privatparkplätzen und einer Terrasse.
Pool
Haustiere erlaubt
Küche/Kochnische
Internet/WLAN
Rauchen erlaubt
Parkplatz
Waschmaschine
Balkon/Terrasse
Rollstuhlgerecht
Fitnessraum/Fitnessstudio
Garten
Familienfreundlich
Karte von Puerto Viejo 

Talamanca
100 % verifizierte Bewertungen
4.0 / 5

"Gut"

(373 Bewertungen)
William is a superfriendly host and really helpful. We stayed in a private room with shared bathroom and kitchen with 2 other rooms which allows you to meet other people easily. The facilities are basic but OK and cleaned every morning. The hostel has its own bikes to rent and they seemed well maintained. It is a bit out of town but still within walking distance.
When my boyfriend and I got unwell during our stay they were super kind to us and ensured we had the best night rest. They gave us a free upgrade to a bigger property and we felt refreshed when we left!
We had an issue with our room and they kindly moved us into another room which was needed. They have free coffee which was great and water
The initial room we was in wasn't great and we made them aware. The location is a bit far from town however you can rent bikes
Very nice staff, good location - get a bike, can be provided at the hostel for cheaper than in the city.
The stove gives electric shock when cooking!!! After some tries we didn't use it
Nice hostal and great hosts close to center
Feb 2023
Very nice and welcoming hosts. Always asking if everything is fine. Provided fresh coffee and tea all day, which I appreciate a lot. Room was comfortable. I liked to have a small kitchenette in my room and also could use the gas stove outside. A short walk from the center,but easy to get around. You can also rent bicycles at the hostal.
I would have enjoyed a private terrace. Room was a little hot, but only at day and I had a lot of mosquitos, more than at other places.
Very friendly and helpful stuff
This little side street location is perfect for a short stay in Puerto Viejo. We were just a short walk to the center of town yet in a quiet area. Cecilia was extremely friendly and welcomed us even though we were late to arrive. The room was exceptionally clean and had everything we needed for a short and comfortable stay. We had both a ceiling and floor fan as well as a mosquito net in the bedroom area. The room was shaded and quiet and came equipped with a small kitchenette. Definitely hard to beat for the price and close to town location.
The stuff was really nice! Cecila cared about me when I felt sick and made a tea for my stomage :) Also the room and bath was very clean!
I booked the smallest option and got a really dark and stuffily room, even there was a window in a corner. It was hard in the evening to get fresh and cool air from outside into the room. I decided to sleep with the door opened and had to accept that everyone can watch me sleeping, because the bed is next to the door. It's really not a quiet place as described in other reviews. You hear every door next to you, walking people up- and downstairs, talking people. But the most annoying point for me were the dogs around. They were barking so often! Sometimes for half an hour or longer without stopping and nobody cares about it. There are some nice hammocks on the balconys of other appartments. I was told that I can use them as well as all the kitchens. But I think when there are guests in the appartements they won't feel very comfortable with one more guest on "their" balcony. Maybe it should be communicated clearly which areas are for everyone. For a price of 35$/night you will find better places.
The staff is kind and helpfull.
You have to be quiet at 10pm, but the staff wil be partying till midnight or even later so it's a little noisy.
The staff are super friendly and accommodating! They were so helpful and kind during my entire week long stay. They work hard to keep the place clean and running smoothly!
Good clean accommodation close to the beaches.
May 2022
The room was nice and bright and the location was out of the main town so quiet, very close to Cocles beach by bike or foot. Free coffee in the morning was a nice touch. Lots of kitchen facilities to prepare own meal.
a mirror in the room would be handy and a few extra hammocks for chilling would be cool.
The owners were friendly and made fresh coffee for us, really nice.
The owner itself and the staff really cares for you. They are very very friendly people with great hospitality.
Its a simple place between local buildings, so it can get very noisy sometimes (lots of animals and families around).
It was OK but not the best
Dec 2022
The owner helped us with our tickets to Nicaragua. Free coffee in the morning. Nice garden. Comfortable bed. The owner's cousin Tito is the best. He is really a nice person.
I found the place very expensive considered what it offers. The rooms were transparent of noise because of the windows on the top of the rooms. I mean it was really transparent. The owner asked %9 credit card commission, if we pay with credit card. He can ask for 9% more, but he must specify it on Booking (I might book with the other hotel). Location is not in the centre of Puerto Viejo (1.4 km away). He said don't smoke on the garden when the other guest is there (no problem), but they did barbecue in the garden and all the smoke and smell was in the room (I don't mind), but I find it a bit double standard. If they really care the guests, they shouldn't do barbecue in the garden, too (this Is my personal opinion). I made a last minute booking, but I believe you can stay better place with this price.
Nice hostel in Puerto Viejo
Jul 2022
The location is in the center but at the same time also not in the middle, which was nice because it was no too loud in the evenings. The city center is easily reachable by walking. The property was clean and lookes like on the images. You can rent bikes for 5$ a day.
The hosts are very friendly and accommodating. The location is perfect! You're very close to the town and the beaches, yet it's very quiet. You can rent bikes as well. The rooms with private bathrooms are very lush!
The rooms with shared bathroom are a bit basic, but that does match the price :) There are rooms with strong WiFi and some without. If you need it to be strong, make sure to let your host know and they're happy to move you around.
Nice hostel just outside of Puerto Viejo
Dec 2022
The host let us check in early free of charge. There is free coffee in the mornings and there is a very relaxed atmosphere in the hostel.
Not the hostels fault, but other guests checking out early were being really loud outside our room at 7am.
The best hostel so far! The owner Cecilia and her son really makes you feel like at home. Very close to the city centre. Room, bathroom and kitchen was spotless. There is very friendly dog named Mia and two cats on site.❤️❤️❤️
Our stay has been a great experience so far.
Sep 2021
Super friendly and helpful owners, great atmosphere, delicious morning coffee and chill vibes. William (owner) went above and beyond to help us with our trip and to make us feel home!
perfect locations
May 2022
Staff accommodations cleaning location garden
Run by a friendly family. Decent Kitchen facilities, satellite tv with English audio.
A little far from town centre (10-15min walk) but hosts gave me a bike for free. No air con, very loud neighbours with roosters! Lots of insects but it's the jungle so not unexpected.
great value for money
Dec 2022
Really nice hostel, bed was comfy and have mozzie nets. multiple kitchens so they do not get too crowded. only 5 mins away from a much nice beach than the one in central puerto viejo
15 mins walk from town centre (however much closer to a nicer beach so worth it IMO!)
Cecilia was drunk, very bad care, the first thing she wanted to do was charge safely to continue drinking and the next day she did not know who was staying or for how many days and she wanted to charge again, the room was very dirty and there were many cockroaches, we just wanted leave the place
Wie viel kostet dieser hostel im Vergleich zu anderen in Puerto Viejo Talamanca?

Der Durchschnittspreis für eine Anmietung in Puerto Viejo Talamanca beträgt EUR 56 pro Nacht. Diese Miete ist EUR 23 günstiger als der Durchschnitt.
Ist das Parken in diesem hostel inbegriffen?

Ja, das Parken ist als Ausstattungsmerkmal bei Hostal Cecilia aufgeführt. Für weitere Informationen empfehlen wir Ihnen, sich mit dem Anbieter der Unterkunft in Verbindung zu setzen, um zu erfahren, wo Sie parken können.
Gibt es in diesem hostel einen Pool?

Ja, bei Hostal Cecilia steht ein Swimmingpool zur Verfügung. Genießen Sie das Wasser!
Ist Hostal Cecilia haustierfreundlich?

Ja! Diese hostel ist haustierfreundlich. Für weitere Informationen empfehlen wir Ihnen, sich mit dem Buchungsanbieter in Verbindung zu setzen.
Welche Ausstattungsmerkmale sind bei Hostal Cecilia verfügbar?

Wir haben 12 Ausstattungsmerkmale für diese Unterkunft gefunden. Dazu gehören pool, haustiere erlaubt, küche/kochnische, internet/wlan und rauchen erlaubt.