Onederz Siem Reap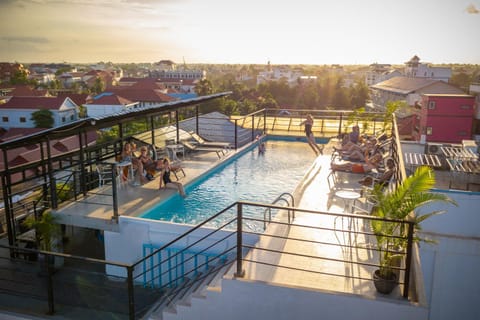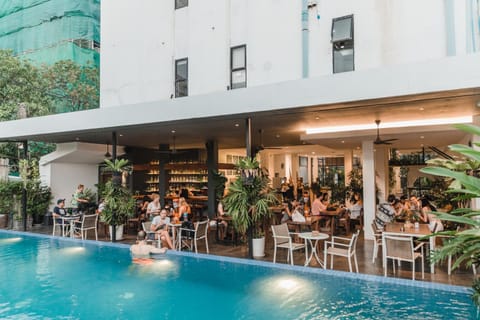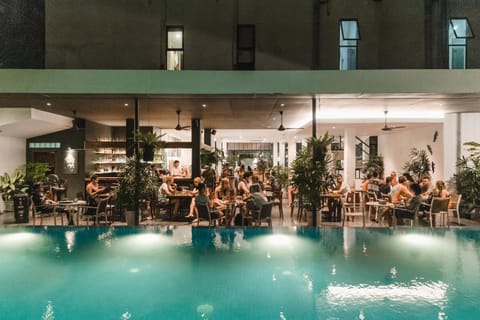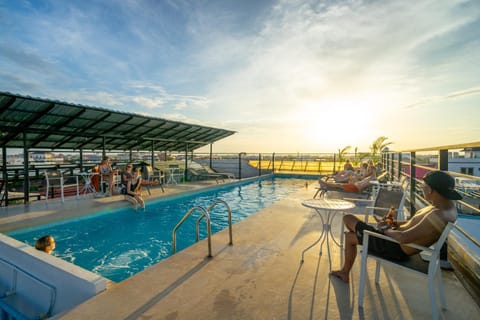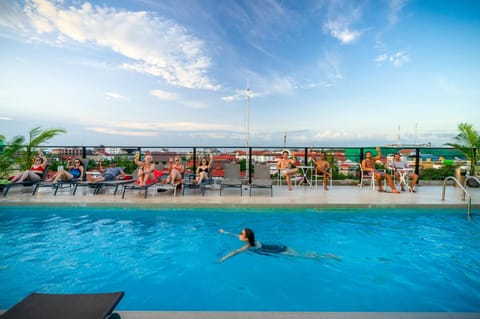 Hostel in Krong Siem Reap
Pool
Klimaanlage
Küche/Kochnische
Befindlich in Krong Siem Reap, dieses attraktiv hostel für EUR 4 pro Nacht ist ein großartig Option für Ihr nächstes Pause. Das Onederz Hostel Siem Reap begrüßt Sie in Siem Reap, 300 m von der Pub Street entfernt und bietet Ihnen kostenfreies WLAN und kostenfreie Privatparkplätze.
Pool
Klimaanlage
Küche/Kochnische
Internet/WLAN
Rauchen erlaubt
Parkplatz
Waschmaschine
Balkon/Terrasse
Fernseher
Garten
Karte von Krong Siem 

Reap
100 % verifizierte Bewertungen
4.5 / 5 (1'538 Bewertungen)
Great stay at Siem Reap
Jun 2022
Wonderful staff, very lively place with lot of animations proposed. Great location in city center with temples and important locations (museum restaurant, bus station...) easily reachable by rickshaw (and some by foot). Food is also great and affordable.
No power generator and bed is in used by other customer
Apr 2021
When i booked the dorm type bed it was hassle a for me. The bed i booked is not available and also when they transfer me to other bed, someone is using the bed there and the stuff wants me to used the upper bed which is someone again used it. So the stuff find a way to look for any availability of a room. He found one and its kinda super late at night. And the thing is, when ur so sleepy and wants to rest cause ur tired, the other customer keeps coming back and forth from outside and he is kinda loud once he closes the door which doesn't even care if someone is sleeping or not. (Like he owns all the place) Also, the AC is automatically switched off in the middle of the night which super hot and no power generator and I did not sleep so much at that time. Kinda not good experience for me actually! Even it's cheap I will not coming back there.
AC and beds in their inventory is not properly inspected and checked. Someone is using it and they didn't know about it. Also Washroom doesn't have bidet! Please at least install that, for proper hygiene.
We had a really nice stay. The bed was very comfortable. The private rooms are on the other side of the street which is nice because it was overall calmer there in the night. The staff is very nice, food and drinks are reasonably priced and good (except of the fried noodles). Nice rooftop where you can watch the sunset. The location of the hostel is great and people are pretty social there.
Next to the private rooms is a massive construction site which works 7 days a week from 6:30 am. Sleep is barely possible. Because of that situation the private rooms should be cheaper. The WIFI is VERY bad in the private rooms - couldn't watch any videos etc through it.
Very relaxed atmosphere, clean room and facilities. The staff were very helpful and friendly. I cannot fault Onederz at all.
Nothing. It's was perfect!
Very good location and friendly staff. The hostel offer many good tours.
Very clean hostel with two pools. Events are organized everyday by the hostel. Beds are comfy. If I ever go to Siem Reap I'll go here again
the bed area is too small
toilet is clean, strategic location, good food, feel comfortable to stay here !
Great hostel, great location
Mar 2023
This was our second time staying in Onederz hostel. The staff here are so friendly and helpful and the location is great. It was so nice to have the choice of 2 pools to chill out at when it got too hot in the afternoons. The rooms and bathrooms were so clean and always well maintained. The hostel has a nice chilled vibe and the tours are great too! They even offer breakfast for the sunrise Angkor wat tours. Would recommend!!
An amazing place. Value for Money, well managed.
Feb 2019
This property was amazing. Walk able distance from city center. It was a very well managed place - with immediate response to mails and queries. My purpose of visit was to see Angorwat and at Onederz they had all the provisions to help me. There is also a small cafeteria which was reasonable. The place also had provision to leave your luggage after check out. I would definitely love to visit the place again during my next visit to Cambodia
Nothing. it was the perfect stay
This place is an Oasis in the middle of Siem Reap Several things conspire for that to happen, but I want to start remarking on the staff that works there. Unfortunately not all hotel managers get this, but what makes a place is how happy the people that work there is. At Onederz the front desk people is very busy but the minute you appear there all attention and smiles are for you, the same goes for the bar and even the cleaning staff. I was descending the stairs and one of the cleaning ladies was waiting to clean the bathroom and she smiles at me and say "You look cute today Maddam" 😍 It made my day!! Treat them well, compensate them fairly, because in my opinion, they are the heart of this oasis! On top of that, of course, the food is great (I feel sorry but I stop trying my luck out in the tourist traps outside), the facilities are open, modern, airy… and the pool is a cherry on the cake!
The curtains in the beds should be full covering the entire bed!
Would stay again.
May 2022
This hostel had such good vibes. Staff were really lovely, rooms and bathrooms clean. The roof top pool is lovely on a sunny day. Food is good and not overpriced.
lovely hostel in a good location
Aug 2022
This a great hostel - super helpful and friendly staff, good location, nice pools, good priced food with lots of choice. it has a nice vibe and the hostel organises lots of activities and tours of local attractions.
Noise insulation in the private rooms isn't great, I was woken up each morning by other people in the hostel or construction noise from repairs they were doing to the building.
Brilliant!! I'll come back again for sure!
Feb 2022
They have 3 swimming pools which is so unique and worth the pay for my stay. They also have restaurant and bar inside the hostel. Their bed us very comfy!
Nothing that I didn't like about the hostel
perfect! very economical and convenient!
Apr 2022
nothing that I didn't like about this hostel
They had 3 swimming pools but I liked only the one that was deepest, the floors were always clean, no mess within the bathrooms and they had exceeded my expectation on friendliness.
The size of the rooms was smaller than I pictured and the beds were not a double beds listed on the site.
The real standards in terms of clean, location and facilities
Sep 2019
The standard for hostels.
Great hostel in the heart of Siem Reap - can't go wrong if you stay here
Sep 2022
- The staff were exceptionally friendly and helpful, and spoke excellent English. - the common area (bar, café and pool) was fantastic, open, airy and comfortable - the room was comfortable - the location was unbelievable, right next to absolutely everything you could want (although admittedly Siem Reap is quite small) - the breakfast was very tasty - the hostel runs a number of tours, for very good prices. I really enjoyed the tour to Angkor Wat, I thought it was well organised and well executed. And it only cost $12
- I was a bit disappointed by the quality of the lunch food, but it is absolutely not a dealbreaker - there's plenty of street food all around the hostel, and the breakfast in the hostel was quite tasty - there is not much noise insulation in the rooms - I had quite a noisy neighbour, and I could hear everything he was doing (although he was doing it very loudly). This is more of an issue with inconsiderate guests however, I do not really blame Onederz for this
Worth the money I spent on my stay. Food is pricier than outside but they were good.
Nov 2022
The staff were all friendly and accomodating with your requests.
I liked staying there.
Sep 2022
The staff was great, helpful and friendly. It's so great that you can book tours through them and it's only with others from the hostel. That's a great way of getting to know other backpackers, especially for solo travelers. When I first got there I thought the hostel was too big, so you couldn't easily get in contact with the others, especially for me that was a great deal older than most others there. But after going on the first tour, it was no problem socializing. The hostel looks more than a hotel than a hostel. It's very clean. That's very important for me. I think it's great that they have female dorms. So I will definitely check in to an Onederz hostel again.
First I thought it was too big, that I like hostels to be, because I think it's easier to get to know people in smaller hostels. But that impression changed after going on a tour booked at the hostel, because then I got to know others from the hostel.
The staff, the location, the room, the price...
The washroom could be slightly better, but can't complain for the price! Could have also had at least one more plug point in the room itself.
The staff really were fantastic - they would do anything to help us out. it was a very nice atmosphere in the main pool area.
Plan to Stay Again!!
Apr 2022
The staff is very accommodating, friendly, and welcoming. My stay in Siem Reap was much much better because of them.
The place was relatively clean except the private rooms need to be more updated. Otherwise, the place is really nice.
The staff is so kind, the atmosphere in the whole hostel is wonderful, the pool-bar and restaurant are beautiful and always have a great vibe.
The staff is really nice and we were alone in the dorm. The Japanese food was really good and the swimming pool is beautiful!
One of the best hostels I've stayed in. Will gladly be back. Extended my stay !!!
May 2022
The staff are extremely helpful, the property is set up beautifully and everyone I met here was lovely
nothing - I liked all of it!
Would be back no hesitation
Mar 2022
The staff are amazing at this place. Customer care to it's best. Double room was very comfy, good AC and clean. Best value for your buck.
the property was really cool and the dorms are clean… perfect vibe!! would definitely recommend booking a tour to Angkor Wat with TIDA!!! BEST guide ever, super knowledgeable and very helpful!!! we loved him
Really nice hostel, good location.
Feb 2022
The property is in a really good location, temples are close by and there's a few markets/supermarkets walking distance away. Staff were really friendly and super helpful. The hostel was nice and clean.
sophisticated vibe and very clean
Oct 2022
the property had a great social area and we loved the two pools. the food was reasonably priced and tasted amazing. the hostel room was clean and so were the bathrooms, we loved the aesthetic of the open and airy white space with green vegetation.
only downfall was the toilets didn't have a bum gun
If you're in need of a comfy bed… stay here!!
Feb 2022
The private rooms had the comfiest beds ever. Amazing pool with music on and a good vibe to eat their lovely food and cocktails. Really close to walk to everything including pub street but quiet enough at night. Loved it
nice place but private rooms are in building site
Mar 2022
the pools were nice to chill out in the day and the downstairs bar and restaurant area was good and always busy. the room was basic but had everything needed. we were also able to print documents for our flight and do a wash here which is always useful.
the private rooms are across the street in a separate building which was being renovated which there no previous notice of and the entrance was quite dusty and was obviously in the middle of building work which meant there was no separate area to sit outside in this building and the pool wasn't in use which was a shame and would have appreciated some sort of acknowledgment from stuff or notice beforehand but it wasn't a huge deal and still fine.
The pool and bar areas are great, the place is constantly being cleaned and staff is amazing - super friendly and helpful! Dorms were nice enough, with AC and privacy.
Nothing I didn't like, only advice I would give is to get new cushions for the sunbeds. They got soaked from the inside and it's not as nice to sit on them after someone else.
The personnel it's very nice and the place so cool and very clean !! I highly recommend
maybe a bit too much sanitation product in the swimming pool
Great location, pools and food but could be cleaner.
Jun 2022
The location was great (close to pub street, central market and the river). The food and pools were also great for a hostel and staff were very helpful with booking excursions. I was also surprised that shower gel, shampoo and water were provided!
it wasn't mentioned when booking that the private rooms were in a separate building opposite the road (not a huge deal but should have been informed). The walls throughout the property especially in the room were filthy, the towels never smelt clean and the safe in room didn't work.
The location was good and the hostel was pretty chilled with a nice cool pool on the roof. This was also a good area to get a fast tan! The food was nice but I did get sick whilst staying here (so did several others I spoke to). I was stuck in bed for almost 2 full days very unwell. Of course I can't be sure if it was the hostel that caused it but I didn't eat or drink much else/anywhere else the day/day before I got ill. The bottles of water are too expensive, firstly the same size is less than half price in the shop across the street and secondly it costs the same to refill your own bottle... Where is the incentive to minimise plastic waste?
If you are on the bottom bunk, you just have a mattress on the floor. It's kind of annoying because you can't roll out of bed and swing your feet down you have to crawl out onto the hard floor and stand up. This also means that if you are laying in bed when the cleaners come in they are mopping and sweeping beside your face. The bed was also not very comfy, me and several others had back and neck pain after the first night.
Definitely recommend this hostel to my friends and will return to stay again when I'm in Siem Reap, Cambodia!
Jan 2022
their staff is super friendly and very helpful. Good facilities and very convenient location. what I love the most about this hostel is that they got 3 pools.
Very good, but very busy
Mar 2020
The hostel is very clean. We saw them clean the common areas non stop. We liked the collection of plants. Decent kitchen for breakfast/lunch/dinner and very good coffee. The staff is very friendly and always ready to help you. We had a private room: basic, simple, nice. Two small, (cold!) swimming pools which is nice after seeing temples. They offer a sunrise and a sunset tour and a daily tour which is different everyday. The location is great - so you will never be bored at this hostel!
WiFi in the private room is quite slow. The hostel is suuuuuper busy. Expect crowed common rooms and chairs/beds at the swimming pool already taken. You gotta love crowed. They know a lot about their own tours to Angkor Wat but we found out that besides that, their knowledge and advice is very limited. For example they misinformed us about the ticket office hours which made us miss the sunset at Angkor Wat (we didn't want to do the whole sunset tour they offer). I would have liked that they also offered a (shared tuktuk) day tour to the temples, so without sunrise.
Wie viel kostet dieser hostel im Vergleich zu anderen in Krong Siem Reap?

Der Durchschnittspreis für eine Anmietung in Krong Siem Reap beträgt EUR 37 pro Nacht. Diese Miete ist EUR 33 günstiger als der Durchschnitt.
Ist das Parken in diesem hostel inbegriffen?

Ja, das Parken ist als Ausstattungsmerkmal bei Onederz Siem Reap aufgeführt. Für weitere Informationen empfehlen wir Ihnen, sich mit dem Anbieter der Unterkunft in Verbindung zu setzen, um zu erfahren, wo Sie parken können.
Gibt es in diesem hostel einen Pool?

Ja, bei Onederz Siem Reap steht ein Swimmingpool zur Verfügung. Genießen Sie das Wasser!
Ist Onederz Siem Reap haustierfreundlich?

Leider ist dieser hostel nicht haustierfreundlich. Versuchen Sie erneut zu suchen und filtern Sie nach "Haustiere erlaubt"
Welche Ausstattungsmerkmale sind bei Onederz Siem Reap verfügbar?

Wir haben 10 Ausstattungsmerkmale für diese Unterkunft gefunden. Dazu gehören pool, klimaanlage, küche/kochnische, internet/wlan und rauchen erlaubt.