Carlton Suites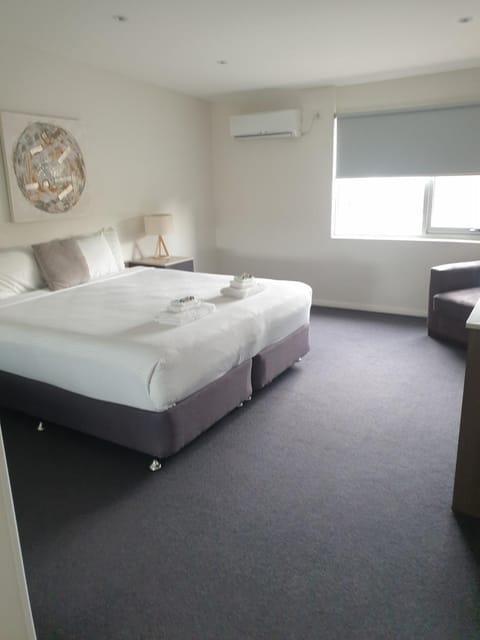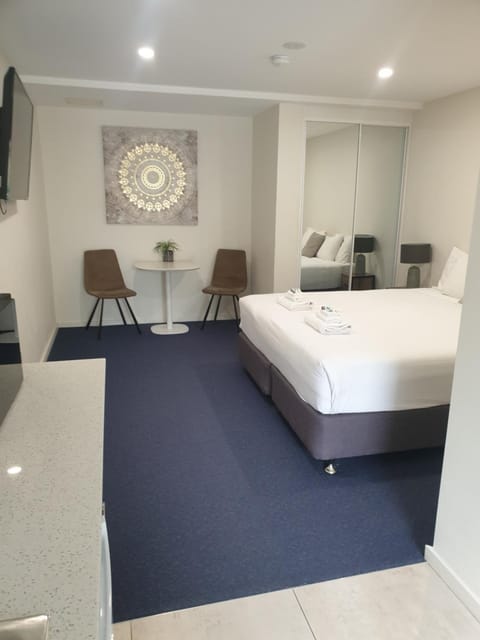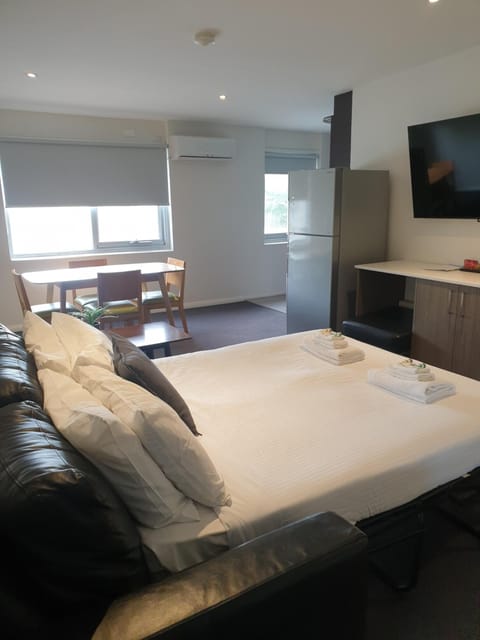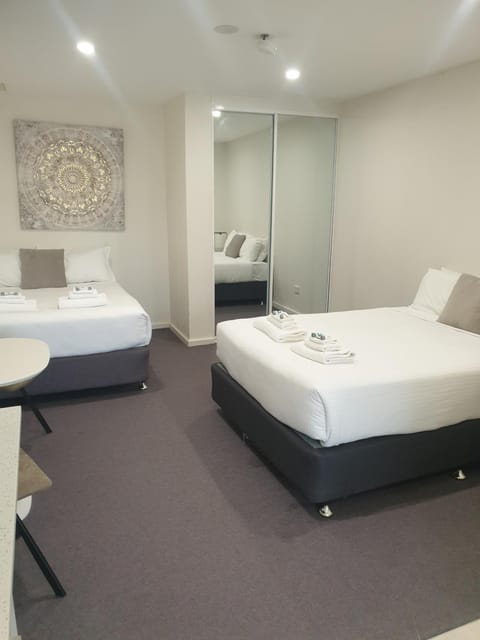 Hotel in Goulburn
Klimaanlage
Küche/Kochnische
Internet/WLAN
Gelegen in Goulburn, dieses schön room in hotel für EUR 70 pro Nacht ist ein großartig Option für Ihr nächstes Pause. Located in Goulburn, 3.6 km from The Big Merino, Carlton Suites provides accommodation with free WiFi and free private parking. The motel features family rooms.
Klimaanlage
Küche/Kochnische
Internet/WLAN
Rauchen erlaubt
Parkplatz
Waschmaschine
Fernseher
Rollstuhlgerecht
Familienfreundlich
100 % verifizierte Bewertungen
4.0 / 5 (1'829 Bewertungen)
When we first arrived OMG "dodgey" is what we thought. The exterior was not inviting at all. However we had booked and paid so onwards and upwards literally we went. What a wonderful surprise when we opened the door to our room. Fabulous decor, bright and breezy, great beds, microwave and cutlery and dinner wear for 2, Ceasarstone bench tops, drop shower, fluffy towels and lots of tea, coffee, sugar and biscuits.
The noisy guests down the corridor who brought their friends back and partied till late. Not the motels fault though.
We were taking a long trip and Trudie was very helpful with a late check in. Cheerful and effective service was most appreciated.
was very clean and comfortable
Was charged more than the $ quoted/confirmed on booking.com, said was quoted the wrong amount.
Was a great location and a great stay with very friendly staff who didn't go wrong when suggesting a place for breakfast!
We were placed into a tiled room so it was very cold at night, but this was no fault of the hotels.
was a quick overnight stay for my husband and my dad enroute to melbourne. however we received a booking.com discount th
Jul 2022
stayed here on way through to Melbourne from Gold Coast room was perfect nice and clean
Jul 2022
very modern and up to date nice and clean beds were comfy.
Very good value for money. Updated room comfortable bed.
No coat hangers in wardrobe.
Very clean quiet room. Great shower. Warm in winter
cozy would definitely stay again
Jun 2022
very clean good shower comfortable room
Value for money. Spick and span!
This motel was opposite Goulburn rail station which suited our needs! The front of motel was poorly signed and we walked past it at first! Room was recently renovated!
The driveway was rough and uneven and no set path to wheel a suitcase! No chair or place provided in bathroom for clothes or robe, only small hand basin!
This is extremely great value for money. very clean. had every thing we needed. I will book here again.
The shower was excellent. The rooms looked newly renovated, clean and comfortable.
Staff did her best to rectify obvious problem (no tv in first room allocated)
Nov 2021
The second room I was allocated
Smell of tobacco, no tv in first room I was allocated, no staff to welcome me on my arrival, in second room allocated there was a loud waterfall sound from nearby room accessing the bathroom
Comfortable for overnight
Jan 2022
The room was modern and spacious with a comfortable bed and clean sheets.
Noisy doors in the hallway. A lot of banging with people coming and going. When a door slammed the room door rattled. The shower base didn't look clean and the grout wasn't clean.
The room was excellent- well appointed &clean. Our issue was that it was upstairs & difficult for seniors to access.
The room was clean and roomy.
It felt very dark and a bit creepy! It was very difficult to find. The sign was small and read "Carlton Hotel Motel" or something, rather than Carlton Suites. I arrived at night and felt nervous driving down the driveway, trying to find my room (handwritten number on a piece of paper stuck to the door). I felt a bit relieved to leave early the next morning. The receptionist was friendly and the room was absolutely fine though.
The rooms are exceptionally good and great location. Good value
A cold night in the backstreets of Goulburn
Jun 2022
The room had good quality appliances and was in as-new condition. The TV was a good size and perfect for watching the French Open tennis.
The façade of the place is very basic The door to reception was covered in notes with numbers to ring if unattended. There was no sign of life but I was surprised to find the door was unlocked and as I entered the receptionist appeared from behind a counter. The driveway needed careful negotiating to avoid concrete projections.
don't be deceived by the poor exterior, it's worth the stay
Dec 2022
the property was clean and they provided a made up cot in the room. Emily (front of house) was amazing given the circumstances.
turned up at 2pm to check in, the place was completely closed and it turns out the manager called in sick last minute and wouldn't answer the phone! property could use an overhaul outside.
Good place to sleep and vey close to CBD
Dec 2022
The place was very clean and functional
They were just rooms without the motel style additions such as pool etc.
Clean, comfortable, affordable and a great location.
Jun 2021
The location is excellent, a short walk to everything. The room was quiet and cosy it was very spacious and the beds were extremely comfortable.
First impression of the outside was not good, but the room has been renovated and was nice.(room 4)
Dec 2022
The bed was very comfortable. Shower was good
Stayed there a few times, verry convenient location, easy check-in, very clean, good price, excellent gym for morning workout. Thank you
Staff were very helpful and friendly
Not sound proof at all, so nosy couldn't sleep because of the noise and smell of smoke coming from down stairs. Kids scr
Oct 2021
I always stay here when I'm racing at Wakefield Park
Jul 2022
there is a reason why there are no photos of the outside of the facility, if you saw it you wouldn't
Jan 2023
staff assistance with check in was very helpful
the exterior of the hotel, not much parking, access for wheelchair to reception not available
Very friendly and helpful receptionist at check , good location and great bed
Oct 2022
Spacious clean room with very comfortable king bed, new and well presented bathroom
The outside of the property could do with a refurb or at least a coat of paint on the outside to make it more appealing
The room was what we needed for a one night stay.
Jan 2023
Size of the room. Separate toilet and basin to the bathroom.
The outside needs a paint but otherwise nothing we didn't like.
No windows in room. Called a suite bit a second rate poorly renovated motel room. Poorly organized parking.
Shower is spacious with power water pressure, the bed is large and super comfortable. Location is central and near shopping.
Clean accommodation okay for a short stay with few clothes but unsuitable to extended stays.
Apr 2022
Room was clean. Staff were helpful and courteous. Modern styling.
Taps in both the shower and sink were very difficult to adjust the water flow. The shower head could not be adjusted for height and didn't appear to be a water saving type. The bed light was was not bright enough to read by. The tea towel and some of the bath towels were very thin and not very absorbent. The long hanging space in the wardrobe for dresses and slacks was very narrow and there were limited drawers and shelves for clothes.
Rooms were clean, Olivia was Friendly and great communication
The outside appearance of the motel needs updating.
the toilet was uncomfortable to use because lid couldn't be lifted fully!
There was a filthy ring around the plug hole in vanity. Not very appealing.
Staff member not at suites to enable 2.00pmcheckin
Room was very dirty, sheets not clean, the skerting boards covered in thick dust, Half eaten food from the person who stay in the room before us was left in the draw next to bed. The floors were filthy. Felt so discusting in there that we went to shops and bought new sheets and blankets, a mop, floor cleaner and spray and wipes to clean the place. If there was another place in town that was availble to stay we would of left here and gone elsewhere.
Excellent value for money.
Jan 2022
No main light working but could use the bedside lights instead. The remote for the TV was not working properly - wouldn't power off, kept coming back on so you had to turn it off at the power. Didn't have the opportunity to relate the info to staff as office unmanned when I left.
Der Durchschnittspreis für eine Anmietung in Goulburn beträgt EUR 84 pro Nacht. Diese Miete ist EUR 14 günstiger als der Durchschnitt.
Ja, das Parken ist als Ausstattungsmerkmal bei Carlton Suites aufgeführt. Für weitere Informationen empfehlen wir Ihnen, sich mit dem Anbieter der Unterkunft in Verbindung zu setzen, um zu erfahren, wo Sie parken können.
Wir haben keinen Pool gefunden, der als Ausstattungsmerkmal für diesen hotel aufgeführt ist. Es kann sich lohnen, noch einmal zu prüfen, ob ein Pool für Ihren Aufenthalt wichtig ist.
Leider ist dieser hotel nicht haustierfreundlich. Versuchen Sie erneut zu suchen und filtern Sie nach "Haustiere erlaubt"
Wir haben 9 Ausstattungsmerkmale für diese Unterkunft gefunden. Dazu gehören klimaanlage, küche/kochnische, internet/wlan, rauchen erlaubt und parkplatz.