Gladius Inn Boutique Hotel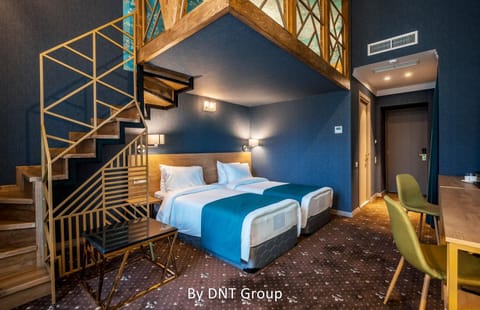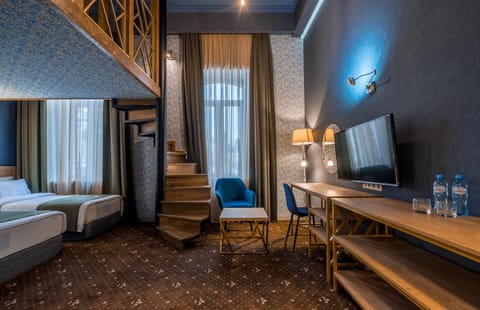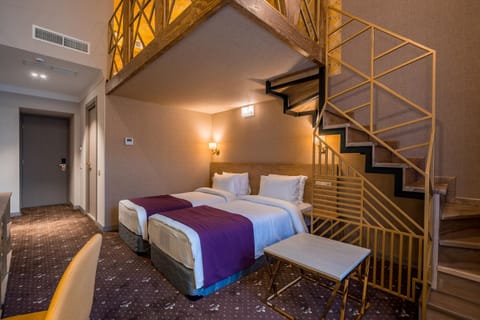 Hotel in Tbilisi
Klimaanlage
Küche/Kochnische
Internet/WLAN
Befindlich in Tbilisi, dieses charmant room in hotel für EUR 35 pro Nacht ist ein großartig Option für Ihr nächstes Reise. Das Gladius Inn Boutique Hotel in der Stadt Tiflis liegt 2 km vom Opern- und Balletttheater von Tiflis entfernt und bietet einen Conciergeservice, Nichtraucherzimmer, eine Gemeinschaftslounge, kostenfreies WLAN in allen Bereichen und eine Terrasse.
Klimaanlage
Küche/Kochnische
Internet/WLAN
Rauchen erlaubt
Parkplatz
Waschmaschine
Balkon/Terrasse
Fernseher
Garten
Familienfreundlich
100 % verifizierte Bewertungen
4.3 / 5 (429 Bewertungen)
The best Hotel in Tbilisi
Jun 2021
Well, at first I want to say Big Thank You to the team that provided me every detail from the very start. They arrange to me transfer from airport. As for the Hotel, its located in the city center. it's the most gorgeous street. you can get easily everywhere. Staff was very kind helpful. Hotel was totally new, comfortable and clean. so I highly recommend this hotel to everyone.
We liked the location and the room was very pretty. We were lucky to have balcony so we enjoyed the view. Will Recommend to friends and family.
The breakfast needs improvement, not much options were there.
very very friendly staff, they make you feel like home, amazing view, great location and comfortable rooms
very nice staff, clean rooms and nice location
very nice location, clean hotel
Very nice breakfast .and good hospitality
Very nice and helpful stuff. They helped us to surprise our friend at her birthday.
good place in the centre of tbilisi
Jul 2022
very modern room in very nice part of tbilisi
breakfast is very mediocre
If you stay only 1-2 nights, it's a good option.
Aug 2022
Very good location, we liked the street. Bathroom with hot water was really good, we stayed in about 6 hotels in Georgia, in this hotel bathroom was the best. Lot of turkish restaurants nearby.
We stayed for 7 days. They cleaned room only once and only when asked to, and they never changed bed linens. Poor soundproofing, you can hear your neighbors talking, especially if neighbors have jumping children you will literally feel their jumps. We were lucky, most of the time neighbor room was empty. Internet is very bad in the evenings, sometimes unusable.
really nice experience
Aug 2022
this hotel is really perfect for family, the breakfast is nice as well
A perfect place to stay.
Oct 2022
This hotel is located at the perfect location. Many city attractions are on nearby walking location. There are good options of restaurants available e24/7. We will definitely stay in this hotel again!
The Best Staff.. But!
Oct 2021
The staff was very friendly. George provided all the assistance we needed during our stay and went out of his way to make us feel comfortable.
The rooms are anything but insulated. You could literally hear what the person in the neighbouring room was saying. Some of the guests were inconsiderately loud and noisy after midnight, which made the situation worse.
The staff was exceptional. They're helpful and cooperative. The cooking lady especially is the sweetest person alive. The receptionist upgraded our room because we were a family of 6 and our previous room felt a little small. Though small, I liked the first room and our upgraded room was the cutest ever. It had 2 floors of sorts and it was really comfortable. You can see it in one of the pictures listed. I liked the mini pancakes they served for breakfast.
There was no lift but it's alright because the hotel has just 3 floors The AC wasn't working because it's winter and they keep it off. The room may have been insulated a little too well because it felt too hot at night despite us keeping the windows open all day. Not a lot of amenities so don't expect that.
The staff right from a warm greet from reception to room service to the breakfast kitchen staff everyone was so polite and kind. This was our first Georgia visit and it was surely memorable with Gladius inn. I'd surely recommend for a short stay as it's near to the centre and the street outside is buzzing. Great facilities, Amazing interiors
I would recommend the breakfast menu spread to be bit more continental although i loved the Georgian part of it.
It was nice and pleasant. Comfy and relaxing.
Jul 2022
the staff is helpful and friendly. They speak English and always smiling and offering help. The design of the hotel is nice and the color blue add to the nice atmosphere.
The breakfast is not that versatile but it is ok.
If you like to stay in small hotels with cosy atmosphere and friendly staff then this is probably one of the best choice
Jun 2022
The staff are really friendly. George was really helpful with finding solutions for accommodation problems and taxis. Breakfast is good and delicious with a choice of preparing you favorite omelette. The bathroom is very nice and cosy with shattaf for best toilet cleaning. we got a room with balcony very nice.
The entrance is bad and narrow. The safety box is not permanently fixed to a wall.
Not worth off money
Dec 2021
The property location is good
No elevator we have to carry our luggage's through the stairs by ourselves. No enough staff Breakfast not very good
The place was really great for family, it's clean and spacious, friendly staff, location is near to restaurants and supermarkets. Has a great view, too. Would really love to stay here again.
Cozy and good stay
Oct 2022
The pictures the hotel advertises make the hotel seem to be a very high-end hotel, it was quite a surprise to see this place as more of a hostel than a hotel, however a very nice hostel. Nothing wrong with the hotel, just my advice to those looking to stay here is to not go in with very high expectations as the pictures are slightly different from what it really is. It was a comfortable stay with nice rooms, and breakfast was timely every morning and the staff was helpful whenever we asked for anything. The location was good and convenient as it was easy to reach attractions since they were nearby. Grecko and Lika from reception were helpful and very accommodating throughout our stay :) We were traveling as a big group and had 4 rooms for us in total, it was nice to have everyone just opposite the room or just downstairs as its a small and cozy hotel
- Housekeeping was a bit tricky as they do not re-stock toiletries, the utensils we used weren't clean unless specifically kept at the coffee table, comforter and comforter sheets are given separately hence you have to put it in yourself, the washrooms aren't cleaned I believe only the trash bag is changed. We were two people staying in a room, however, they had only provided one bath towel and 2 hand towels, and fresh towels were not provided after cleaning the room. When we asked the reception about the housekeeping process, they told us we need to be present in the room for the housekeeping staff to do it thoroughly - I find this to be inconvenient, if you are waiting for housekeeping staff it takes away time from your day to travel and explore. We waited one day for hours, but no housekeeping staff came. We even put the "Please clean my room" sign on the door and headed out, when we got back at night, the sign was still on the door and the room was in the same state we left it. The housekeeping staff is a very sweet lady, however, I believe there is only one housekeeping staff hence it must be tough to manage all the rooms. - No elevator, it was a challenge to carry luggage up the stairs but at times staff helped depending on who was in the reception
The location is superb, easily accessible to all locations
The location is really good. A bunch of restaurants for any taste. Walking distance to all sights. New facilities and furniture. Nice and polite personnel.
The room in super tiny. It's okay for a night or two after walking around all the sights, but nothing more. There is even no desk nor table in the room. There were a lot of noisy guests shouting in Arabic or Turkish at night. Who likes that? Breakfast is really poor but come on, who comes to Georgia for hotel breakfasts?
good location but no elevator
Dec 2022
The location is good, near many restaurants and minimarts. All staff (Gvantsa and others) are very nice.
The hotel has no elevator, not comfortable for big luggages
The location is excellent very close to metro and nearby lots of restaurants.
There is no elevator to take luggage upstairs.
The location. Bathroom Staff friendly
No elevator No variety in breakfast
the hotel was clean and tidy, the staff were polite! I liked everything very much! will definitely come back
Dec 2021
the hotel was clean and tidy, the staff were polite! I liked everything very much! will definitely come back
was cozy and we enjoyed
Nov 2019
The hotel style, rooms and friendly staff. Frankly you feel like home, i was using the junior suite and was awesome, breakfast is wonderful and yummy. The location is just WOW !!
- the hotel is located on a nice touristic street. Although it is not an old city, the place is still quite attractive and has many grocery stores, restaraunts, banks and exchanges, metro station. - the staff is friendly and willing to help - the room condition was very good and it felt like a very new hotel (i think it actually is). - the rooms are really nicely designed and decorated! - ac worked perfectly - my room was equipped with a workspace, sofa, coffee table which is not usual but super nice to have.
- breakfast is quite modest. - wifi connection was not able to handle watching a series online in evenings.
Nice staff but quite basic
Oct 2022
The best thing was that the staff were very friendly and helpful, even when some of our group needed to arrive and leave in the middle of the night. They helped to book taxis, and provided an iron promptly when requested. The view from the front rooms is nice, of some beautiful buildings opposite.
Overall I felt the photos on Booking gave a misleading idea of this property as bigger and more upmarket than it is. You enter up some stairs from the street, and there's only a tiny reception in the corridor so it all feels more like a hostel entrance. My room looked nothing like the rooms in the photos, although it was fine and clean. The breakfast area is very small and plain and it's also basically in the corridor, and the breakfast selection was quite basic (although I see they don't want to cook loads for only a few people). Nothing was awful, it was just very different to what I was expecting based on the Booking page.
Thank you for the beautiful stay
May 2022
Thank you for the stay, it was very nice and I thank them for the breakfast and the calm
all is berfact very good 👍🏻
good value place with friendly staff and comfy beds, but we warn if need the wifi as it's slow
Jul 2022
terrible internet, bathroom smelled moldy
superb, would definitely stay again.
Dec 2021
super clean and Gigi at reception amazingly good. comfortable bed and excellent interior.
Glad to stay in Gladius :)
Nov 2022
Superb staff especially the manager Ms Lika.. all staff so helpful.. the location is great..breakfast good. The room are clean, value for money...
Staff, exceptionally front desk was absolutely splendid. Professional, helpful, extremely kind. Available 24 hours, speaking very good english.
room was dirty. they did not clean it although we told to clean it
Rooms are clean and fun. Amazing location. Very friendly staff. I would highly recommend this place
Not worth the price I paid
Dec 2021
Not a 4 star breakfast, room without a complete wardrobe
it's was nice and warm thanks for all stuff
Oct 2022
Quite and nice. room as mentioned on description. clean hotel big room specially for group.
nice stuff specially Lika she helped us too much. all what you need you can found. supermarket, and restaurants.
I had booked stay for two nights for my friend and family and got to know that the air condition was not working properly and the bathroom water was clogged and we informed the reception and was told that they would fix it so the guest managed for first day , which on the later part of day they informed the guest that the problem was fixed and when they got back to room it was still the same and like before and it was around 9 pm so it was impossible to hunt a different stay . totally disappointed with the hotel staffs response to a complaint later that day booking.com themselves contacted me saying that hotel informed them that they cannot do anything about it.
Wie viel kostet dieser hotel im Vergleich zu anderen in Tbilisi?

Der Durchschnittspreis für eine Anmietung in Tbilisi beträgt EUR 36 pro Nacht. Diese Miete ist EUR 1 günstiger als der Durchschnitt.
Ist das Parken in diesem hotel inbegriffen?

Ja, das Parken ist als Ausstattungsmerkmal bei Gladius Inn Boutique Hotel aufgeführt. Für weitere Informationen empfehlen wir Ihnen, sich mit dem Anbieter der Unterkunft in Verbindung zu setzen, um zu erfahren, wo Sie parken können.
Gibt es in diesem hotel einen Pool?

Wir haben keinen Pool gefunden, der als Ausstattungsmerkmal für diesen hotel aufgeführt ist. Es kann sich lohnen, noch einmal zu prüfen, ob ein Pool für Ihren Aufenthalt wichtig ist.
Ist Gladius Inn Boutique Hotel haustierfreundlich?

Leider ist dieser hotel nicht haustierfreundlich. Versuchen Sie erneut zu suchen und filtern Sie nach "Haustiere erlaubt"
Welche Ausstattungsmerkmale sind bei Gladius Inn Boutique Hotel verfügbar?

Wir haben 10 Ausstattungsmerkmale für diese Unterkunft gefunden. Dazu gehören klimaanlage, küche/kochnische, internet/wlan, rauchen erlaubt und parkplatz.