FARAWAY SUITES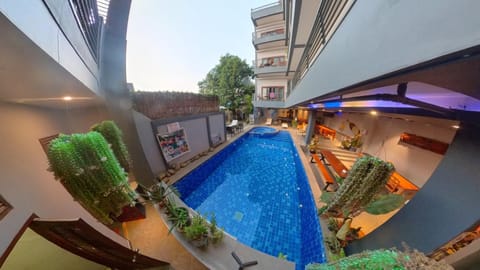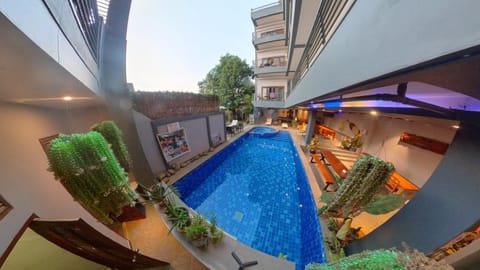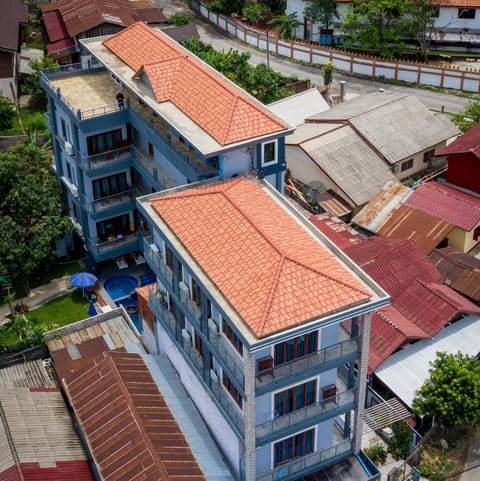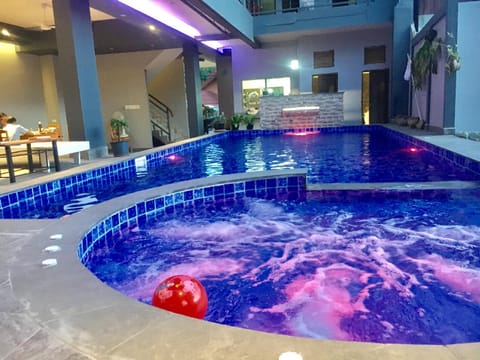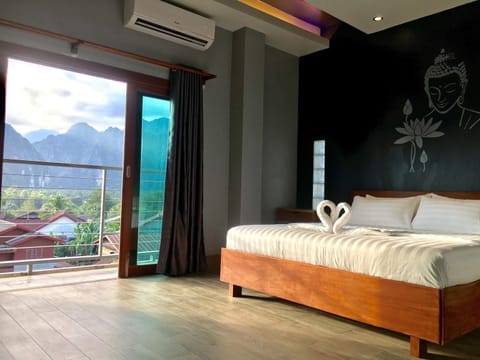 Hotel in Vang Vieng
Pool
Klimaanlage
Küche/Kochnische
Befindlich in Vang Vieng, dieses charmant room in hotel für EUR 8 pro Nacht ist ein großartig Option für Ihr nächstes Urlaub. Die FARAWAY SUITES in Vang Vieng liegen 400 m von der Post entfernt und bieten Unterkünfte mit einem Außenpool, kostenfreien Privatparkplätzen, einem Garten und einer Gemeinschaftslounge.
Pool
Klimaanlage
Küche/Kochnische
Internet/WLAN
Rauchen erlaubt
Parkplatz
Waschmaschine
Balkon/Terrasse
Whirlpool/Spa
Fernseher
Rollstuhlgerecht
Garten
Familienfreundlich
100 % verifizierte Bewertungen
4.1 / 5

"Ausgezeichnet"

(272 Bewertungen)
We booked the suite on the top floor which had an amazing view. The room was huge and clean. The pool was lovely.
The internet didn't work on our floor at all. Staff told us they were ordering a new internet box. There is no lift and the building has 5 floors. The suite apparently has a kitchenette but it only had a drip coffee machine and sink. No kettle/microwave/stove and this was a shame.
Very good place to stay....people there are Nr.1 !!!!
Very friendly and helpful staff. Good breakfast. Rather strange room. Called the Bungalow. No door on toilet and a shower rail splitting room in two so shower essentially in same room as bed. Just needed some getting used to.
the swimming pool was great, the room was very spacious and clean. bathrooms were clean, there was room to hang your wet stuff, location was nice just 3 minutes to the main road of vang vieng,
The swimming pool! It's very clean! The bed was so comfortable! Very clean!
We would definitely recommend it! Very good and value for money!
A bit overpriced for the value
Jul 2022
The staff were all very friendly and helpful. They helped with tours or general information which was appreciated. The bed was big and very comfortable.
I had the bungalow next to the pool and in general, it was way too expensive for the quality. I understand that a room won't look brand new forever but the walls were run down and could use some maintenance. The shower curtain was so dirty. And being next to the pool, it would be nice to have one-way glass doors because otherwise, you have to keep the curtain closed at all times for any kind of privacy.
not recommended if you need Wi-Fi
Jul 2022
the staff are nice and the room is big.
Wi-Fi wasn't working and they didn't try to fix it. if you want to shower with hot water you need to turn it on a really low flow, plus the water was spreading to the whole bathroom. when it was raining our room flooded with water. the pool wasn't clean.
The room was nice, the bathroom was nice. Cute dog at the reception.
We decided to book our trains ourselves instead of with the hotel and that's when the staff started being off with us. The food in this place is not good and after reading several Google reviews of money going missing, we were on edge the entire stay, despite thankfully nothing going missing for us. The pool at the time of the stay wasn't clean either.
the room is big and clean, the brand new house ,they're still working on the new building, quite nice .
cause they're doing the renovation, so the wifi is not so stable, but without this everything is good.
The place was nice and good value but lock up your things
Nov 2022
The pool area and bar downstairs were nice. The location was also pretty good and the rooms were nice enough with nice views.
We think some money went missing from our things (somewhat our fault for not locking it up etc) and there was a day where the owner requested we hand in our keys to do 'maintenance' (NOTE: this was a reason given to everyone we knew in the hotel). The owner was keen to give us some 'discounts' for some things which only made me think he was making a significant cut of the things he was organising. It just left a bad impression as we left and compared notes with others we knew staying in the hotel.
Amazing place and staff
Jul 2022
The place is amazing but the staff even further! Thank you so much to Big, the guy at the reception, who has been extra kind helping whenever needed. The owner as well (cant remember the name :( ) incredibly friendly and kind! Thank you guys ❤️
the owner was super helpful, he helped us book our hot air balloon, train, tuktuks, laundry. Rooms super comfortable (mountain or city view rooms were the best), really quiet at night
Amazing stay - Mountain View Room is perfect!
Jul 2022
The mountain view from our room was amazing! We had booked city view and the hotel upgraded us to mountain view at no extra charge. The staff were very friendly and helpful. There was alot to do on site and alot of local information provided. We loved the pool and flower garden.
That we didn't spend more time in Vang Vieng!
The location, staffs, facility.. all good! I didn't find anything uncomfortable. The room and the bed are very clean. I really like the common area as well :)
The location and facilities. Having the pool, a pool table, a bar and restaurant was great.
The room i stayed in was on the North West corner, with big windows. This meant it was very, especially in the afternoon even with the AC.
The Hotel has everything you need. Clean and comfortable rooms and it's just minutes from the center. The owner, a really friendly woman will help you with all of your questions. You can book tours or train tickets, do laundry or have drink. The food is really delicious. Definitely recommend this place.
Good hotel with friendly staff and owner
Aug 2022
The hotel gave me a fruit basket and yogurt for my birthday. The staff was friendly. Since we were in a hurry for our next activity, they cooked and packed breakfast. They also give us additional yogurt and fruits. The good thing is they've prepared vegan fried rice for me. If you are traveling with older adults, please request lower floors because we need to use stairs.
the best was Noi, the chef and the cleaning lady!
Pity for the policy about their old bikes where you have to pay for their maintenance when they break.
the beds are very comfy. room is clean. enjoyed the pool table while having a couple beer Lao.
Not the best experience
Oct 2022
The accomodation has a nice pool and is located in the more quiet area of the village
We picked this hotel as it seems to be a good and quiet place to stay. However, a group of people where partying every single night making a lot of noise ( it seems that the hotel offers a dorm). The owner forgets a lot of details like (payments, tickets and, breakfast). In addition we rented a scooter and after our first stop which was far away we figured out that it was leaking gas. So we had to go back. Overall, not a good place to stay if you want to catch some rest.
the place is fine
Oct 2022
swimming pool is nice and location is good they can help with tours
dormitory doesn't lock, shared showers not that clean and not a lot of privacy no individual light for each bed, some curtains are missing and ac stops at 7am
Staff is great. Loves from front desk is very nice. Great location - quite neighborhood but close to Main Street and eateries. Comfy bed/blanket/pillow. Hotel is new. Nice view from the top floor. Great showers.
WiFi is horrible but common in all Laos. Power plug from the upper bunk in the dorm is way too high, which makes the phone hanging from the bed when connected since there's no little platform for accessories or whatsoever. No hot water on sinks. Expensive coffee/tea.
Relaxing and easy-going good for families and solo travellers.
Really great place and nice staff. No complaints about the location. Only problem was that the shower was cold. That would be fine in the summer but not good this time of year ☺️
I would not recommend to book any transportation with the hotel, because they are overcharging you. Just book it with other tour companies in Vang Vieng if you don't want to be scammed The room was full of ants which were going all around my body whole night. I could not sleep because of that Everyday they told me that they will send somebody to clean my room, but for 3 days, nobody cleaned it at all!! The hotel is almost collapsing. They need a good maintanence there. One night it was raining hard, and in the morning everywhere was full if water. The breakfast was also not great. Would not really recommend it.
Wie viel kostet dieser hotel im Vergleich zu anderen in Vang Vieng?

Der Durchschnittspreis für eine Anmietung in Vang Vieng beträgt EUR 36 pro Nacht. Diese Miete ist EUR 28 günstiger als der Durchschnitt.
Ist das Parken in diesem hotel inbegriffen?

Ja, das Parken ist als Ausstattungsmerkmal bei FARAWAY SUITES aufgeführt. Für weitere Informationen empfehlen wir Ihnen, sich mit dem Anbieter der Unterkunft in Verbindung zu setzen, um zu erfahren, wo Sie parken können.
Gibt es in diesem hotel einen Pool?

Ja, bei FARAWAY SUITES steht ein Swimmingpool zur Verfügung. Genießen Sie das Wasser!
Ist FARAWAY SUITES haustierfreundlich?

Leider ist dieser hotel nicht haustierfreundlich. Versuchen Sie erneut zu suchen und filtern Sie nach "Haustiere erlaubt"
Welche Ausstattungsmerkmale sind bei FARAWAY SUITES verfügbar?

Wir haben 13 Ausstattungsmerkmale für diese Unterkunft gefunden. Dazu gehören pool, klimaanlage, küche/kochnische, internet/wlan und rauchen erlaubt.