Acoustic Hotel & Spa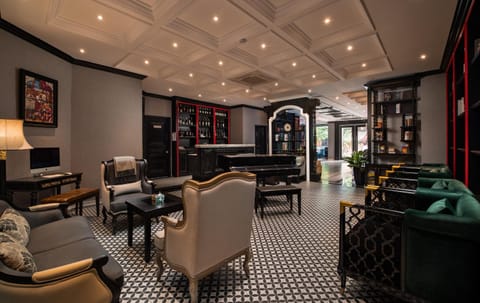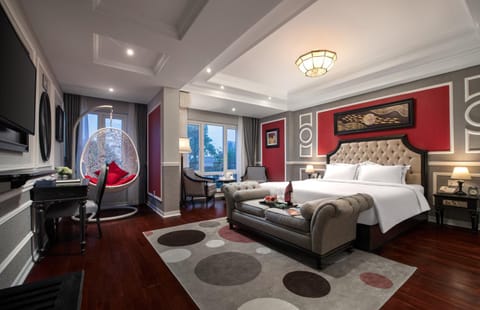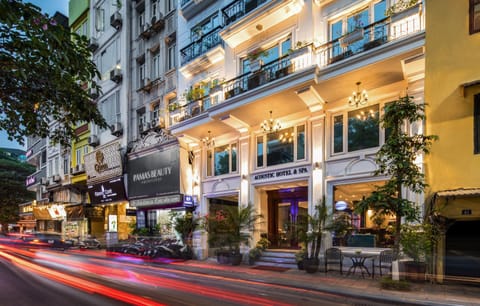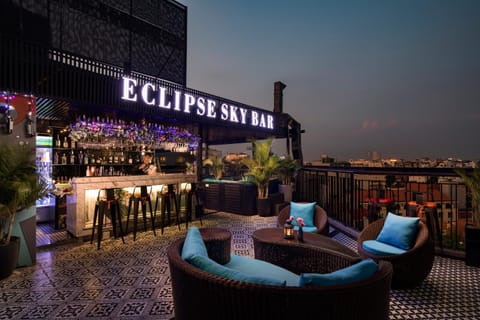 Hotel in Hanoi
Klimaanlage
Internet/WLAN
Kamin
Befindlich in Hanoi, dieses charmant room in hotel für EUR 115 pro Nacht ist ein phantastisch Auswahl für Ihr nächstes Pause. Das Acoustic Hotel & Spa in Hanoi erwartet Sie mit kostenlosen Fahrrädern, einem Fitnesscenter, einer Terrasse und einem Restaurant. Das 4-Sterne-Hotel bietet Ihnen kostenloses WLAN, Zimmerservice und eine 24-Stunden-Rezeption.
Klimaanlage
Internet/WLAN
Kamin
Rauchen erlaubt
Waschmaschine
Balkon/Terrasse
Whirlpool/Spa
Fernseher
Rollstuhlgerecht
Fitnessraum/Fitnessstudio
Garten
Familienfreundlich
100 % verifizierte Bewertungen
4.6 / 5 (1'928 Bewertungen)
Fantastic hotel - please stay here!
Apr 2022
What a great hotel! Perfect location, fantastic rooms and super comfortable beds. The staff are just phenomenal. Nothing was too much of a trouble and they really went out of their way to make my time in Hanoi enjoyable. The showers were some of the best I've had, and small touches (the cleaning team noticed I always removed half the pillows, so they made my bed with less pillows!) made this place a stand out :-) I was in Hanoi to support a friend, and the staff checked in with me to make sure I was ok and showed concern when I was eating at strange times of the day - really kind and above and beyond. The hotel is ideally located and walking distance to almost everything you would want to see in Hanoi.
Comfortable rooms, friendly service and great location - we'll be back!
Apr 2022
We loved the bed, it was super comfortable! It was also surprisingly quiet even though we were close to some busy streets. The staff were so helpful and friendly. They helped us arrange for a motorbike rental and also helped us sort of SIM cards, which we had a bit of trouble doing ourselves. A big thanks to Justin and his team for taking care of us!
Great location, lovely staff
Feb 2023
We experienced a fabulous welcome to this hotel. We arrived here after a night in Halong Bay and found the staff to be friendly and knowledgeable. We booked a family room which was smaller than the hotel we had stayed in previously but the beds were very comfortable and we had a small balcony as well. Everything was neat and clean. We enjoyed the breakfast buffet which included fresh-made options such as pancakes, Croque Monsieur, pho, bun, mien, eggs, etc. My husband and son enjoyed a soak in the jacuzzi on the rooftop where the skybar is located. To use the jacuzzi you need to book it t least 30mins in advance. Location-wise, we were happy to not be in a noisy area though walking distance from a number of attractions and the Old Quarter. Staff are helpful and friendly. Justin, at the front desk, always greeted us with a warm smile. We enjoyed our stay!
Very nice breakfast, you can also order something from the menu. Hotel staff was amazing, they help you with everything. There is also a small gym, so that was plus to us. Room was big and the view was nice. Bed was very very comfortable. .
Very nice hotel in the middle of old town. Perfect place to stay for business trip or tourist travel trip to Hanoi.
Dec 2020
Very kind stuff willing to support you. Good communication in English. The room was nice, clean as it should be.
Generally nothing. They restaurant was not operating, but it is understandable during COVID time and not big amount of tourist. So nothing to complain about.
Very friendly staff, upgrade to Junior Suite with bigger balcony. Good bed, nice bar on the rooftop. Room clean and confy. Thank you very much, we'll recommend your place!
A gem in old quarter
Apr 2022
Very friendly staff, comfy and good smelling rooms.
Very friendly staff and the rooms are great !!
Very courteous and friendly staff. Best hot stone massage ever🥰
very comfortable stay
Dec 2022
very comfy bed, decent size room. helpful staff. extra touches to stand out from the other hotels in Hanoi were great - fruit bowl in room, afternoon tea with cakes for guests, rooftop bar with great selection of cocktails
toilets in shades spaces in the hotel are mixed gender - which is totally fine but urinal smells. needs a deodorizer asap.
A 3 mins walk from the central location, excellent stuff, very clean room.
Apr 2022
Very clean room, options to connect two rooms for family, central location, excellent and knowledgeable stuff.
amazing staff, spa, location and rooms
Aug 2022
very clean and accommodating. the staff is so friendly and so helpful!! they made everything very easy for us and helped us call a driver for a tour when we couldn't call them ourselves. they also set up a ninh Binh tour for us which was AMAZING and a great price. the staff really goes above and beyond. they have wonderful customer service. they have complimentary tea and snacks in the afternoon and good breakfast. the rooms was very clean and had extremely comfortable beds. housekeeping was also so kind to us and even tidy up the room a little for things we needed even while we were in the room (we were ok with it, they asked). we also made use of the spa. the two women who give massages are amazing. maybe the best massages we have ever had. the massage room is so comfy, clean and relaxing as well. we really felt like everyone who worked here was happy we were there. such a fantastic experience
Very attentive staff, excellent location, cozy design. We particularly like the breakfast options
Balcony is very nice but could be better equipped. Coffee selection
No restaurant or breakfast available
The style and service, staff really helpful
The stuff are extremely good, helpful and friendly, really appreciated their help and make us feel great to stay at the hotel.
Relaxing, convenient respite
Jul 2022
The staff were, without exception, amazingly kind and helpful!
The staff were so friendly & helpful, they really made our stay so enjoyable 😊 Great location, very close to all the places of interest.
The staff were friendly and helpful. Lovely spa treatments
Room was a bit tight for a family of 4
The staff were incredible and the location was excellent.
Jan 2023
The staff were excellent and went out of their way to ensure we had a great trip.
I was at the front of the hotel. Traffic noise was heavy but then it's just the way it is in vibrant cities.
Value worth boutique hotel with wonderful service staff
May 2022
The staff was very welcoming and warm since i stepped in and they decorated the room beautifully. The bath tub was great, the service by the frontline desk were impeccable, I highly recommend to stay here if you are looking to book the hotel in old quarters. I remember Dao(wengz), Justin and another service staff wearing spects and the doorman fondly. They speak really great English and display professionalism. Thank you everyone for making my 1st vacay after covid a memorable one and we love to come back to stay again!
The gym is a little small, but I guess it is fine, very clean nonetheless. The lift is also smaller and need to take 2 trips if you have large luggage, otherwise, everything works perfectly well and we enjoy the big room very much
The staff was really kind and helpful!!!!
The staff was absolutely wonderful, definitely felt very well treated. The location is great and the rooms are spacious and comfortable
The staffs are very warm, accomodative and welcoming. They extend helps when needed, made arrangement and making our stay at ease. Thumbs up!!
the staffs are really friendly and polite.
Wouldn't recommend
Dec 2022
The hotel is extremely noisy. You can hear literally everything. The pipes in the bathroom are making A LOT of noise. Every morning there was water on the floor in our bathroom. The ac in our room was leaking and had to be fixed. The staff is friendly but a bit all over the place. When we were checking out, v early in the morning, we got to the reception and they were asleep. When the ac was leaking they sent a person who wasn't speaking in English so the person came and after 10s left. We didnt know if he is coming back. I called the reception after 15min to check whats going on. They didnt even know that he came already, were is he etc. We came back to the hotel after the whole day of sightseeing and we had to leave the room bc of the AC repair. Noone said "we are sorry foe the trouble" or anything. For all of the inconveniences and issues the hotel manager offered a free airport transfer and, to my surprise, they cancelled my booking reservation a couple of hours before our check out. Super strange behaviour. The stay wasn't comfortable nor relaxing. I wouldn't recommend it
The staff is very friendly. Good location. Bed is comfortable. Highly recommended. Breakfast is good.
Overall it's a perfectly great place to stay in Hanoi.
Mar 2022
The staff is very friendly and professional. The hotel room is pretty good, clean, comfortable, which is a real bargain as the price is very appropriate. Its location is convenient, we can walk to Nha Tho Lon, Old Town,…
The staff is very accommodating.
The family room might be a little too cramped for big luggages.
Amazing staff and very nice hotel
Jun 2022
the staff is amazing! they helped out with the visa, tours etc. we had a flight canceled and they immediately helped to re arrange everything for us!
The staff are superb friendly and helpful. I will come back again.
The staff are great, friendly and helpful. The sky bar is a great place to relax and a great view over the city. Also has two hot tubs up there. Rooms are really comfortable with large bed (great for starfishing) hotel is easy to get to museums, mausoleum and hanoi Hilton. I would stay again but not on 10th floor.
Rooms are to close to elevators so quite noisy, I was on 10th floor with restaurant above so when staff started in morning I was woke by the noise. The aircon in my room I found was to close to the bed (just my preference to be farther away).
Excellent staff & location.
May 2022
The staff are excellent…very helpful, welcoming and attentive whenever you may need them. The location is also excellent.
I've stayed a few times but this was my first time back for a couple of years and the change is quite noticeable. Which is a shame. you
The service , breakfast and room
The room was tidy; convenient location, has the loveliest staffs ever! Had a really comfortable stay!
The room was comfortable and the hotel staff were very helpful.
It was a pleasant stay as always. I always choose this hotel for every business trip to Hanoi
May 2021
The room was clean, staff was nice as always. Very good experiece!
Wie viel kostet dieser hotel im Vergleich zu anderen in Hanoi?

Der Durchschnittspreis für eine Anmietung in Hanoi beträgt EUR 37 pro Nacht. Diese Miete liegt EUR 78 über dem Durchschnitt.
Ist das Parken in diesem hotel inbegriffen?

Das Parken ist nicht als verfügbares Ausstattungsmerkmal bei Acoustic Hotel & Spa angegeben. Für weitere Informationen empfehlen wir Ihnen, sich mit dem Anbieter der Unterkunft in Verbindung zu setzen, um zu erfahren, wo Sie parken können.
Gibt es in diesem hotel einen Pool?

Wir haben keinen Pool gefunden, der als Ausstattungsmerkmal für diesen hotel aufgeführt ist. Es kann sich lohnen, noch einmal zu prüfen, ob ein Pool für Ihren Aufenthalt wichtig ist.
Ist Acoustic Hotel & Spa haustierfreundlich?

Leider ist dieser hotel nicht haustierfreundlich. Versuchen Sie erneut zu suchen und filtern Sie nach "Haustiere erlaubt"
Welche Ausstattungsmerkmale sind bei Acoustic Hotel & Spa verfügbar?

Wir haben 12 Ausstattungsmerkmale für diese Unterkunft gefunden. Dazu gehören klimaanlage, internet/wlan, kamin, rauchen erlaubt und waschmaschine.