New Capitol Hotel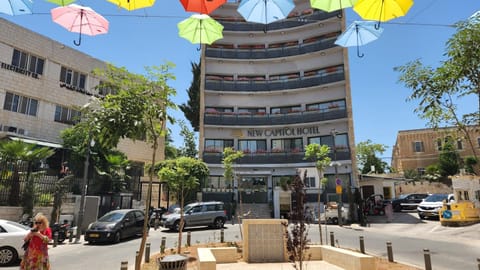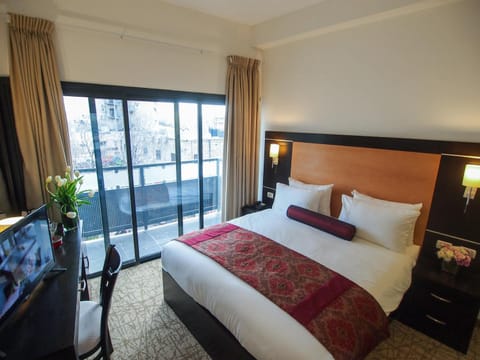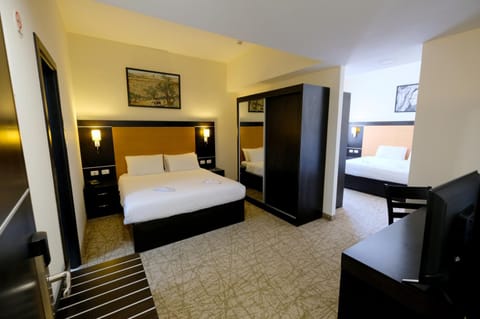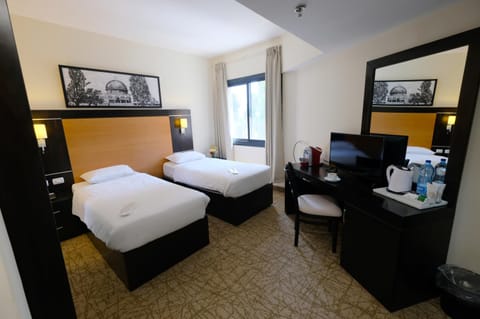 Hotel in Jerusalem
Klimaanlage
Küche/Kochnische
Internet/WLAN
Eingebettet in Jerusalem, dieses charmant room in hotel für EUR 147 pro Nacht ist ein phantastisch Auswahl für Ihr nächstes Reise. Das New Capitol Hotel in Jerusalem liegt 1,4 km vom Garten Gethsemane entfernt und bietet eine Terrasse, Nichtraucherzimmer und kostenfreies WLAN.
Klimaanlage
Küche/Kochnische
Internet/WLAN
Rauchen erlaubt
Parkplatz
Waschmaschine
Balkon/Terrasse
Fernseher
Rollstuhlgerecht
Familienfreundlich
100 % verifizierte Bewertungen
4.3 / 5 (178 Bewertungen)
Would be happy to stay again in the future
May 2022
Well maintained. Friendly staff. Excellent breakfast
Good price-quality ratio
Nov 2022
Well-cleaned room except the carpet. Comfortable bed. Spacious room and bathroom. Decent breakfast.
The sounds from the corridor are very audible in the room. İt seems like the neighbors come in your room.
All recommendations!
Mar 2023
We had a great experience at this hotel, first of all, location is excellent, 10-15min.from Old town, then again to Mount of Olives, transportation to other part etc. Breakfast was really rich and since it was fasting period for us (orthodox Christian) we found many vegan options at the buffet. The staff was helpful and there for any question or problem to resolve. Hope to stay here again!
Beware of noisy road but nice stay otherwise
Apr 2022
Walking distance to places
Because of holidays not much food places open at all hours. I was told i could have breakfast in the welcome message and then afterwards was charged even though they said yes to breakfast. Please refund the charges
Very nice hotel, clean and well maintained, good size of the room, friendly and helpful staff. Very comfortable bed and quiet place, creating the conditions for a good night sleep. Breakfast was diverse and very tasty. The little garden/park that is arranged in front of the hotel is really nice and creates a lovely atmosphere. There is paid parking right next to the hotel but free parking can be found on the street close to the hotel. 5 minutes walk to Hebron gate and 8 minutes walk to Damascus gate, making it easy to visit the Old Town anytime.
Breakfast only until 9:00 but they were very nice and allowed me to take my breakfast plate to my room so I can eat it a bit later.
Very friendly staff and they upgraded my room for a more enjoyable stay.
Very comfortable rooms, super friendly staff. Only 10 Minutes walk from the Herodes gate. We would stay any time again 😊👍
Jerusalem is great and the hotel New Capitol adequate. I know it since many years and I find it
Jun 2022
very comfortable. Excellent central position. large room twinbeds and large bathroom. Hopefully in november will be lower prices!
the best hotel in Jerusalem tea coffee free all the time big Rooms 5 star quality
Jun 2022
big space big bathroom also has balcony
great value and location
Sep 2022
this was a great property, very clean and modern rooms with all the facilities. the location to the old city was useful, I would definitely stay here again.
The staff were really friendly, and they offered us a free upgrade of the room we picked. The room was clean and had a balcony overlooking an exceptional view. Everything about the place made my stay comfy.
I was told that i need to pay a tax that was not stated before as "required", but it's okay.
short stay close to old city
Dec 2022
the staff were friendly and helped me with an early check in . location is great walking distance to old city.
The staff was friendly and the room was comfortable
Good place to return
Sep 2022
The staff was amazingly friendly. We travelled in a group of 8 people and one of us had a minor problem and it was taken care of it immediately. Beds were comfy and it was quiet at night. I appreciated the fruit plate in each of the rooms. In 7 minutes your are at herods gate. The parking is just next door and costs between 40 and 50 NIS for a day.
Breakfirst was the only thing which could be improved. Non of us liked the coffee, the eggs had a strange taste.
the staffs Is sympathical it ´s good hôtel Mustapha Is good guys
The location of the hotel was good because it's near to the old city!
The bathroom was a little dirty and our shower got flooded!
An excellently located hotel right next to Old Jerusalem.
Mar 2022
The location is excellent. It's a two minute walk to get to the old city and a 12 minute walk to get to Al-Aqsa. The allotted time for breakfast was around three hours which gave us plenty of time to sleep in if we were feeling particularly tired. The front desk, the chef, and the staff in general were extremely helpful and actually memorized our names, which was a nice touch. I needed a rental car so the front desk actually called more than one rental car place and negotiated on my behalf to get me a much lower rate than advertised. When it came time for us to leave, the front desk called us a cab and negotiated a flat rate for us. Overall some of the most helpful hotel staff I have ever come across in all my travels.
In all honesty, the WiFi maybe could have been a bit faster, but as far as complaints go, it doesn't really register in the grand scheme of things. I'm genuinely unable to find something I dislike about this hotel.
The location and the reception staff.
Lack of service, staff, breakfast service poor. Still the hotel is not prepared for occopying guests. As no services is done to the room while there is no employee to do it. One person is taking care for everything in the hotel. Thank you for the employees who they did all efforts to help and satisfy us during our stay.
The hotel was very comfortable. Breakfast was quite adequate. The cooks went out of their way to give us some extra food.
The WiFi was not good in the room we had 313.
The hotel is located very good👍 The staff were very nice
It was as if I was in my home with family.the break fast is wonderful
May 2022
The hotel is a perfect place to stay in Jerusalem close to all biblical and historic site.wonderful and friendly people I intended to change hotel after 3days as usual but the comfort there can't be describe. The beckoning for relaxation the natural air that comes in is so wonderful
Super friendly and comfortable stay in East Jerusalem.
Feb 2023
The delicious very typical Palestinian breakfast with plenty of coffee to suit oneself with. The comfy room and warm shower. The complimentary fruits, coffee and tea. Everything looks pretty new, or recently renovated. The super welcoming staff, all very friendly and obliging. My old father made himself swiftly at home.
The location is very good if you want to stay in the heart of East Jerusalem, and quite convenient to visit the sites in the Muslim quarter of the old town. It's right in the middle of a pretty new square, impossible to miss. Also pretty close to a bus stop. But it's not so close to the light rail nor very convenient for West Jerusalem. Not much of a view to speak of.
the breakfast was good and the location is perfect
there is no parking for the hotel , you have to pay each day for parking
Staff was very helpful, walking distance to The Old City, very safe.
Staff was super nice and friendly and went out of their way to be helpful. They were preparing for a VIP guest visit while we were there and so very few of us were in the hotel and so there was no buffet breakfast….but they made individual plates for us and helped make sure we had what we needed.
When booking Jerusalem always check the neighbourhood first! Value for money is OK!
Jun 2022
Staff was friendly and helpful! Room was clean but not the bathroom! Free water and fruits!
People talking loud on the hallway in the middle of the night! Poor sound isolation. Bathroom was not to clean - could be improved.
Rooms breakfast. Very clean.
Everything accept prices little bit hire than last year.
Room cleaness, assortment for breakfast, and level of service were very good. But if you are interested in bacon and plenty of pork dishes, the offer is limited. Rooms are well equiped, comfortable, and silent (I had a room into yard not into the main street). I also welcome late check-out at 12 a. m.
Air condition in the yard can be a bit noisy, when you have your window opened.
Perfect Hotel in Jerusalem
Jun 2022
Really nice room with coffee machine, nice balcony and comfortable bed! Parking area directly next to the hotel! Staff was super friendly an very helpful. They helped us with everything at every time. We didn't book breakfast but we got cake and bread every morning for our tours! Thank you so much for the great time!
The services that are not available in the hotel shouldn't be mentioned im the room book (e.g room service, mini bar...) The phone wasn't working in the room. The curtains were not properly fixed. The balcony was dirty.
Little bit noisy during night
Wie viel kostet dieser hotel im Vergleich zu anderen in Jerusalem?

Der Durchschnittspreis für eine Anmietung in Jerusalem beträgt EUR 145 pro Nacht. Diese Miete liegt EUR 2 über dem Durchschnitt.
Ist das Parken in diesem hotel inbegriffen?

Ja, das Parken ist als Ausstattungsmerkmal bei New Capitol Hotel aufgeführt. Für weitere Informationen empfehlen wir Ihnen, sich mit dem Anbieter der Unterkunft in Verbindung zu setzen, um zu erfahren, wo Sie parken können.
Gibt es in diesem hotel einen Pool?

Wir haben keinen Pool gefunden, der als Ausstattungsmerkmal für diesen hotel aufgeführt ist. Es kann sich lohnen, noch einmal zu prüfen, ob ein Pool für Ihren Aufenthalt wichtig ist.
Ist New Capitol Hotel haustierfreundlich?

Leider ist dieser hotel nicht haustierfreundlich. Versuchen Sie erneut zu suchen und filtern Sie nach "Haustiere erlaubt"
Welche Ausstattungsmerkmale sind bei New Capitol Hotel verfügbar?

Wir haben 10 Ausstattungsmerkmale für diese Unterkunft gefunden. Dazu gehören klimaanlage, küche/kochnische, internet/wlan, rauchen erlaubt und parkplatz.