Seda Residences Makati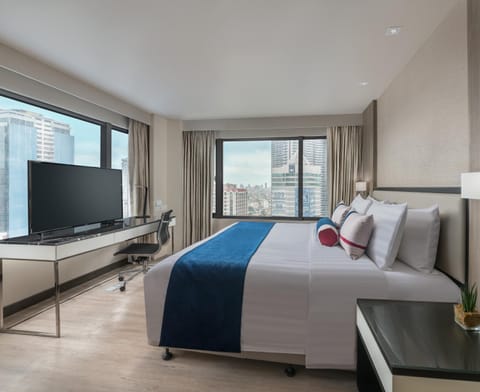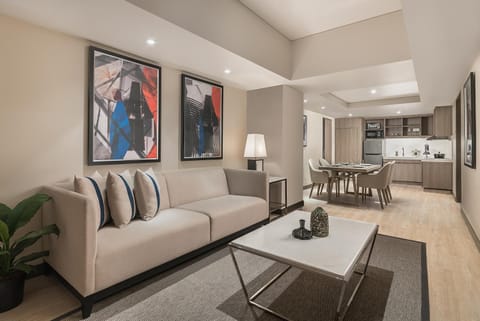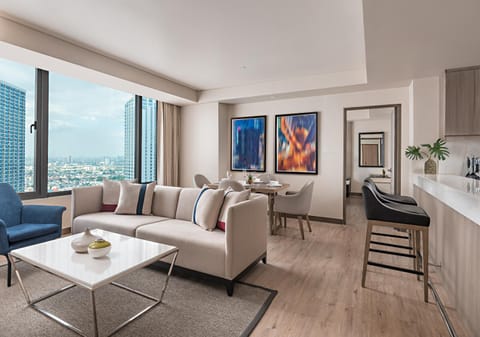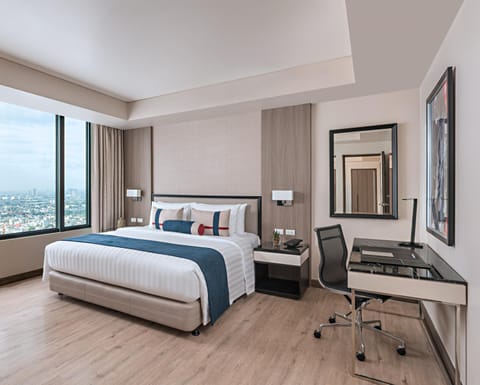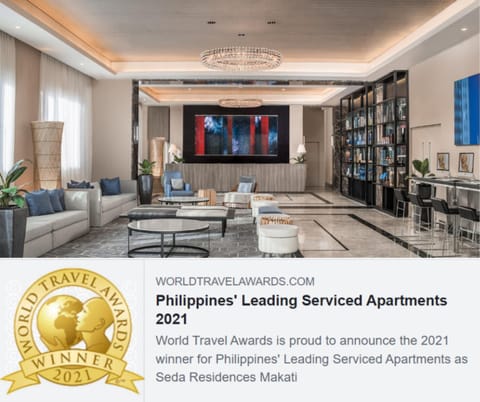 Hotel in Pasay
Pool
Klimaanlage
Haustiere erlaubt
Gelegen in Pasay, dieses charmant room in hotel für EUR 74 pro Nacht ist ein phantastisch Auswahl für Ihr nächstes Reise. In Manila, 1,3 km von der Greenbelt Mall entfernt, bietet Ihnen das Seda Residences Makati - Multiple Use Hotel eine Unterkunft mit einem Restaurant, einem kostenlosen Privatparkplatz und einer Bar.
Pool
Klimaanlage
Haustiere erlaubt
Küche/Kochnische
Internet/WLAN
Rauchen erlaubt
Parkplatz
Waschmaschine
Fernseher
Rollstuhlgerecht
Fitnessraum/Fitnessstudio
Familienfreundlich
100 % verifizierte Bewertungen
4.5 / 5 (348 Bewertungen)
Fantastic accommodation in Manila
Feb 2023
We really enjoyed our stay here, the room was very well equipped, clean, a very comfortable bed, stable WIFI and a breakfast with vegetarian options. The staff is extremely friendly and helpful. We would highly recommend this place!
You do get some noise from the street even when being high up (our room was on the 28th floor). This is not the hotels fault, but simply because traffic is extremely busy in Manila.
We love this place and every time we visit Manila we will stay here.
Sep 2022
We had a room with washer/dryer and 2 tv's. AC nice and cold. Bed was very comfortable and shower had good water pressure. All staff was very hospitable and nice.
I can't think of anything that I didn't like.
Good base for Makati business trip.
Sep 2022
We had a primier 1 room apt. On the 34th floor for a 2-night layover. Pluses: 1. Big, clean, excellently equipped room with a beautiful skyline view; 2. Big bed, clean and fresh linens; 3. Staff very helpful; 4. Some places to eat below and around the property. 5. Nice view at the 35th fl. breakfast area. After the above considerations, I would still recommend and go back to this property for short stays.
Minuses: 1. Location not great for shopping if one expects a short walk to the malls; 2. Hallway and restaurant carpets can do with better cleaning; 3. Same with glass doors and metal door handles (filled with hand prints) - specially with covid and all, guests would certainly notice the dirt; 4. Food just ok and very greasy. Careful on the oil!!!
Very relaxing place and clean and accessible
not the property. but the cleanliness of breakfast area the UTENSILS. Double Check the Plates and Utensils before using.
Nice and practical place to stay with a good set up of facilities and with good service
Dec 2022
Very practical, and large rooms. Nice pool area.
Very clean, staff helpful. Loved the roof top bar! Safe location.
very clean rooms and staff are very professional and helpful
Very clean and staff are very accommodating. Very spaceous place.
Very clean amd comfortable
it's was very good stay a little dusty some of the corner but can be ignore most of the time, good stay. nice location
Aug 2022
the view of our room was amazing
The staff was very friendly and accommodating! the breakfast was very good we will be back for another stay.
there is nothing we didn't like the stay was very enjoyable.
Enjoyed my overnight stayed
Oct 2022
The room we're very clean and spacious. Friendly staff and they are also helpful, and good service. 👍 the rooftop bar/Restaurant was a nice view. 😊
The room was OK but it is difficult to fully rate Seda residences at this time since this is being used as a quarantine facility where guests are not able to go down and check out restaurants, check out the gym etc..etc... we are locked inside the room for 10 days. and I am guessing that they only have a regular cook who can cook at home instead of the chef in hotels during the NOT PANDEMIC time. IT is still pandemic time here.
Highly recommended
May 2022
The room was clean and very modern. Breakfast buffet by the rooftop was topnotch.
best place for quarantine
Oct 2021
The rooms was spacious and clean they had the mist comfortable pillows that made our sleep better
They need to have better coffee like keurig or nepresso
highly recommended
Jun 2022
the room is so clean, the place is very nice and the breakfast is superb
The resto-bar serves good food and the view is amazing.
you get what you pay for
Jun 2022
the hotel looks new & excellently clean. the staff are polite. the breakfast varieties are okay, though wasn't able to avail the second one due to early check-out. the early morning check-out was flawless.
a 'lil delay in the check-in process due to manual registration & identity verification. nevertheless, the manager apologized sincerely for the 22 mins delay.
The good things I like here is the peaceful ambiance!
Good breakfast, swimming pool, nearby shopping mall.
May 2022
The breakfast is good, many choice, but less variation. The swimming pool is good, not too crowded. Great housekeeping, Also good location within shopping area, and safe ATM nearby.
They did not replace the empty water can on request.
great experience even though I am in quarantine. Staff are amazing accommodating and friendly
Dec 2021
staff are amazing 🤩 friendly, hospitable and very professional
location , cleanliness, staff and space
Great lobby, spacious rooms, good location
Aug 2022
Spacious rooms, good location, charming lobby. All staff were polite and helpful.
The coffee machine dispensed coffee at the buffet was just really really bad. I take my coffee black so no masking with milk/sugar. Thankfully the area has some good coffee shops (recommend Bad Cafe on Legaspi St)
superb. staffs are courteous and responsive to queries. the room is clean and spacious as well.
Dec 2022
spacious room and good food during breakfast.
Our family had a pleasant stay. The kids enjoyed the pool area and the play room.
Apr 2022
Room, pool, play area for kids & breakfast buffet
Room is super clean and comfy pillows which was what I like most. Staffs were friendly and would open doors for you. I enjoyed my short stay and I wish I could stay for more days but got a tight schedule.
Relatively new hotel so the facilities were topnotch. Pre lobby, lobby and the room itself are in excellent condition. The location right beside Makati Medical is perfect for my needs. Breakfast was terrific, set up three ways- a left inside section and a right inside section linked by an outside open air section, each section had food selections of about the same and slightly more for the inside sections. In the ground floor before you enter the hotel are a good selection of restaurants and same up to the 2nd floor which presumably caters to call center employees and other offices. Jasmine of the breakfast crew, she is terrific. Excellent service.
The front desk is fine. I asked for a specific location ang got it. It's weird that they asked you for a deposit and when you pay in cash and not a credit card, they tell you everything that you order (eg in room service) you now have to pay in cash and cannot charge to the room. Weird! My room is paid thru credit card. Housekeeping is lousy. Didn't clean the dirt on the side table, didn't vacuum the floors (some debris close to the waste basket) were still there on the 2nd day. Toilet paper about 1/3 left and they never left a spare roll. The room had 2 bathrobes and 2 large bath towels but only one small hand towel. The coffee packets I drank the day before were not replenished. It is the only hotel I have stayed in recently where I used the small skin lotion bottle and left it on the side table where they didn't replace the item in the bathroom. Lastly, if you try to call the 0 number on the room phone, it rings forever then switches to a busy signal. Tried 3 times. I complained and next day I called someone on the front desk who answered and took all of my requests to housekeeping. On the 3rd morning I called the number again and same thing as the two days before. Cannot contact. No too client accommodating. That was my 3rd stay and I asked for a 1 hr extension of the checkout from 1p to 2p. Wouldn't give. Try calling them on their outside line and see if they answer. Good luck.
You have a bit of a problem with breakfast. You have such amazing food and you serve it if frankly a tragedy.. Food is very important.. Consider changing it. very bad
Wie viel kostet dieser hotel im Vergleich zu anderen in Pasay?

Der Durchschnittspreis für eine Anmietung in Pasay beträgt EUR 44 pro Nacht. Diese Miete liegt EUR 30 über dem Durchschnitt.
Ist das Parken in diesem hotel inbegriffen?

Ja, das Parken ist als Ausstattungsmerkmal bei Seda Residences Makati aufgeführt. Für weitere Informationen empfehlen wir Ihnen, sich mit dem Anbieter der Unterkunft in Verbindung zu setzen, um zu erfahren, wo Sie parken können.
Gibt es in diesem hotel einen Pool?

Ja, bei Seda Residences Makati steht ein Swimmingpool zur Verfügung. Genießen Sie das Wasser!
Ist Seda Residences Makati haustierfreundlich?

Ja! Diese hotel ist haustierfreundlich. Für weitere Informationen empfehlen wir Ihnen, sich mit dem Buchungsanbieter in Verbindung zu setzen.
Welche Ausstattungsmerkmale sind bei Seda Residences Makati verfügbar?

Wir haben 12 Ausstattungsmerkmale für diese Unterkunft gefunden. Dazu gehören pool, klimaanlage, haustiere erlaubt, küche/kochnische und internet/wlan.