La Tica y la Gata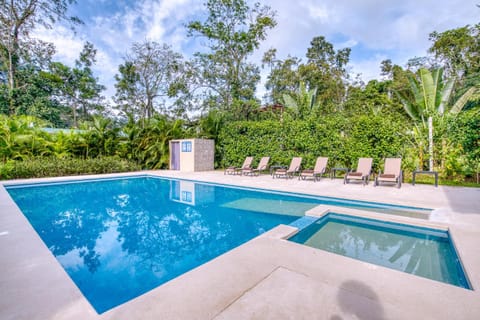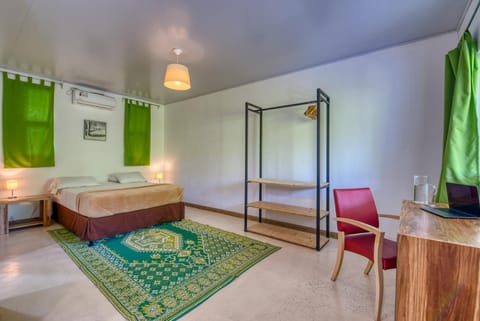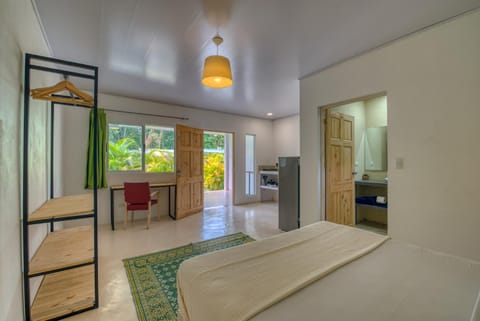 Hotel in Puerto Viejo Talamanca
Pool
Klimaanlage
Küche/Kochnische
Gelegen in Puerto Viejo Talamanca, dieses charmant room in hotel für EUR 79 pro Nacht ist ein großartig Option für Ihr nächstes Urlaub. Das La Tica y la Gata in Puerto Viejo liegt 1,9 km vom Strand Negra entfernt und bietet Unterkünfte mit einem Außenpool, kostenfreien Privatparkplätzen, einem Garten und einer Terrasse.
Pool
Klimaanlage
Küche/Kochnische
Internet/WLAN
Parkplatz
Balkon/Terrasse
Whirlpool/Spa
Rollstuhlgerecht
Garten
Familienfreundlich
Karte von Puerto Viejo 

Talamanca
100 % verifizierte Bewertungen
4.7 / 5

"Herausragend"

(373 Bewertungen)
Great apartment, lovely staff
Feb 2023
We loved waking up to the sounds of birds and howler monkeys. The apartment set-up worked well for us - with the bedrooms separated, we could set our AC to different temperatures. The outdoor kitchen/lounge was spacious and felt private. The staff were really friendly and helped us arrange tuk tuks on several occasions (even when we were in another town). We were very happy with our stay at La Tica Y La Gata.
The walk from the main road is on a dark unpaved road. We actually appreciated the walk, but some people might find it too far. However, it's easy to get a tuk tuk if you don't want to walk it (and many people also have rented cars).
We loved our stay in la Tica y la Gata. The owners made us feel super welcome, helped us with any request and were just the nicest people! We would definetly go back!
Relaxed place just outside of PV
May 2019
We got welcomed really nicely. The accomodation is owned by a nice spanish family that just opened this recently (I think March). The rooms are really nice and well thought-through. As it opened just recently they are still trying to fix and finish some things, but nothing that would disturb the stay there. Kitchen has everything that you would need to cook. Everything is cleaned everyday. We especially enjoyed the terrace and sitting there at night, one day we also just stayed there to relax rather than going to the beach, as it was so comfortable. I can highly recommend this place!
Very nice welcome for us in Costa Rica! Very friendly and helpful people. We got an extra bed for our youngest kid so we could easily fit 5 people. All is nice and clean and the kids loved the pool! Short walk to town and to our favorite bakery ;-)
we liked it and one day we come back
Jan 2022
very nice host. gave us alot of tipps for restaurants and co. unfortunately we had only one night.
a bit away from city, but by car no problem
Very good, the owner very helpful. Nice place in nurture but close to town.
Upon arrival, we were greeted by La Tica herself, Cristina, & felt so welcomed by her & a friend of hers who was there visiting with her. Our room/ studio was very modern, simple & had everything we needed if we were going to stay longterm. The front porch was so comfortable to hang out in & just enjoy some time taking in the beautiful surroundings of Puerto Viejo. 10 outta 10, recommend!
My apologies for the terrible photos. Had to take some screen shots from a very speedy MarcoPolo. Other than that, nothing negative to say about La Tica y La Gata!
The staff was amazing, super friendly and the apartments had everything we needed and more.
The staff is awesome and will help you with anything you need. The complex is very nice, the wifi is fast and the rooms are very spacious and clean. I regret not staying longer.
Amazing stay at la Tica y la Gata
May 2023
The rooms, bathroom and outdoor space are very spacious, the pool is great, the employees are very helpful & kind and go an extra mile to make your stay amazing. The site is really pretty with the little lights and in the middle of a garden. Very clean and there is AC in the rooms.
It's a bit far away from the main road and the connecting road is a pebble one and very dark after sunset. I would recommend to take a tuk tuk or go by car after sunset.
The property was super nice with a pool and the rooms were very clean. The cleaning ladies were really nice and even washed our clothes and dishes! Thanks!
It was really great! The place is little bit far away from the city center.there is one Induction Plate which does not work powerful. Be aware before buying lots of groceries rather go to restaurants.
A delightful, relaxing stay with great people!
May 2021
The property managers were fantastic. We spent quite a bit of time socialising with Christina and Carlos. They were incredibly accommodating in general and they even gave us 2 large beers on arrival as it was a long, tiring drive. The pool and general environment was just perfect and so close to town yet so quiet!
The place is bananas and the people running it are even greater
The outdoor kitchen/living room was exceptional space to hang out in. The staff were very friendly and kind- seemed genuinely happy to help. Pool was great! and bedrooms were cool sleeping on warm nights
Great stay, perfect hosts
May 2022
The outdoor kitchen and living room were great especially during the raining days! The hosts were absolutely great! You could ask them everything and they were trying to organise everything for you. We definitely can recommend this accommodation for visiting Puerto viejo!!
The location is very quiet, the room and the rest of the propert was very clean. Fully equipped kitchen. Internet working properly. Very nice area around the pool.
I would not recommend this place without having a car. It is about 1 km walk to the main road and even a bit more to a beach and a supermarket. The road has no lights so it was not comfortable to be moving around after dark, also once we were almost attacked by a dog from a house by the road. No hair dryar provided.
A perfect place to stay!!
Jan 2022
The grounds were absolutely perfect and stunning. The salt water pool, clean and warm, great way to end each day The rooms big, open, high ceilings, kitchen with stove top, very clean A/C Check in was easy and staff very friendly
have to walk 15 minutes to get to main road, no direct path
The apartment was very clean and pretty with good facilities especially aircon and access to the very nice and clean pool area. The bed was very comfortable and our kitchenette had everything we needed for the week we were staying. Thr cleaning staff were very thorough each day too.The location is very good it's set back from the town so its quiet but the walk in to town and to the beach is easy. There is also a very sweet cat on the premises if you like animals! The staff were amazing. Before we left our car battery stopped working and the owner came out and tried to help us jump start it. When that didn't work he sorted a mechanic out with our car hire firm for us as our spanish isn't too advanced! He went above and beyond and got us back on the road very quickly! Such a nice guy! I very highly recommend!
Great value for money.
Jan 2022
The accommodation has great location in Puerto Viejo, quite close to the beach. It was very clean and comfortable. Parking right in front.
There was an unpleasant smell in the bathroom coming from the sewer occasionally.
The perfect place to enjoy wonderful Puerto Viejo
Jul 2022
Super spacy, clean and just fantastic Place. A perfect location, quiet and relaxing but still close to everything. There's everything you need and a wonderful pool from which we could observe a sloth climbing up the tree and listening to howler monkeys. The staff was very friendly and the owners helped us a lot with everything. The best place we stayed in Costa Rica. We were not the only ones who prolonged our stay. We loved it!
Rooms are beautiful, big and comfortable with everything you need. Pool area is great. Incredibly helpful and kind stuff (especially the guy at the reception and Christina online). They gave really good tips where to eat and what to see. Good location close to Puerto Viejo center and the beach.
The open living room + kitchen looks nice with a good vibe but not too practical: monkeys stole our food one night, they opened a half-locked plastic box, cannot leave valuables, no privacy as everyone is walking to their apartment right before your open living room, cannot sleep with open doors so our kids were afraid in the room as the rooms are not connected (they were even afraid to leave the room at night to go to the toilet as monkeys came to our living room), etc. All minor things though and overall it's a great place!
Quiet and nice place away from downtown's noise
We had a very bad experience at this accommodation, therefore wouldn't recommend it. The first evening we arrived and within the first 2 hours we spotted 7 cockroaches (in bathroom and both bedrooms). The next morning we went to speak to someone at the reception, they seemed forthcoming, apologized, and let us know that they will use a spray against bugs and change our bedsheets and towels. We had to pack all our things and wait until this was done. Coming back a few hours later the apartment was full of dead cockroaches and the spray had an extremely strong smell which led to us having allergic reactions to it, the bedsheets and towels were the same. They cleaned the floor but waking up the next morning there were again dead ones all over the floor. The issue seemed to be resolved until the next evening we spotted once again large cockroaches at several places, including one inside our luggage. As no one was at the reception we wrote a message to the provided number which was ignored until the next late morning when we went to reception. We received another apology and they let us know that the bugs are hiding in some empty spaces so they needed to remove the panels and spray there as well. Due to the allergic reaction and to not make it worse we asked them to not remove all panels and make it worse while we are still there. Coming back in the evening the doors to both bedrooms were unlocked (all our valuables were there) and they let us know they had removed the panels (regardless of us asking to please not do it while there) and they didn't "want to suggest that we are lying" but they didn't find a single cockroach (we had shown them some already). In the evening we found again several cockroaches in bathroom and our bed. We asked for a partial refund seen as we had to co-exist with what seemed to be an infestation and pack our things several times during our stay.
Wie viel kostet dieser hotel im Vergleich zu anderen in Puerto Viejo Talamanca?

Der Durchschnittspreis für eine Anmietung in Puerto Viejo Talamanca beträgt EUR 56 pro Nacht. Diese Miete liegt EUR 23 über dem Durchschnitt.
Ist das Parken in diesem hotel inbegriffen?

Ja, das Parken ist als Ausstattungsmerkmal bei La Tica y la Gata aufgeführt. Für weitere Informationen empfehlen wir Ihnen, sich mit dem Anbieter der Unterkunft in Verbindung zu setzen, um zu erfahren, wo Sie parken können.
Gibt es in diesem hotel einen Pool?

Ja, bei La Tica y la Gata steht ein Swimmingpool zur Verfügung. Genießen Sie das Wasser!
Ist La Tica y la Gata haustierfreundlich?

Leider ist dieser hotel nicht haustierfreundlich. Versuchen Sie erneut zu suchen und filtern Sie nach "Haustiere erlaubt"
Welche Ausstattungsmerkmale sind bei La Tica y la Gata verfügbar?

Wir haben 10 Ausstattungsmerkmale für diese Unterkunft gefunden. Dazu gehören pool, klimaanlage, küche/kochnische, internet/wlan und parkplatz.