Henn na Hotel Kansai Airport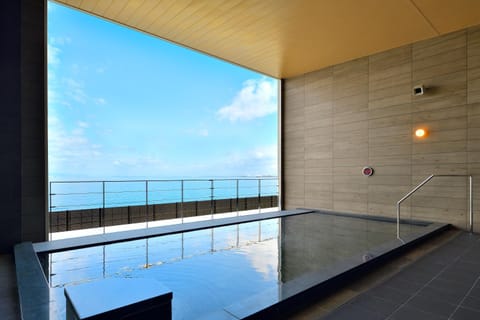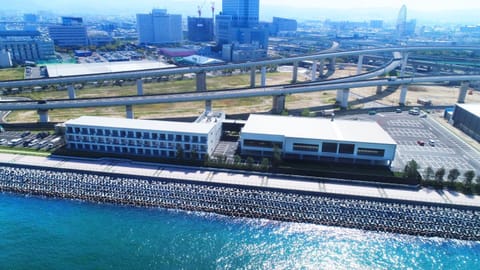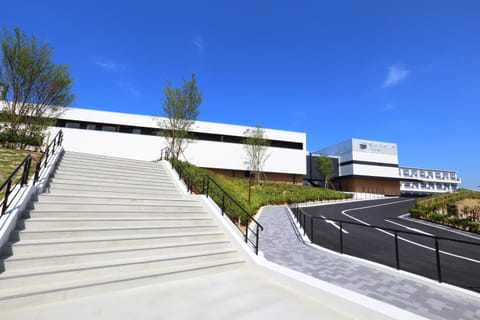 Hotel in Sennan
Klimaanlage
Küche/Kochnische
Internet/WLAN
Befindlich in Sennan, dieses charmant room in hotel für EUR 48 pro Nacht ist ein phantastisch Auswahl für Ihr nächstes Reise. Das Henn na Hotel Kansai Airport bietet Unterkünfte in Izumi-Sano in der Nähe des Rinku-Parks und des Einkaufszentrums Rinku Pleasure Town Seacle. Die Unterkunft verfügt über eine Snackbar sowie ein Restaurant mit japanischer Küche.
Klimaanlage
Küche/Kochnische
Internet/WLAN
Rauchen erlaubt
Parkplatz
Waschmaschine
Whirlpool/Spa
Fernseher
Strand/Ufer
100 % verifizierte Bewertungen
4.3 / 5 (1'808 Bewertungen)
Good choice for Kansai airport stay
Jan 2023
well designed facilities for convenience and comfort, onsen is the highlights
The check in process is a bit troublesome
Unique, interesting experience
Sep 2022
very unique hotel and great view of the airport
i couldn't figure out how to get robohon to speak English it seems it couldn't understand my new zealand accent
nice bay view and close to the airport-
May 2021
There should be one shuttle bus at 08.00 for the airport
Nice location and interesting experience.
May 2022
Very interesting experience I had when I checked in this hotel. Dinazor welcomed me :) But I can talked the staff personally when I wanted. There's no problem. I didn't have time to take a onsen there, but it was very nice option for this hotel. I can came back here when I use KIX airport. Also there's a looooong way of seaside and I could walk in the morning. This was very good for me.
Nothing. Maybe the normal porselen cup would be better for me but it was prevent for COVID. It was not their fault.
Very convenient, hotel and room very clean
great place to stay. I would stay again
Sep 2022
very clean and new. free onsen use. can be reached via bridge. supermarket in walking distance. good breakfast
walk to the hotel from station
A central, comfortable place to stay.
Feb 2023
This is in a central location about a 10 minute walk from the rail station. The room was clean and a typical hotel room. It was comfortable and suitable for a 1-2 night stay. We had a lovely view of the bay which enhanced the room's appeal. The breakfast was very good.
Impressive reception, hotel in the proximity to the airport overlooking the bay
Nov 2022
This hotel does impress with the unusual reception desk being managed by robots from the first step. We did like onsen bath and location overlooking the bay. Our room was super clean
Room sizes are pretty tight, but all well arrange
Good hotel close to Kansai Airport
Oct 2022
- the view from the room was great, - the idea from the hotel is great, - the hotel was very clean, - although we have chosen this hotel as it was closer to the airport, it is far away from the centre - not a bad thing, but just so you know.
It was really nice to stay at this hotel.
Aug 2022
The staff behaviour, room condition and almost all things were up to expectation.
Interesting and comfortable.
Oct 2022
The staff are incredibly helpful, and many are able to assist you in English. The automatic check-in dinosaurs are also multi-lingual.
The beds are very firm. This is relatively common in Japan, but it's something to be aware of. The small talking robot in the room is cool at first, but you will quickly find yourself paging through his instructions to shut him off.
Unparalleled sea view and great onsen
Oct 2022
The sea view didn't disappoint at all - I absolutely loved it. The outdoor onsen was also an experience in itself as it was right by the sea.
It was a little far from Rinku station and could be difficult to find.
The place is clean with nice facilities and was very quiet than expected. The hot spring was included in the root charge, and with this consideration it is highly valued.
The place is a bit isolated. Restaurants or stores for foods are not directly accessible but on the other hand not so far from the hotel we stayed.
no shuttle bus to the airport- though the robot in the room ( which was supposed to explain us everything) was saying that there are free shuttle buses to the airport from the hotel.
wonderful stay and comfortable . best part is the onsen
Dec 2022
the check in counter & pillow too low . good to have 2 pillows
The Best Hotel Ever!
May 2022
The most perfect Hotel that I've been chose in this Golden Week! I loved and enjoyed a lot with my husband! The room is so clean and very comfortable.
we'll definitely stay again
Jul 2022
the location and the shopping center is near in the hotel
well my room is ocean view so fantastic and there onsen inside the hotel
the laundry room was very useful especially if your flight is cancelled and you need to wash clothes for extended stay.
We understand there's a need to have less contact with people as possible as part of the COVID19 safety protocol but feels weird talking to a robot dinosaur at the front desk.
best to 1-2 night staying, near aiport
Apr 2020
The hotel was near airport in Osaka, every hour you can take shuttle bus from and to airport. You check in and check out by yourself, but if you need help you can call to staff. In room you find everything you need. In hotel you can find machine with drink and snack and washmachine. 10 minut from hotel you can find big shop and restaurant. From train station it takes 10 minutes too. Room with view to the ocean is really nice
The dinosaurs were really cool and my kids loved the theme in the lobby. The room was comfortable and the projector system to watch tv was awesome! Within walking distance of the train station.
We got to the hotel at 1pm and the lobby wasn't "turned on" nor were there any workers around. I sent a message through Booking.com and then someone came out and turned everything on. However, we were informed we couldn't check in early unless we paid 3000 yen. There isn't much to do in the area and there aren't any kid friendly food options around.
Very nice view but a little bit expensive
Mar 2022
I expected to find dinosaurs in my room too...
simple lovely clean and friendly - great after a long flight
Oct 2022
the cleanliness and the bath - super - was super after a long flight that landed late …
the reception is a bit off putting (automated dinosaurs) but kids will love it
Overnight stay for transit to Hokkaido
Jan 2023
The building and room were new, clean, and we had a lovely sea view.
The walk from the train station was a little longer than I thought. If you have a lot of bags, it is a bit far. Check in with the robots was novel; but it took a little longer than expected.
The breakfast was good. The onsen was nice.
It was regret that the sea was not viewable from my room window.
Interesting and satisfying.
Feb 2023
The bath. The interesting welcome to the hotel. The free access to the mangas.
No shuttle service to and from the airport but it wasn't clear from their website or their answering machine (it said to look on their website for the bus schedule). We didn't see a single employee at the hotel and nobody picks up the phone.
Spa and restaurant are excellent
Super convenient airport shuttle
Apr 2021
So convenient for the airport shuttle. Check in is super easy.
There isn't much in the area and not the most convenient for the train.
Be nice to the dinosaurs
Sep 2022
Rooms are larger than the typical Japanese business-type hotel. The bathroom was also a little larger and didn't have the annoying high step into it. It was also good to have the perspex screen between me and the dinosaurs behind the reception counter just in case they expelled some airborne prehistoric pathogen at me and gave me a novel virus of concern. The attached bathhouse was nice with lots of space to wash down and relax after a long journey.
Walking to the hotel was not difficult from Rinku Town Station, but it would be worth advertising that Exit 1 towards the escalators out in the carpark and then down to street level seems to be the best way to go.
Robots wearing skuba gear
Apr 2021
Robots. Very good thank you.
Reception was amazing👏. It was a self check in and the receptionists speak many languages😉😉. Also, what we really appreciate is the hotel has it's own onsen.
Overall the experience was great.
Onsen with ocean view and breeze
Jul 2022
Public bath with ocean breeze.
Free airport shuttle was advertised but no longer in service.
There were only bots to help answer questions. Only one hotel staff person was there and he was not helpful at all to answer questions such as calling for a taxi. We speak English but even my Japanese friend had a hard time getting help from the hotel staff.
No free parking available, and nearby parking areas is too expensive
Wie viel kostet dieser hotel im Vergleich zu anderen in Sennan?

Der Durchschnittspreis für eine Anmietung in Sennan beträgt EUR 45 pro Nacht. Diese Miete liegt EUR 3 über dem Durchschnitt.
Ist das Parken in diesem hotel inbegriffen?

Ja, das Parken ist als Ausstattungsmerkmal bei Henn na Hotel Kansai Airport aufgeführt. Für weitere Informationen empfehlen wir Ihnen, sich mit dem Anbieter der Unterkunft in Verbindung zu setzen, um zu erfahren, wo Sie parken können.
Gibt es in diesem hotel einen Pool?

Wir haben keinen Pool gefunden, der als Ausstattungsmerkmal für diesen hotel aufgeführt ist. Es kann sich lohnen, noch einmal zu prüfen, ob ein Pool für Ihren Aufenthalt wichtig ist.
Ist Henn na Hotel Kansai Airport haustierfreundlich?

Leider ist dieser hotel nicht haustierfreundlich. Versuchen Sie erneut zu suchen und filtern Sie nach "Haustiere erlaubt"
Welche Ausstattungsmerkmale sind bei Henn na Hotel Kansai Airport verfügbar?

Wir haben 9 Ausstattungsmerkmale für diese Unterkunft gefunden. Dazu gehören klimaanlage, küche/kochnische, internet/wlan, rauchen erlaubt und parkplatz.