Holiday Inn Telavi, an IHG Hotel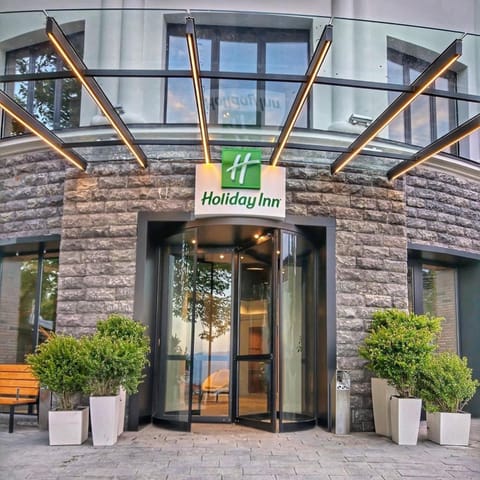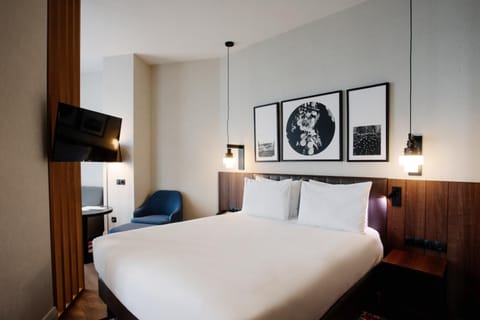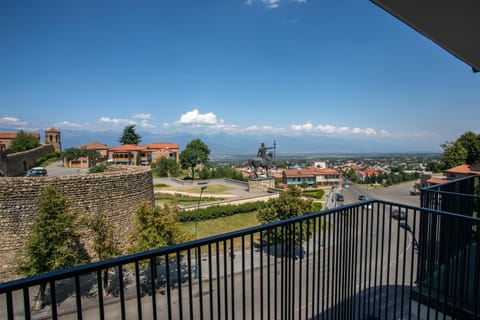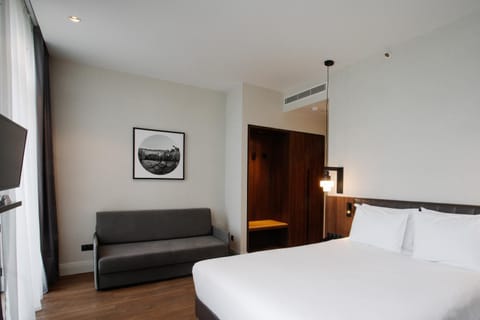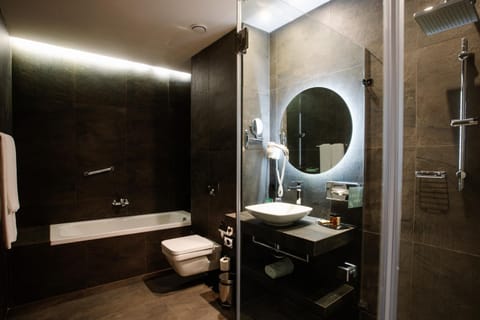 Hotel in Georgia
Pool
Klimaanlage
Internet/WLAN
Eingebettet in Georgia, dieses schön room in hotel für EUR 21 pro Nacht ist ein phantastisch Auswahl für Ihr nächstes Pause. Das Holiday Inn Telavi in Telawi erwartet Sie mit einem Restaurant, einem Fitnesscenter, einer Bar und einer Gemeinschaftslounge. Die Unterkunft bietet zudem einen Innenpool und einen Mietwagenservice.
Pool
Klimaanlage
Internet/WLAN
Waschmaschine
Balkon/Terrasse
Whirlpool/Spa
Fernseher
Rollstuhlgerecht
Fitnessraum/Fitnessstudio
Familienfreundlich
100 % verifizierte Bewertungen
4.5 / 5 (508 Bewertungen)
We loved this hotel. Downtown Telavi is within walking distance, and the hotel itself is top notch. The staff were very helpful, the room and bathroom were large and comfortable, parking just outside, terrific breakfast and the restaurant (for dinner) was delicious. Can't make any suggestions for improvement -- we had a great stay.
Perfect service in Telavi
Aug 2021
We liked everything, the staff was really helpful, a special thanks to Giorgi who was extremely supportive and did his best to provide the highest quality possible. The location is great as well, close to the centre and best restaurants. The hotel itself is nice and clean, we had 2 wonderful days there. Thank you!
Would like to stay longer!!!🙂🙂🙂
Welcoming & helpful staff. The ladies serving the breakfast buffet were so kind.
The rooms are not well sound proofed...
Very friendly staff, great breakfast.
Maybe best solution in Telavi
Jan 2023
Very bright rooms, complimentary staff, good bed and plumbing Breakfast was delicious and provide various meat and egg dishes. Suitable for vegans: about 10 or more items like seeds, flakes and fruits, 5+ jams. Mid-level coffeemaker.
Great value for money, friendly staff and super location
Aug 2022
This hotel is really good for the price. The room was very spacious and comfortable with a huge bathroom and a great view on the center. If you plan to explore the city of Telavi, there is literally no better location. Hotel is literally in the center. Everything was super clean, the staff was exceptionally friendly and attentive. Could not ask for a better experience and still amazed with the price! Will visit again for sure.
It would be great if the restaurant could work until later then it does. We arrived pretty late and wanted to grab a bite, unfortunately it was not possible. Considering that most Restaurants close around 11 PM, would be great if the hotel can take this into account.
The staff were very friendly. Thanks for early check-in
everything was as I exspected
Jun 2022
the staff was very friendly. we celebrated my daughters birthday and the receptionists were kind and helpd us to throw a party.
the staff was the best part of the experience
The staff was really helpful.
The rooms were clean, very comfortable, and the staff was amazing. They went over and beyond to help make our stay enjoyable. I highly recommend this hotel for anyone visiting Telavi.
The rooms are spotless clean. They have USB port to charge your mobiles. Easy check in and check out. Nice view and there's a lot of restaurants nearby.
The location was perfect.
The room we were given (427) smelled awful (bad drainage system perhaps?) but we were tired so we slept with the balcony door open to ventilate the room. Room service arrived about 1.5 hours late, and we're uncertain if it was a language barrier or they were simply unpleasant (first experience of inhospitable people in Georgia after being here for two weeks in several places).
Great and super clean
Sep 2021
The location of the hotel is the best in town. Staff is great, hotel is sparkling clean and the room was very comfortable.
The breakfest was not as good as it supposed to be. The hotel is so good in everything, but they should improve breakfest.
The location of the hotel is excellent, in the centre and walking distance to lot of places to visit. From the room we had the view on the fortress and special thanks to Giorgi from reception who was always ready to assist.
The location is perfect. Very clean hotel. The bed in the room was very comfortable. The stuff in the reception was very helpful. Thank you very much 🥰 There is a fridge in the room. There are several cafe and restaurant around. There is a market behind the hotel.
The door of the bathroom closing hardly. Needs to be fixed.
The location is great. The sauna, hot bath and swimming pool are very nice.
The receptionist tried to foist a room with the treriible odorl in the bathroom on us (room #227). When I asked her to give us a different room, she replied that the hotel was completely booked. That was not true (the hotel was half empty). When I declared that we wouldn't be staying in the hotel, she went to the manager. When she returned, she gave me a different room on the same floor. The room was fine, without sewage smell. I just want to remind the management of the hotel that their hotel is Holliday Inn and it needs to meet certain standards. It's unacceptable to force the guests to stay in a room with a stinking bathroom. One more thing, the hotel requires paying for the room at check-in as though it were a guesthouse run by a family. This is also very strange and slightly upsetting.
Staff is the best feature
Sep 2022
The location is great, possibly the best feature of the hotel together with staff professionalism and friendliness. Standard double room size is good, bathroom also is spacy and comfortable. The closet has an iron and a safe box. Overall, really good and decent hotel to stay for a few days if you are in the Kakheti region.
Pool size - come on :) it's not an "indoor pool" :) it's a mini-pool for after sauna maybe... breakfast was kinda ok, but still not perfect...
The hotel was awesome and thank you hotel staff for help😊
The hotel is really nice, the room was very clean and had everything for travellers comfort. The Reception staff was very kind and helpful.
Breakfast was quite standard. But not suitable for those who prefer late breakfast, as not such choice by the end of breakfast service time. And also if you come 15 minutes prior closing time, unfortunately, they don't let you finish, but will ask to hurry up and remove food from service table.
The hotel is brand new and very well maintained. The staff was really nice, I got the room upgrade, as the type of room I had booked was not available. The bed is very comfortable, and the room was nice too. The design of the hotel is really nice.
The breakfast was really not impressive, also the wifi in my room was not working, the signal would often disappear.
All good but nothing special
Jan 2022
The breakfast was ok, the room was fine. Really good location though!
If you are about to choose it because of the pool (like my friends did), you probably shouldn't :) It is pretty small and you need to reserve 1-hour slot to use it a few days before the trip
Stuff, location, room, balcony
Bath, it was no sepereit shower
Staff were friendly and professional. Room was nice and clean.
Breakfast was not a good value for the price. Sauna and pool were underwhelming for an international hotel.
Staff was excellent, absolutely top notch The room was comfy
The cleaning service was unresponsive What you see on the website is quite different from what you get on arrival The balconies were very spacious but had no chairs
Staff. Room. View. Breakfast. Churchkhela was delicious!!!
I did not know and probably did not read that cleaning service wouldn't be available. I expected cleaning of the room and appeared that I had to request it. I was probably my fault. Hotel staff may have said it and i did not pay attention. Staff was very friendly and positive
Staff, location, view. Everything was great. Thanks a lot. A+++++ recommendations
spa was disappointing, rooms were clean and location great
Apr 2022
swimming pool, sauna da spa very childish
Value for the money
Sep 2022
Rooms are clean and spacious, the table tennis is a big bonus unfortunately didn't have the time to try it.
Breakfast is a bit expensive for what you get.
It was a nice accomodations in the heart of city with clean facilities.
Aug 2022
Room, bathroom and pool are excellent.
Restaurant was closed at 11pm and we received this message after 10 minutes waiting on restaurant table. Hence it is in remote area restaurant should be kept open at least 00.00hrs. We searched a lot for restaurant but couldn't find.
reception people were awsome
food was horrible. and pool was very very dirty.
Probably the best option in town.
Apr 2022
Receptionists are an example of Georgian hospitality: thanks a lot for the effort you made! Great, stylish room, lovely views and clean.
Quiet, Fanstastic staff and etc. was good!
It was really good., I enjoyed my stay
Jun 2022
The room was a little bit small but it was ok. Only problem was that the door to the balcony was located in that way, that I could not open the door properly
There was no heating !!! In the night there was outside 10 degree and in the room was very cold. Personal said that heating system is not ready yet to work. Also room service is not working properly.
breakfast was a little bit poor
Wie viel kostet dieser hotel im Vergleich zu anderen in Georgia?

Der Durchschnittspreis für eine Anmietung in Georgia beträgt EUR 36 pro Nacht. Diese Miete ist EUR 15 günstiger als der Durchschnitt.
Ist das Parken in diesem hotel inbegriffen?

Das Parken ist nicht als verfügbares Ausstattungsmerkmal bei Holiday Inn Telavi, an IHG Hotel angegeben. Für weitere Informationen empfehlen wir Ihnen, sich mit dem Anbieter der Unterkunft in Verbindung zu setzen, um zu erfahren, wo Sie parken können.
Gibt es in diesem hotel einen Pool?

Ja, bei Holiday Inn Telavi, an IHG Hotel steht ein Swimmingpool zur Verfügung. Genießen Sie das Wasser!
Ist Holiday Inn Telavi, an IHG Hotel haustierfreundlich?

Leider ist dieser hotel nicht haustierfreundlich. Versuchen Sie erneut zu suchen und filtern Sie nach "Haustiere erlaubt"
Welche Ausstattungsmerkmale sind bei Holiday Inn Telavi, an IHG Hotel verfügbar?

Wir haben 10 Ausstattungsmerkmale für diese Unterkunft gefunden. Dazu gehören pool, klimaanlage, internet/wlan, waschmaschine und balkon/terrasse.