Boton Blue Hotel & Spa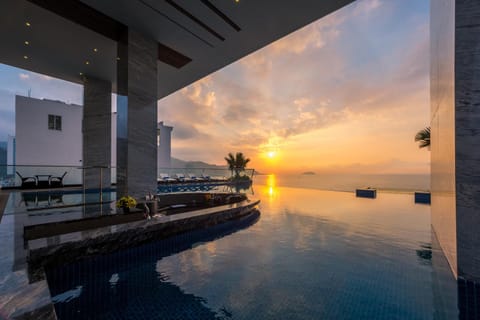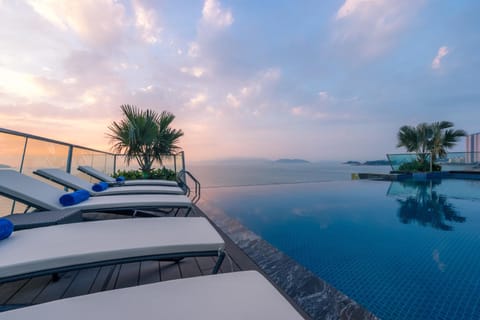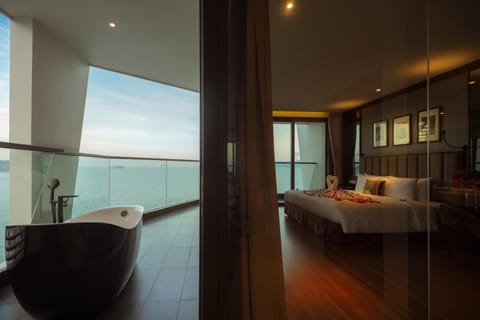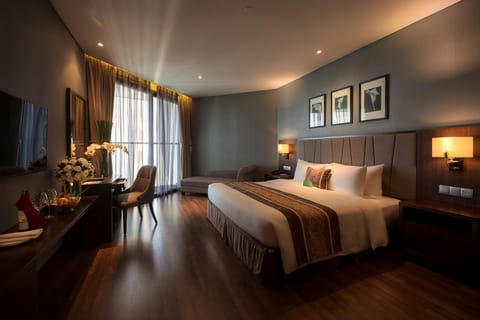 Hotel in Nha Trang
Pool
Klimaanlage
Küche/Kochnische
Gelegen in Nha Trang, dieses schön zimmer im hotel für EUR 32 pro Nacht ist ein phantastisch Option für Ihr nächstes Urlaub. Boton Blue Hotel & Spa is a beach front property in Nha Trang, and features an outdoor pool, a restaurant, a fitness room and free shuttle bus to the city center. Free WiFi access is available in entire area.
Pool
Klimaanlage
Küche/Kochnische
Internet/WLAN
Rauchen erlaubt
Parkplatz
Waschmaschine
Balkon/Terrasse
Whirlpool/Spa
Fernseher
Strand/Ufer
Fitnessraum/Fitnessstudio
Familienfreundlich
100 % verifizierte Bewertungen
4.3 / 5

"Ausgezeichnet"

(161 Bewertungen)
Would consider to come back
Feb 2020
We took a suite on the 24th floor and it was very nice, clean and with good 2 view sides (mountain and sea). We loved the suite and that was the best part of our stay. Sauna personnel and cleaning ladies were just great. Prices across hotel, restaurants and bar and very decent and even the minibar prices were surprisingly low.
When our car dropped us off in front of the hotel, we had to ask the person working as a valet if that is the same hotel and 5 stars. Entrance in front of the hotel is definitely not a 5 star look. Reception staff and check in process was not too friendly and was way to computerized to get good impression. Even when we had some request that needed some extra help from them, they weren't able to accommodate, so not reaching out at all to special requests. Breakfast was quite good and had enough options if you show up early. Staff on the other hand need much more training and both hospitality knowledge, friendliness and English ability (tried to ask few of them something, but no reply at all). They were also not restocking certain meals even though there was 40 min left until they stopped serving, same as many tables were missing on certain cutlery, salt, napkins, etc. so we had to get up and take from other tables. Pool was nice but no one actually swam in it as it was freezing cold water (no heaters in 5 star hotel?).
Very modern high rise block.
Location is far away from beach and town
Not as good as we expected
Apr 2023
The staff was friendly, breakfast were also good(Asian and western style). The room was clean as well.
We have chosen this accomodation because of the private beach, but we were dissapointed. We couldnt find any sign that particular part of the beach belongs to hotel and finaly we found staff, they were super rude, everyday showed us different sunbeds. Beach itself was dirty and staff was just sitting and talking instead of cleaning it. So we have to go to public beach by taxi, where conditions were better. Also, water in swimming pool was cold so two things why we have chosen this hotel, dissapointed us.
Fantastic staff but better options.
Sep 2019
The staff is fabulous and made you feel welcome. They granted us early check-in and offer a refreshing glass of juice. The breakfast is very good and the staff very friendly and prompt to seat you.
The room was dated and not very clean. I think it may have been vacant (room) for quite sometime but that is just my opinion. The safe is not bolted to the wall or shelf that it sits on, kind of defeats the purpose of having a safe to secure your things. There was quite a bit of hair on the floor and in some of the dresser drawers. There was also an area on the wall next to the bed where someone had spilled a drink and it was not cleaned up as it was dried on the wall and floor (coffee). There was a smashed fly on the wall above the mirror and I took a photo but can only post so many here. The bathroom sink was clogged also. I was looking forward to staying here after reading many positive reviews. Maybe we just got a bad room.
The room was great, the view from the infinity pool, breakfast was very good, the spa, the gym room.
The only problem we encountered was a misunderstanding about the minibus departure. But in the end they did apologise.
It was alright, although not the best place to stay for vacation with the money they are charging.
Jul 2022
The location was excellent, we were meeting with our partners and the hotel wasn't too far away from their office. Also the hotel had a nice view of the sea and was nice walking out and look at the view.
The hotel, was nothing special and I wouldn't categorize it a 5 star hotel, maximum a four star hotel. The staff always mistaken our order when we had breakfast, not to mention we have to write down before hand what we want to eat and drink. The pool was too cold to swim in even though we came during the month of June.
The hotel was clean the breakfast good with wide variety. Attention to detail was hoid. Staff very friendly and helpful
the staff at the hotel didn't understand English... they even don't understand small words like water..... we have tried almost five to get the water to be served in our room
Some of hotel staff in reception don't speak english, it was impossible to communicate. Room cleaning very bad, hairs of previous guest everywhere it seems they even don't vacuum clean once a week. Breakfast very small choice. Check out took 25 min. Too far from city and the hotel shuttle is too small to handle all guests. The worst of worst is no sound proof at all, from 22nd floor you can hear everything from the street, barks of dogs, car horn, music from the street and talks from hallway etc. Very tiny pool on 7th floor. Crazy expensive restaurants and spa. The nearest beach is very dirty with dead rats.
Overall great quality and great value. Room was tidy and clean, interior was nice and warm. Breakfast buffet was also nice.
Music was a bit noisy at the swimmingpool all day long.
Fine but perhaps could find better.
May 2021
Most staff were really pleasant. The breakfast was great. The room was very comfortable and, despite what others have said, we weren't bothered by any noise from the street or from neighbouring rooms. A fine stay.
An impressive looking building from outside, once inside the views are severely obstructed by concrete walls and the balcony space is reduced by angled balustrades. The pool area only gets morning sun and is cold and dark after midday. One breakfast staff was extremely rude to us during our stay and the reception was unable to process a credit card payment on arrival so we had to go out to get cash.
Great hospitality & super comfy stay
May 2021
I would recommend Boton Blue for anyone who travels Nha Trang. The hotel is beach front, not in the center so it has fewer people, which make things feel more relaxed. The swimming pool on the 7th floor has perfect water temperature, clean & excellent view, with an on-the-pool mini bar. And the jacuzzi & sauna are spacious, beautiful. The room is cozy. The staff are professional and hospitable!
excellent pool & great position
Aug 2022
We as family enjoyed very much the stay at Boton Blue, also because it is ideal located for daytrips
May 2021
Employees were very friendly, attentive and also helpful when it comes to organizing daytrips. A highlight for us was also the very nice pool-area located on the 5th floor with a wonderful view. This hotel is not located in the center and due to this also a bit more quite, what we appreciated.
Right in front of the hotel there is a possibility to go for a swim in the sea, what I recommend early in the morning or in the evening. During the day if you like to stay on the beach you need to walk 1 kilometer, where also the hotel owned deckchairs are located and anyway a short walk is not really a disadvantage.
breakfast good and the bed big enough and very comfortable
it seems the swimming pool is not really clean
If we come back NT, we still choose Boton.
Oct 2018
Absolutely everything! We stayed in this hotel 5 days 4 nights and had perfect experiences here. The room was fabulous. The hotel is nice, clean and full of facilities as expected for a 5 star hotel. We booked a premium double room with ocean view, the tub on balcony is wonderful. We also love the outdoor pool. The most thing we love about Boton Hotel is the staff. Friendly and professional. Late one night we called the font desk to ask if we could borrow their microwave to heat the fried noodles we had bought outside. The staff went to pick it up and returned with a well-presented noodles in the tray along with cutlery and spices
The hotel is far from the center. If travel by cab to the center, it can cost about VND150,000 per day. Should have an notification email for the deposit cost (VND2,000,000) before customers arrival.
Wie viel kostet dieser hotel im Vergleich zu anderen in Nha Trang?

Der Durchschnittspreis für eine Anmietung in Nha Trang beträgt EUR 36 pro Nacht. Diese Miete ist EUR 4 günstiger als der Durchschnitt.
Ist das Parken in diesem hotel inbegriffen?

Ja, das Parken ist als Ausstattungsmerkmal bei Boton Blue Hotel & Spa aufgeführt. Für weitere Informationen empfehlen wir Ihnen, sich mit dem Anbieter der Unterkunft in Verbindung zu setzen, um zu erfahren, wo Sie parken können.
Gibt es in diesem hotel einen Pool?

Ja, bei Boton Blue Hotel & Spa steht ein Swimmingpool zur Verfügung. Genießen Sie das Wasser!
Ist Boton Blue Hotel & Spa haustierfreundlich?

Leider ist dieser hotel nicht haustierfreundlich. Versuchen Sie erneut zu suchen und filtern Sie nach "Haustiere erlaubt"
Welche Ausstattungsmerkmale sind bei Boton Blue Hotel & Spa verfügbar?

Wir haben 13 Ausstattungsmerkmale für diese Unterkunft gefunden. Dazu gehören pool, klimaanlage, küche/kochnische, internet/wlan und rauchen erlaubt.