Pavilions Hotel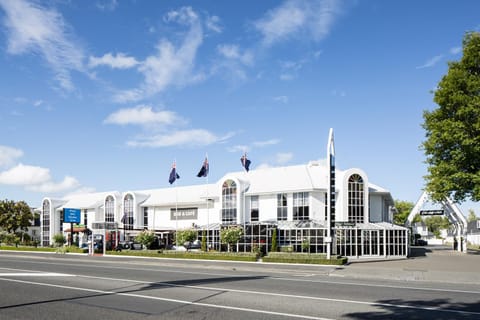 Hotel in Christchurch
Pool
Klimaanlage
Küche/Kochnische
Gelegen in Christchurch, dieses charmant room in hotel für EUR 76 pro Nacht ist ein großartig Auswahl für Ihr nächstes Pause. Just 10 minutes' walk from Christchurch Casino, 1.8 km from Te Pae Convention Centre and 5 minutes' walk from Hagley Park, easy stroll to Victoria Street shops, restaurants and bars and 5 minutes' drive from central Christchurch.
Pool
Klimaanlage
Küche/Kochnische
Internet/WLAN
Rauchen erlaubt
Parkplatz
Waschmaschine
Whirlpool/Spa
Fernseher
Rollstuhlgerecht
Fitnessraum/Fitnessstudio
Garten
Familienfreundlich
100 % verifizierte Bewertungen
4.1 / 5

"Ausgezeichnet"

(2'371 Bewertungen)
Good value for money, nice breakfast, spacious family suite. Would definitely stay again.
Dec 2021
We were pleasantly surprised by our stay. It was an excellent choice, especially for the price that we paid. The one-bedroom suite was spacious and comfy, spacious shower/bathroom, good central location and parking onsite. Breakfast buffet was very good and is a very nice comfortable set up with jams, butters at the table. We enjoyed our stay and would definitely stay again. The location is nice and central and there are some very nice eateries very close. Thank you to the friendly staff for making us feel welcome!
The hotel is dated, the furniture is stained, the multi-plug in the kitchenette looked a bit dangerous and we were not able to use the electric kettle and a microwave at the same time, because the plug overloaded. It can get a bit loud from other guests in the evening, but it did not last and the night was quiet. If you shower before bed, the hot water cylinder is located in a locked cupboard in the bedroom and makes noise at night, so better wait to shower in the morning. Shower pressure is pretty weak, but we didn't mind. Would be good if carparks were designated, but there was enough parking for us to park on site, so no big problem. Our room also did not have any rubbish bags in the bins. There was also no kitchen towels or wipes in the kitchenette, so it was hard to clean up spills. Overall, we still had a very nice stay and the positives by far outweighed the negatives.
We live on the west coast always feels like the coast with Horncastle family
Receptionist 's I realise it is hard when you are wearing a mask , however a little more welcome back or how was the journey over something . Rather have you stayed before just give you a key. And seriously that all she said :((
Great stay, very happy with all aspects of the accommodation.
Mar 2022
We had a great stay. Lovely, helpful staff, and we really loved all our room had to offer.
Lol, we didn't like that we had to go home so soon, another few days would have been wonderful!!
A great place to stay but would not recommend a standard room if staying more than one night.
Jan 2023
We chose Pavillions for the on site restaurant and bar which are excellent. Also it is a great location. The breakfasts are very high standard and great value for money.
The standard room would be better to have one queen bed instead of two queen beds, and a sofa or armchair to relax on. If staying again I would book a "superior" room. The shower water pressure was very poor. Also having the shower over the bath is not the best for older guests. We did book ground floor accessible rooms but reception had no knowledge of this so something went amiss in booking process. The swimming pool is not heated and even on hot days was freezing.
Handy location & room was warm & comfortable, with lovely food in onsite restaurant.
Aug 2021
Very easy to find & in a handy location for us. Room was warm & comfortable and it was great having a restaurant onsite. Evening meal was delicious & ample breakfast choices. Will stay again & happy to recommend to family & friends.
Parking was tight but doable.
We had a wonderful stay at Pavilions. Comfortable and clean spacious room, friendly staff and a deli
Apr 2023
Very clean and comfortable spacious room. Buffet breakfast was delicious with a variety of choices. Great location.
maybe the pool slide needs maintenance
The staff were welcoming, the beds were so comfortable with great pillows. We really enjoyed the breakfast and wished we could have stayed on longer.
i loved that breakfast was provided in our booking, we always search for this option when booking a place to stay as it'
Apr 2022
the staff were lovely and we love the facilities it provided, also the location was great
I wasn't too fond of the pool being so open and in front of the restaurant and bar, i was interested in a swim but then changed my mind due to it not being very private. only my preference though 😊
Bed was uncomfortable for 2 people
The staff go out of Thier way to ensure you feel welcomed and at home, fantastic accommodation even better food 😊
Good place to stay
Jan 2022
The room was clean and well set out. Good air con. The receptionist on arrival was lovely, very friendly and welcoming. Good size room for a family. The Hotel, overall was pleasant.
The lazyboys are a bit past it and the sofa was very uncomfortable, the beds were good tho. The breakfast was disappointing as there were too many people and not enough food. The receptionist on departure was abrupt and seemed like she didn't want to be there. The good did outweigh the bad so we would stay here again.
Good value close to the central city
Dec 2021
The room was a nice shape. The shower was spacious and nice.
The pool was cold. There were no comfortable chairs - but the photos of the room suggested there would be.
The rooms were clean and tidy every day, the breakfast was great and the location was perfect.
I didn't like how the lady in charge of cleaning spoke to her staff in front of us. Would have been very embarrassing for the cleaner 🤔🤔
Relaxing and enjoyable.
Jan 2022
The relaxing atmosphere, the breakfast, and the spa bath. It's very close to Hayley Park and the city.
The Jacuzzi was cleaned so out of action for 24 hrs, but it has to be cleaned so not really a big deal.
great weekend by all.Had a good catch up with friends
Oct 2021
the location to town and around was all in walking distance
Great spot and good facility
Mar 2022
Good value for money
Sep 2021
The buffet breakfast every morning was lovely
The parking outside the room was a little tight
The bath was very comfortable and relaxing after a big day, the breakfast was ok with a lot variety but it was hard to find a table in the busy morning
You can hear the snoring of your neighbor through the wall,
Staff was friendly and the rooms were clean
the place was miss leading with the advertising in quality.
Mar 2023
we would definitely stay again
Apr 2022
little natural light in the room and somewhat dated the
Staff and room dimensions
Was upstairs and of it has rained you'd get wet going in or out.
So friendly and helpful. Definitely saty there whenever we are in town.
The shower could of been better
The air con units outside our room were VERY noisey when going.
Didn't pay $270 dollars to get wee stained bed
Mar 2022
Single bed had yellow wee stain bed gross!! Also the spa was disgusting
Excellent, will stay there again
Jan 2022
Noisy dripping all night.
Coloured glass in door distracting when sun shone through it
Wie viel kostet dieser hotel im Vergleich zu anderen in Christchurch?

Der Durchschnittspreis für eine Anmietung in Christchurch beträgt EUR 90 pro Nacht. Diese Miete ist EUR 14 günstiger als der Durchschnitt.
Ist das Parken in diesem hotel inbegriffen?

Ja, das Parken ist als Ausstattungsmerkmal bei Pavilions Hotel aufgeführt. Für weitere Informationen empfehlen wir Ihnen, sich mit dem Anbieter der Unterkunft in Verbindung zu setzen, um zu erfahren, wo Sie parken können.
Gibt es in diesem hotel einen Pool?

Ja, bei Pavilions Hotel steht ein Swimmingpool zur Verfügung. Genießen Sie das Wasser!
Ist Pavilions Hotel haustierfreundlich?

Leider ist dieser hotel nicht haustierfreundlich. Versuchen Sie erneut zu suchen und filtern Sie nach "Haustiere erlaubt"
Welche Ausstattungsmerkmale sind bei Pavilions Hotel verfügbar?

Wir haben 13 Ausstattungsmerkmale für diese Unterkunft gefunden. Dazu gehören pool, klimaanlage, küche/kochnische, internet/wlan und rauchen erlaubt.