Grand Hyatt Muscat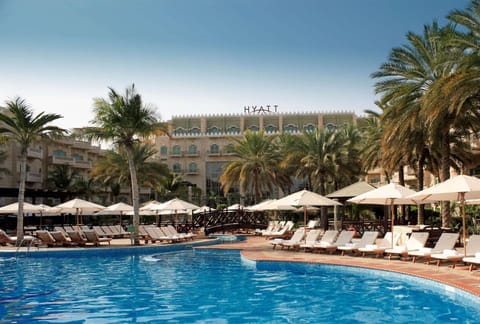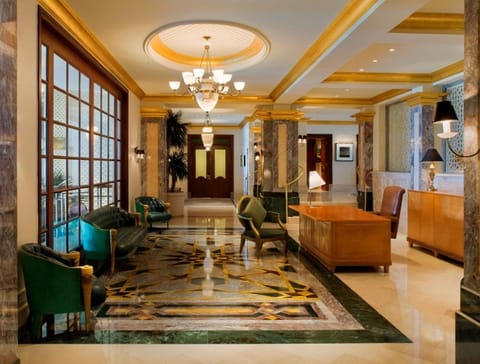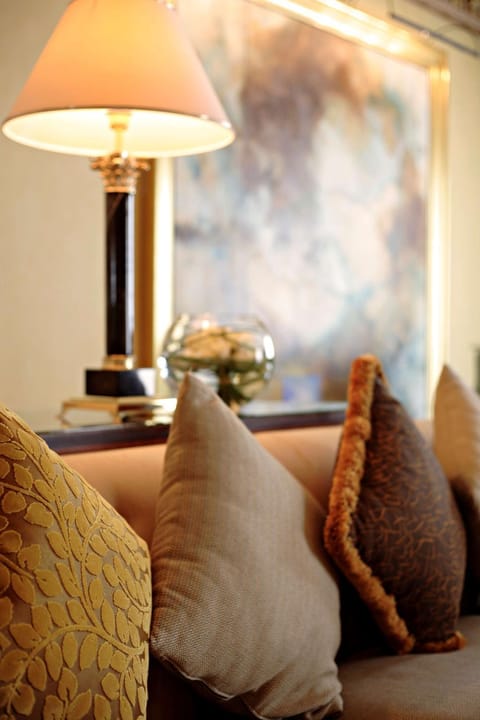 Hotel in Muscat
Pool
Klimaanlage
Küche/Kochnische
Befindlich in Muscat, dieses schön room in hotel für EUR 70 pro Nacht ist ein phantastisch Option für Ihr nächstes Pause. Located directly on sandy Al Qurm Beach, the Grand Hyatt provides spacious rooms with balconies offering panoramic views of the Gulf of Oman. Some rooms have views of the Hajar Mountains.
Pool
Klimaanlage
Küche/Kochnische
Internet/WLAN
Rauchen erlaubt
Parkplatz
Waschmaschine
Balkon/Terrasse
Spülmaschine
Whirlpool/Spa
Fernseher
Rollstuhlgerecht
Strand/Ufer
Fitnessraum/Fitnessstudio
Garten
Familienfreundlich
100 % verifizierte Bewertungen
4.1 / 5

"Ausgezeichnet"

(1'181 Bewertungen)
very nice staff location and great executive club
Jan 2023
very well located . spacious rooms
They have hokes everywhere, working in the spa too. from thai
The swiming pool for kids
Breakfast menu was not great.
The stay was very pleasant. The staff was extremely helpful and friendly. The hotel was not crowded, which was very pleasant. The pool facilities are highly recommended especially for children. The hotel is a bit outdated but still very tidy. The breakfast buffet was also appealing.
I enjoyed a relaxing, but short, holiday at this location.
Feb 2022
The staff were all incredibly friendly and helpful and if you are looking for relaxation, this is a great location to go.The Italian restaurant was very fine.
The hotel is comfortable but needs some major refurbishment/modernization to really be considered a top-class establishment. This area has no nearby shops except a bakery.
staff all fantastic. hotel in. we'd of repairs and refurbishment
Jun 2022
the staff were all amazing.
pool area in need of a lot of repair work. first room was also not good with cigarette burns in curtains. moved rooms and second room was much better
The staff was very welcoming ,friendly and helpful
The toilet doesn't has shataf
Great feels in Muscat with good food and friendly staff.
Feb 2022
The staff was really friendly and we liked our room.
The staff hospitality and assistance was great, the room was soooo wide and comfortable, the bed room and bathroom was excellently clean, very easy check it and check out
I didn't like the view to the garden as the umbrellas were very damaged and covering the garden very badly from my room Also the shower had no window so all the hot steam was inside and was not very nice, needs an opening to allow the steam to go out
The Staff as all Omanis they are all the extremely friendly and helpful. The location was great and fantastic breakfast.
The rooms has to be renovated as soon as possible. you can't consider the rooms more than an old 2 stars hotel.
The staff are really friendly and helpful, we wanted to change rooms and they were very flexible in showing us around to pick a room
1) There are small ants in the bathroom. 2) they forgot to clean the trash after they cleaned the room. 3)We had a note for an extra baby bed, but they forgot to have it when we checked in.
The location only good. But hotels need Maintenance and alteration of property
The room which i stay it was very Dirty. I think this is not 5 stars hotels. As per Grand Hayyat I really pay money but not enjoy and also check out before the time I hope understand and see photos
The location is great. Just near the beach, 2mins walking from the room.
The equipment in the room is a little bit old...
The location is beautiful and the lobby is luxurious
The rooms are very old and the bathroom is not clean and does not have a bidet
Amazing staff, old hotel not that clean.
Nov 2021
The location and staff. Very helpful.
The room wasn't that clean. Moreover, the small kits (vanity kit, shaving kits…) wasn't in the room. We had to ask for it.
Nice concept - insufficient service
Apr 2022
The hotel has an interesting design, which is a mixture of oriental, egyptian and ancient european elements. The overall experience is nice and cosy. Everything is a little bit outdated, esp. the room dekor, but very clean and well maintained. The room is spacious with a nice bath. The pool area is of very nice architecture with sufficient place to relax and a relaxing lazy river, a nice place not only for kids. The Iftar buffet was great with huge variety of food and everything you can wish. The lobby area is a nice place to hang out.
We stayed during Ramadan what means a significant closure of hotel facilities, e.g. Spa, shops and bars and restaurants during daytime. The hotel staff lacks basic procedures you will expect from a five star hotel. Some are not very friendly, some are rude (nightshift attendant and lady from the kitchen, see below). All in all there are much too less people caring for the guest: 1. During checkin we were asked if we would like to have a bigger room, but not as an upgrade but by paying for it. 2. The reserved table at the Iftar was not prepared outside and we had to wait for being seated for a while. 3. We ordered three glasses to drink water out of it and had to call several times, but they were not delivered. After 40 minutes we had to dress and go to the reception to ask for it. When finally the staff member showed up, he was very rude and told us, he was three times at our door and nobody opened. After complaining about this incident it turned out, that they were at the wrong room. 4. Two times there were no towels at the pool, because the staff was absent. We had to go to the reception. 5. The lady in the kitchen was unfriendly when asked to make some crepes, which were served to our daughter the mornings before. 6. There are too less amenities in the room e.g. no ear tips, even not after requested. 7. The beach is not directly connected with the hotel. There is a promenade between and no steps down to it. It is not easy to access, although it is a very nice beach. 8. The room would have been made only once in four days. That was because of Covid, but no other hotel was handling that this way. That would have meant no clearing of the bins, no towel change, no cleaning and so forth. We insisted, that the room should be cleaned every day which was then done. But the whole procedure is not matching the requirements of a five star hotel. The overall experience was not like the ones we had in our visits of five star hotels before esp.
The hotel had the right mix of old fashioned charm and modern convenience
Great spot, grand fitout, and spectacular food.
Dec 2021
The hotel fitout and location was superb.
My room next to the lift, that they didn't want to move me from.
Not being informed that there was a9% tax rise 5 days before we arrived. Therefore we didnt have an opportunity to seek out another hotel and we had topay out an additional OMR68.003. We thought this was very poor customer relations, seeing the original price wasgiven to us on 09/10/21
Perfect vacation for one week
Feb 2022
Super breakfast choice, spacious pool area, direct access to the beach, 24h gym access
Muscat really require your own transport but taxis were good and plentiful. The Omani taxi drivers were a real pleasure
Aug 2022
substantial, comfortable and well situated for walks along the beach.
Eid restricted things a little but no complaints
AC Iin my room was not cooling properly. Ceiling fan was not working properly TV didn't have any channel to watch Euro 2020 or Copa America 2021 Shower in bath tub not working No muslim / hand shower
Staff was friendly but Hotel needs massive renovation
you can improve with loyal customers
Sep 2022
room was wors than usually( it is not my first time) with same reservation .Bathromm had a disgustting smell and permanent nose Courtains need to be replace. They are old and with stans Mattress needs to be replaced. i expected as usually yo do a better room. It always depends on the guy/ lady at checking in . taking into account thet the hotel was not fully boooked you could have more attendtions with loyal customers like me. I´m also veru disspointed becuase my stay doesnt add my rewards. At the checking the guy told me that if the reservation is done through booking points are not added.to my account. I dont know your internal procedures for adding points to my account the only thing that I know is when Itry to book directly to Grand Hyatt the website sends me me to booking.com. To be honest I thnk that the guy that made my cheching in was really no flexible with me and assigned a not very nice room and didnt try to make easier the procese of add points to my account
pleare take into account that not all of us are turists¡¡¡ pay attention to loyal customers if you have better roooms whne the hotel is not fully boook, why you have to give us roono nice rroms'
Overall good stay
Jul 2022
Rooms were good with cleanliness,good swimming pool,private beach ,totally an excellent hotel.
No vegetarian food available.There is problem for veggies.I requested for vegetarian food.But it was not available. Saad.
expensive compared to other hotels but comfortable stay
Apr 2022
room size is good, pool, beach front.
bed is not comfy, beach access only from 7am to 7pm
I would stay there again if it was cheaper.
Sep 2022
Quite and clean. Staff was great.
Distance into town and to attractions
very bad point There no breakfast buffet I am surprised this is big hotel without breakfast buffet. However, I loss and paid 15 Ro. so, need to inform us first plez next time. The second point, need to inform in booking you have some maintenance in your hotel because we are caming for rest and got today you have maintenance in the water system and that's mean no water 2 from 11 to 13 pm The third point, wifi is very bad too much disconnect in the room, I don't know why like this
They didn't clean my room the entire stay . I was told they don't do that for 2 nights only. It's a hotel!!!!!
Everything was very pleasant and the beds very comfortable
Wie viel kostet dieser hotel im Vergleich zu anderen in Muscat?

Der Durchschnittspreis für eine Anmietung in Muscat beträgt EUR 41 pro Nacht. Diese Miete liegt EUR 29 über dem Durchschnitt.
Ist das Parken in diesem hotel inbegriffen?

Ja, das Parken ist als Ausstattungsmerkmal bei Grand Hyatt Muscat aufgeführt. Für weitere Informationen empfehlen wir Ihnen, sich mit dem Anbieter der Unterkunft in Verbindung zu setzen, um zu erfahren, wo Sie parken können.
Gibt es in diesem hotel einen Pool?

Ja, bei Grand Hyatt Muscat steht ein Swimmingpool zur Verfügung. Genießen Sie das Wasser!
Ist Grand Hyatt Muscat haustierfreundlich?

Leider ist dieser hotel nicht haustierfreundlich. Versuchen Sie erneut zu suchen und filtern Sie nach "Haustiere erlaubt"
Welche Ausstattungsmerkmale sind bei Grand Hyatt Muscat verfügbar?

Wir haben 16 Ausstattungsmerkmale für diese Unterkunft gefunden. Dazu gehören pool, klimaanlage, küche/kochnische, internet/wlan und rauchen erlaubt.