Dolphin Motel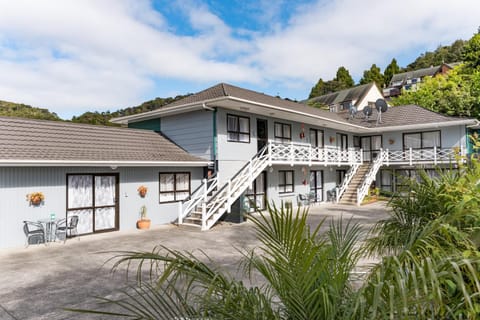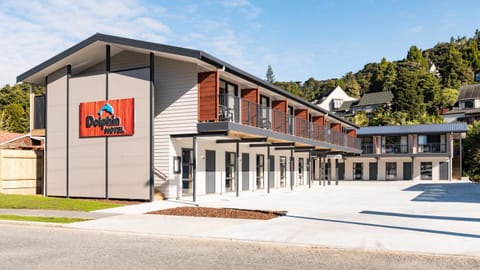 Hotel in Paihia
Pool
Klimaanlage
Küche/Kochnische
Befindlich in Paihia, dieses schön room in hotel für EUR 73 pro Nacht ist ein großartig Auswahl für Ihr nächstes Pause. Dolphin Motel is centrally located just 100 metres from Paihia wharf. All rooms feature a stovetop, fridge and satellite TV. Guests enjoy up to 2GB of free WiFi.
Pool
Klimaanlage
Küche/Kochnische
Internet/WLAN
Rauchen erlaubt
Parkplatz
Waschmaschine
Balkon/Terrasse
Fernseher
Rollstuhlgerecht
Garten
Familienfreundlich
100 % verifizierte Bewertungen
4.1 / 5

"Ausgezeichnet"

(1'337 Bewertungen)
Wonderfully comfortable
Feb 2022
We stayed in a 2 bedroom apartment which was a great size and perfect for myself, my 5 month old and my Mum. The decor in the motel is modern and fresh. We enjoyed it so much we stayed an extra night.
We have been allocated in the new building so all the indoor setting are new. It's cozy and nice.
I understand we need to keep the room reasonably tidy. But many rules sticking on the wall. Esp. the one saying we need to wash and put way all used dishes...... I feel like I just moved to a different places to do my housework. And I would worried that all the cups and dishes are not sterilized.
We had great stay, recomend!
beautiful room beautiful location reception lady could of been nicer owner was very kind via phone call
Mar 2022
was very clean tv was a decent size there was aircon and a small deck and owner was very kind over the phone
lady at the Reception was quite rude came straight into room to clean after my partner had asked her to come back later due to us trying to settle our baby
Pleasant stay at the Dolphin. Would book again.
Oct 2022
Very new unit with great balcony.
Bathroom fan didn't work.
Comfortable Paihia
Jun 2021
Very modern unit which was comfortable. Easy walking distance to town and the ferry to Russell
Would have been nice to have an outside table. Not a major.
very kind staff, beautiful facilities in the new building where we stayed. super close to everything.
Country/Rock Weekend
May 2022
Very friendly staff. Our Room was lovely and clean . Bed was very comfortable. Will rebook to stay here again and would also recommend to others . Thank you for an awesome comfortable stay
Very friendly environment.
There wasn't enough coffee and milk for 2 days and no one at reception to assist when we needed to ask for these.
Very accommodating nice easy walk from town center, lovely new facilities
This place was awesome loved everything
Nice and handy to the venue we were attending. We were able to walk there.
May 2022
The room was very clean and tidy. Plenty of room.
I found the mattress was quite firm and woke up with a sore back.
The room was huge, everything was very clean. Shower pressure was amazing, location so close to all shops/wharf etc. Front desk lady was super friendly and area was quiet at night so very easy to sleep.
Could've been nicer staff
Nov 2021
The staff member was rude, and didn't have very good customer service when I walked in reception
Home away from home
Jan 2022
The rooms were spacious, clean and tidy. Great location too due to its close proximity to the town centre. The staff were friendly and accommodating.
Beautiful will definitely come back
Jul 2022
The room I booked was really nice and cosy love
Disappointing stay
Jan 2022
The only that I like is the location. It is very close to the wharf and the shops.
Our stay at Dolphin Motel was a huge disappointment! We decided to book our accommodation on this motel in Paihia based on the good reviews and nice-looking photos of the units posted in Booking.com and from the actual website of Dolphin Motel. However, to our big surprise, the 2 x bedroom standard unit that we booked was totally different from the photos that were posted during our booking. It wasn't a modern looking unit, the unit was too hot with only 2 electric fans, the chairs and tables were old and way very far from what's in the photos in the website. The beds are very uncomfortable especially the 2 x Single Beds that are lopsided and we were only given one roll of tissue for 4 people for an overnight stay. There were ants crawling in the kitchen and we found a spider in the ceiling in one of the bedrooms. We tried contacting the reception but we were told that there's nothing that they can do as it was Booking.com that organized and assigned the room/unit to us, not them. This is the first time that we've experienced this unfortunate stay! We have been using booking.com for our accommodations and we don't have any issues. The accommodations that we booked before were pretty much close to what is posted online except for this unit in Dolphin Motel. We are definitely not going back!
The new apartments are soo beautiful and roomie
no toilet spray and the towels are children sized
Great value for price. Clean and walking distance to everything
Jul 2022
The location was very close to the centre which was very good. Great value for the price. Clean and had great facilities. The bed was pretty comfortable. Had a pretty good sleep
There wasn't really anything I didn't like. Had everything you really needed
Great location and unit but just be aware of behaviour after dark.
Dec 2021
The location was handy to the shops especially with little ones in tow. Easy walk with a pushchair and older one on his scooter. Plenty of food shops close by for choice of takeaway or cooking in. Beautiful quiet street when no parties are planned. Easy to park. Great rooms, all the cooking utensils you need to make a substantial meal. Lots of space for storage. Plenty of bedding and towelling. Clean and tidy and comfortable unit. Easy to lock up and go for the day. Very happy overall.
We had a person wondering around at 11pm Saturday night leaning on the bedroom window and looking through my car windows. Not sure if they were under the influence of something but it was unnerving with two wee ones fast asleep. There also was a crowd having a party near the reception entrance on the Saturday music loud and swearing chatter amongst themselves during early evening. My kids are not use to that behaviour and asked me what was happening? It was very disappointing to have to walk past that as a paying customer in a place that recommends a great stay for families. The hot water was also lacking. Good in the shower but the bath wasn't worth trying. I ended up boiling the jug a few times so I could use the bath for my baby.
it was ok but not up to the standard I expect for $150 per night
Sep 2022
The location is great, just a short walk to village and wharf.
Bathroom had mould on the ceiling and in the shower. Behind the toilet was filthy and mould on the wall. No cereal plates, no egg slice. The barstools were broken and very rusty bottoms. No one at reception to greet us, just a note on the door saying which unit we were in. Rooms not serviced daily.
Very comfortable stay, clean and tidy. Overall highly recommend
Oct 2021
The King Studio unit was nice and clean, comfortable and very good value for money
Stay at the Dolphin - it's a Win-Win
Dec 2021
The Dolphin is always excellent value for money. The rooms ar comfortable, clean and quiet. The front desk staff are friendly and did all the right covid safety protocols at check in. I love staying there and will keep going back.
The decor and the location
The cleaniness and quietness
it was great overall, staff was absolutely lovely. Rooms were clean and tidy.
Sep 2022
the buildings weren't so close together and the layout of the rooms
The beds were comfortable, rooms were tidy and the communication was good.
In room 13 the fire alarm was just above the stove and while boiling some eggs, the fire alarm went on. So couldn't cook our own food. This is the thing that we didn't like most. Then the other thing is there wasn't kitchen towel and toilet rolls in 13. We just grab it from from rooms that we had booked.
Highly recommend and will be back!
Jul 2021
Short scroll to the center of town. The rooms were exceptionally clean.
Clean, comfortable and great location.
Apr 2022
Separate bedrooms from living quarters. Perfect for access to shops and sea front, but quiet enough away from main strip. Staff very helpful.
Ants in the room constantly. Very dated and weary compared to their new quarters which were fantastic the last time we stayed. No aircon although the ceiling fan and freestanding fans provided were just about adequate. Some wood panelling coming away from the walls was not great given the TV was mounted to them.
You get your money's worth here!
Aug 2022
Room has everything u need in it including a balcony to soak up the sun in these cold times of winter. Beds were super comfortable, manager was lovely.
It was exactly what we wanted for a 2 night stay and was clean and tidy
Feb 2022
Rm 1 and was clean and comfortable
Receptionist was so lovely - Very clean place small walk to town which we enjoyed
No private deck - But other than that I can not complain very happy with the service an very clean.
really nice and comfy, very flash
only provided with one key, but two of us in room
ok for a short stay
Feb 2022
The Double/Queen size bed was in the living area
we enjoyed our stay the dolphin is located central to our needs for the country music festival
May 2022
great ... nice quiet room
Aug 2021
bed coukd have been softer ... thats the only thing tho, everything else was great ... thx !!
Wie viel kostet dieser hotel im Vergleich zu anderen in Paihia?

Der Durchschnittspreis für eine Anmietung in Paihia beträgt EUR 124 pro Nacht. Diese Miete ist EUR 51 günstiger als der Durchschnitt.
Ist das Parken in diesem hotel inbegriffen?

Ja, das Parken ist als Ausstattungsmerkmal bei Dolphin Motel aufgeführt. Für weitere Informationen empfehlen wir Ihnen, sich mit dem Anbieter der Unterkunft in Verbindung zu setzen, um zu erfahren, wo Sie parken können.
Gibt es in diesem hotel einen Pool?

Ja, bei Dolphin Motel steht ein Swimmingpool zur Verfügung. Genießen Sie das Wasser!
Ist Dolphin Motel haustierfreundlich?

Leider ist dieser hotel nicht haustierfreundlich. Versuchen Sie erneut zu suchen und filtern Sie nach "Haustiere erlaubt"
Welche Ausstattungsmerkmale sind bei Dolphin Motel verfügbar?

Wir haben 12 Ausstattungsmerkmale für diese Unterkunft gefunden. Dazu gehören pool, klimaanlage, küche/kochnische, internet/wlan und rauchen erlaubt.