Plantation Urban Resort & Spa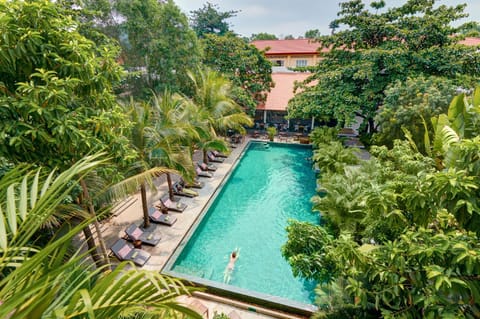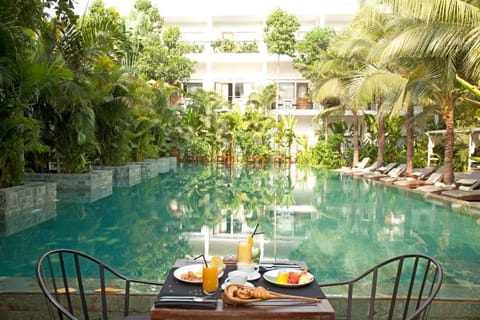 Hotel in Phnom Penh Province
Pool
Klimaanlage
Küche/Kochnische
Eingebettet in Phnom Penh Province, dieses attraktiv room in hotel für EUR 50 pro Nacht ist ein großartig Option für Ihr nächstes Urlaub. Das Plantation Urban Resort & Spa begrüßt Sie in zentraler Lage in Phnom Penh, direkt hinter dem Königspalast. Freuen Sie sich auf 2 Außenpools, ein Restaurant in der Unterkunft und eine Bar, an der Sie sich bei einem Getränk entspannen können.
Pool
Klimaanlage
Küche/Kochnische
Internet/WLAN
Rauchen erlaubt
Parkplatz
Waschmaschine
Balkon/Terrasse
Whirlpool/Spa
Fernseher
Rollstuhlgerecht
Fitnessraum/Fitnessstudio
Garten
Familienfreundlich
Karte von Phnom Penh 

Province
100 % verifizierte Bewertungen
4.5 / 5 (1'544 Bewertungen)
We thoroughly enjoyed our stay here and can't wait to visit again. The location, the staff and the hotel are all excellent. All the staff were so welcoming and warm with us. Highly recommend this hotel
Very pleasant time at plantation hotel
Mar 2022
we stayed only one night at the plantation hotel. It is secluded into the bursting Phnom Penh, very quiet, clean and well decorated. you feel like in a oasis. Rooms are spacious. swimming pool area is also charming.
We stayed for 16 days whilst doing voluntary work in Cambodia. The hotel was a lovely oasis of green and calm, the room was well-equipped and comfortable and the friendly staff could not have been more helpful.
Beautiful place and amazing staff
Jan 2022
We stayed 3 nights and we had a wonderful time. Restaurant food is yami and well priced. The rooms are really confortable The staff is really helpful. We will comeback ! Thank you again for everything
We will definitely stay here again on our next visit
Feb 2023
Walking distance to Museums etc. Tuk Tuks always available out front. Staff very very friendly and professional.
Renovations in progress during the day however we were aware when booked plus out exploring during the day so did not bother us.
Good option for a peaceful stay and ambiance
Sep 2022
very peaceful and lovely ambiance. breakfast was good. property was neat and clean.
Great hotel, highly recommended
Oct 2022
Very nice hotel with all the facilities. The pool area is very nice, to cool off after touring the city. The breakfast is very good. Rooms are very comfortable. This hotel is highly recommended.
Very nice and clean. Large swimming pool with natural style decoration. Good breakfast and very good restaurant. Close to PP airport.
Construction work in progress during the day.
Very helpful people at the reception desk.
Very good staff. The aircon was not working in our room, so we were upgraded the next day and given a free massage. The breakfast buffet is very nice, with plenty of choice and fruits.
The hotel is nice but in need of some maintenance to be able to keep up the standard.
Very clean, lovely staff and great breakfast. The pool is really relaxing and the food good. Would come again for sure!
The very old home gym machine has to be replaced asap, the cables were loose and getting stuck, I was afraid of using them further. All the other equipement worked well.
Luxury stay in Phnom Penh
Oct 2022
Very clean and felt like a luxury hotel for a very good price. Lovely staff, spacious rooms and really comfy beds (2 pillows also which is always good!) Good selection at the breakfast buffet.
Nothing. Construction work didn't even bother us.
Amazing oasis in the middle of the City
Jun 2022
This resort is truly an oasis in the middle of the city. Absolutely stunning envronment full of lush greenery and the staff are all so helpful. Great position, short walk to the river and surrounding places of interest. The pool beautiful, breakfast many choices and the cocktails amazing
This is the perfect place to stay in Phnom Penh. So
May 2022
This is an oasis of comfort and calm amidst the wonderful buzz of Phnom Penh. what an amazing place! The rooms are lovely and the pool area just so relaxing. Staff could not be more helpful.
This is a little slice of heaven in the middle of phnom penh. Perfect location and amazing place, we were forewarned about the building work but everything was done to minimise their interferance with our stay. The hornbills came to visit from a nearby temple which was an amazing experience. Cannot recommend this hotel enough.
There was building work but we were told beforehand about it and they did everything possible to minimise the interferance.
The tiles and the decoration of the lobby are very beautiful. The atmosphere is relaxing and cozy. Black tea served in the breakfast is really tasty.
The swimmingpool area was fantastic. Breakfast was good and the staff were always very helpful and kind.
If we will revisit Phnom Penh, for sure will choose other hotel!
Jan 2023
The stuff and the location.
The room was not very clean. For sure, it doesn't have 4 stars. We didn't have water in bathroom for an entire night. In the morning, we have waited for almost 2 hours so the water pump can be fixed. When we returned in the noon, in the room, still no water. The stuff changed us the room with one at a lower floor for the last night and it was OK.
The staff is super friendly and helpful. The place is like a little tropical paradise hidden in the center of the city.
the staff is amazing - super attentive and polite, really wonderful. The pool is wonderful and the perfect setting for your morning coffee
the rooms were lovely and the staff were really friendly. breakfast was good and the food wasn't exorbitantly priced like you might expect.
my shower water never ran hot
There was a beautiful lobby and swimming pool. The breakfast was a buffet style and it was really tasty. Hotel staff was kind and helpful.
the resort pool and the that the bar was open for drinks and food
there environment are very nice,stay and feelings very comfortable,especially the breakfast ,gym and swim pool.
I love it will definitely come back if i could.
May 2022
The pool was an extremely beautiful day. Very well designed with pavillions and biophilia.
Breakfast with more vegetarian options please! ;).
The pool was amazing and the food was excellent.
The gym equipment was in a poor state.
Neat, clean, comfortable rooms, excellent property with lovely staff❤️
Mar 2023
The Pool, the rooms and everything about the property and the staff too ❤️
There was no scope to not like anything!
The pool is the central piece walk out anytime as long as your quiet and slip into the pool
Happy and relaxing stay!
Aug 2021
The pool is amazing and the breakfast is probably one of the best in town. The location is also great, close to everything I need to get to. The staff is incredibly helpful and friendly. Would recommend it to anyone!
Nothing really, I have zero complaints about this property. I've been going there for many years on my business trips and also have referred it to countless people.
Nice vibe but not very clean
May 2022
The pool area and its greenery. Good breakfast, plus for changing menu every day. The location is good.
Cleanliness of the hotel - when we arrived, the bed linen had stains. I asked the reception to change it, but instead, they just fixed the bed. I have been to many cheaper hotels, including Phnom Penh, and I didn't have this problem. At least what you can expect from 100$ a night hotel is to have a clean bed. I doubt also if they change towels after every customer in SPA. I saw stains on them too.
an absolutely oasis in the heart of Phnom Penh
Apr 2022
the pool and surrounding cabanas with meal/bar service are just amazing, as are the gardens and surrounds. such an oasis.
nothing really. though ceiling fans would be nice as an alternative to a/c. bring mozzie repellant.
gym - ac didn't work, equipment is also broken
The place was very nice. The room was a bit small but functional. The swimming pool zone was really nice l. The location was perfect, near the Royal Palace and many restaurants around there.
It was not totally clean, small details and the service in the pool bar, was very slow
Lovely ambiance and friendly staff
Oct 2022
The place was under renovations so an opertunity was not available. I was well aware of this when booking.
The place was amazing, and when I had to check out early because of a lockdown they credited me a room to use at a later time!
The place looked very nice with all the plants. The pool was as well really nice.
The vies from our room was against a wall and the AC was not cold, as well the fan was pretty loud
Beautiful Tropical Green Resort-Feel Stay
Aug 2022
The place has the feel of a boutique hotel, very artsy and I felt like I was staying in a green tropical resort. It definitely felt beyond 3 stars. The hotel took care to mention they are undergoing renovation when I did the booking and again when we are staying. There was some minor noise during the daytime only but it was well managed and I accepted this when I book.
The bed felt hard, I felt like I was sleeping on wood, very strange. The walls/door is thin so I can easily hear when people go in and out of their room, and when they talk along the corridor. So it is quite challenging to sleep in when you hear people going out for breakfast around 7:30 am onwards. :)
A little oasis in the city center!
May 2022
The place has a Bali-like feel as its hidden away from the busy streets. The rooms are spacious and you clean. The breakfast is complete and you can sit outside next to the pool.
the service at the lunch area is a bit slow but I think its due staff shortages in Asia currently. Other then that the stay was awesome, would recommend it to friends and stay there again.
perfect to explore the capital city.
Jan 2023
the location is perfect to explore the city, the property is beautiful
just a few mosquitoes in the room.
great location, great vintage place, just need a bit more cleanness
Sep 2022
the lobby is wow. very good location, nice staff, great resort, just a bit old. that's why they having the renovations I guess…
it's a bit rusty and not super clean. not too bad though
Wie viel kostet dieser hotel im Vergleich zu anderen in Phnom Penh Province?

Der Durchschnittspreis für eine Anmietung in Phnom Penh Province beträgt EUR 36 pro Nacht. Diese Miete liegt EUR 14 über dem Durchschnitt.
Ist das Parken in diesem hotel inbegriffen?

Ja, das Parken ist als Ausstattungsmerkmal bei Plantation Urban Resort & Spa aufgeführt. Für weitere Informationen empfehlen wir Ihnen, sich mit dem Anbieter der Unterkunft in Verbindung zu setzen, um zu erfahren, wo Sie parken können.
Gibt es in diesem hotel einen Pool?

Ja, bei Plantation Urban Resort & Spa steht ein Swimmingpool zur Verfügung. Genießen Sie das Wasser!
Ist Plantation Urban Resort & Spa haustierfreundlich?

Leider ist dieser hotel nicht haustierfreundlich. Versuchen Sie erneut zu suchen und filtern Sie nach "Haustiere erlaubt"
Welche Ausstattungsmerkmale sind bei Plantation Urban Resort & Spa verfügbar?

Wir haben 14 Ausstattungsmerkmale für diese Unterkunft gefunden. Dazu gehören pool, klimaanlage, küche/kochnische, internet/wlan und rauchen erlaubt.