Islamabad Marriott Hotel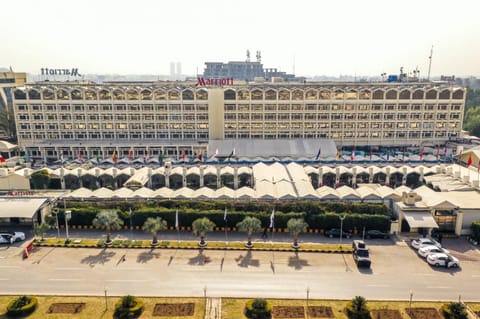 Hotel in Islamabad
Pool
Klimaanlage
Küche/Kochnische
Eingebettet in Islamabad, dieses schön room in hotel für EUR 120 pro Nacht ist ein phantastisch Option für Ihr nächstes Reise. Das 5-Sterne Marriott Hotel Islamabad empfängt Sie mit Highspeed-WLAN, einem Innenpool und einem Fitnesscenter. Freuen Sie sich zudem auf verwöhnende Spa-Anwendungen mit getrennten Lounges für Männer und Frauen.
Pool
Klimaanlage
Küche/Kochnische
Internet/WLAN
Rauchen erlaubt
Parkplatz
Waschmaschine
Balkon/Terrasse
Whirlpool/Spa
Fernseher
Rollstuhlgerecht
Fitnessraum/Fitnessstudio
100 % verifizierte Bewertungen
3.9 / 5 (491 Bewertungen)
We had the buffet meal the staff where rushing us yo finish we where party of 10
Superb hotel personnel! Thank you very much.
Feb 2023
Warm, caring, helpful, welcoming, efficient staff at the restaurants (breakfast) such as Mr. Ilyas, Ms Sadaf, Zubair, Waris and Shahid; Sakura Restaurant (esp Chef Mario), Italian restaurant, and the superb Car Rental Counter who have very efficient and helpful personnel. And by the way, the fresh juice counter was an excellent feature of the breakfast!!!
Very good hotel but perhaps more variety in the breakfast spread would be very much welcomed
very high standards
Feb 2023
very convenient and no surprises.
no tooth brush or toothpaste in the room apparently I had to ask in advance for this
very clean and staff friendly.
The staff was very friendly and service minded.
There food was pathetic especially there sahoor platter.
The Housekeeping stuff...Waleed and the rest of the stuff was very helpful Breakfast buffet attendance Alsaf always greet us with smile ! Receptionist stuff need to improve on their customer service and give accurate information regarding breakfast and facility provide in the room.some of the stuff were not friendly kindly take note And yeah i would like to give a huge compliment to the lobby attendant who always smile and open the door whenever we pass by ...( The person who stands at the door(can't remember the name thou)They were so friendly and sweet ! i would like to give them a 5 star for delivering such a amazing and warm service!
We have booked our room at the executive floor and was surprised that non of the stuff have mention that kids are not allowed ...anyways was feeling dissapoint to have even booked at the executive floor...food area was not clean and also the food was not serve fresh ! Cleaniess was not what i have expected in 5 star hotel....
The hotel is very dated. Needs a desperate refurbishment.
Hotel is very dated and not worth the price.
The attitude of the staff. The smoothness of the process. Everything was delightful
Literally nothing was below or subpar. Everything was above average and absolutely amazing.
Staff was courteous and environment was good.
Ideal location if you have meetings in Pak Secretariats.
Staff is friendly. No problems at all.
Sakura restaurant. Check in and check out was quick. Friendly staff
Room doors are not that soundproof. Dynasty's food quality has gone down a lot. Quite crowded in Nadia at Bfast in current Covid situation.
Not a value for money, if you have germs in 5 stars better get cheap hotel, Value for money
Mar 2021
Reservation is not available 24 hrs, Staff is not professionally training to deal with guests, asking to check your mobile and your email id for details of booking instead of asking booking .com for copy of email. Card machine is not working in 1st time and staff asked for you card instead of bring a card machine to you. In morning for breakfast, Chair is not clean properly with big mark of bubble like item, Plates (curry) is not clean, old needed to change and stain once needed to clean properly, same for tea pots and tea cups, tea pot nozzle is not clean for long time as having a dark black mark. As Covid-19 is exceptional not proper arrangements are in action by the hotel, guests are taking food without masks, and using the handles of spoons again and again, Manager is asking please tell us the way how we can serve, I replied that you have four counter in place, for each one you need separate server to serve the guest in queue, Before Covid-19 if you are using gloves it will protect the person you has it but not other, so in Covid-19 we need a person who is not taking food and just serving to solve the problem. I am happy to explain with demo if manage require me to do so. Boiled eggs are served with the wastes of hens, enjoy it as you have paid 25000 rs for it for one night to having a boiled egg in 5 star hotel. Amazing. I want to tell the whole world about it. People are silent and having breakfast in these dirty plates and with hairs as identified on the spot and informed to staff, 12/03/21, at 7:18 am. Small plates are having same issues and dates with dust and Manage is saying Sir we are server as we got packed so are you going to serve us a date with dust. These all and many more learning points are already given to management on my 1st stay on 05/03/21 in very polite way and don't even reported here for public but there is no change to this time its fair to tell you all about this.
Lastly security staff is highly unprofessional, even telling my name and room number they asked are you guest here, I am asking them who hire you there as security if guest is telling you name and room kindly check with you management instead of became rude and said you are wear Pakistani flag, remove it, why I am in Pakistan, I have it on my shoulders and who has power to say me in my country to remove it from your shoulders and then unprofessional behavior at his peak. In morning the same security staff didn't check me properly and this time its a avenge, so he wants me to remove all the things from my pocket until the beep sound stopped and in doing this he allowed guest behind me without even checking, what a amazing security. UK Marriott should learn from this branch. I know all of them by names and I am mentioning their names here but if management wants me to tell all I am very happy to do welfare for other guest I will definitely tell this to other guests and expect that all of you should open your eyes while staying at these type of 5 stars hotel it is not a value for money or may you get Covid-19 after the stay, chances are high. Anyone of you can contact me @ Junaid Khalid FCCA mjkhalidacca@gmail.com 0092-343-1858599
RADIQA , AQIB AT RECEPTION VERY GOOD. HAJI RASHID & SAJID ON 1ST FLOOR ABSOLUTE BRILLIANT
Feb 2023
RADIQA at reception was absolutely fantastic very helpful very friendly and welcoming
Marriot is not that Marriot anymore.
Jun 2021
The sheets were not clean. Hair on the pillow. I think they dont chnage the sheets in between guests. The reception guys had a big attitude with locals
Staff couldn't find my booking , taking much time , USD rate are too high then the rate
Dinner buffet is not good and very expressive
Wie viel kostet dieser hotel im Vergleich zu anderen in Islamabad?

Der Durchschnittspreis für eine Anmietung in Islamabad beträgt EUR 37 pro Nacht. Diese Miete liegt EUR 83 über dem Durchschnitt.
Ist das Parken in diesem hotel inbegriffen?

Ja, das Parken ist als Ausstattungsmerkmal bei Islamabad Marriott Hotel aufgeführt. Für weitere Informationen empfehlen wir Ihnen, sich mit dem Anbieter der Unterkunft in Verbindung zu setzen, um zu erfahren, wo Sie parken können.
Gibt es in diesem hotel einen Pool?

Ja, bei Islamabad Marriott Hotel steht ein Swimmingpool zur Verfügung. Genießen Sie das Wasser!
Ist Islamabad Marriott Hotel haustierfreundlich?

Leider ist dieser hotel nicht haustierfreundlich. Versuchen Sie erneut zu suchen und filtern Sie nach "Haustiere erlaubt"
Welche Ausstattungsmerkmale sind bei Islamabad Marriott Hotel verfügbar?

Wir haben 12 Ausstattungsmerkmale für diese Unterkunft gefunden. Dazu gehören pool, klimaanlage, küche/kochnische, internet/wlan und rauchen erlaubt.