Desert Haveli Guest House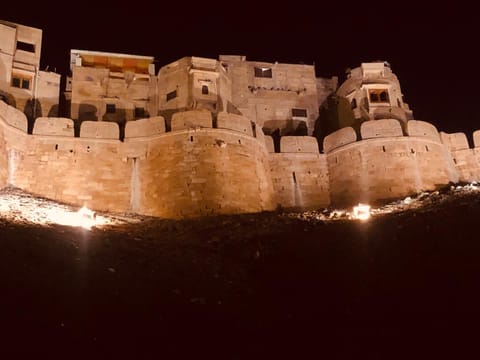 Hotel in Sindh
Klimaanlage
Küche/Kochnische
Internet/WLAN
Eingebettet in Sindh, dieses attraktiv room in hotel für EUR 26 pro Nacht ist ein großartig Option für Ihr nächstes Urlaub. Das historische Jaisalmer Fort Desert Haveli Guest House befindet sich in einem der größten Festungen der Welt und bietet kostenfreies WLAN in allen Bereichen.
Klimaanlage
Küche/Kochnische
Internet/WLAN
Rauchen erlaubt
Parkplatz
Balkon/Terrasse
Familienfreundlich
100 % verifizierte Bewertungen
4.6 / 5 (91 Bewertungen)
Wonderful staff - awesome food - superb location The walking tour was excellent
Best hotel experience in India
Feb 2020
Where do I start? We've stayed in over 30 hotels in the 5 months we've been in India and this is by far been our favourite experience. The rooms, food, staff, the location inside the fort, cleanliness, bathrooms and vibe of the place is of the highest standards. It's just a brilliant place. What sets it aside is the feeling of walking into history. Not just from the hotel adapted from the Haveli it used to be, but the stories that come with it. We spent hours talking to the manager Dushyant, listening to the countless stories and tales about the local area and Rajasthan in general. They also arranged our desert safari which was great. And the food is amazing. It really was a great experience staying here and we'll definitely be returning.
Only a cold hearted fiend will find anything to dislike about this guest house.
best stay till now in my entire life.
Dec 2022
We loved everything about the property.. the rooms were soo cozy, the vibes were soo peaceful.. the decorations and most importantly the staff were soo kind, exceptionally amazing stay. would recommend everyone to try this one! thanks
Excellent host and customer service!
Mar 2022
We have received the best customer service at this place. Dusyant really cares about his guests and even goes one step ahead with great tour suggestions and logistics for arriving and departing from the hotel. We found the place very charming, clean and with good smell.
Live Like A King With The Best Host In Jaisalmer
Mar 2023
we came with the family and witnessed an iconic experience in all senses. Food, facilities, rooms, behaviour, with the best location, were all top notch. I requested my family to come here, and before leaving the property, almost everyone kind of shed a tear. Dont miss it if you go to Jaisalmer! Enjoy the atmosphere around the property, but i bet itll be hard for you to leave your room.
Incredible Experience
Jul 2022
We are an Australian family who travel a lot and stay in many different types of accommodation but I have to say that this property is absolutely magnificent and we are thrilled to have had the opportunity to stay here. Our room had a queen bedroom with decorative carved windows looking out from the fort walls over the ancient city and also a single bed in a very large adjoining space which also had fridge, kettle etc. This was ideal for our family. This Haveli is 450 years old and is housed within a fort with parts that date back 1200 year. The intricate carvings, archers and features of this Haveli are breathtaking, staying here is an absolutely unique experience. The owner is very welcoming and is always on hand to answer any questions and offer advise on history, sightseeing and restaurants etc. There is no pressure to sell you anything and he is absolutely committed to ensuring you have the best possible stay in Jaisalmer. We felt very safe and well cared for during our stay. The fort and ancient city of Jaisalmer are a travelers heaven but to really understand this part if the world you need to head out into the Thar desert. The hotel arranged a camel safari for us and it was fabulous. We were picked up at the Haveli in a Jeep and enroute visited temples, shrines and villages before saddling up on the camels and heading into the dunes. We rode the camels for 90 minutes and then set up a base in the dunes where the guide lit a fire and cooked us a beautiful meal while we watched the sunset and then the moon rise and light up the desert, an amazing experience. It was very remote and there was absolutely nobody else there, there was not even foot prints in the sand, incredible. Highly recommended!
Was a wonderful stay, the service was great, I was there for Business trip and the rustic nature of the place took me beyound centuries
A heart warming welcome and great stay
Mar 2021
Warm welcoming from our hosts and ideally located withing the fort itself We took the room for one extra night
Highly recommend this property. The owner Dushyantji took graet care of us. Felt like family.
Jan 2022
Very friendly staff; excellent service; they took care of us really well.
Warm, lovely and a must stay!
Dec 2021
The service was amazing, especially the owner, Dushyantji, who briefed us about the history of the haveli on arrival. The room is equipped with everything you would need during the stay, they have taken care of everything. The rooftop restaurant offers spectacular views of the city while the Chef Hasamji serves lip smacking delicious food. I cannot recommend this place enough.
Not a negative for us but a heads up for everyone - the food in the restaurant is prepared fresh so takes a while to come out.
The only place to stay in Jaisalmer
Nov 2021
The property is within the fort with the most hospitable people I've met. Cant get better than that!
The owner was really sweet and helpful, since we arrived a bit early he also gave us a free upgrade to the room. The location is perfect, inside the fort. The room and bathroom were clean and provides a perfect heritage stay.
The rooftop restaurant was closed due to lack of staff.
The owner Mr Dushyant is an extremely cooperative and cheerful man.. He made the stay super comfortable for us.
The stay was exceptional, would like to go there again
Mar 2022
The location was exceptional, very close to the Centre of the fort, the happening place inside this living fort.
Dushyant must make arrangement for a wardrobe in the room so the guests can keep their clothes properly.
The host Dushyant was very welcoming and an excellent person
The hospitality of the people. The rooms, the views, the facilities, the cleanliness, the super yummy breakfast and dinner and everything else. Mr. Dushyant arranged and out of the world amazing desert safari experience for us and we are totally grateful to him for that.
There is not a thing to not like.
I stayed there with my family and it is one of the best haveli inside the junagarh fort, spacious and clean rooms, roof
Dec 2021
strategic location, it is inside the Junagarh fort, roof top restaurant/dining arrangement with city and fort view was amazing experience.
Incredible landscape view, amazing staff, great room!
Mar 2023
Staff was very friendly and helpful! The location is amazing, inside the fort, with an amazing view of the city. The hotel is very quiet as well.
Nothing, everything was amazing
Due to Covid...Most of the facility was not available!!! Pics shared in booking.com were different
Location.. Owner is very friendly and a good person.. Also arranged Dal pakwan for us.. Really helpful.. Room was amazing.. Help us to upgrade for 3 people.. Great place stay.. A must stay if u want stay inside the fort..
comfortable and fun
Jan 2023
location is amazing, it's in the fort and shopping is walking distance.
located at a very good spot , whether you want a good view of the town, or see the famous sunrise. The rooms are adequate and staff is extremely helpful.
interesting place to stay, great spacious room, cool location inside the fort
Incredible kindness
Jan 2022
I have traveled a lot all over the world and Dushyant, the owner, is honestly one of the friendliest and best persons I have met during all my travels. Not only was the hotel and room perfect, however the best thing for me was the staff. They always met me with a smile, and were always happy to help and talk. If I go back to Jaisalmer I will stay at the same place for sure.
I had a wonderful stay at Desert Haveli. It had transported me back in time to the ancient times. The property has a rooftop with an amazing view of the city from where you can see both sunrise and sunset. We had booked a standard room which had 2 rooms with a bathroom. We were provided with all the essential toiletries and clean towes and drinks. Check-in time is 1 PM and checkout by 11 AM. A special note for the host Mr. Dushyant who has personally welcomed us and attended all our requirements and queries. It is really very rare to see such honest and lively person like him. The other helping staffs were great at their job and gave us good service. We were given free breakfast which included aloo paratha, poha and bread and jam. Since cab and auto is not allowed were not available within the fort. They had offered complimentary luggage pickup. In a nutshell we had a memorable stay here and would recommend anyone who would like to stay within the fort.
great location in the fort with fantastic view from the rooftop breakfast space. Pleasant renovations in the ancient building. Our room was huge —originally the haveli's storage room—with a few tiny wall openings ti the city. It was authentic but rustic. We appreciated the owner-manager's sense of hospitality (he even ordered a few local specialties to treat us on our last night) and reactivity in problem-solving (the antiquated wiring ignited when I plugged in the kettle and he had an electrician in to fix it within hours). We enjoyed the great friendliness of the hotel's employee, Tajmuhammad, who kept following me to remind me to "mind [my] head" after I bumped it a few times (like in most Havelis, doorways tend to be low!) and was a great help all along.
By comparison with other heritage accommodation in Rajasthan on this trip, we find the INR7000+ daily charge (incl. tax) for this "super deluxe double room" and breakfast to be very excessive. We were also surprised to be asked to pay cash (no credit card machine available) but the owner-manager kindly helped us find an ATM where we could draw sufficient funds to pay for our five nights
best place to stay! inside the fort!!
Feb 2023
great location, great host! recommended to stay inside the fort when visiting Jaipur! also definitely recommended to do the desert trip organized by the owner of this hotel, you will not regret it!
Wie viel kostet dieser hotel im Vergleich zu anderen in Sindh?

Der Durchschnittspreis für eine Anmietung in Sindh beträgt EUR 36 pro Nacht. Diese Miete ist EUR 10 günstiger als der Durchschnitt.
Ist das Parken in diesem hotel inbegriffen?

Ja, das Parken ist als Ausstattungsmerkmal bei Desert Haveli Guest House aufgeführt. Für weitere Informationen empfehlen wir Ihnen, sich mit dem Anbieter der Unterkunft in Verbindung zu setzen, um zu erfahren, wo Sie parken können.
Gibt es in diesem hotel einen Pool?

Wir haben keinen Pool gefunden, der als Ausstattungsmerkmal für diesen hotel aufgeführt ist. Es kann sich lohnen, noch einmal zu prüfen, ob ein Pool für Ihren Aufenthalt wichtig ist.
Ist Desert Haveli Guest House haustierfreundlich?

Leider ist dieser hotel nicht haustierfreundlich. Versuchen Sie erneut zu suchen und filtern Sie nach "Haustiere erlaubt"
Welche Ausstattungsmerkmale sind bei Desert Haveli Guest House verfügbar?

Wir haben 7 Ausstattungsmerkmale für diese Unterkunft gefunden. Dazu gehören klimaanlage, küche/kochnische, internet/wlan, rauchen erlaubt und parkplatz.