Movich Buro 26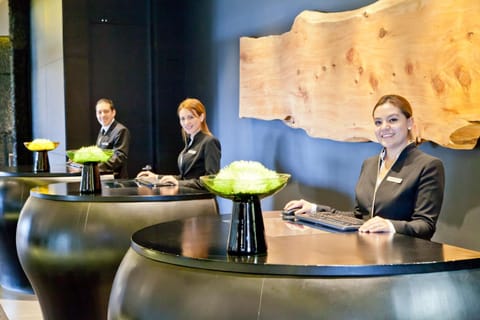 Hotel in Bogota
Klimaanlage
Internet/WLAN
Rauchen erlaubt
Befindlich in Bogota, dieses attraktiv zimmer im hotel für EUR 41 pro Nacht ist ein großartig Auswahl für Ihr nächstes Pause. Das Movich Buró 26 begrüßt Sie in Bogotá, nur 5 Minuten vom internationalen Flughafen Bogotá entfernt. Die Unterkunft bietet Ihnen kostenfreies WLAN und eignet sich ideal für Geschäftstreffen und gesellschaftliche Zusammenkünfte.
Klimaanlage
Internet/WLAN
Rauchen erlaubt
Parkplatz
Waschmaschine
Balkon/Terrasse
Whirlpool/Spa
Fernseher
Rollstuhlgerecht
Fitnessraum/Fitnessstudio
Familienfreundlich
100 % verifizierte Bewertungen
4.4 / 5

"Ausgezeichnet"

(3'512 Bewertungen)
We liked the location, service shuttle and food.
Perfect place for a stay
Apr 2022
Very well organized, responsive, forthcoming, clean facility, only 1 km from the airport with shuttle driving from and to the airport every 30 minutes. Breakfast was just delicious. Great value for money.
Very nice modern hotel, close to the airport (3min.) Helpful staff and a good shuttle transportation to/from the airport.
Very good breakfast buffet
Convenient location to airport
Sep 2021
Very conveniently located if you need to be close to the airport. The breakfast was amazing, and the staff was very nice. Very nice and modern hotel.
I noticed that they didn't take my reservation through Booking
Very convenient for next morning travel. Great service!
Very comfortable. Nice staff.
Only good for 1 night if you need to stop at the airport. Better options in town for longer stays.
Jun 2021
Very close to the airport. Ideal for an overnight stop over
The WiFi was not compatible with my VPN. THe rooms were cold and no heating, You have to book the SPA in advance and THEN call the same day at least 2 hours for them to turn it on. They said parking was complementary but that is not the case. Gym is small. There is nothing around this hotel and dificult to get food or shops within walking distance.
Very beautiful and clean hotel, great staff they were very helpful, good food and the hotel is 5 minutes from airport. Hotel has its own free shuttle, every 30 minutes from hotel to airport and vise versa. Its my second stay here and I recommend it to everyone.
Convenient and value for money
Jun 2022
Value for money, clean, pleasant reception staff; airport shuttle
breakfast was quite basic; service at breakfast was only OK
Transfer to the airport and location
This was a very comfortable hotel for the price. Note, I have noted that the prices in these hotels near the airport do fluctuate a lot dependent on demand.
Great comfortable stay close to the airport
Jun 2022
This is the perfect place to stay if you need to be near the airport - the complimentary shuttle is quick and regular, and the hotel is so close when you land really late or are leaving really early. The beds are really comfortable, and the black out blinds make for a restful sleep. The spa area and fitness area are such a bonus.
In the three times we have stayed here, there has never been any almond milk despite it being on the menu and supposedly available for breakfast time.
We found this hotel to be welcoming, luxurious and perfectly located for a stopover between flights.
Jul 2022
This hotel felt very luxurious. Perfect location for a stopover between flights. The airport shuttle-bus was so welcoming for a family with kids arriving late at night and staring at a mile-long taxi queue. Lovely big rooms and plush beds. Delicious breakfast, with an egg chef who cooked us up fresh omelettes to order.
Great comfortable stay for our first night in South America.
Apr 2022
They had a nice dining room on site. The staff was friendly and there was a free airport shuttle. The rooms were comfortable and clean.
The dinner buffet wasn't very good.
The Shuttle service to the airport is available 24 hours every 30 minutes.
The service to and from the airport was important to us.
It was very dark. I prefer light. The bathroom was too dark to apply makeup. It would have been nice to make coffee in the room.
very good hotel just by the airport, perfect for a night layover
Feb 2022
The room was really nice, comfy bed, well-equipped bathroom. The gym was small but had everything you need. free airport shuttle every 30 min!
Some facilities were unavailable but it it was due to pandemic restrictions.
The hotel is OK for a night. If it's longer than that, wouldn't recommend.
Apr 2021
The rooms are pretty nice and location is convenient for traveling purposes.
The WiFi doesn't work, poor customer service, restaurant food is alright. If you're foreigner, and paying with CC at the restaurant, pleasee request copy of the receipt otherwise waiters will tip themselves Whatever they want.
Comfortable, pleasant stay!
May 2022
The rooms and of course the beds are very clean, crisp, and comfortable. Close to the airport and shuttle service make it very convenient. We didn't have breakfast it wasn't included in our reservation and the cost as an addition was a bit hi, so we skipped it. We had dinner and drinks and enjoyed both.
I can't think of anything I didn't like.
The first room the A/C didn't work. I was in a room for 20min almost suffocated. Then they changed my room when I ca
Jul 2021
The property is amazing clean and the energy is very well received. It feels luxurious but being placed in a room that the A/C didn't work was not good.
I like the staff but they should have check the room to make sure the air conditioner works first before putting a client in. It's suppose to be a high profile hotel and I was going to expect a high profile response and at least some type of services for the inconvenience. But it was never offered.
The most efficient and easy to use hotel ever. Gorgeous sauna and steam room area downstairs too!
The location, the room, the amenities
The room service was terrible. They only got my order right once
I asked for room service. Fries and coke. I had to cancel my order after 40 min waiting. The pillows are absolutely rubish. Full of lumps. I guess the pillos haven't been replace in long long time. Hardly a 3 star hotel.
Would NEVER stay here again
Dec 2021
The location is the only thing we liked
The bedroom was very dark not enough lighting. The bathroom was even worse I couldn't do my makeup in it is was so dark. The shower head had barely any water coming out and there was only one bar of soap left. So we had to share it between the sink and the shower.
Great place to stay near the airport
Jan 2022
The location and the staff
Over all it was a great experience.
Oct 2021
The hotel was very close to the airport, after a long trip you just want to get to a comfortable bed which I did. Room was clean, cool, and very confortable.
The restaurant took toooooo long to serve a simple soup order.
The hotel was smart and clean and very close to the airport. The room was comfortable. The shuttle from the airport and back again was prompt and perfect for what we needed.
They didn't have any almond or soy milk despite it being on the menu.
Great hotel for easy access to the airport (watch out for their airport pickup service)
Jan 2022
The hotel is very nice and comfortable. We had a good stay overall and would stay again if having a late arrival or early departure from Bogota airport. Breakfast was quite good but coffee and hot chocolate were not.
Our main issue was the shuttle from the airport. We asked different workers in the airport where to go to wait for our shuttle and even checked while waiting. All said the same and we were supposed to be on the right place. Nevertheless, apparently their shuttle may not get to arrivals unlike what it seems every other hotel and people at the airport don't seem to know. We ended up waiting for almost an hour.
I will definitely stay here again.
Jul 2022
The hotel is comfortable and clean and very close to airport to catch an early flight.
The bathroom was a bit dark.
Short Stop in Bogota
Jun 2022
The entire hotel was amazing, every single detail. The guys from the hotel shuttle very kind and punctual! The room was beuatiful and the breakfast was amazing! The hotel exceeded our expectations.
Nothing! Everything was perfect during our stay!
the room are too small and staff is short
The confort of the bed is excellent
The breakfast good and location was convenient for a one day layover.
For the location and price I would expect at least water in the room
The bellman and the bus driver were very friendly. The reception staff was also very friendly.
Good location near the airport
Apr 2022
The bed was extremely comfortable and the rooms were very clean and tidy. I only needed the room for one night but it met my needs. They have a 24 hour free transportation service which was great and extremely helpful, especially since my flight landed so late in the evening. The person coordinating the transportation was friendly and helpful.
Nothing. The entire stay was super seamless and met my needs.
Wie viel kostet dieser hotel im Vergleich zu anderen in Bogota?

Der Durchschnittspreis für eine Anmietung in Bogota beträgt EUR 36 pro Nacht. Diese Miete liegt EUR 5 über dem Durchschnitt.
Ist das Parken in diesem hotel inbegriffen?

Ja, das Parken ist als Ausstattungsmerkmal bei Movich Buro 26 aufgeführt. Für weitere Informationen empfehlen wir Ihnen, sich mit dem Anbieter der Unterkunft in Verbindung zu setzen, um zu erfahren, wo Sie parken können.
Gibt es in diesem hotel einen Pool?

Wir haben keinen Pool gefunden, der als Ausstattungsmerkmal für diesen hotel aufgeführt ist. Es kann sich lohnen, noch einmal zu prüfen, ob ein Pool für Ihren Aufenthalt wichtig ist.
Ist Movich Buro 26 haustierfreundlich?

Leider ist dieser hotel nicht haustierfreundlich. Versuchen Sie erneut zu suchen und filtern Sie nach "Haustiere erlaubt"
Welche Ausstattungsmerkmale sind bei Movich Buro 26 verfügbar?

Wir haben 11 Ausstattungsmerkmale für diese Unterkunft gefunden. Dazu gehören klimaanlage, internet/wlan, rauchen erlaubt, parkplatz und waschmaschine.