Marushige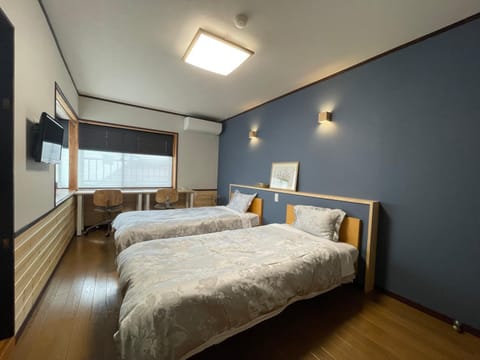 Hotel in Nozawaonsen
Klimaanlage
Internet/WLAN
Parkplatz
Gelegen in Nozawaonsen, dieses attraktiv room in hotel für EUR 81 pro Nacht ist ein phantastisch Option für Ihr nächstes Reise. Das Marushige liegt nur 5 Gehminuten vom Snow Resort Nozawa Onsen entfernt und bietet gemütliche Zimmer im japanischen Stil, einen Essbereich und ein Gemeinschaftsbad. Ein Skiraum und ein Trockenraum stehen in der Unterkunft zur Verfügung.
Klimaanlage
Internet/WLAN
Parkplatz
Waschmaschine
Whirlpool/Spa
Fernseher
Familienfreundlich
100 % verifizierte Bewertungen
4.5 / 5 (107 Bewertungen)
We stayed in the twin room with 2 beds, which is very spacious, with a tatami area that can sleep an extra person. It also has 2 desks and chairs for workation purpose, which was perfect as we could do some work when off the slope. The corner windows look out to the mountain view and is quite bright during the day. My wife does not ski; she spent a lot of time working in the room, and she is very happy with the environment. Everything is clean and decorations are nice too. Breakfast was delicious and in generous portions; we stayed 3 days, and all 3 days the menu were different. Owner/manager was very helpful too. We definitely will stay here again if we go to Nozawa next time.
Clean and well kept hotel walking distance to the main Nozawa Onsen ski gondola - but you will be charged extra for usin
Jan 2023
Very clean, high quality well finished Japanese style tatami room. A few hundred meters walk from Nagasaka Centre and Gondola (the main gondola for Nozawa Onsen ski resort). Bathroom was shared but you book the time to have it privately. There are two shower/tub bathrooms. There are toilets and hand Nadine upstairs near the bedrooms. There is a very nice very small sauna.
There are photos of a sauna and small gym in the listing but you will be charged extra for using them. We used the sauna and were unexpectedly charged ¥1000 per person to use the sauna for one hour. I think this is very expensive. We did not realise we would be charged per person before we used the sauna and were not told there would be a charge when we booked the time slot for the sauna. One of my sons only came in for a few minutes but was still charged. Use of the sauna and gym should be free as part of the charge for staying at the hotel. We are an Australian/European family and found the futons hard. Though they are similar to the futons at many other Japanese hotels.
The facilities were fully fitted out and clean, the family ownership and staff were excellent, nothing was a trouble and
Feb 2023
Very clean, everything worked well, a lot attention to detail, the staff were excellent with assistance, good heating and bath facilities, the food was great
Very accomodating people specially the mom. Like other hotel in nozawa onsen these family take care of their visitors very well. Very good breakfast, comfortable bed and room.
Great Japanese minshuku, can provide vegan options.
Jan 2022
The staff were able to provide vegan breakfasts. At first it was just granola, but once we said we would prefer Japanese style, they made great effort to provide a proper Japanese vegan breakfast and the food was delicious. There was so much we barely needed any lunch too. Just remember to give 24hs notice.
There are only two toilets for the whole floor. So in the morning it was pretty busy waiting for people.
The staff was very helpful during our stay. The hotel has a nice family vibe and they must serve of the best breakfast in town! We could easily use the private onsens and there is a larger public one just around the corner.
The bathroom was shared. This was expected and didn't have to wait during our stay.
The staff are amazingly kind and helpful. The accommodation is immaculately clean and there are great facilities: gym, sauna, onsen.
Full of kindness and hospitality
Jan 2022
the hosts spoke English, accomidated us with our friends in the next door room and assisted us with lift passes, bus passes, the child who came with our group and food allergies. They went over and above our expectations for hospitality!
Thank you so much. We very much enjoyed our visit.
Feb 2023
Thank you so much Seiko and staff at Marushige. We very much enjoyed our visit. Lodge is very cozy and the onsen warming. Breakfasts were amazing. Thank you
excellent service and very kind staff and good location to the gondola and the Main Street.
Jan 2023
staff were very kind, flexible and friendly.
mattress could be better but overall everything was great!
Comfortable, clean and well located
Mar 2022
Place is centrally located, between the bus terminal and teh snow resort. It's also very accessible from Oyu street
Short and sweet skiing trip
Feb 2020
Location was ideal Exceptional owners and staff Great value
Stairs to rooms are extremely slippery in socks and ill-fitting slippers supplied
I was very pleased with the place. The owner can speak some English and communication was no issue with the help of Google translate. Most of the guests that were staying there didn't natively speak Japanese. I think the host went a long way to make everyone feel at home. My biggest challenge was backing my car in to drop off luggage as the entrance was a bit tight but the owner came out to help, parked my car in a sheltered location for the trip and all went well. They even can courier your luggage (e.g. snowboard) directly from the place so no extra hassle of dealing with that. Overall, very happy with the place. The only small complaint is the mattress is a bit on the thin side so the sleep wasn't the most comfortable. But overall the place is clean and well-maintained.
I've booked a room off season and was the only guest, but instead of feeling lonely the hosts welcomed me and because this year it started snowing very late (I wanted to ski) they gave me tips what else I can do in the small village and around. They prepared me a very delicious breakfast and the room was great! Such comfy beds. There are so many Onsen in this village, I couldn't even try half of them and I stayed a week. Some of them are very hot, maybe to hot for European taste. I definitely will come back here one day!
This is a decent, got everything you'll need from a budget onsen hostel. Near ski resort and bus.
Jan 2023
I like where this is a Japanese style onsen hostel, the wood and atmosphere nails the type of expectation you would look for in a budget onsen hostel. The bathing room is reserved for each room, this is pleasant for foreign guests who likes more privacy when bathing. I certainly enjoyed the location where its near the entrance of the ski resort as its my main plan during this visit.
squeaky floors and lack of noise insulation, you can clearly hear other guests walking or going to the toilet. Although I am tired enough to ignore the majority, you sometimes get disturbed during the midnight or if kids of other guests are going wild.
great ski resort, very central location of the accommodation, very friendly hosts
Fantastic location, friendly place to stay, delicious food.
Jan 2023
Great location, a few minutes walk from the bus stop and main street, and just a few more minutes to the escalators which take you up to the skifield. Friendly staff, great breakfasts and the dinner we had one night was delicious! The Japanese style bathrooms are nice, currently you can book them for your private use. Fantastic place to stay if you want to enjoy the snow, or just absorb the atmosphere of a small ski town (please try the steamed buns sold in the street!). I would definitely recommend staying at Marushige, I would like to come back again one day.
Great people, location and food.
Mar 2021
Fantastic breakfast, either Japanese or international as per choice. Both were really great with local ingredients and very delicious. For example sourdough bread, home grown vegetables and rice. The owner and her husband were very helpful, and such nice people. The location is great, just short stroll to the main street with restaurants, cafes, and the lovely small local thermal baths. For skiing just walk a few minutes to the escalator going to the lift system.
Nothing to not like here.
Excellent food. Great location. Wonderful service.
Nice family-run place with an easy, short walk to town. Be careful to take your key with you if you stay out longer tha
Dec 2021
clean, warm, central, free tea / coffee
decent accommodation with shared toilet and shower facilities
Dec 2022
clean accommodation, nice owners and staffs
there was food smell came into the room in the morning
Amazing Location very close to the base of the mountain and a very short stroll to the centre of the village. We were worried about the shared bathroom and toilets. The shared bathroom had a roster system so my partner and I had our own time in the bathroom that included a traditional bath. Toilet in close proximity to room. so it was fine. Hosts were very sweet and the ski storage and drying room was top notch. The staff are even abler to do repairs.
Bed mats were too thin, however we didnt ask at the desk for a solution, they may have had thicker. We were in a traditional room.
Wie viel kostet dieser hotel im Vergleich zu anderen in Nozawaonsen?

Der Durchschnittspreis für eine Anmietung in Nozawaonsen beträgt EUR 113 pro Nacht. Diese Miete ist EUR 32 günstiger als der Durchschnitt.
Ist das Parken in diesem hotel inbegriffen?

Ja, das Parken ist als Ausstattungsmerkmal bei Marushige aufgeführt. Für weitere Informationen empfehlen wir Ihnen, sich mit dem Anbieter der Unterkunft in Verbindung zu setzen, um zu erfahren, wo Sie parken können.
Gibt es in diesem hotel einen Pool?

Wir haben keinen Pool gefunden, der als Ausstattungsmerkmal für diesen hotel aufgeführt ist. Es kann sich lohnen, noch einmal zu prüfen, ob ein Pool für Ihren Aufenthalt wichtig ist.
Ist Marushige haustierfreundlich?

Leider ist dieser hotel nicht haustierfreundlich. Versuchen Sie erneut zu suchen und filtern Sie nach "Haustiere erlaubt"
Welche Ausstattungsmerkmale sind bei Marushige verfügbar?

Wir haben 7 Ausstattungsmerkmale für diese Unterkunft gefunden. Dazu gehören klimaanlage, internet/wlan, parkplatz, waschmaschine und whirlpool/spa.